Returning Displaced Sudanese Restart Livelihoods
Photo by Monjid Mustafa/CRS
"I can now comfortably feed my children quality food, buy them good clothes, and take them to hospital when they get sick."

 
In Chululuke, West Darfur, women and girls used to travel more than 4 miles each week over rough terrain to the nearest mill to collect food. For Kaltoum Juma'a, a mother of eight, the lack of a nearby food source stressed every aspect of her household, including the children's nutrition and health.
"I had to travel a long distance every week to find a mill. We greatly depend on flour as a major component for our food. During rainy seasons, routes are impassable, water in the wadi is very high, and sometimes for many days we cannot make it to the other side, which means we must eat and feed our children boiled sorghum for several days. It ends up sometimes with a total breakdown of the children's health. But we did not have any alternative. We had just returned to our homes after a long journey of displacement, and we did not have enough capacity to make money," Kaltoum says.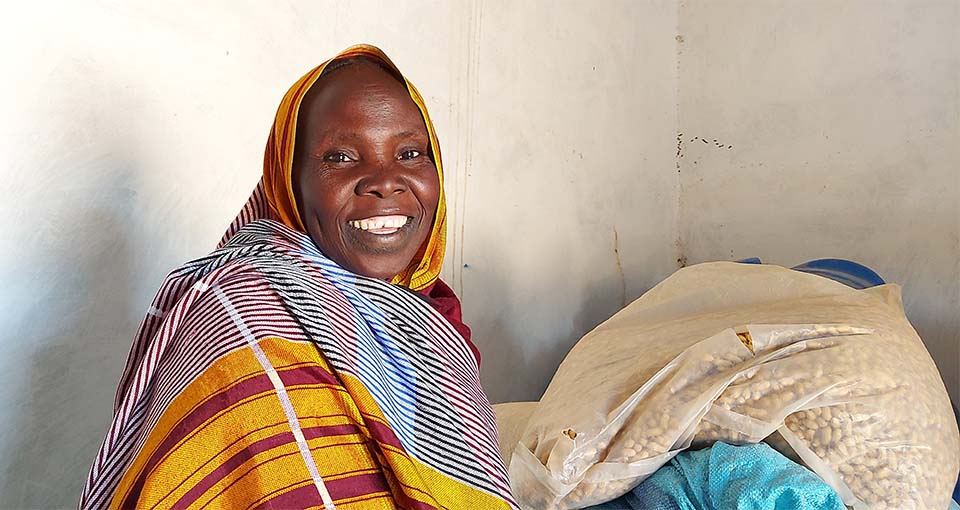 Kaltoum says she's happy that's she's part of a savings group that has allowed her to invest in a mill that saved time and helps build her income.
Photo by Monjid Mustafa/CRS.
Over the year, Habila, West Darfur, experiences erratic rainfall, flash floods, and mid-season dry spells which can make agricultural production difficult and risky. Intermittent conflict between nomads and farmers over access to natural resources such as pastureland and water exacerbates the situation. Families have since returned to their home villages after a years-long conflict in Darfur uprooted them to displaced persons camps. In these camp settings, they relied on humanitarian organizations to meet their minimum dietary needs and struggled to meet other household needs like food, school fees, medical care and clothing.
"During our stay in the camp, we heavily relied on humanitarian assistance, and until recently we received items such as manufactured wheat, oil, and nutrition-related things for our children. But we realized that was not sustainable and was not addressing the root cause of our needs," Kaltoum says.
Shifting towards Resilience and Self-reliance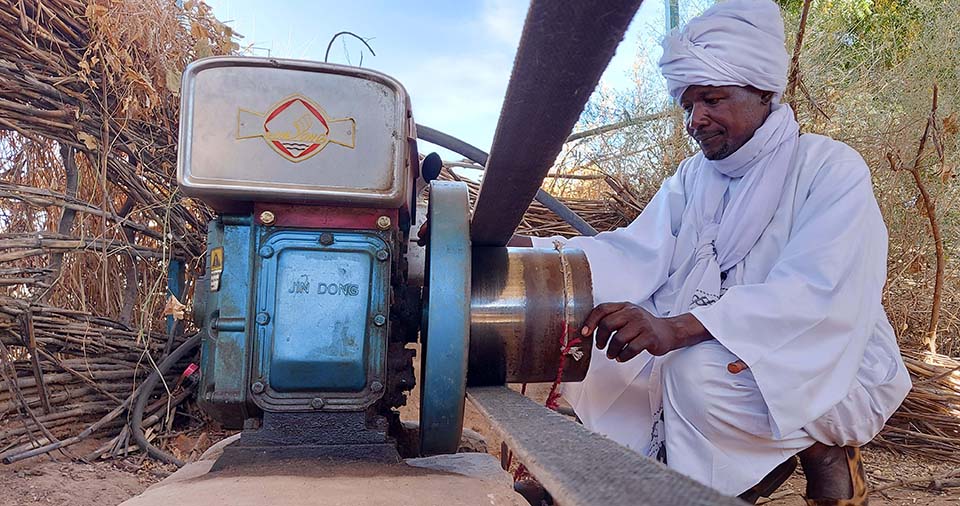 Chululike's savings group leader routinely checks the grinding mill operations. The mill is shared by villagers and has proved a boon to their health and prosperity.
Photo by Monjid Mustafa/CRS
The Taadoud project was launched in 2017 with funding from the Foreign, Commonwealth & Development Office. Led by Catholic Relief Services and five other international partners including Tufts University, the project focuses on improving natural resource management and governance, reducing chronic malnutrition, and increasing the resilience of livelihoods of returnees and conflict-affected people. The project directly supports 177,583 returnee and vulnerable, conflict-affected households in all five Darfur states.
The project includes a CRS Savings and Internal Lending Communities (SILC), program, led by team members in Chululuke.  The program aims to create savings groups help members pool their money, save over time and borrow to meet pressing needs and develop business opportunities.
"As soon as the idea of a SILC group was introduced to us as part of the Taadoud project, we immediately mobilized people, and our group was soon born," Kaltoum says. 
Working Together Makes a Difference
Kaltoum and the other group members agreed to save 25 Sudanese pounds—the equivalent of 6 cents—per week as well as contribute 10 pounds for the social fund. By the end of 2018, they had saved 60,000 pounds, or around $158. The group was then trained on selection planning and management. They worked with project staff members to prioritize income generating opportunities and learned how to use their savings as a group to earn more income. The group then decided to invest in a grinding mill, which would be managed by the group's leaders and with all expenses and revenue going to the group.
"We collectively decided to invest our savings in something that would help us address the most immediate need, and that everyone can benefit from. A grinding mill was the ideal option, which would allow us to save travelling miles each week, help us generate income, and enable us get rid of the tendency of waiting for relief," Kaltoum says.
Abdelrahman Yahya is a project officer for the West Darfur Youths Organization—CRS' implementing partner in West Darfur. He believes that introducing savings groups helps Chululuke's communities to develop  self-reliance, build a collective sense of responsibility, improve sustainability and productivity.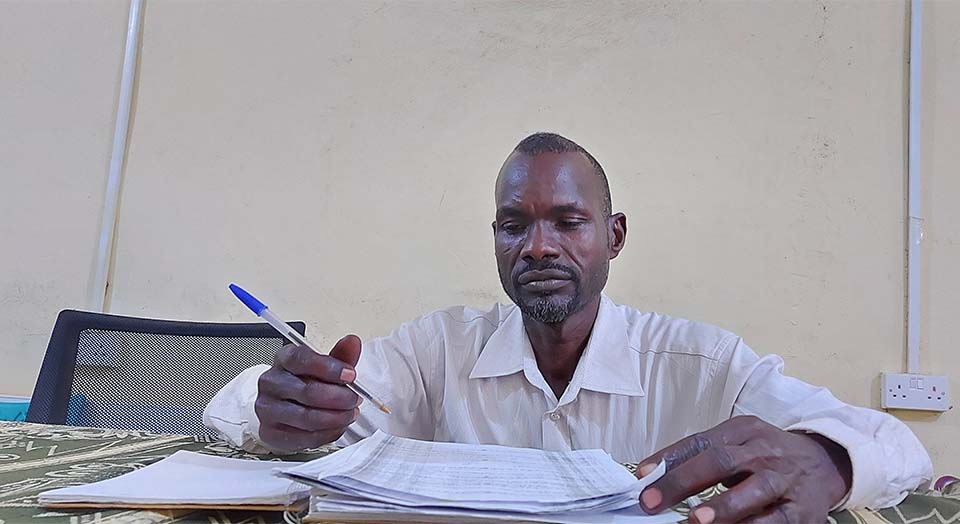 Abdelrahman Yahya, project officer for the West Darfur Youths Organization examines records. His organization is CRS' implementing partner in West Darfur.
Photo by Monjid Mustafa/CRS
"We work to increase the productivity of households through the savings group model, which offers an opportunity for the community to save money and invest. We also provide them with a package of trainings in microfinance in subjects such as financial education, and selection planning and management. Now we already see the results. Many people are starting small businesses, and significantly thriving. And these results are very reasonable, I mean; teaching how to fish is always better than giving a fish, that's sustainability, and that is what we are doing," Abdelrahman says.
"After we bought the grinding mill, we no longer travel long distances, our neighboring villagers make use of the grinding mill, they pay money for the service, and all group members receive money from the revenue. I bought goats with my share, and I also was able to cultivate a piece of land, from which I harvested six bags of sorghum, and five bags of groundnuts. I can now comfortably feed my children quality food, buy them good clothes, and take them to hospital when they get sick. We are planning to expand our investment, and we are also planning to complete the construction of a classroom that was started long ago, so that our children can study with no need to walk long distances to attend school," Kaltoum says.