Restoring Livelihoods in Chad
Photo by STaR project staff
Ngoussoui and her family were living in Ngouboua, a village in western Chad near the Nigerian border, when conflict erupted in 2017. Armed groups attacked, killing her neighbors and the local chief, and burning down her family's home.
Ngoussoui, her husband, and their eight children fled to their village of origin, Balam I, in the Lake Province of Chad. Having lost her livelihood and with limited access to land and resources, Ngoussoui and her family faced many challenges, including being able to find enough food. Without money, or equipment for fishing and agriculture, she found herself struggling to take care of her family. She often reflected on the past, when there was peace, bountiful land and a way to provide for her family through fishing or farming.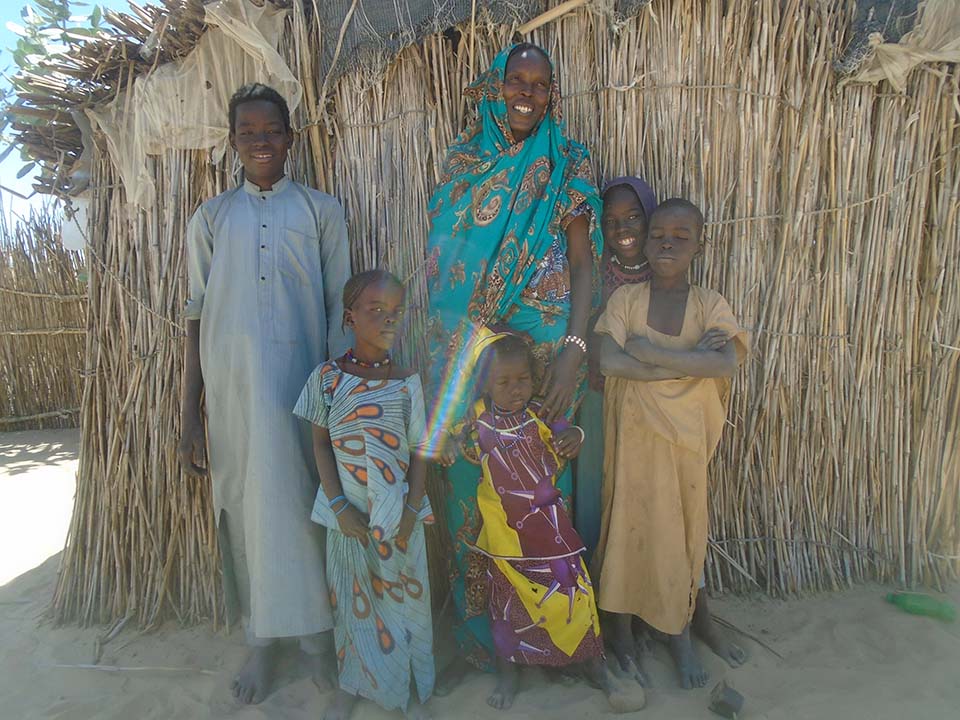 Ngoussoui stands with five of her children in the Kaya Department of the Lake Province, Chad.
Photo by STaR project staff
Today, Ngoussoui is a farmer who cultivates onion, garlic, eggplant, chili peppers, lettuce, okra, millet and corn. The harvest not only feeds her family, but also serves as an essential form of income for the family of 10. However, costs such as clothes and school fees make it difficult to save for the future and any emergencies that may arise.
This positive life change began in 2019, when Ngoussoui heard about some new initiatives of the Stabilization and Reconciliation in the Lake Chad Region, or STaR project, implemented by Catholic Relief Services and local partner Secours Catholique et Développement in Chad.
Understanding that "there is strength in unity," Ngoussoui was encouraged to join a savings group and an agroeconomic cooperative. Through the STaR project, she received support to develop her agricultural business, participating in trainings on optimal agricultural techniques and securing quality seeds and equipment, both of which have increased her productivity and output.
By participating in the savings group, Ngoussoui now has access to new sources of credit, allowing her to further develop business ventures that will sustain her family and contribute to the economic and social viability of the community. By the end of Phase 1 of STaR in April 2021, more than 5,500 people were participating in savings groups in Chad, saving more than $78,000. Some 1,700 farmers received seeds and tools to improve their agricultural livelihoods.
These activities also have knock-on effects for improving the social fabric of the community.
"My participation has changed my social life, that of my family, and of my community," Ngoussoui says.
With the support that Ngoussoui and her family received, she has seen a substantial reduction in hunger and improved nutritional health for her family, as well as a 50% growth in her family's income. Many of Ngoussoui's neighbors have experienced similar benefits, allowing them to have more control over their households and livelihoods.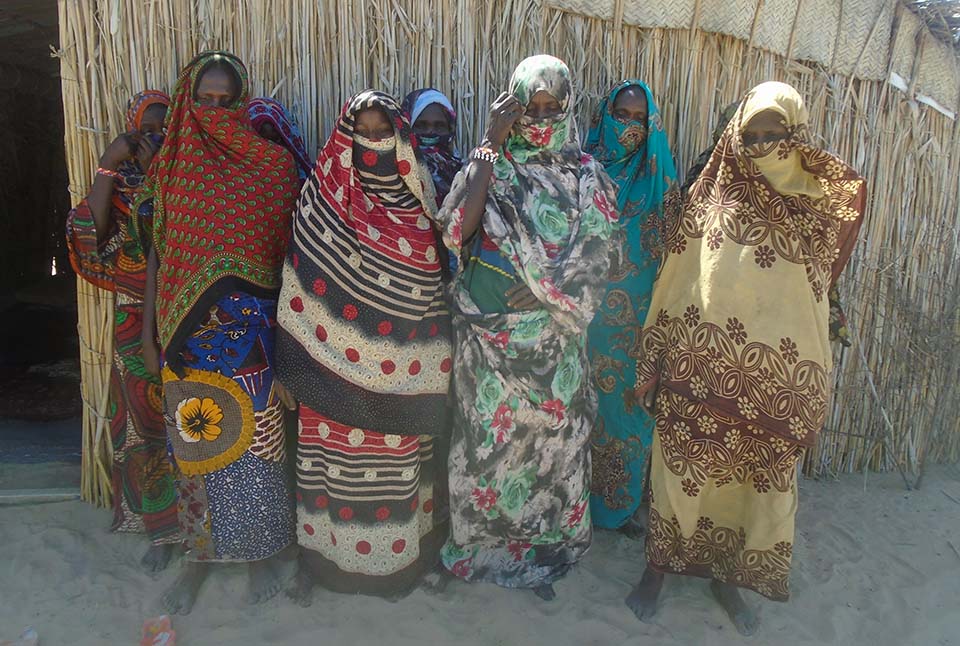 Ngoussoui gathered with members of the agroeconomic cooperative in the department of Kaya, Lake Province, Chad. 
Photo by STaR project staff
"Our community has been able to put knowledge attained through the agricultural and microfinance trainings into practice, making it possible to increase production and save for the future of our children," Ngoussoui said. "Thanks to this project, the children go to school and can become the leaders of tomorrow."
The increased resilience that the community felt was put to the test in 2020 with the arrival of the COVID-19 pandemic, which forced reductions in humanitarian assistance, increased market prices and restricted social gatherings. Thanks to the financial planning of the agricultural cooperative, the group had saved up enough money to help buy and store grains for the future. The proceeds were earmarked to further invest in purchasing, processing, and marketing agricultural products. As a result, the cooperative continues to grow onion, okra, garlic and chili peppers on their half hectare of land, which enables them to be more self-reliant and resilient against life's hardships.
"Despite the difficulties that I've encountered, I hold onto my faith and overcome trials," Ngoussoui says.
Her biggest wish is for her community to thrive, with education opportunities for the children, the development of a health center, access to clean water, and a mill that can allow the village to flourish.
Through STaR, CRS supports communities whose lives and livelihoods have been threatened by food insecurity, conflict, displacement, and climate change challenges in the Lake Chad region. STaR is a project implemented in Cameroon, Chad, Nigeria and Niger, and funded by the German Federal Ministry for Economic Cooperation and Development through the German Development Cooperation.