Responding to the Hunger Crisis in Ethiopia
Photo by Will Baxter/CRS
One in 9 people worldwide do not have enough to eat. Many do not have enough nutritious food. COVID-19 is compounding the hunger crisis and putting vulnerable families at further risk. As missionary disciples, we are called to respond to the urgent needs of those who face hunger and malnutrition, and to address the root causes of this global crisis. Together, we can lead the way to prevent and end hunger by providing emergency support when people cannot access food due to drought and flooding, or war and conflict.
Birhan T/medhin* has persevered through the droughts that have plagued Ethiopia in recent years, but after her harvest was wiped out by flooding, she considered uprooting her family to migrate in search of day labor.
"The food I grow is used solely for household consumption. Even in normal conditions it is not enough," she explains. When her crops were destroyed, she began mulling over the idea of abandoning their home.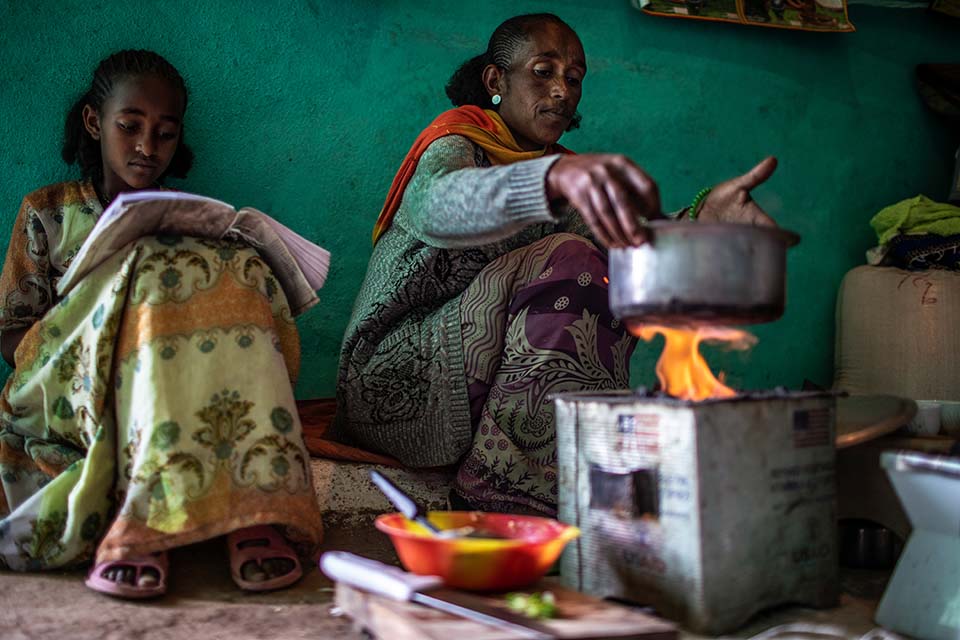 Birhan T/medhin, right, cooks a split pea dish using rations she received from the Joint Emergency Operation Program, at their home in Mezutey, Ethiopia, while her daughter Tsige reviews her homework.
Photo by Will Baxter/CRS
"I would have sold everything. My husband would have migrated separately," says Birhan, who lives in the Tigray region of northern Ethiopia. "We would have migrated where there are big projects such as road construction."
In rural Ethiopia, the vicious cycle of droughts, unpredictable flooding and crop failures can leave families with little or nothing to eat—forcing them to sell their possessions, pull their children out of school or even migrate in search of work. COVID-19 is making families who rely on subsistence agriculture or on unpredictable day labor even more vulnerable to the threat of hunger. In Ethiopia, CRS and its partners have worked quickly to safely distribute more than 72,000 tons of food to communities in need through the Joint Emergency Operation Program, or JEOP, during this precarious time.
Food distributed through JEOP is funded by the U.S. Agency for International Development's Office of Food for Peace and serves as a valuable lifeline for more than 1.5 million people in these times of need.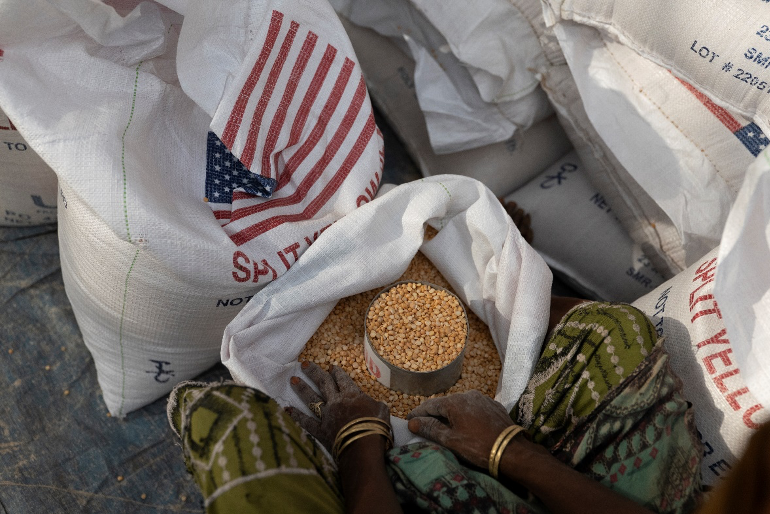 Rations of yellow split peas are part of the critical food aid provided to vulnerable communities in Ethiopia experiencing a hunger crisis worsened by COVID-19.
Photo by Haddis Abdi for CRS
Led by Catholic Relief Services, a consortium of non-government organizations works hand-in-hand with the government of Ethiopia and community leaders to distribute food supplies in drought- and emergency-affected areas of the country.
During each distribution, families supported by the program receive rations of wheat, split peas and vegetable oil. By integrating safety measures such as handwashing, face masks and physical distancing into programming and providing bigger rations of food for families, CRS is helping to keep people safe and healthy.
A woman collects food rations for her family.
Photo by Haddis Abdi for CRS
"For food-insecure Ethiopian families already living on the edge, COVID-19 and the worst infestation of desert locusts in a generation has further exacerbated their poverty, driving prices for basic staples and transport higher. JEOP food distribution ensures that those most affected don't suffer further by providing reliable and nutritious food support," says David Orth-Moore, chief of party for CRS Ethiopia.
Women and children are particularly vulnerable during times of food scarcity, and without adequate nutrition their health can deteriorate. Before Birhan was identified for support through the program, her four children struggled to stay healthy and frequently missed school.
"God has brought the JEOP program to keep us alive," says Birhan. Now we are feeding our children three times a day. We are sending them to school. There is a real difference."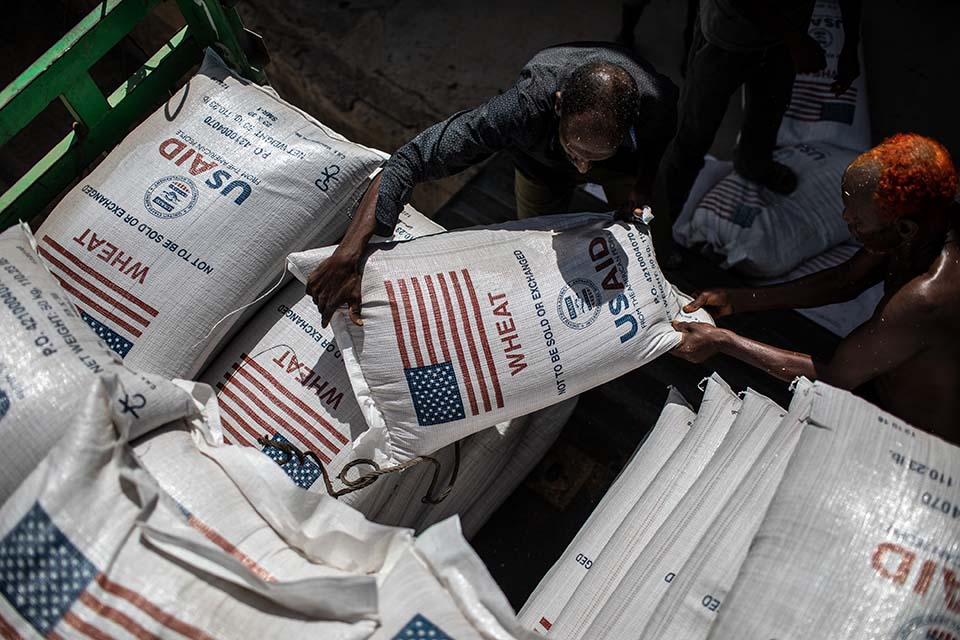 Laborers offload bags of wheat that have been transported by truck from the Port of Djibouti to a warehouse operated by Ethiopia's National Disaster Risk Management Commission in Shinile, Ethiopia.
Photo by Will Baxter/CRS
Orchestrating a massive, timely response during an emergency food shortage and global pandemic requires expertise in areas such as logistics, coordination and monitoring, as well as strong relationships.
Girma Kebede, emergency and program manager for CRS partner Hararghe Catholic Secretariat, says that the success of the program lies in its transparency and cooperation among stakeholders.
"JEOP stands for true partnership," Girma says. "To work as a JEOP manager, it makes me very proud. For the drought-affected population, the food we provide is a lifeline. It can hold families together."
*Traditional spelling
Join the Movement to End Global Hunger      Donate to help families at risk of hunger