Replacing Herds Lost to Drought in Kenya
Photo by Nancy McNally/CRS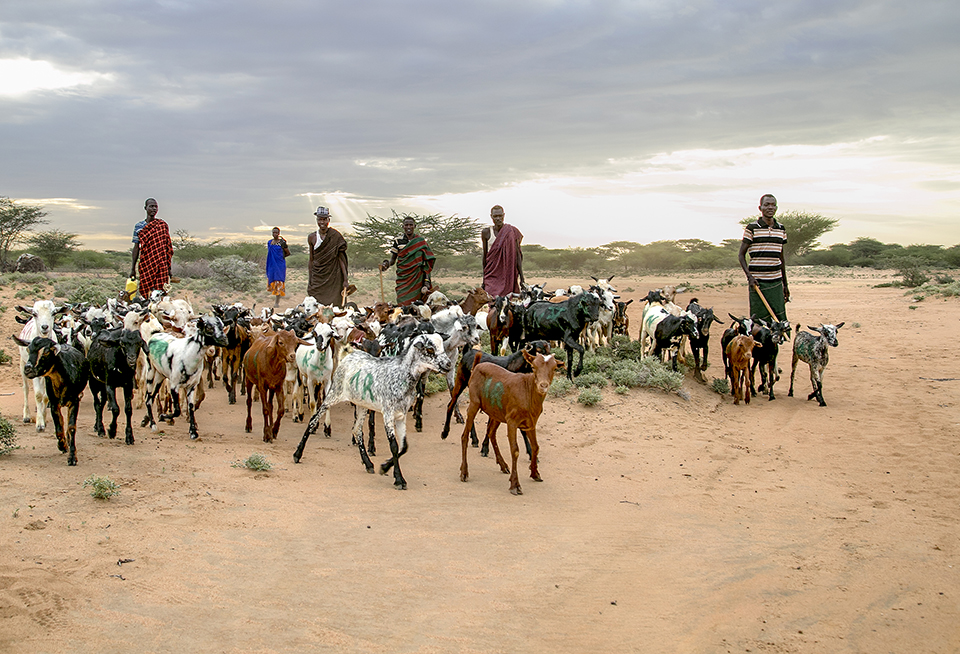 Traders drive sheep and goats to be sold at a livestock market. Photo by Nancy McNally/CRS
It's been more than 2 years with almost no rain, and with dying livestock and increasing violence for the herders of northern Kenya. But livestock fairs, sponsored by Catholic Relief Services to help the most desperate people, are putting communities on the road to recovery.
"This drought was the worst," says James Lotwel, 73. "I lost more than 200 sheep and goats, and 42 cattle—every single animal I had."
Some animals died en masse, as pasture withered and never regenerated amid the scant, patchy rains. When rain did come, flash floods washed away hope with the last roots of grass that might have provided sustenance. Instead, weakened animals died in the waters that raged over hardened land denuded of the vegetation that might have slowed the deluge. 
And Lotwel was attacked by bandits while driving the last of his withering livestock to search for pasture. They spared his life but took his herd.
With the arrival of what's known as the "short rains" in this drought-devastated region of Kenya, CRS launched livestock fairs in November and December 2017 in some of the worst-hit areas—Turkana, Samburu and Isiolo counties—so that people could replenish their herds.
Drought fosters conflict
As the drought has made grazing lands and water sources scarce, the Pokot and Turkana peoples, as well as others, clash with increasing violence over the dwindling resources—including animals. Tit-for-tat cattle rustling is common. Now the violence is spreading ever farther—to the south, east and west. 
One CRS livestock fair means that some 600 animals will have new homes among families who lost all or most of their herds to drought. James says he wants to leave with 10 sheep and goats so he can start over.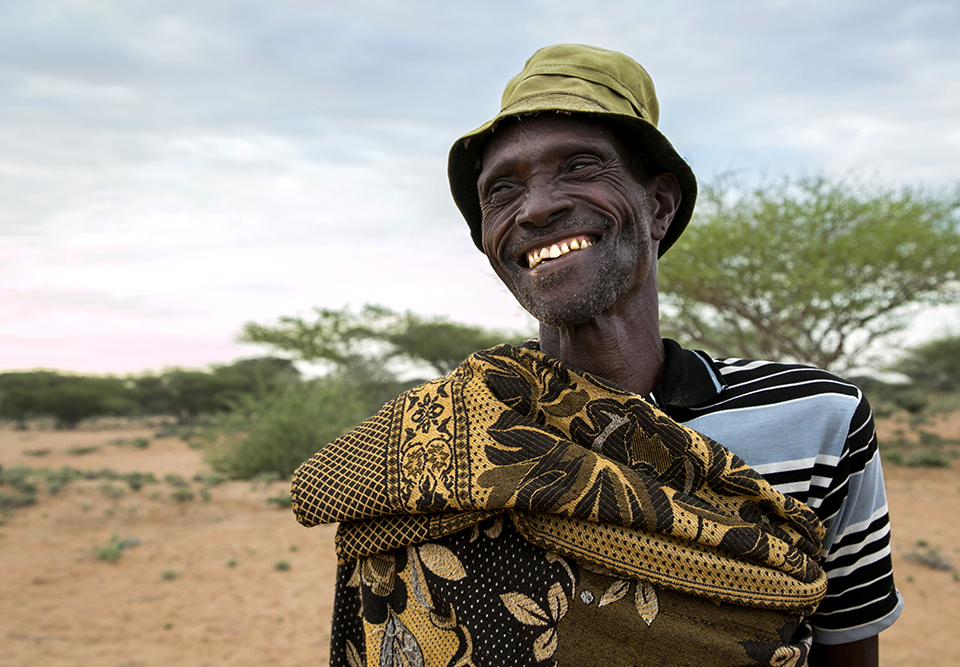 James Lotwel lost his entire herd—more than 200 sheep and goats and 42 cattle—to drought affecting East Africa, including Kenya. Photo by Nancy McNally/CRS
He supports a family of 12, and without his livestock, he's essentially bankrupt. In his region of Kenya, livestock is capital. For him and other pastoralists, it's their savings account. It's their home equity. That's what this drought has wiped out.
Whenever the Turkana have an expense—especially school fees, which weigh on every household—they sell an animal. For other needs, they pay directly with animals. Sheep, goats, cattle and even prized camels are literally currency on legs in this parched area. 
James is putting two of his children through school: his son, who wants to be a doctor, and his daughter, who is just about to finish middle school. His other children will probably continue in the traditional Turkana way of life, James says, and the two with education will become breadwinners for the entire family. 
"The school fees for my boy run about [$800] per year," James says, an enormous sum for a Turkana herdsman. 
Without the CRS livestock fairs, James says he would have married off one of his younger daughters for a dowry of cattle.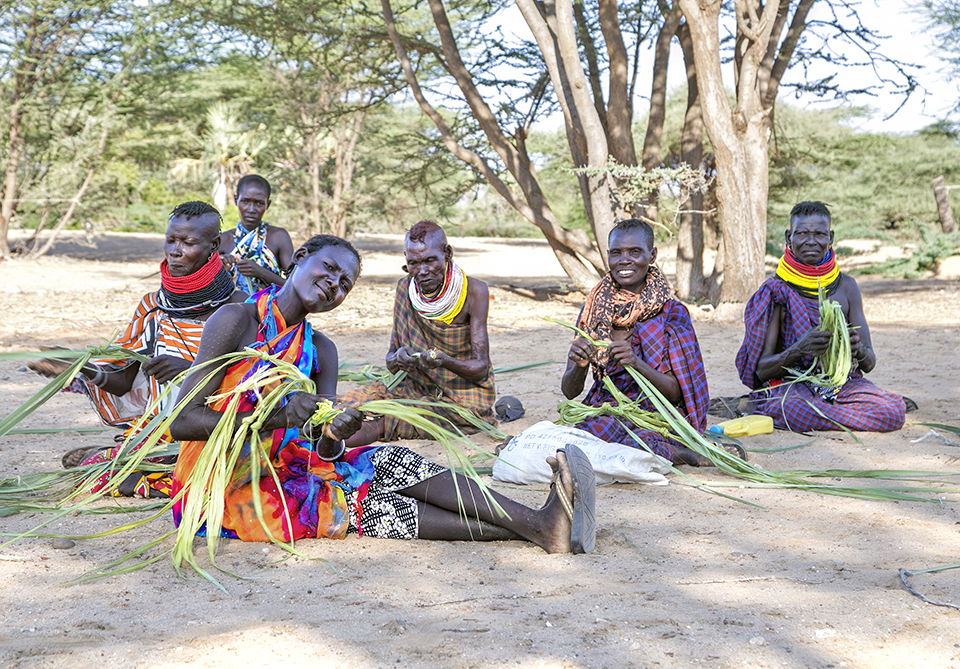 Turkana women weave palm-frond leashes for the sheep and goats they will take home from a CRS livestock fair. Photo by Nancy McNally/CRS
The livestock fairs are part of the Kenya Emergency Drought Relief and Recovery project active since May 2017, when the long rains largely failed again. Funded by Margaret A. Cargill Philanthropies, Latter-day Saint Charities and private donations to CRS, the livestock and seed fairs assist the herders as well as farmers in other areas of Kenya—like Kilifi and Kwale on the Indian Ocean coast—where consecutive harvests have been lost to the drought. 
Ensuring water access amid drought
Some 3.4 million Kenyans are facing hunger because of the drought, and 500,000 are in a hunger emergency, especially in Kenya's arid and semiarid lands, like Turkana, which make up more than 80% of Kenya and are home to nearly 30% of its population.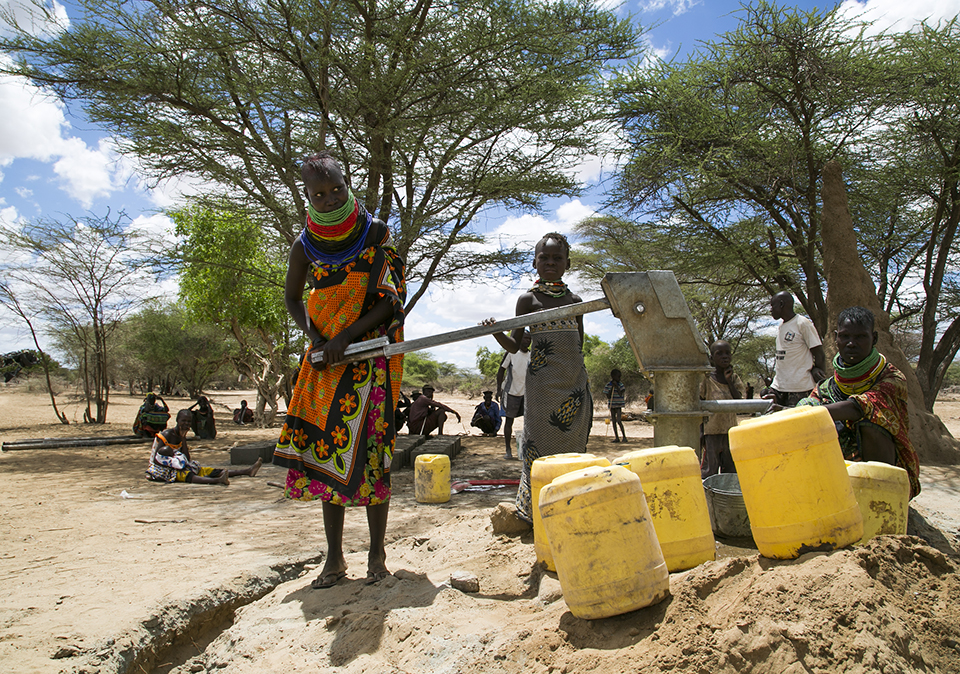 A Turkana woman pumps water from a borehole that CRS rehabilitated. Photo by Nancy McNally/CRS
The project also repairs boreholes and other water sources, in partnership with local governments, water authorities and Catholic dioceses. Before the Kenyan government recently prioritized providing services to remote areas of the country, the dioceses were often the main provider of water infrastructure and maintenance, as well as other services. 
Livestock fairs since are often held in remote communities where currency isn't in bills and coins. CRS and others use mobile technology and debit cards on a platform known as RedRose. 
The communities select those most in need. They receive about $166 in Kenyan shillings on an electronic card, each beneficiary identified by a QR code. The customers can then negotiate with the pre-selected livestock vendors — each of whom has brought at least 100 animals to the fair on the market day — to try to get the best deals. 
The vendors are trained to use smartphones to process the transactions at the agreed upon price. And a portion of the funds distributed are specifically earmarked for veterinary treatments and supplies like worming and vaccinations, and for fodder or food pellets. 
The livestock fairs—four in Turkana and two each in Samburu and Isiolo—distributed over 6,000 animals to more than 1,600 people. 
Timothy Ngure, CRS Kenya emergency coordinator, points out that CRS isn't importing animals, which could disrupt local livestock markets, introduce animal diseases and might not be sustainable. 
"We tapped the major livestock traders who were already active in these communities, and we tasked them with bringing in a minimum number of animals for the fairs," Ngure says.
"We had to do a good deal of awareness raising, because now that the short rains have fallen and there is pasture for animals, many herders won't want to sell their animals," he says. Typically, pastoralists sell animals only as a last resort—their livestock is an indicator of wealth and status. 
"What we've managed to help do in the end is to have a redistribution of much-reduced wealth in these pastoralist areas," he says. "Those people who had large enough herds or wealth to buy animal feed so that they have animals remaining—even during the drought—are the ones who sell to those most in need, so the community is taking care of its own."