Remote Afghan Village Embraces New School
Photo by Stefanie Glinski for CRS
"We live close to the frontline, so there is always a threat."
When Morzal heads down the steep muddy hill every morning to go to class, it's with the realization that she's the first one in her family to have ever attended school.
It's not that her parents didn't want her to be educated—or to be educated themselves, but the remote location of her small village of about 40 homes made it physically impossible.
At almost 10,000 feet, Garmaab Olya is high in Afghanistan's treeless mountains, at least a 15-hour drive on unpaved roads from the capital Kabul. Harsh winds blow from the mountaintops, making their way through the cracks of the simple mud houses. There are no shops, no electricity and barely any phone service, but, 3 years ago, Garmaab Olya got its first school.
Part of a CRS community-based education program, the village was chosen because of its remoteness. Once the classroom equipment arrived, it was a hands-on project for the villagers.
"Everyone helped," says Nadir Bekhsat, the school's 25-year-old teacher, who, after receiving an education far from home returned to his village to take the job. "The project had the whole community involved and everyone was excited. We all felt great about the positive developments."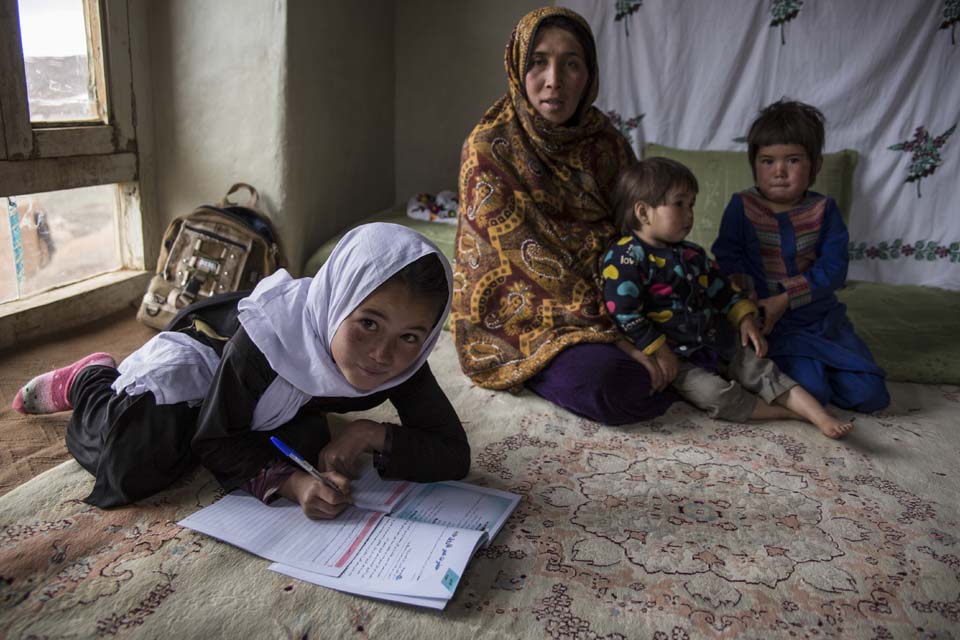 Morzal's village is home to about 40 families and has never had a school. The nearest government school is about 5 miles away.
Photo by Stefanie Glinski for CRS
Today Morzal, a freckled 10-year-old girl with a big smile wearing a white headscarf and black shalwar kameez—Afghanistan's traditional dress—is one of the village's 16 students.
They sit on a blue carpet in a light-flooded room with walls covered in children's drawings and colorful maps, listening to their teacher.
"My parents told me that no one in my family has ever been to school," says Morzal, happy to break the long tradition. "If I continue my studies, maybe I can be a teacher here one day," she adds, holding on to the backpack and books resting on her lap.
Morzal is an ethnic Hazara, a minority in Afghanistan that—although the country's third-largest group—is often excluded from national services. The closest government school is a 2-hour walk away, either by crossing through mountain passes that are home to wolves and wild dogs, or by taking an unpaved road where deadly accidents and robbery are commonplace.
"It was never an option to send Morzal there," her mother Halima says. "For generations, people in this village haven't been educated and live as farmers. There's not much else to do, even though all of us would have wanted to go to school."
The war has taken its toll on the remote community.
"We live close to the frontline, so there is always a threat," Halima admits. "Sometimes, during the night, the men of the village go to the mountaintops to see if the Taliban is coming."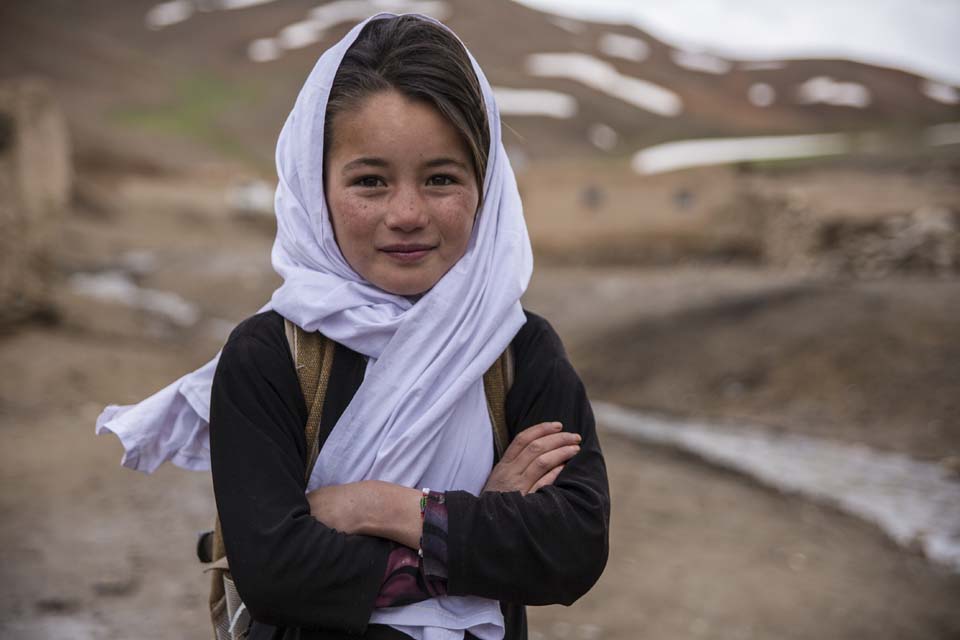 Morzal attends CRS-funded school in Garmaab Olya, Afghanistan, and wants to be a teacher.
Photo by Stefanie Glinski for CRS
Morzal says that she has started writing about her fears of war. After school, she sits by the window in her family's living room, surrounded by relatives chatting and drinking tea. With her notebooks spread out on the floor, it's her schoolwork that comes first, followed by her personal writing.
"It has made me more confident," she says. "It's like talking to a good friend."
Many of her friends have also started attending school and she's one of seven girls in the classroom.
"When CRS set up the school 3 years ago, we knew that the future of our children would change," says Halima. "My daughter has become confident and has started dreaming of a better future."