Refugees Integrating into Society in Bosnia and Herzegovina
Photo by CRS staff
In a Sarajevo neighborhood, Kamala Namazova wakes up and prepares a quick breakfast for herself and her two sons. The boys then leave for school, and she goes to work. She enters the office, greets her colleagues, sits at her desk, puts on a headset and begins her workday.
In the evening, she returns home to have has dinner with the boys and they talk about their day. They are planning a day trip to Mostar, a picturesque town in the south of the country that Kamala is especially fond of.
A picture-perfect, ordinary family scene. You would never guess that not so long ago, they lived in a reception center for asylum seekers. Kamala had never held a paying job, and their future looked uncertain.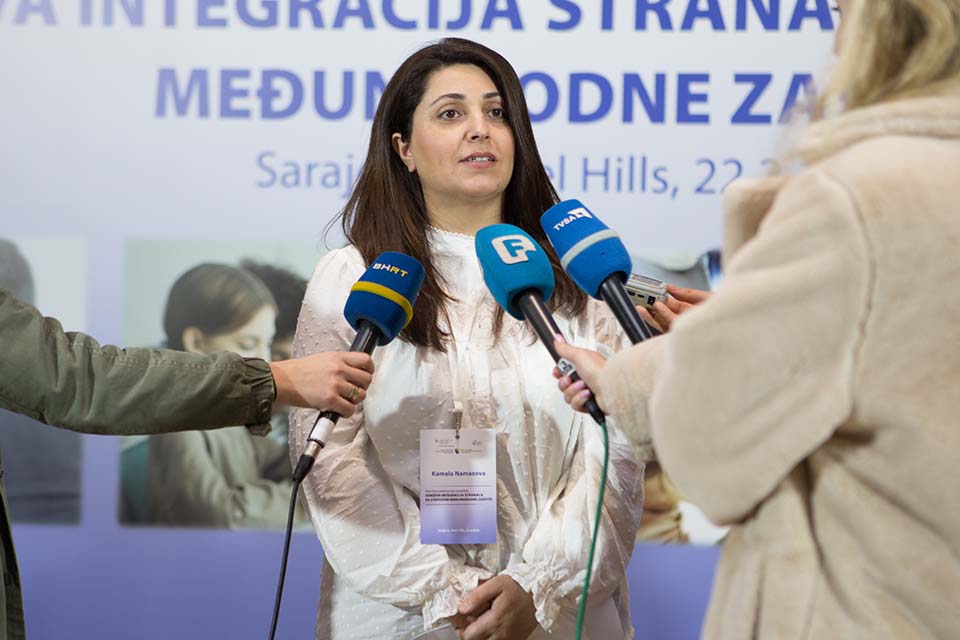 The Sustainable Integration of Foreigners with International Protection Status project supported Kamala's education and helped her gain financial independence by assisting her with permanent employment.
Photo by CRS staff
Alone in a Foreign Country
In her home country of Azerbaijan, when Kamala was just 16-years-old, she was forced into an arranged marriage with an older man. This put a stop to her education. Her husband also disapproved of her working outside the home, preventing her from learning meaningful job skills.
In 2018, after many years of marriage, Kamala and her husband attempted to relocate to Western Europe with their two sons. On their way, they stopped in Bosnia and Herzegovina where Kamala's husband abandoned her and their children, leaving them in a foreign country unable to speak or understand the language.
"I was left helpless with the children," Kamala says. "I realized I had to do something."
Then, in 2020, Kamala received international protection status making it legal for her to seek work. Lacking qualifications and experience, she began working as a cleaner in a restaurant. But she knew it wasn't enough to sustain her and her boys—the job was physically demanding and the pay was poor.
"I wanted to improve, to work, to earn a living and stand on my own two feet," says Kamala.
So, in the fall of 2021, Kamala completed language and computer science courses organized by Catholic Relief Services as part of the Sustainable Integration of Foreigners with International Protection Status project. The project worked to integrate refugees and foreigners with international protection status into society by providing them with systemic, social, economic, logistical and educational support.
Through this program, CRS also helped Kamala find employment at a digital marketing agency. Today, she has a steady job that adequately supports her family and gives her the freedom to live the life she wants.
"Now I can go out for coffee with my friend whenever I want," says Kamala. "Those things may be small, but they are important to me and give me peace. You're your own person, you can do what you want and go where you want. No one limits you. No one humiliates you because of who you are. In short, you live the way you want to live. That's a wonderful thing, and I think that's the true meaning of freedom. A woman who is not restrained is a free woman."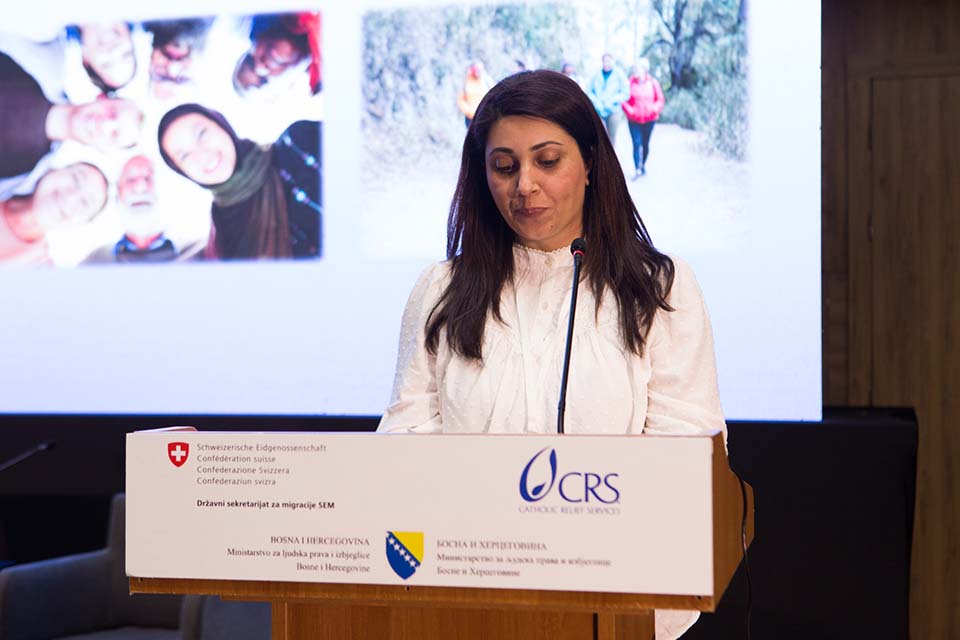 "I hope this film will show women in similar situations that life can be beautiful and encourage them to come forward and tell their stories," says Kamala.
Photo by CRS staff
Systematic approach to integration
For migrants and refugees, integration into a new society is a complex and long-term process that requires a systematic approach. Funded by the Swiss Government and implemented by CRS with the institutional support of the Ministry of Human Rights and Refugees of Bosnia and Herzegovina, the Sustainable Integration of Foreigners with International Protection Status project improved the existing legal framework in that country for people like Kamala. It also built the capacities of relevant institutions, supported inter-institutional cooperation, strengthened the integration capacities of local governments and supported integration through an individualized approach.
As part of this project, CRS developed two documents for participants: an information brochure on ensuring access to rights for migrants and obligations of government offices, and a rulebook defining the support beneficiaries like Kamala can expect from state and non-governmental organizations during the process of integrating into society—including assistance learning the language, getting acquainted with the local culture, recognizing public documents, accessing legal aid and finding housing.
Over the last few years, Bosnia and Herzegovina has become a transit route for refugees and migrants trying to reach Western Europe via Croatia, and when this project began in December 2020, about 150 people had refugee or "foreigner under international protection" status. 
But through this project and a complementary, United Nations-supported project, 21 foreigners with refugee status in Bosnia and Herzegovina were able to fund employment, and 20 children are now enrolled in educational programs.
CRS continues to work with the U.N. to improve integration opportunities. Last year, 149 people applied for asylum or permanent residence in Bosnia and Herzegovina.
Inspired documentary
Kamala's story inspired Bosnian director Aida Gavrić to film a documentary titled "Ben, Kamala Namazova" which translates to "I, Kamala Namazova." The film follows Kamala on her path to a better life and premiered at the project's closing ceremony in February 2023. A few months later, it also aired on the Al Jazeera Balkans television station.
"Five years ago, I came to Bosnia and Herzegovina and tried to adapt with the help of CRS," Kamala says. "I hope this film will show women in similar situations that life can be beautiful and encourage them to come forward and tell their stories."
As seen in the film, Kamala has now rekindled her childhood love of music and singing, which she suppressed for a long time due to her circumstances.
"I make my own decisions now," Kamala says. "The life I live now is beautiful. That is what freedom means. I can stand on my own two feet. At 40, I realized what a luxury it is and how wonderful it is. You stand on your own two feet and don't depend on anyone. I'm happy about that, and that's what true freedom is for me."