Reducing Risk in Disaster-Prone Regions of Vietnam
Photo by Lisa Murray for CRS
We don't have much. This was a challenge for us.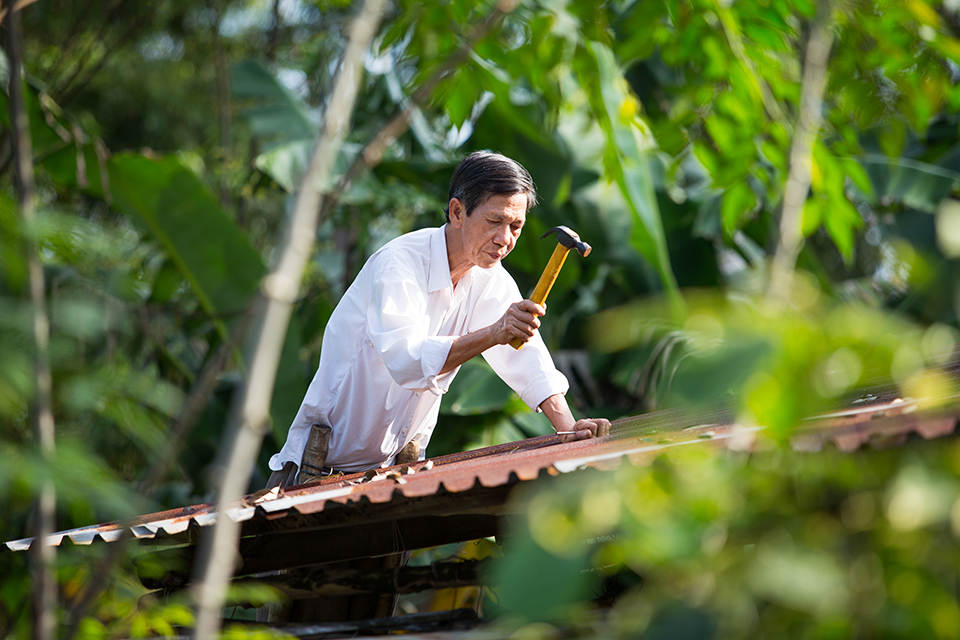 After Typhoon Damrey, Cao Xuan Hoa uses tools from a shelter kit he received from Catholic Relief Services to replace his roof. Photo by Lisa Murray for CRS
Just hours after destructive Typhoon Damrey tore through central Vietnam, Cao Xuan Hoa returned home to find his roof gone.
"The storm had taken it," says Hoa. He and his wife Nguyen Thi Phuong, had left an emergency shelter to begin counting the cost of the typhoon soon after it hit coastal Quang Nam and 14 other provinces on November 4, 2017. With 80 mph winds and heavy rainfall, Typhoon Damrey left 107 dead.
Although Hoa and Phuong had survived, the roof was a dramatic loss.
"We don't have much. This was a challenge for us," says Hoa.
He and his wife live on the money she makes selling soup in a local market and his monthly $20 disability benefit. Hoa, 62, had to close his bicycle repair business following multiple operations stemming from Vietnam War injuries, including the loss of a kidney.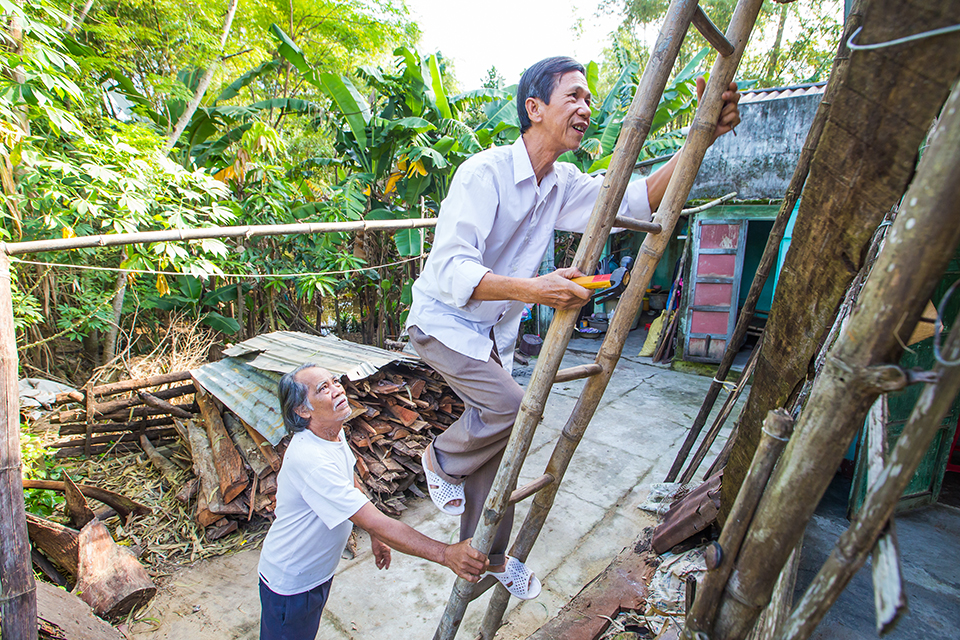 With a neighbor's help, Hoa climbs up to replace his roof, left, torn away by Typhoon Damrey. Photo by Lisa Murray for CRS
Seeing Hoa, Phuong and thousands of other vulnerable people in typhoon-hit Quang Nam province in need, Catholic Relief Services rapidly mobilized support for a 45-day emergency response using a grant from the Start Fund.
Owned and managed by a network of international humanitarian organizations, the fund distributes money within 72 hours of an alert. It provides small grants primarily for projects that address:
Small- to medium-scale crises without adequate funding
Forecast crises that are imminent
Chronic humanitarian crises where need has increased
Understanding the critical importance of timely intervention in the wake of natural disasters such as Typhoon Damrey, CRS developed our response within 24 hours, based on results of a rapid needs assessment.
With half of the residents in project districts suffering livelihood and income losses, and many living in temporary shelters, CRS worked with local authorities to deliver 300 shelter kits, 4,555 hygiene kits and 2,767 cash transfers to meet the needs of 7,622 households, or 25,277 people.
CRS, as a trusted development partner in Vietnam with a history of working in the province since 2005, was positioned to the needs of affected people  immediately after the storm hit.
"CRS already has a sound working relationship with local partners in the region, which allowed us to implement the emergency response project in a highly effective manner to reach those most in need," says CRS Vietnam project officer Nguyen Thi Bach Duong. Beneficiaries were selected in close collaboration with district and local committees.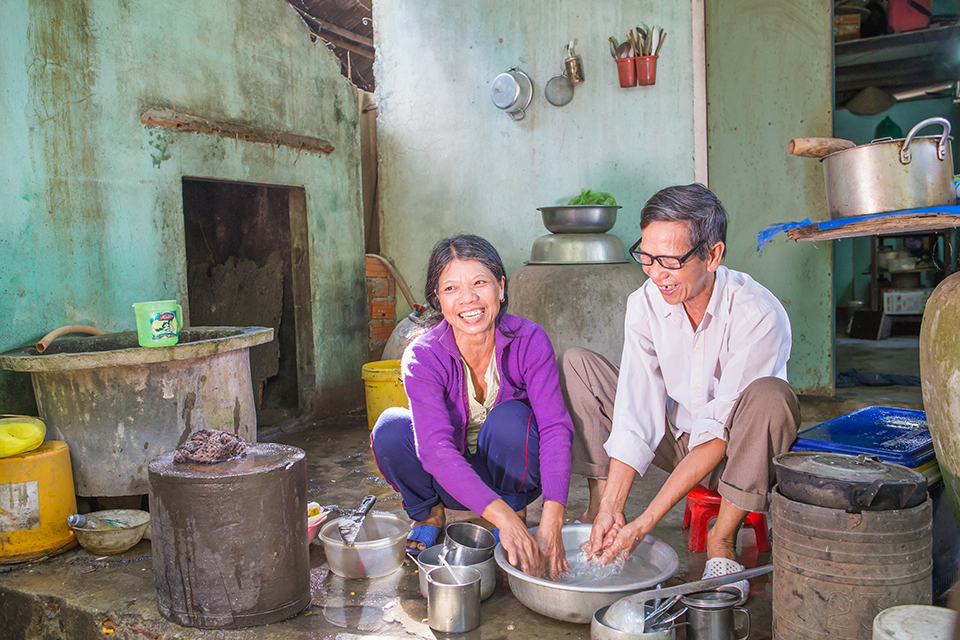 Hoa and Phuong begin their daily routine washing vegetables for soup she sells at the local market. Photo by Lisa Murray for CRS
The shelter kit includes tools that replaced some of those Hoa lost in the flooding. With community support, the couple added a new roof and constructed a pigpen using bamboo and other local materials.
The shelter kit also includes instructions for fortifying homes, so fortunately, Hoa and Phuong's home was repaired and retrofitted just before the remnants of tropical storm Haikui brought more heavy rains.
"We are very grateful for the kit and community support. We will be safer when new storms come," says Hoa. And he encourages other villagers to use the guidelines to make their homes more resilient.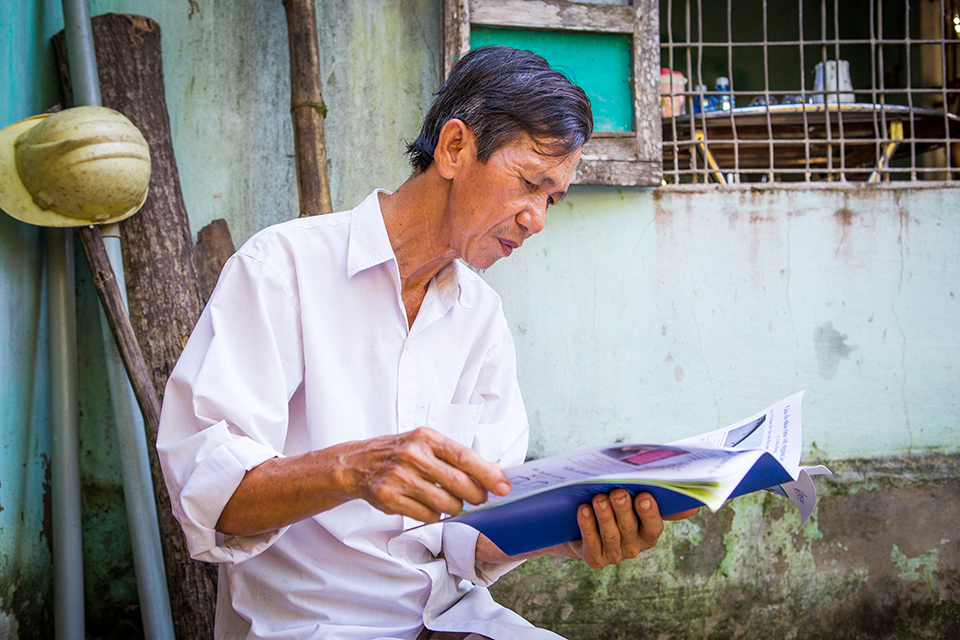 Hoa reads CRS instructions for making his home more resilient to storms. Photo by Lisa Murray for CRS
With its long coastline and a population that relies predominately on farming, Vietnam is among the countries most vulnerable to climate change. CRS has worked with local leaders and community members in central coastal and southern Mekong Delta communities since 2012 as part of a disaster risk reduction project.
The project builds on CRS' regional and global expertise in community-based disaster preparedness to mitigate risks from increasingly severe and regular natural disasters like Typhoon Damrey.
For villages like Hoa's, this means not only identifying and addressing local risks, but also establishing early warning systems and evacuation plans, building disaster-resilient housing and diversifying livelihoods.
By building families' capacities to better prepare and respond to natural disasters, CRS is protecting lives, and helping safeguard people's savings and other assets, so they can recover from disaster.
CRS has supported more than 110 village task forces on disaster risk reduction, including providing communities with early warning equipment.
"Our task force has been very helpful. Now we have a better idea [of how to respond] when a storm comes, and stay safe," says Hoa.