Context
On September 1, 2019, Hurricane Dorian struck the Bahamas as a category 5 storm, with sustained winds of 185 mph and gusts up to 220 mph. The storm first made landfall on the island of Abaco, and later the island of Grand Bahama, where it remained over the island for more than 36 hours. Much of the infrastructure on the island of Abaco, as with the eastern end of Grand Bahama, was severely or completely destroyed.
The city of Freeport, which is home to some 60% of the Grand Bahama's population of 50,000, was affected by severe flooding. Many residents lost their homes, all of their belongings, and their livelihoods to the storm. Residents frequently speak of the psychological and emotional impact of living through the event.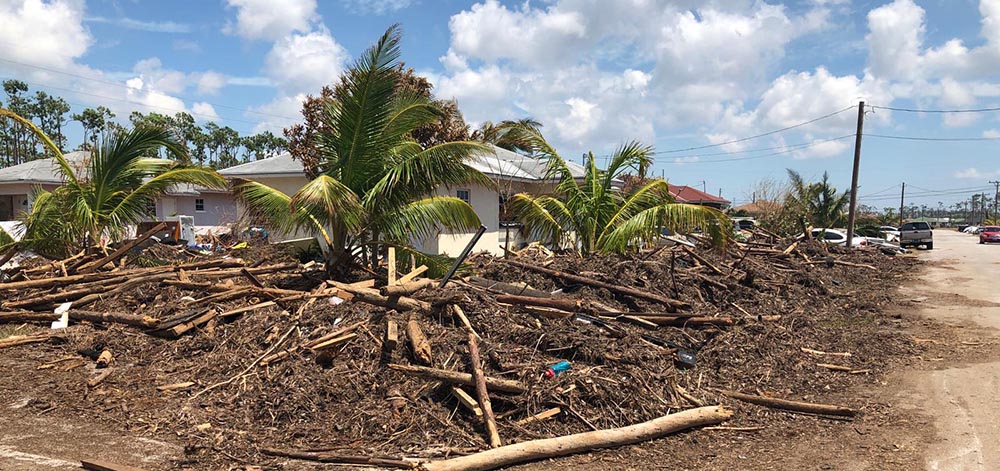 Damage from Hurricane Dorian in the Bahamas, September 1, 2019.
Photo by Michael Hatch/CRS
Martha Bowe, 66, was already going through a tough stretch when Hurricane Dorian hit in September 2019.  Her husband, for whom she was the primary caregiver, died of cancer just two months before.  The loss was compounded when, weeks later, her brother—who had come to live with her to help out— passed away.
"It was a very dark, scary time for me, because my husband of many years was gone and so was my brother and I had to prepare for a hurricane by myself," she recalled. 
Mrs. Bowe's home was right in the storm's path. The city of Freeport, where she and 60% of the Grand Bahama population live, was affected by severe flooding. Many residents lost their homes, all of their belongings, and their livelihoods to the storm.
Mrs. Bowe fled her home before the waters rose too high and took refuge with relatives in another neighborhood.  When she returned, she found her roof significantly damaged, and her house flooded with more than five feet of water.
CRS/Caritas Response
Catholic Relief Services has been working with Caritas Antilles/Archdiocese of Nassau over the past year to provide immediate relief and long-term recovery, with a focus on Grand Bahama.
Priorities for CRS/Caritas relief and recovery include:
Shelter repair and rebuilding;
Psychosocial support for those dealing with anxiety, trauma and grief; and
Assistance for people to restore their living supplies and livelihoods.
To date, CRS/Caritas have supported 160 households with minor repairs, are in the final stages of building two model hurricane resistant homes for homeowners whose houses were completely destroyed, in partnership with the local technical and vocational school. CRS/Caritas have also established the Grand Bahama Resilience Center, which has reached around 14,000 people through a variety of in-person and virtual activities ranging from senior support groups, virtual summer camps for children, and group therapy sessions.
Rebuilding a home for Mrs. Bowe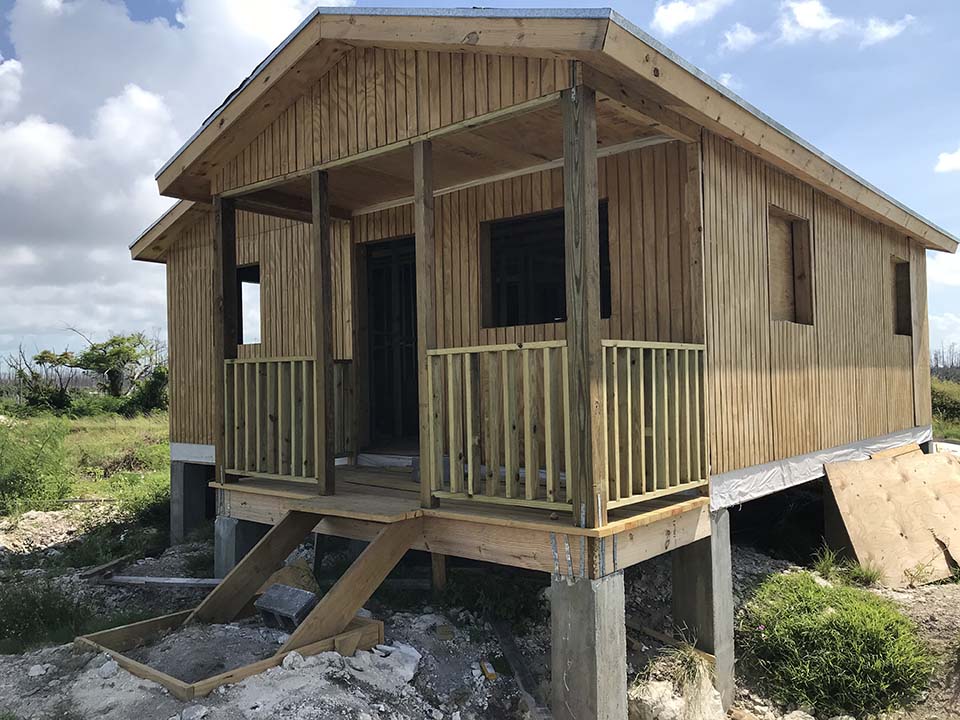 CRS/Caritas-supported shelter for families whose homes were damaged or destroyed in Hurricane Dorian.
Photo by CRS/staff.
Caritas social workers have met repeatedly with Mrs. Bowe as she has picked up the pieces in the wake of both the storm and her personal loss. In fact, when Caritas staff first met with Mrs. Bowe and assessed her home, they found her distraught. Someone had recently broken in and stolen some roof materials that had been donated by her church. 
Later she told the Caritas caseworkers—who had been assigned to support her over the long-term—that she had little faith Caritas would come back, since so many people had come through offering support and disappearing. 
"You don't know how much this means to me. I had given up all hope of ever being helped. I was discouraged because false hope is worse than someone just saying 'no,'" she told Caritas staff. "But, you came along and actually kept your word."
Nearly one year after Hurricane Dorian, Mrs. Bowe is still displaced and living with her neighbors. But she plans to be back home soon. Caritas is helping her to complete minor repairs that will help her house stay dry, safe, and mold-free. Caritas has also referred Mrs. Bowe's case to another local partner organization, that will work with her to make additional home improvements, including cabinetry, plastering, and installing floor tiles where needed.
Though her family is forever changed, Mrs. Bowe will have a safe and improved foundation for rebuilding a sense of home.