Recovering from Trauma in the Central African Republic
Photo by Samuel Phelps/CRS
If someone loses a house, you build a shelter. If they need water, you dig a well. If their crops fail, you bring all sorts of farming practices to restore their fields.
But how do you replace lost trust?
In the Central African Republic, or CAR, homes, fields, jobs and lives have been lost to violence triggered by a government overthrow in 2013, followed by spiraling chaos. Neighbors were forced to take sides that divided along religious identity. And now almost everyone, even children, lives with stories of atrocities they witnessed first-hand.
Having returned to their lands, almost everyone finds they are living close to those that attacked them. And not all their fears and bad feelings have suddenly disappeared.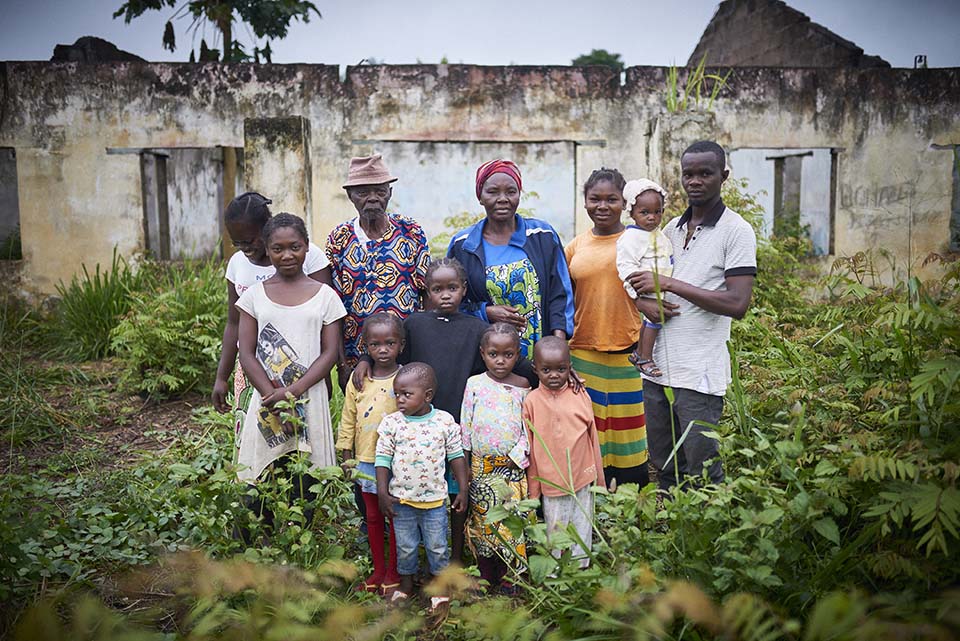 Marie-Angel Louma stands with her family in the overgrown ruins of her home in the town of Boda, Central African Republic. Hundreds of civilians fled their homes and were sheltered in the church grounds during the peak of the crisis.
Photo by Samuel Phelps/CRS
Repairing a sense of community and rebuilding social cohesion are among the most difficult challenges in any society. The difficulty is magnified in communities fractured by violence.
To those environments, CRS brings long experience in peacebuilding. Like all our programs and projects, it is done in close association with affected communities and often led by the most trusted members of those communities.
Lydia Manasse lost family members and watched her livelihood and future go up in flames along with her house. Now she sees how her own attitudes toward her neighbors are changing as she works alongside them to rebuild their once prosperous community.
Despite decades of instability in the Central African Republic, Lydia Manasse and her family lived in relative peace and prosperity in the town of Boda, a six-hour drive from the capital, Bangui. "Before 2013, the family lived quite well. My big brother had a business and looked after the family," says Lydia. "Our father had left us fields of coffee, cocoa, cola, palm and the house when he passed away."
When tensions brewed in 2013, fueled by conflicts surrounding natural resources, economic disparities between different communities, a rebel-led coup and the arrival of foreign armed groups, Boda was also impacted. Everything changed for Lydia and her family. Their home was burned down in the fighting, and Lydia and her children and grandchildren fled to the Catholic church to seek shelter. Other family members sought shelter in the forests surrounding the town.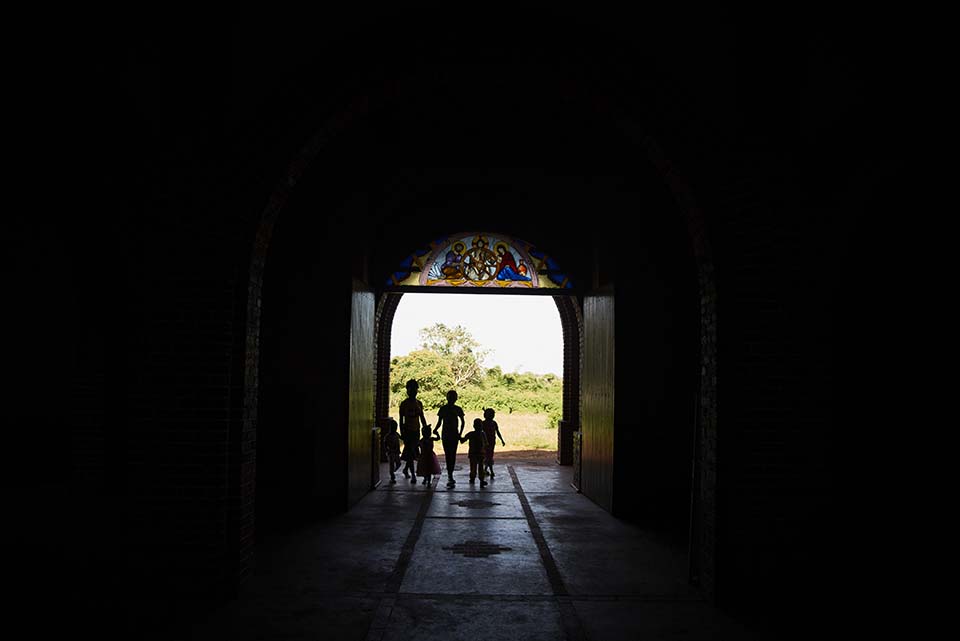 Children enter church for Mass in Mbaiki, Central African Republic.
Photo by Samuel Phelps/CRS
As revenge attacks between Christians and Muslims tore apart the community of Boda, it became increasingly dangerous for people to sell produce at the local market or buy essential household items. The market was eventually also burned to the ground. For Lydia, it was even riskier to reach the fields that needed to be tended on the outskirts of town. There was a constant threat of being beaten or killed by militias blockading roads and hiding in the bush.
"We couldn't access the fields during the crisis, as it was more than 4 miles away. People came and stole the coffee and cocoa. The fields were eventually taken over by weeds as we could not maintain it," says Lydia.
Health services eroded in Boda when it became too dangerous for medical supplies to be transported into the town along the unpaved road leading to the capital, with armed groups robbing and beating those who risked taking the route. Then Lydia's brother fell sick.
"My big brother died of tuberculosis during the crisis as there was no medicine available to treat him," she says. "He had been hiding in the forest for some time and, despite the danger, he came back to the house where he grew sicker before passing away."
One of Lydia's daughters fled to another city soon after her husband was killed by an armed group called the anti-Balaka. Her nephew was beaten and robbed. Despite these hardships, Lydia persevered. She sheltered at the Catholic church with other displaced residents from her community. She collected plants from the surrounding forests that she sold to supplement the food the family received from humanitarian organizations who responded during the crisis.
"The children were also often falling sick during this period because they were malnourished, but thanks to aid organizations we were able to eventually treat them with medicine," says Lydia.  
When security improved in 2015, Lydia and her family returned home. Lydia participated in a CRS cash-for-work program and received financial support to repair her damaged home. She had suffered a monumental loss during the crisis and now had the added responsibility of taking care of her seven orphaned grandchildren.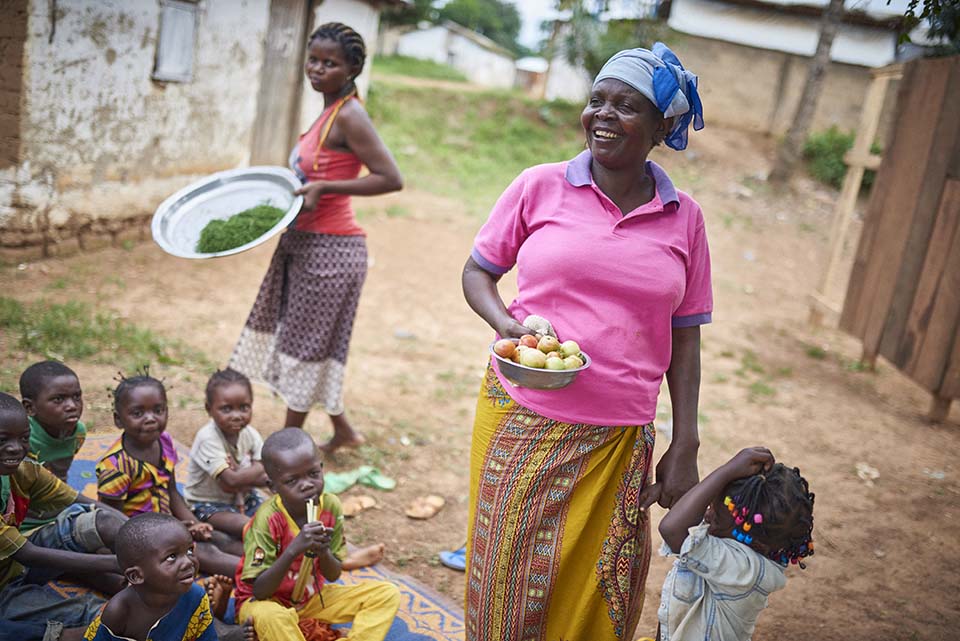 Lydia Manasse manages a household with 7 children and 12 grandchildren. She says her participation in a trauma healing workshop has helped her to heal and move on from violence she and her family experienced.
Photo by Samuel Phelps/CRS
"I lost weight. I thought about my problems a lot. I would wake up in the night crying. I suffered from insomnia," says Lydia. "I undertook the trauma healing workshop with CRS and it helped me change my life, and that of my family. There was a sense of relief and a healing of the heart."
After participating in a CRS community savings and loan group, Lydia started a small business Today, she breeds fish, chickens and pigs. Vegetables are growing again in the family's fields.
"We lost everything, but so long as we have life, we also have hope. After working with CRS, my point of view changed of other members of the community," says Lydia. "I am currently president of a women's association where we work together with our Muslim sisters. My co-president is Muslim, and we work together on business activities with the support of CRS. I don't have any more hate against the anti-Balaka. They even come to my office and ask for job assistance. I welcome them, because we are all part of the same community."
Another resident of Boda who has lived through the crisis is Blaise Ndoïna, a CRS trauma healing workshop facilitator.
"Before, they were ashamed to speak about their loss and their anger," says Blaise. "Now they can speak of their loss, find the courage to go toward the person that has hurt them and even reconcile."