"The students were so happy to see us move back into the school."
Today in Iraq, the Ibn Alebry Seryane School is filled with ambitious students who are enthusiastic about learning and hopeful for the future. These children are resilient, but their teachers still live with the shock of seeing the school taken over and nearly destroyed by ISIS just a few years ago.
"I saw people fleeing in their cars," says Kareem*, the school's current head teacher, recalling the day in 2014 when ISIS came to their town. "My family evacuated, but I stayed behind to make sure nobody was left behind. I got out only hours before ISIS entered the city."
Based in Bartella, a historically Assyrian Christian town in northern Iraq, the Ibn Alebry Seryane School is one of the few Aramaic language schools still operating in Iraq. It was established in 2012 by the town's local Assyrian community to preserve their language and identity as the Christian population in Iraq decreased.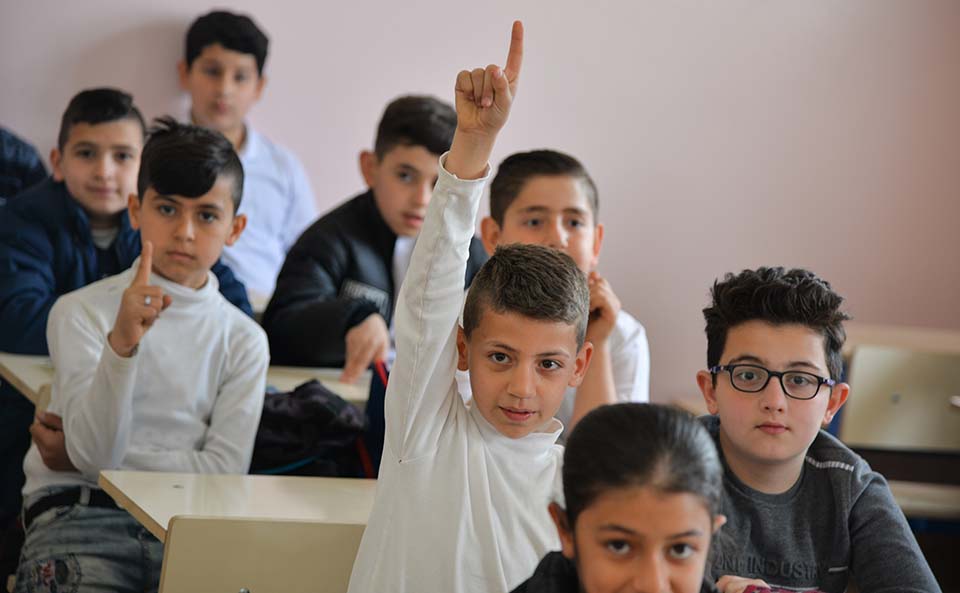 Assyrian students are excited for the opportunity to learn together again in their newly updated school building in Bartella, Iraq.
Photo by Fadi  Salam Iliya for CRS
The school built a strong reputation for taking good care of its students and Kareem proudly remembers starting his job there. He also recalls how painful it was to be forced to leave only two years later, when ISIS militants occupied Bartella.
Like most of the residents of Bartella, Kareem did not have time to take many personal belongings with him when he fled, let alone materials or furniture from the school. Bartella was occupied for the next two years by militants who used the school as a base. When government forces advanced to retake the city in 2016, the school structure was severely damaged by fighting. The building was perforated with bullet holes, windows were shattered, and walls were demolished leaving mounds of rubble in the courtyard and garden.
Kareem returned to Bartella almost as soon as the town was liberated so he could take stock of the damage and begin reconstructing buildings and sites important to the Assyrian community.
"I believed that the school would be rebuilt and was hopeful there would be good people to support us, but the early days of return were scary as the town was still not secured and there were still many unexploded mines," Kareem says.
In early 2018, CRS assessed damage to the school and began rehabilitation with support from our partner, Latter-day Saint Charities. This included extensive work to make the building safe again, such as masonry work for the walls, ceilings, and roof, repairing windows and doors, and rubble removal. Funding even provided ramps for disabled students, connected the school to the main water source, rewired the electricity, and built new latrines and wash basins. New classroom furniture and learning materials were delivered to coincide with the students' first week back in their repaired school building.
"The students were so happy to see us move back into the school. And the teachers were happy teaching their classes in new rooms," Kareem says, overcome with emotion. "I can't describe all our feelings."
There is a sense of optimism now in the hallways and classrooms of Ibn Alebry Seryane School. Children confidently speak Aramaic and eagerly raise their hands to answer questions. The school staff plans to start a garden next year. Kareem's hope is that the improved school will help students grow in "their cultures, traditions, and confidence" in way that will make them models for the future of their community and their country.
*Name changed to protect identity