Promoting Breastfeeding in South Sudan
Photo by Will Baxter/CRS
Lochia Mama Kudumoch is a take-charge kind of grandma. As the head of a mother-in-law support group, she's a powerful voice in her community where she advocates for practices to ensure that children grow up healthy and strong.
To do so, Lochia and the women in her group have had to overcome a number of entrenched traditional beliefs about childbirth and child-rearing practices. Previously, she says, there was not an emphasis on breastfeeding immediately after birth or the need for regular breastfeeding in the first six months of a child's life.
"There are a lot of things we were doing that were not correct. After giving birth, a woman would not breastfeed her child until she had taken a shower," Lochia explains, who lives in Pibor. "We thought that if the placenta had not come out yet, you could not let a child breastfeed. That was the system we knew."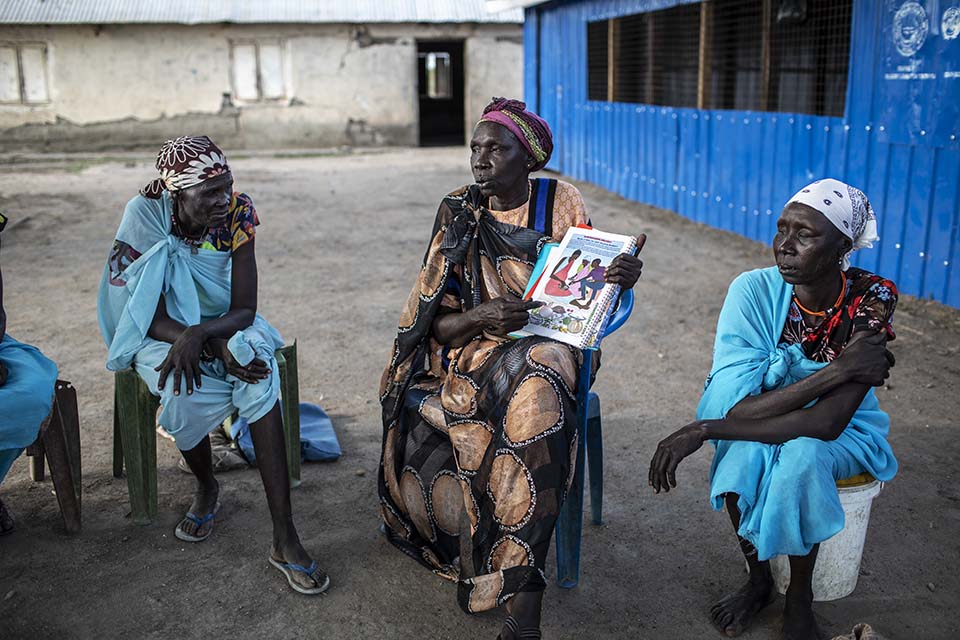 Lochia Mama Kudumoch, second from right, talks about child and maternal nutrition in Pibor, Jonglei State, South Sudan. They are part of a group trained to support young mothers raise healthy children.
Photo by Will Baxter/CRS
The group Lochia leads was organized through a resilience and food security program led by Catholic Relief Services in Greater Jonglei. With funding from the U.S. Agency for International Development Bureau for Humanitarian Assistance, CRS has established support groups for mothers, fathers and mothers-in-law that engage members in learning and sharing modern maternal health and child nutrition practices. They also facilitate discussions within their communities to dispel cultural myths and taboos related to childbirth. 
Of the different kinds of groups, mother-in-law groups are perhaps the most influential due to the status of matriarchs in rural South Sudan. A mother-in-law sticks close by the side of her daughters-in-law throughout pregnancy, delivery and the early months of a child's life. She advises on what to eat, drink and how to care for the child.
"I am the one responsible for advising my sons' wives," says Lochia, who has been the lead mother-in-law of her group since it was formed in 2019. "Now there is a lot of change in the community. We came to know that after a mother has given birth, the child needs to be breastfed immediately. Even if the mother has not yet taken a bath. Even if the placenta has not come out."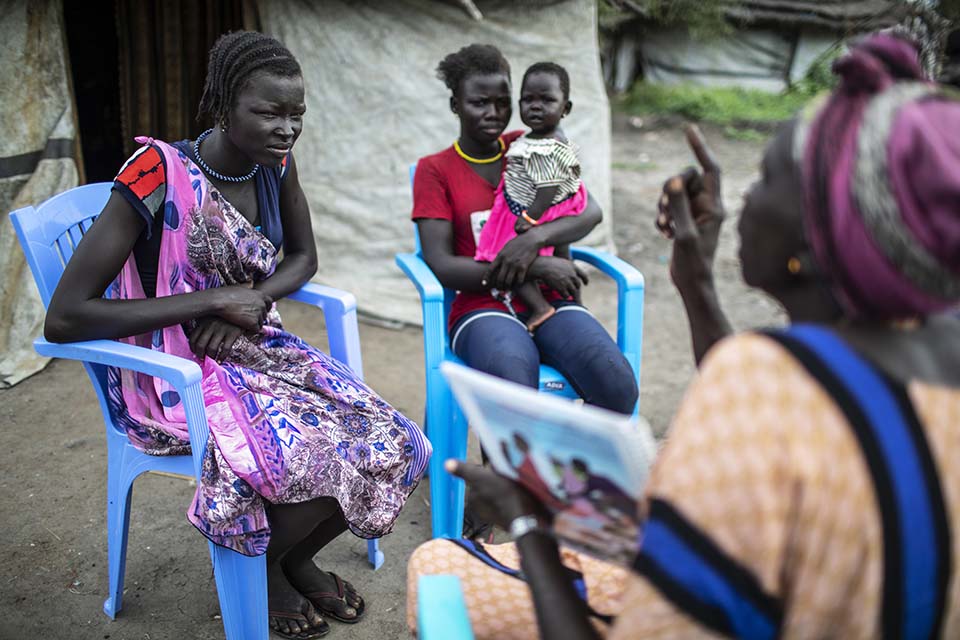 Lochia Mama Kudumoch, right, talks to her daughters-in-law about infant nutrition and the health benefits of exclusive breastfeeding for the first six months of the child's life.
Photo by Will Baxter/CRS
First milk, or colostrum, helps newborns to develop their digestive tract so they can better digest breast milk. It also carries important immune-boosting antibodies, provides protection against germs and internal inflammations, and contributes significantly to the overall health and long-term development of a child.
Long after childbirth, mother-in-law support groups continue to advise families in their community about best practices related to health, hygiene and nutrition both for infants and their mothers.
Sometimes, Lochia says, a mother might leave behind a two- to -three-month-old infant  and travel as far as five hours for errands or chores. "We tell these women to stay around their child so they can breastfeed their child regularly. Even if it is midnight, we advise the mother to wake up to breastfeed," Lochia says, adding that they teach exclusive breastfeeding for the first six months of age.
For Lochia, the focus on nutrition is key. "If you prepare good food and give it to the child, the child can grow to be healthy," she says, lamenting the many mistakes that were made in the past, as well as the consequences.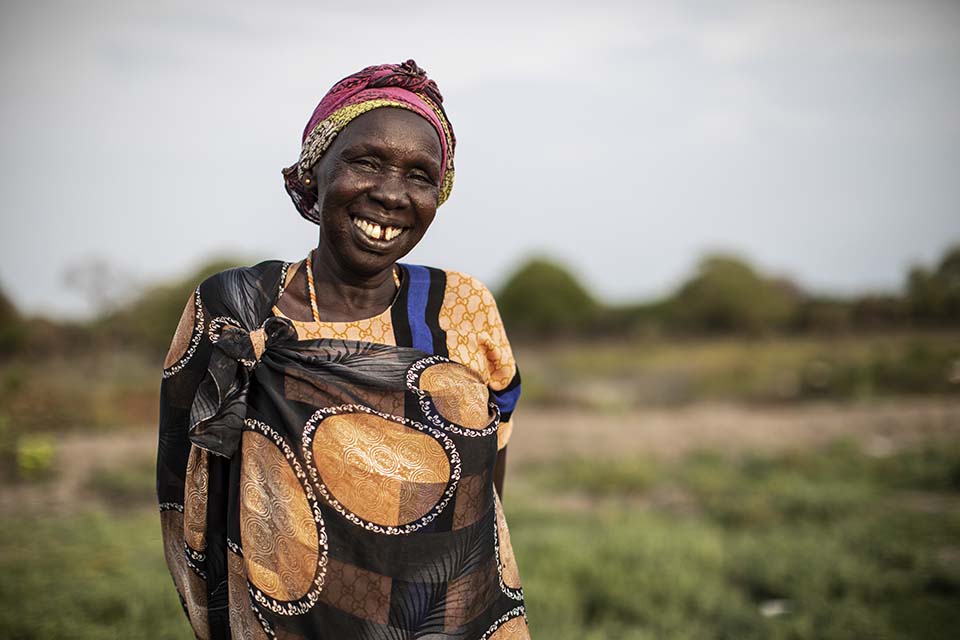 Lochia Mama Kudumoch, lead mother-in-law in a support group, offers infant nutrition advice to her daughter-in-law as part of a project that improves food security and helps conflict-affected communities build up resilience to shocks such as floods, drought and conflict.
Photo by Will Baxter/CRS
"Before we were educated, sometimes we would give a child of seven months hard foods like bread. We thought it was a normal thing to do. Some children would get diarrhea and that could even lead to their death. It was because of our lack of knowledge," she says.
Much of what they teach also focuses on maternal nutrition, both before and after childbirth.
"Now we know that mothers have to get enough to eat so they have milk for their babies," Lochia says, adding that a diverse diet, including vegetables and proteins, is important. "If you give a new mother the kinds of foods she needs, it will give her energy. It will help with safe delivery for pregnant women," Lochia says.
Ngun Kiziwo Oleyo, 21, has changed the way she is rearing her second child, following the advice of Lochia, her mother-in-law.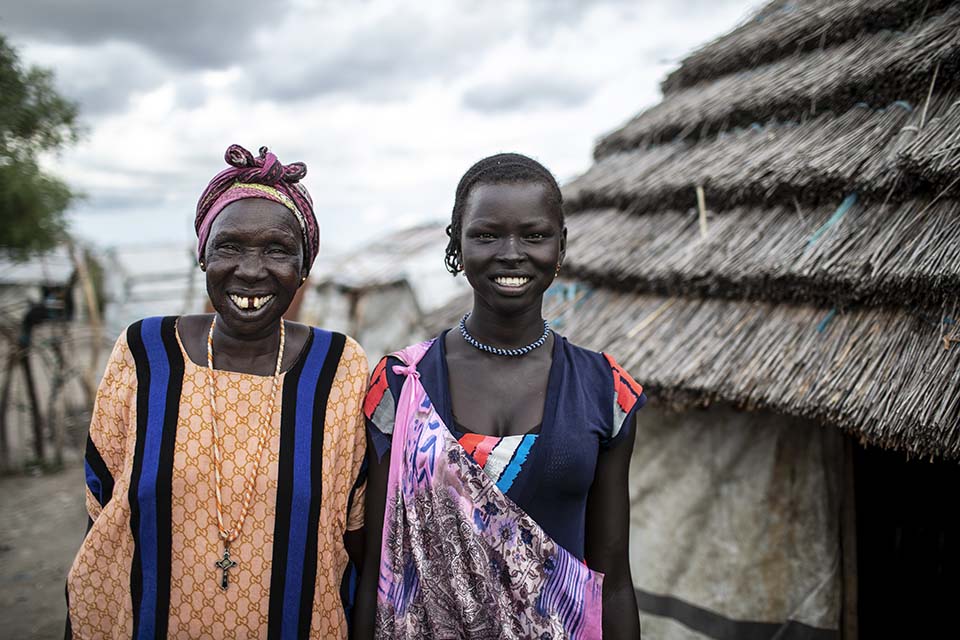 Lochia Mama Kudumoch, left, stands with her daughter-in-law Ngun Kiziwo Oleyo in Jonglei State, South Sudan. Lochia's mother-in-law group is supported by a resilience and food security program led by CRS.
Photo by Will Baxter/CRS
"When this child was born, my mother-in-law advised me to let the baby breastfeed immediately after birth," Ngun says.
"After the baby is six months of age, you can start introducing other foods," she says, mentioning thick porridges, clean water, and broth from fish or goat soups. Ngun has learned to make porridge in a number of ways using ingredients like milk, sugar, oil, butter, sesame and peanut paste. "My second child is very healthy and growing even faster than my first child," she beams.
Meanwhile, Lochia is pleased with how the younger generation is taking onboard her counsel "I am very happy with how my daughter-in-law has followed the advice I have given. If you compare her first born with this second child, it looks like she has understood. I can see she is handling the baby properly," Lochia says.
"Before I came across this knowledge, there were a lot of deaths during delivery," Lochia says, pointing out that this could happen for a variety of reasons, but the underlying factor was lack of access to healthcare professionals and facilities. "Before we would give birth in the village where there are no health facilities. Now I would not allow the wife of one of my sons to give birth in the village like before. Now we know it is better to give birth at the hospital in town."