Preventing Malaria, Saving Lives
Photo by Michael Stulman/CRS
Featured Project
Nigeria Bed Net Distribution
14 million treated bed nets distributed through mass distributions
2 million treated bed nets distributed through routine distribution channels to pregnant women and children under 5
9,701,771 tested for malaria using rapid diagnostic tests or microscopy
7,752,372 received first-line anti-malaria treatment
400 doctors and nurses trained in 8 states
17,536 patients treated for severe malaria
1,103,897 pregnant women received intermittent preventive treatment of malaria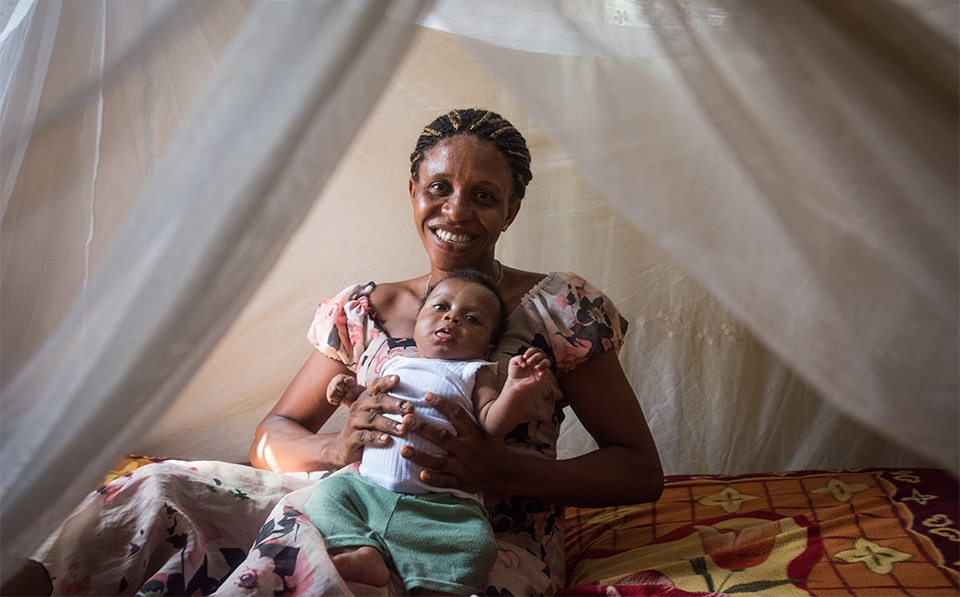 Martha Onuigbo Oluchi sits under a long-lasting insecticide-treated net she received from Catholic Relief Services to help prevent malaria in her household.
Photo by Michael Stulman/CRS
In Nigeria, malaria is everyone's problem. 97% of people live in endemic areas, and there are nearly 60 million cases every year.
With support from The Global Fund to Fight AIDS, Tuberculosis and Malaria, CRS is giving families in Nigeria a better chance to fight back against the disease: bed nets treated with long-lasting insecticide. They are a simple, cost-effective solution that saves lives.
Over the course of six months in 2017, CRS distributed 16 million bed nets in six states, serving 28 million people in Nigeria.
"This was a major accomplishment that will help millions of people who are at risk of malaria," said Diwe Ekweremadu, CRS' deputy chief of party. "But the work must continue in order to put Nigeria on the path towards complete elimination of Malaria."
From 2018 through 2020, CRS and partners will distribute 44 million additional bed nets.
But bed nets aren't the only option for stopping malaria transmission. The same project will help provide quality testing and treatment for an estimated 42 million malaria cases in the 13 target states.  Antenatal care will be expanded to help reach more than 15 million women and children who are most vulnerable to the affects of malaria.  And the project will provide technical assistance to strengthen health management information systems and supply chain management.
With funding from the Global Fund, CRS is working with Malaria Consortium, Society for Family Health, and Management Sciences for Health, as well as Government of Nigeria and National Malaria Elimination Program.
"The project is important given the huge health impact, and also the introduction of technology for improving efficiency and accountability in the distribution processes," said Diwe.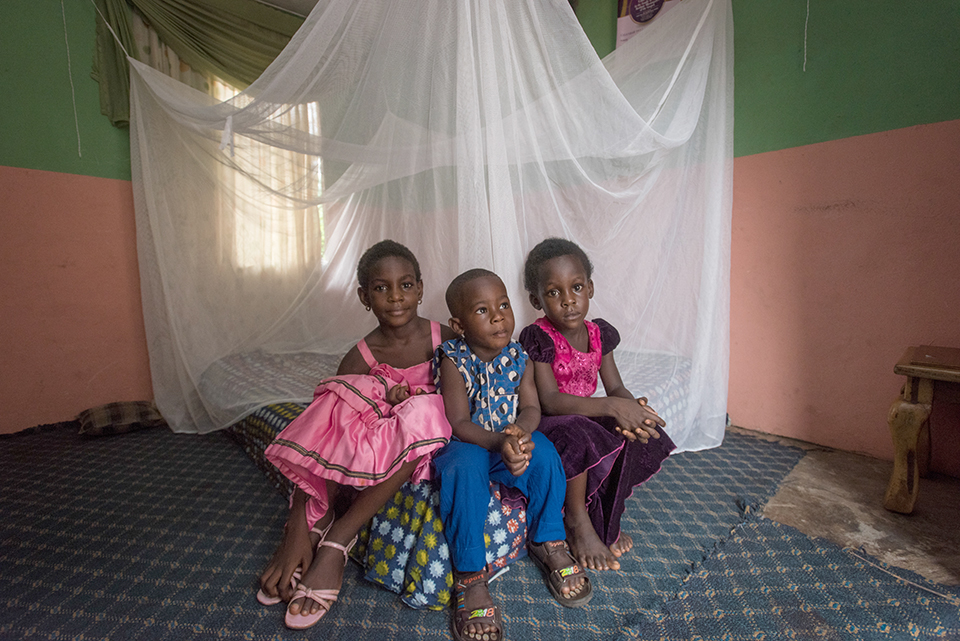 Children sit in front of their long-lasting insecticide-treated net distributed by CRS to help prevent malaria.
Photo by Michael Stulman/CRS
Technology plays a vital role in efficiently managing the large-scale distribution of bed nets. CRS employs a GIS-enabled mobile platform called Cash and Asset Transfer (CAT). It operates on digital android devices and is used to register beneficiaries, track training attendance, manage distributions, and monitor coverage.
CRS uses more than 6,000 devices to improve accountability, data quality, and reduce the time required for mass distributions. Results from a pilot demonstrated that the technology can help achieve high rates of coverage (95 percent of registered beneficiaries received a net) and thus maximize impact for malaria prevention.
"The use of devices during the pilot project impressed me most," said Abdulkarim Jubril, the project's advocacy communication and social mobilisation officer. "The project will go a long way to prevent malaria, reduce morbidity and mortality, and save many lives."
Treated bed nets are the simplest and most effective way to prevent malaria. Families receive one net for every two persons. Behavior change communications after mass net distributions ensure that households consistently sleep under the nets.
Since 2003, Catholic Relief Services and the Global Fund have partnered to fight malaria, tuberculosis and HIV in 27 countries worldwide.