"In this crisis period, our village was so worried about our welfare and we're so relieved to receive this assistance."
Like many villages in the heart of Senegal's semi-arid Diourbel region, Yassi Gueye features a covering of sand, towering baobab trees and staggering heat. It has not rained since October, and everything on the desert-like earth has dried up.
The men and women of this 90-year-old town gathered in the shaded public square and came forth to collect money and bags of enriched flour. The rainy season is still two months away, and to support families during the particularly harsh lean season, Catholic Relief Services launched ARC Replica, a cash assistance project in 204 food-insecure villages in the Mbacké and Bambey departments of the Diourbel region.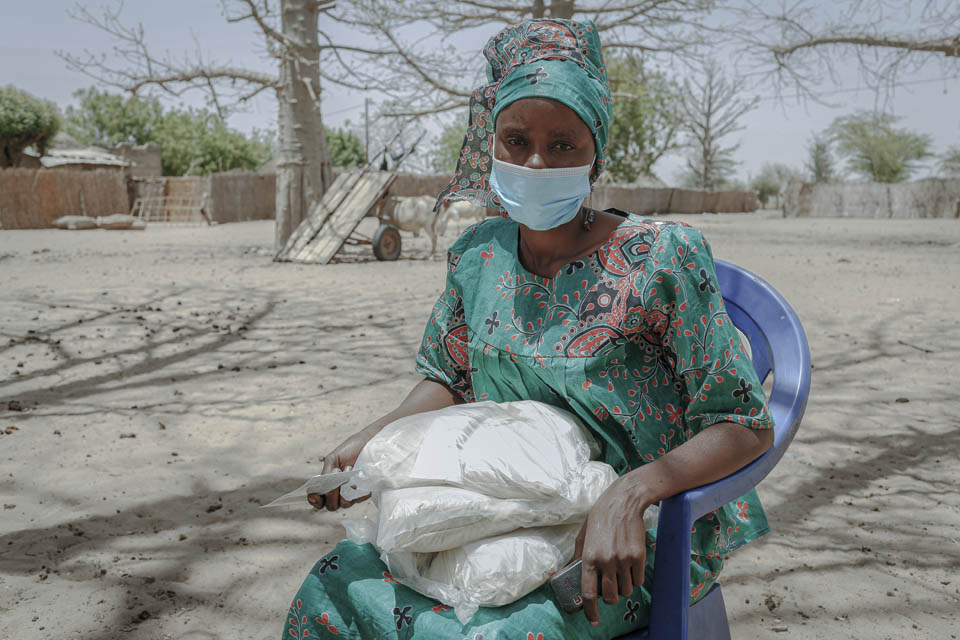 Diouma Faye, a mother of two, holds food supplies that will help her family endure a long drought.
Photo by Maya Hautefeuille for CRS
In an alliance between Start Network, the government of Senegal, African Risk Capacity Ltd., or ARC, and the German development bank KfW, CRS serves as one of six partner NGOs implementing an innovative preventative humanitarian operation to mitigate the predicted impacts of drought. ARC offers drought insurance policy options for African member states, and recently NGOs, to plan for disasters in drought-prone regions like the Sahel.
In Senegal, both the Senegalese government and a CRS-led Start Network consortium of humanitarian agencies purchased policies. As with any insurance policy, if rainfall levels drop below a pre-defined threshold, as was the case last planting season, the Senegalese government and participating Start Network member organizations receive payouts to implement timely and coordinated actions to protect communities at risk in seven vulnerable Senegalese regions.
In CRS' area of coverage, the population consists of small-scale farmers and most households derive a large part of their livelihood from millet and peanut crop production. The rainy season traditionally spans from June to November, but in 2019 precipitation was late and insufficient.
"If the rains start in August instead of July, it means the preceding dry season would have gone on for too long and people will have started eating the grains meant to be planted. Moreover, if the rainy season lasts only two months, crops that need three months to develop will fail," says Alphousseyni Diallo, CRS' ARC Replica program manager.
The objective of the Start Network's food security program is to alleviate immediate hunger by enabling people living through periods of drought and cover their basic needs. The project distributes cash grants and enriched flour for pregnant and nursing women, and children under 5 years old, in addition to screening and treatment for malnutrition, and a nutrition and hygiene education campaign.
For CRS, the cash assistance is implemented with a budget of $1.95 million and is benefiting 41,700 people across 15 communes for three months of food needs.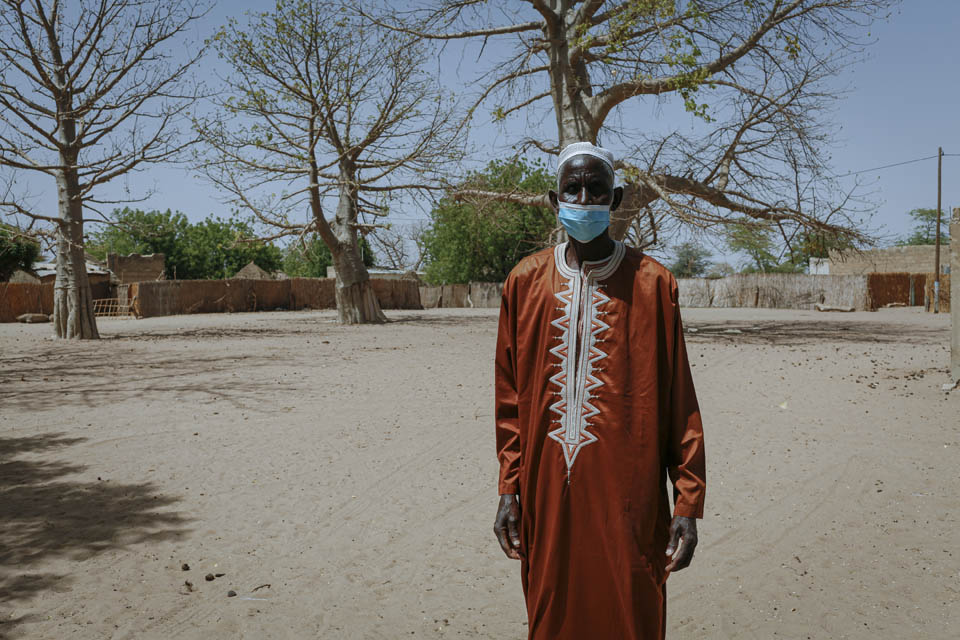 Modou Awa Niang is a farmer whose crops depend on predictable rainfall. With a long-term drought and late or no harvest, some growers feel forced to sell the seed they need for the next planting season.
Photo by Maya Hautefeuille for CRS
"The option of cash gives people the choice of what they want to buy. It's more discrete, respectful, and logistically easier and more cost efficient than distributing goods," says Diallo. "The people here don't have food stocks, so when we give them cash it allows them to eat three meals a day and avoid falling into negative coping mechanisms such as eating seed stock, selling important assets like livestock, reducing the number of meals consumed per day, or reducing the quality of those meals."
Beneficiaries at the Yassi Gueye distribution agree. Standing in line to collect flour, Diouma Faye, a mother of two, says she favors receiving money as it can buy rice and medicine for her family. Otherwise, they only consume coffee, rice and millet-based couscous in a day.
"Sometimes we go to bed hungry," she says.
Modou Awa Niang, a farmer who just received $70 pointed out another important factor.
"The rainy season is when we're supposed to plant. But when that time comes, sometimes we don't have any money left so must we sell our seeds," he says.
With the COVID-19 pandemic, CRS' distribution started in May, a month late to adapt to the public health crisis. At the distribution, beneficiaries had their temperatures taken, kept their distances and everyone wore masks. Across the village, men and women conveyed how the pandemic had affected their already vulnerable community. Markets are closed more frequently, remittances have been slow and debt has been piling up.
"Instead of spending 1,000 francs [$1.70] a day, we now spend 500," says the head of the village, Massamba Dieye.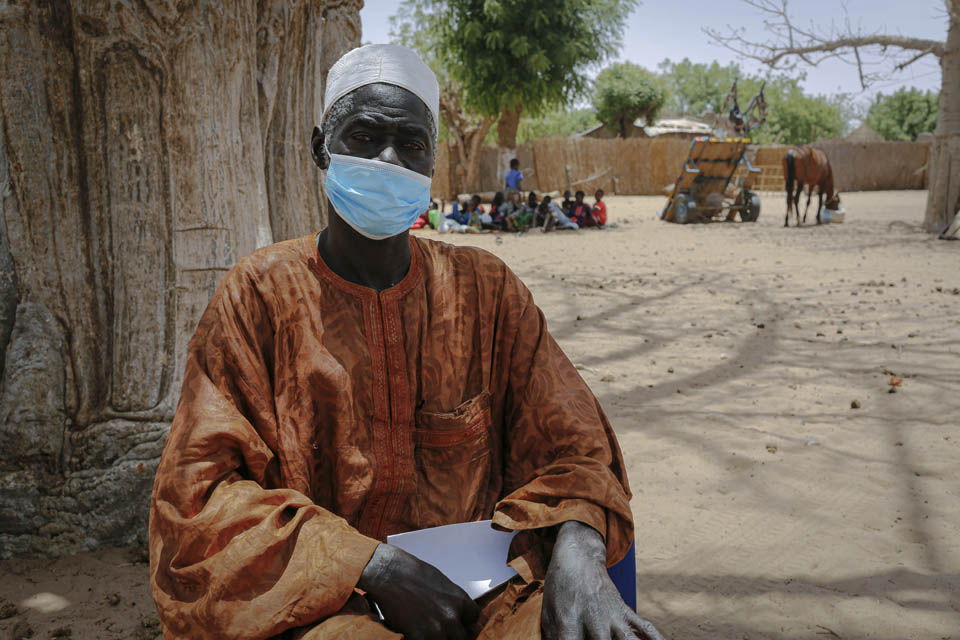 Massamba Dieye says CRS assistance will help his family and others in the village survive a severe drought that has threatened their food supply.
Photo by Maya Hautefeuille for CRS
"In this crisis period, our village was so worried about our welfare and we're so relieved to receive this assistance," he says. "The money will last my 15-member household for two months, and then we will hope for a better rainfall."
The afternoon temperature climbed to 100 degrees, with barely a breeze in the parched air. Two wells stand unused in the middle of the village's public square—one hasn't worked for 15 years. The diminished amount and frequency of rainfall are a clear sign of climate change, and it has been estimated that this will have a significant impact in sub‐Saharan Africa, where 90% of food production depends on rain‐fed agriculture.
"It's hard to see what the situation will look like in five years," Alphousseyni Diallo says. "But at least in the period from March to July when communities' food supplies run out, we can support the population as they start to feel the effects after six months. That's when we intervene to fill in the gap."
As CRS' activities under ARC Replica reach their end, the hope is we can continue to find new ways to respond to cyclical crises through proactive measures like ARC Replica to protect highly vulnerable populations and help communities become more resilient and better plan for future disasters. 
Give to rebuild after emergencies