This story is part of a year-long campaign called Living on the Edge of Climate Change, which shows how the changing environment is affecting the world's most vulnerable. 
Climate change in Zimbabwe. You can hear it on the banks of Lake Kariba up north and feel it in the fields of Beitbridge in the south. You'll see it in the classrooms of rural Gokwe, where the success or failure of a small vegetable garden can stand between a young girl and an education. All over the country, you'll hear people talking about it. There's a spark in their words, when they speak about it. And there's a reason why. Climate change is so powerful that in recent months it has affected the electricity supply, too. For some living in Zimbabwe, there's been one shock after another.
For two weeks in May, we traveled across three-quarters of Zimbabwe, researching how climate change is affecting the country. It's something we've seen over the course of this year-long campaign: climate change is very real and it's affecting the most vulnerable among us right now. But while it's strong, there's something more powerful: the voices and the will of the people of Zimbabwe who want change and are working hard to make it, despite obstacles. This is their story.
THE LAKE

Edward Chikanga is surrounded by hippopotamuses and so are we. Sitting in a boat on Lake Kariba, with the sun in our faces, we get the "tourist view of Zimbabwe" first.  After a 20-minute boat ride, our tour operator Edward tells us that there are also crocodiles in the water near us, even if we can't see them. We hear the hippos snort and see a head pop up every once in a while. Edward says they are "laughing at us." In the distance, a herd of elephants lumbers across a nearby island. It's sobering to realize that everything we are looking at —the wildlife, the landscape and especially the water — is affected by climate change.
Edward has made Lake Kariba his office since 1999. Lake Kariba is one of the largest lakes and reservoirs in the world. It lies on the border between Zimbabwe and Zambia. At over 140 miles long and 20 miles wide, the maximum depth of the lake is 320 feet. 
Despite the lake's size, Edward seems to know every inch of it. He points out animals and landmarks on shore. He wants to provide his visitors good pictures and memories. But he's also focused on what lies below the surface. Lake Kariba has been disappearing. 
Water first began to fill the reservoir in 1958, following the damming of the Zambezi River. Over a half-century, it has become an important resource for agriculture and fisheries; it is also a key source of hydroelectric power for the region. The lake level has seen ups and downs due to variations in water use and climate patterns. But earlier this year, water levels declined to near-record lows after persistent drought combined with a strong El Nino, a natural warming phenomenon that occurs every two to seven years.
November 10, 2015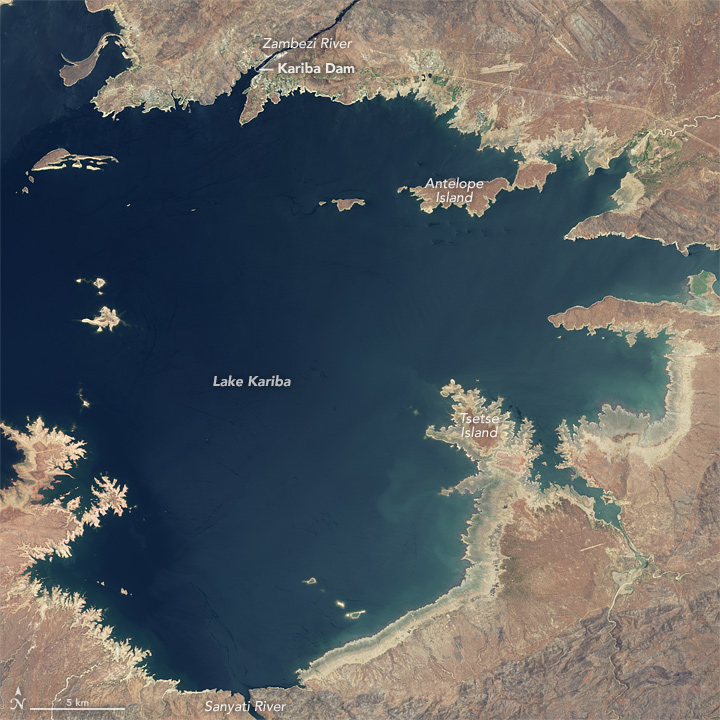 October 19, 2013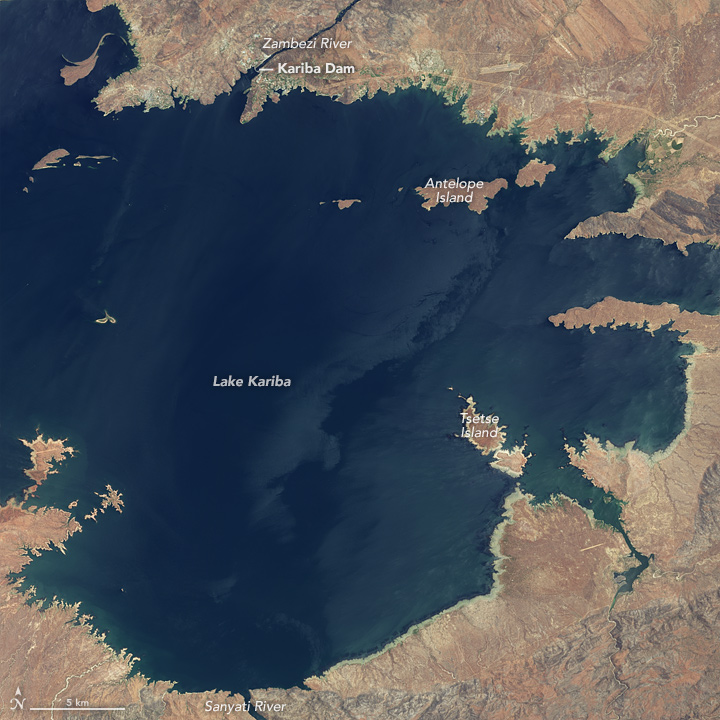 Courtesy: NASA Earth Observatory/USGS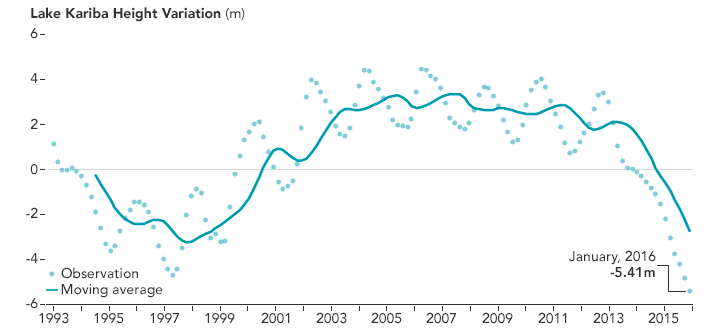 These images were captured at the end of 2015, near the height of El Nino that brought hotter and dryer conditions to Zimbabwe. Compare that to images from October 2013. Lake levels plummet during El Nino years, when reduced rainfall upstream lessens the flow of rivers feeding Lake Kariba.
All of this is a concern to Edward. When the water goes down, islands and trees once below the surface make an appearance, which can make navigation difficult and possibly dangerous. His continued employment also can become tenuous. That's because the water brings the tourists. If there is not as much water, the tourist flow may slow to a trickle.
 "This water was disturbing our tourists, even when cruising in the lake. We were very afraid of hitting the trees, breaking down. Some people were not even [looking forward] very much to coming here. It was very painful for us who work here on the lake," Edward says.
"When there is water, the living is good. When there's no water, there's no job for us." — Edward Chikanga
Edward's favorite part of his job is fishing. He says fish used to be plentiful throughout the lake.  But like everything else around Lake Kariba, fishing has been hurt by drought.
"The fishing has been affected with this lower level because we used to catch lots of fish. Now, there is nothing," says Edward.
Tendai Machinuura and Wise Bush know exactly what Edward is talking about.  They make their living by selling the fish the fishermen bring to them. They say fishermen are forced to go out to deeper sections of the lake to catch their fish, especially the sardine-like fish called kapenta. That costs money.
"The problem now is we don't have enough equipment to go in deeply where we can catch more fish. When the water is low, fish always favor where there's more water. We have to travel far. People used to catch fish nearby," said Tendai.
The lower water levels have also made overharvesting a problem and upped the pressure to produce.  People without licenses are turning to the lake as a solution to feed their families, to earn more money, or simply as a last resort for survival.
"It's hard for fishermen.  I'm depending on the lake. All what I am getting is coming from the lake," said Tendai.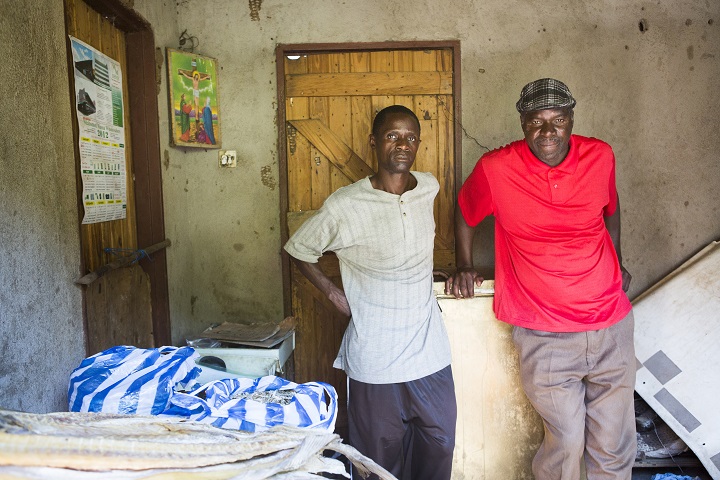 "No lake, no good living, no life." — Wise Bush
With the sun high up in the sky, we watch Edward navigate around the rising islands on Lake Kariba as he brings us back to shore. The drought and climate change, in general, have brought up obstacles for Edward, but he feels the lake still is giving him life. He wants to own his boat someday, and he knows he will do everything in his power to protect that dream and the water that floats it.
"Everything is changed now. It has affected us. We are going to [prepare], so that we can meet it next time," Edward says. "What we have to do is we, as elders, have to teach the children good living. Don't do this or it can affect us.  If everyone is taught, then we are all good."
THE POWER STRUGGLE

The struggle Edward, Tendai and Wise face goes beyond the walls of the Kariba Dam. Large parts of Zimbabwe and Zambia rely on Lake Kariba and its power station for most of their electrical power. Because of the drought, the inflows into Lake Kariba have not been sufficient and the power producing capacity has been greatly reduced.
In February 2016, water levels near the dam declined to near-record lows—just 12% full and within about 2 meters of the lowest level required for energy generation, according to the Zambezi River Authority. Power generation was reduced in both Zambia and Zimbabwe, and electricity was imported from South Africa, Namibia and Mozambique.
Geoffrey Heinrich, CRS senior technical advisor, says the impact of the power struggle in neighboring Zambia was very clear, especially earlier this year.
"Because of lack of electricity, they cut power on the national grid eight hours a day and sometimes more. The copper mines, which are the main industry, cannot operate at full capacity. Many of them cut back from running 24/7 to running just 8 hours a day. Some of them have closed, putting lots of people out of work. And then other businesses that require refrigeration or other forms of electricity, their cost of operation has gone up enormously because they're having to run on generators," says Geoffrey.
Lovemore Maocha is a driver for CRS and lives in Harare, Zimbabwe's capital. With his job, he sees a lot of the country, but he's also been noticing changes as a citizen of the country.
THE BASKET CASE
This uncertainty didn't always exist in Zimbabwe. The country is home to approximately 14 million people, most of whom live in the rural areas. Agriculture is the backbone of the Zimbabwean economy. In fact, Zimbabwe was once known as the "bread basket of southern Africa."
But over the last decade, the country has experienced a number of economic, environmental and political shocks, many of which are having long-lasting impacts. In addition, the ongoing drought has significantly reduced crop production and access to food in all 60 districts of the country. It's estimated that 72% of the population lives in chronic poverty. That means they live on less than $1.25 a day.
Like many parts of Southern Africa, Zimbabwe has been hard-hit by the effects of El Nino. The country's latest rainy season was the driest in the last 35 years. And in Zimbabwe, people were already coming off a poor 2014-2015 harvest. The country reports 2.8 million people—30% of the rural population—are food insecure. Many of these people also live in the driest areas of the country.
"The greatest population of Zimbabwean people live in the rural areas, and agriculture is the economic activity that they do," says Gwinyai Chibaira, CRS agricultural livelihoods project manager. "Rain-fed agriculture in Zimbabwe is actually a gamble. It's a risky business because everything is dependent on rain."
"What happens if the rain doesn't come? I always equate it to a casino. If you go to a casino, 90% of the time, you lose.
It's a risky business." — Gwinyai Chibaira
This year many people lost. 
In the past, the rains, which are so important for farming, started in October and November and continued through January or February. This year, the rains didn't start until January, and then they were not enough. It's an issue of both timing and quantity.
"We used to have a regular rainfall pattern during the rainy season. Of late, in the last 10 or so years, either rains come earlier or they come very late into the agricultural seasons. We, at times, receive a lot of rains within a very short space of time," says Gwinyai. "Then we have a very long dry spell. There's literally no rain. It is actually making it very hard for smallholder farmers to plan in terms of what they grow, and how they are going to manage whatever they would have grown."
Because agricultural productivity declined after recurrent droughts, El Nino and climate change, Zimbabwe has been importing a large amount of products from Zambia, South Africa and other countries. 
THE MONEY GAME
Unfortunately, the people of Zimbabwe have been in this situation before, and it all comes down to money. In 2008 and 2009, there was literally no food on the shelves. Zimbabwe, which now uses the U.S. dollar and other currencies, abandoned its own dollar in 2009 after hyperinflation, which had peaked at around 500 billion percent, rendering it unusable.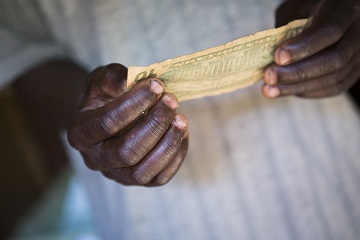 "As long as the country does not stop imports, then we might not have the situation we had in 2008 and 2009. It was a pretty bad situation for the ordinary person. People were driving into Botswana, South Africa, and Mozambique to actually purchase food, and come back with it into Zimbabwe," says Gwinyai. "It is very important to have the ability to produce your own food because it means you'll not depend on imports, and that means the prices will not go very, very, very high. They'll always be food available if you can produce it yourself."
But for many, that is easier said than done, especially this year with the drought and the iron fist of El Nino. Right now, food insecurity continues.  The southwestern districts of the country were particularly hit hard because of their  dependence on agriculture and lack of rain. In some places, the entire harvest was so poor it was written off. From October 2015 to February 2016—the rainy season—the country received less than 60% of its long-term average rainfall.
Besides leaning heavily on imports, Zimbabwe is also experiencing a high unemployment rate and cash crisis. Quite simply that means people are unable to get money from the bank. Both the unemployment rate and the cash crisis are related to the current economic issues in the country, and while not tied directly to climate change, both have very strong indirect linkages.
When we were in the country in May, the cash crisis was already underway.
"It started at the end of April, beginning of May.  Banks didn't have enough cash. They started introducing withdrawal limits," says Lovemore. "People are having to wake up very early to go and queue at the banks. If you're lucky to get something, it will be limited. Most banks have put a $200 limit. That's per day. You may not have access to cash. It's quite sad."
If people don't have cash, they are not spending money and supporting local businesses. Some of those business owners are farmers, who are already struggling with the drought. Without money, they have trouble feeding their families or investing in their farms, including developing techniques that may make them a stronger force against climate change challenges.
The high unemployment rate is another problem. The actual number of unemployed people is hard to pin down, but it's estimated to be between 80 and 90% of the adult population. Those who have work are often underemployed. Many have university degrees and are selling produce or airtime (talk time for mobile devices) on the side of the street. Contributing factors include the drought, the economic situation and the fact that Zimbabwe is one of the most educated and literate countries in all of Africa.
"People in Zimbabwe love going to school. We are an educated country. There are lots and lots of university graduates and college graduates. As a result of the bad economic situation in Zimbabwe, most industries have closed. More than 60% of industries in Zimbabwe have closed in the past 5 to 10 years," says Gwinyai. "The ability to absorb graduates from schools, colleges and universities, has gone down. You find people getting involved in anything to just make a living."
THE HUNGRY MIND

Children and young adults still in school are also struggling. Pamhedzi Maranga is one of those students. She has dreams of becoming a policewoman one day, but today she and her family are struggling to survive. They are fighting to feed themselves and earn a living with a small vegetable garden after this year's drought left them with next to nothing. Besides trying to find ways to feed her body, 15-year-old Pamhy is also fighting to feed her mind.
Her parents can't pay her school fees. They also can't afford to have her complete her country-wide exams. Because of that, she is several grades behind in school. But what's even more astonishing is Pamhy and her family are not in the minority in their village. Their story is just one of many.
"Most of the families are hard up, especially this year. We are finding it very, very difficult.  They cannot even provide food, basic meals for their children. For a mind to function, it has to be healthy. A healthy mind comes from having a balanced diet. If there is no food, the children are affected health-wise. If they are affected health-wise, it means intellectually they won't perform as expected," says Anderson Tarusenga Mhungu, headmaster of Chireya St. Dominic's Primary School.
With 48 percent of the population younger than 18, the impact of the drought on children is particularly high. According to a country assessment, around 1.4 million children are potentially impacted in the 10 worst drought affected districts, where more than 497,000 children are enrolled in 1,150 schools.
"Drought is very connected to education in many ways. To start with, there's no food if there's drought. Children concentrate less when they're hungry, and also there's a lot of running that takes place at school," says Alice Moyo, project manager for CRS' vulnerable children programs.  "Eating before you go to school can be termed a luxury. Children leave for school, hoping that when they get to school, during break time, a friend or a peer will share with them what they have."  
The drought and El Nino. Money concerns. Job and schooling worries. Each of these is a piece of the Zimbabwe puzzle.  And all of them have a climate change connection.
"Climate change is not a simple issue. It really affects everything at the end of the day." — Gwinyai Chibaira
THE BRIDGE

Is there a way to bridge all of these gaps in Zimbabwe?  To answer that question thoroughly and to see the scope of the problem, it's probably best to look under a bridge or two in Zimbabwe.
This is what you see.
| | | |
| --- | --- | --- |
| Runde River | Runde River | River outside of Beitbridge |
| River outside of Beitbridge | Mzingwane River | Mzingwane River |
That dried up land?  That used to be water. That water used to be high. In some places, it was so high, crocodiles called it home. That's not the case in these places anymore. Throughout Zimbabwe, especially in the south near Beitbridge where we traveled, there are bridges to nowhere. There are bridges over land with water troubles. Where travel by car or foot used to be impossible, there are now dusty roadways with vehicles and people. The water is gone. And every year that passes, it seems more of these scenes appear on the landscape in Zimbabwe.
"The dried out river beds are becoming a common feature in Zimbabwe. Most small streams are running dry because there's no rain that is coming. That has also started to affect major rivers. Some of the major rivers haven't had any regular flow in the past two years," says Gwinyai. "It's very weird because it's a river. We expect it to have water flowing. You can imagine it's not only water for agriculture activities, but in the rivers, you can also find fish, which is a protein source. With no water, there are no fish."
Water brings people together. The function of a bridge is to connect or join. And while many bridges we passed over no longer exist as a passageway over water, the bridges still connect communities. And communities contain people. And people have ideas…and solutions.
We traveled over many physical bridges in Zimbabwe. At the end of every one of those bridges, we found people who were still surviving—and in some cases thriving—despite the drought.
We found people like Reuben, who is helping bridge the gap between uncertainty and action in a changing climate.
Reuben Shanga has been a farmer in southern Zimbabwe since 1980. He is part of a group of 8 people who raise livestock and do integrated farming.  Reuben and his partners received a small grant from CRS partner Caritas Internationalis to raise and breed cattle. When the market is good and the price is right, the goal is to sell the cattle for additional money. But the group does more than just raise livestock. They grow the food for the livestock.
"Feeding one beast using the stockfeed that we buy is too expensive. You can just buy a little stockfeed, and as the drought goes on, you lose that money. You lose that one beast, so then you're left with nothing," Reuben says.
He speaks from experience.
In 1992, Reuben had about 70 cattle, but they all died during that year's drought. Reuben wasn't going to let that happen again.
This time around, Reuben is growing bana grass. Bana grass is a very prolific grass; it grows fast in a short period of time. While Reuben is lucky enough to have a perennial water source, bana grass can grow almost anywhere and is somewhat drought resistant. He is using the grass to feed his livestock, and can also sell it to other farmers who need it to feed their animals.
This grass is giving Reuben options. Raising cattle in Zimbabwe is very risky right now.
"With the liquidity crunch, people do not have enough cash to be purchasing meat. The prices of cattle have gone down, and that means it has a negative impact or negative effect in terms of what the farmer gets when he or she sells his or her animals," says Gwinyai. "CRS has been promoting this diversification of enterprises. With small investment grants, farmers come up with ideas or come up with their proposal in terms of various agricultural interventions, and we fund those aspirations. Reuben and his group are also now into tomato production. You cannot put all your eggs in one basket."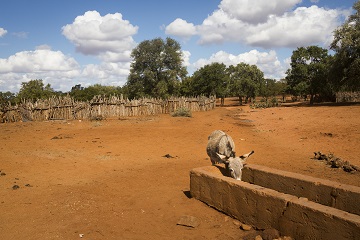 Once a farmer receives funding for an intervention, he or she is not left alone to figure out the climate and the land. Reuben and many other farmers are able to succeed with training and workshops held by Caritas, CRS and trained government agents.
While in Zimbabwe, we went to a Field Day, where farmers gather together to share ideas.
"Farmers have a lot of challenges, and they are finding it a bit difficult in terms of adapting to the changes that are happening," says Gwinyai. "We are collaborating with the extension staff from government to assist farmers in terms of them engaging in agricultural activities that are more adaptable to the climate variabilities that we are experiencing."
Farmers are also diversifying with chickens and goats. But what makes these animals so special?
Quite simply, in many ways, they are drought-proof. Goats, which are hearty in dry areas, are an alternative source of income and food. They provide a lot of protein and milk. They are easily sold on the market, which gives farmers more money. Chickens, similarly, can be eaten and their eggs are a protein source. They are also sold easily. They also eat only a little food, and can survive a drought by moving around and picking at little seeds.
What is done on these farms trickles down or up or sideways to the rest of the country and to neighboring countries. These interventions and strategies are only going to grow in importance in the future.
"With climate change, the future for most rural people is actually bleak, but it's not only for rural people. Most urban areas depend on food that is produced by people that are in the rural areas. People in the rural areas, if they cannot produce enough food, it will definitely also affect lives in the urban areas," Gwinyai says.
Daily, Reuben sees changes in the land where he works. But he has faith things will get better. 
"When we look around, especially here in Beitbridge, almost every year we're having drought. Even if it rains, at the end we're going to have a drought," he says. "That's why we're trying to prepare for the drought, even when it is not there. We are doing this through experience."
Reuben's words are what we heard during our entire time in the country: Zimbabweans believe there is something better around the corner. The power of climate change is everywhere, but so is the power of resilience.  That resilience is in the fields, it's at the lake, it's at the markets. Most of all, it's in the people.
"Zimbabweans have lots of love. We are hard-working people. In spite of our challenges, in spite of our economic problems, people always find a means to survive," says Lovemore. "We have come a long way, and we've gone through lots of struggles in terms of our livelihoods, in terms of access to health, education, safe water, even food. But we've always sailed through somehow. I'm sure it's by the grace of God."
WHAT YOU CAN DO