Poverty is Personal For CRS Mali Leader
Photo by Michael Stulman/CRS
"I can very easily put myself in their shoes. In a sense, I feel I am one of them."
Born in Burkina Faso—in a rural village without clean water, toilets or electricity—Moussa Dominique Bangre looked forward to going to school because it was where he'd receive his only full meal of the day.
"All of us kids, we'd wake up in the mornings and we'd want to go to school because of the food," he says. "I wouldn't have stayed in school were it not for the CRS school feeding program."
Since 1962, with funding from the U.S. government, the CRS school food program has provided meals to millions of children in Burkina Faso. Over the years, many have gone on to lead successful careers as ambassadors, ministers, prime ministers, parliament members, teachers, bankers and—as in Bangre's case—CRS staff.
Bangre was an exceptional student who studied hard. So hard, in fact, that local villagers contributed what they could—from a few cents to a dollar—to help him pay for high school. Bangre recieved the USAID scholarship in 1989 and became one of three people in Burkina Faso to receive a prestigious scholarship through the U.S. Agency for International Development to study in the United States. He ended up attending Southern Illinois University, where he earned a degree in agribusiness.
After all the support he'd received as a child and young man, Bangre made the decision to pay it forward. He returned to Burkina Faso and began working for CRS as the country head of agriculture and microfinance, and later as a country representative. Even now, at age 60, Bangre is still paying it forward. He currently works as the CRS country representative for Mali, where he helps manage a school feeding program that has fed millions of children and helps families continue their children's schooling—especially girls.
Being able to relate to the people he serves makes Bangre's job all the more meaningful, and he acknowledges that he would not be where he is today had it not been for CRS' support. 
Bangre recently visited Burkina Faso, where ethnic militias and extremists have forced more than 3.5 million people from their homes. Last year, the number of displaced people reached almost 800,000. Nearly half of them are living in the region where Bangre's family still resides.
"Seeing all the displaced people is too hard to bear," he says. "I can very easily put myself in their shoes. In a sense, I feel I am one of them."
Bangre is particularly proud to work on CRS' emergency response program, which has provided food, water and shelter to more than 250,000 displaced people in the Sahel over the last year.
Beyond providing lifesaving assistance, Bangre says the program gives people hope.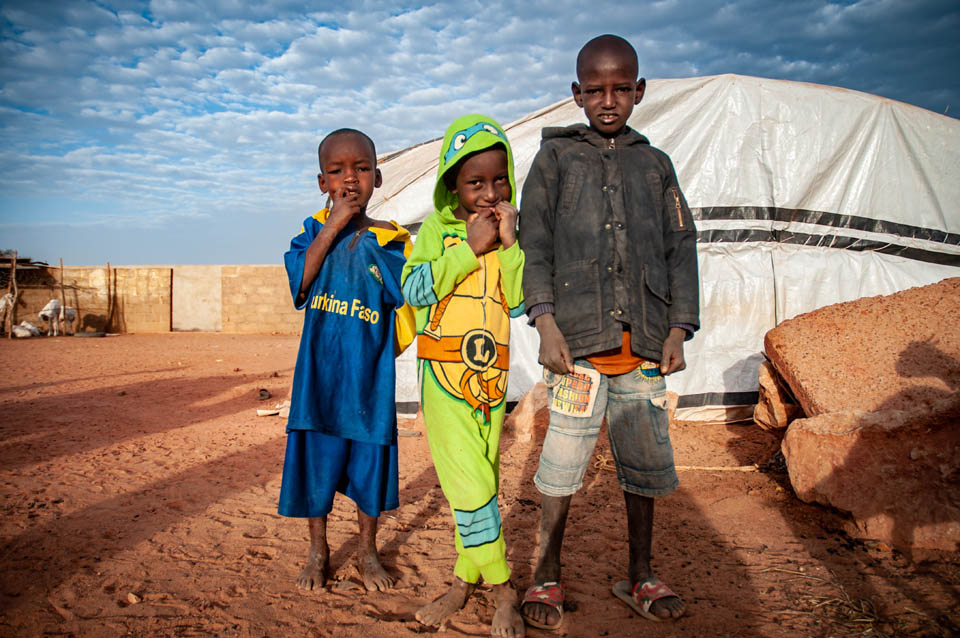 The Sahel crisis in West Africa has affected millions of people, including those from Moussa's home region in Burkina Faso. Today, Moussa is leading the Mali country program and oversees the CRS emergency that provides food, household items, shelter and water and sanitation aid to internally displaced people thoughout the country
Photo by Annika Hammerschlag for CRS
"To see the face of a little child light up is amazing," he says. "Even though CRS assistance lasts only one month, at least the hope is there, and it is a lifesaving support. They can feel that you care."
Looking back on his career, Bangre attributes his success to the countless friends and colleagues who believed in him early on and now.
When he was a child, his community pooled their money together so he could attend high school. As an adult, his professors pushed him to work harder. When he became a young professional, his superiors at CRS trusted him and gave him opportunities and challenged him to rethink the limits of his potential.
"What brought me here is other people," he says. "I owe it to them to make them proud."
Now, as the head of the Mali office, he hopes to have a similar impact on his staff. Everyone is greeted with his big, disarming smile, a fresh cup of coffee and open ears. He believes that each team member offers a valuable perspective.
"We are all part of a larger mission," he says. "I feel blessed to be a part of something bigger than myself."