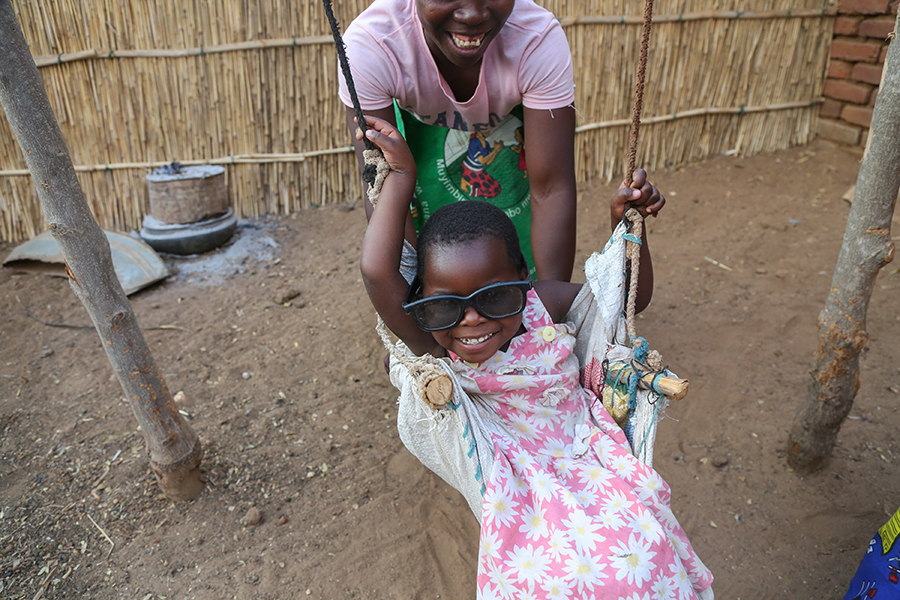 Shakirah Mustafa gets a push from THRIVE II Care Group Volunteer Nelia Chinangwa. The 2-year-old is recovering from complete paralysis with the help of therapeutic play. Photo by Sara A. Fajardo for CRS
Building a mind
"One-two-three," sings Ruth Mustafa, as she pushes her daughter Shakirah on a swing in their courtyard in Kasisi I Village, Malawi. The 2-year-old beams and squeals with delight, her right hand clasping the rope that suspends her as she careens back and forth. "Four-five-six," calls out Ruth convinced that every mundane moment of play is an opportunity to build her daughter's mind. "Mama, Mama," Shakirah responds between squeals.
It was a little over a year ago that Shakirah was left fully paralyzed from cerebral malaria. After 2 weeks of oxygen, and transfers from the health clinic to the hospital to yet another hospital, her mother was given devastating news. "They told me there was no hope," says Ruth. "They told me to take her home and wait."
Shakirah, who had been walking only weeks before, was left frailer than a newborn and could scarcely swallow liquids. To feed her, her mother had to open her mouth like a bird. Seeing her daughter suffer, Ruth fell into despair. "We were scared. There were even times we wished she would simply die."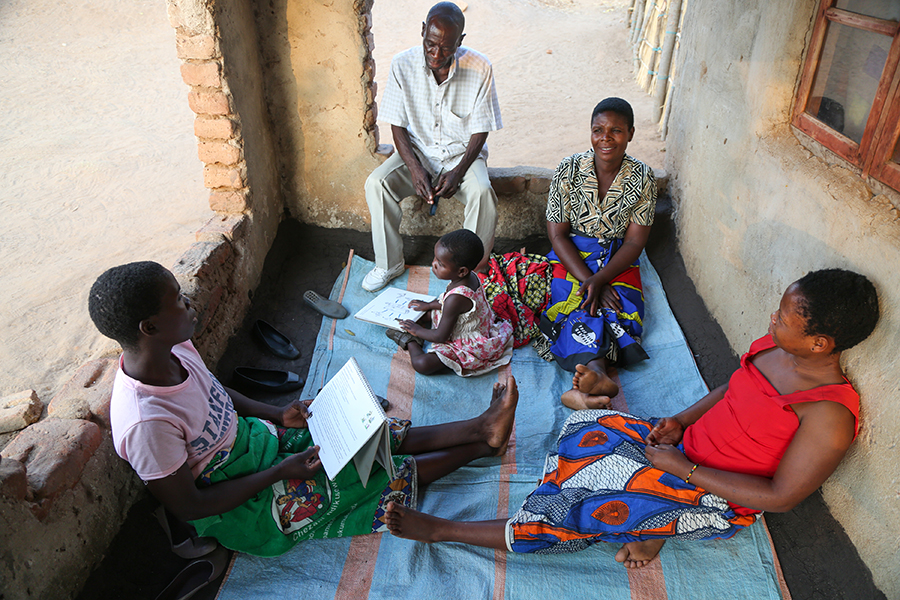 Clockwise from bottom left, THRIVE II Cluster Leader Nelia Chinangwa leads Alex and Ruth Mustafa and their daughter-in-law, Miriam, on a session about positive discipline during a recent home visit. Shakirah, center, looks on. Photo by Sara A. Fajardo for CRS
A community of care to the rescue
As the months wore on, Shakirah made flickers of progress. She learned to swallow and began moving her arms. A humanitarian aid organization gave the family a special table with foot holes to help her practice standing, but it held no interest for her.
Then one day, Nelia Chinangwa, a community volunteer from the Conrad N. Hilton Foundation-funded THRIVE II project, came to visit the family. It was Nelia's job to teach mothers with young children the importance of the "special 1,000 days," the critical developmental window from conception to the age of 2. Her field officer, Gray Chanansi, told her to keep an eye out for any cases that required special attention. When she met the Mustafas, she knew they were such a family.
Gray's prescription for Shakirah surprised the Mustafas. Play.
"Sing to Shakirah," Gray encouraged them. "Turn everything into a game. When you feed her, sing. When you swing her, sing."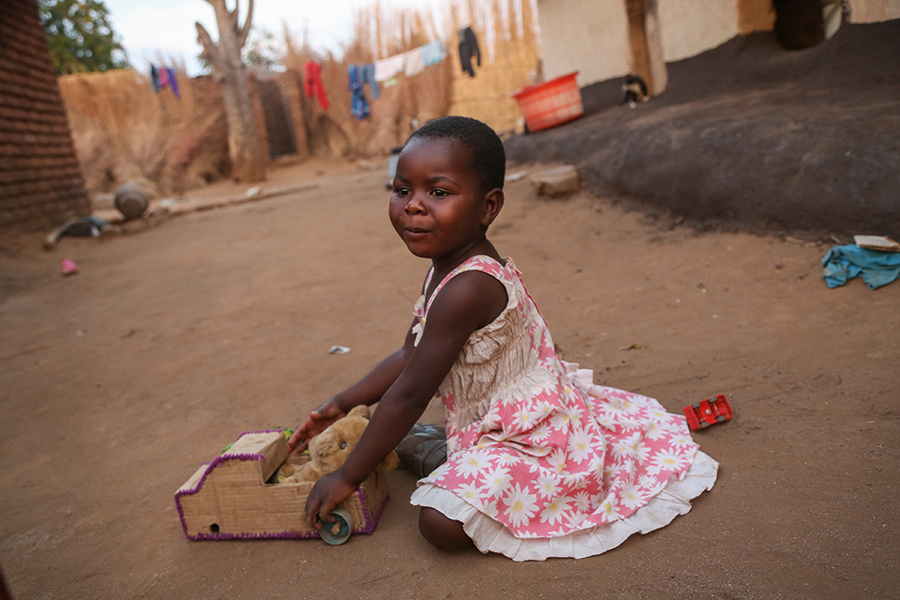 Shakirah's mother made her a cardboard car with wheels fashioned from plastic bottle tops. She scoots around with it in the courtyard. Photo by Sara A. Fajardo for CRS
The power of play
In the region of Malawi where the Mustafas live, an average rural family lives off less than $1 a day. There is no extra money for luxuries like store-bought toys.
Instead, THRIVE II encourages parents to rely on materials they can easily find to make their own toys: Empty bottles and rocks make the perfect shakers, bottle caps and wire can be used to make instruments, cardboard boxes can be cut and fashioned into toy cars, an old shirt can be sewn into a doll.
"When we were told about the toys, we felt it was just for play and not useful," says Ruth. But then their once struggling eater willingly started taking bites when they sang to her. "After a while, we started realizing they were not only useful, they were critical for Shakirah."
On his weekly visits, Gray showed them how to use toys to motivate Shakirah to use her dormant left hand and to encourage her to practice standing. Alex built her a swing and a seesaw. Ruth made shakers and cars.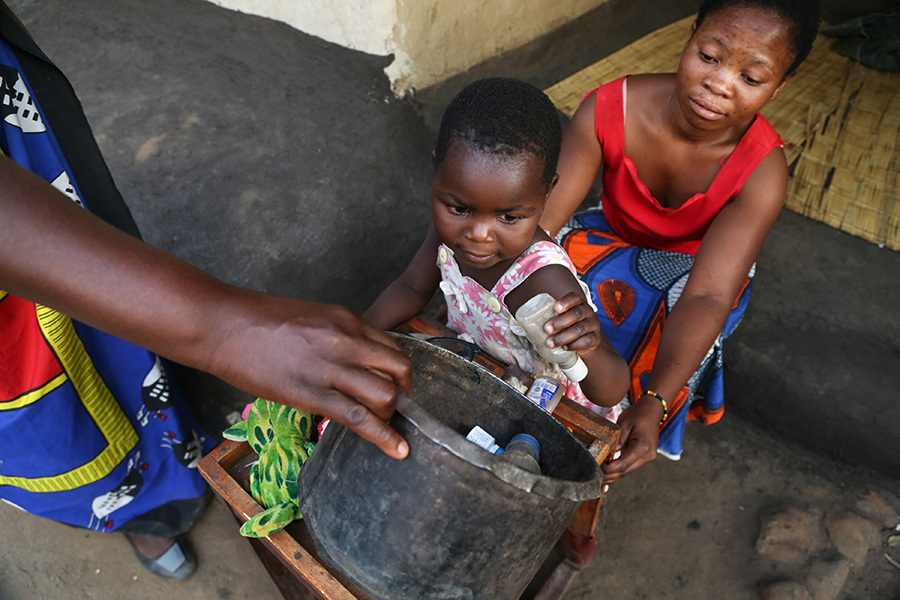 Shakirah practices standing with her sister-in-law, Miriam, standing behind her for support. Her mother holds a pot of toys above her. Photo by Sara A. Fajardo for CRS
Standing on her own two feet
When Shakirah hears the sound of the smoke-blackened cooking pot rattling with toys, she beams. Her mother pours an assortment of handmade shakers and hand-sewn dolls onto Shakirah's little table. Standing doesn't feel like much work when there are toys to sift through.
Ruth holds the pot above Shakirah's head, and she dutifully places in one toy after another. "One-two-three," Ruth sings. She fills up the pot and is all too happy when her mother dumps it onto her table again to repeat the process.
"I encourage other parents to play with their children," says Ruth. "They may think it is a simple, unimportant thing, but look what's happened with my child. With her, we talk. We sing. We count. All of that makes her smarter."
Every day, Shakirah is stronger. She began scooting a few months ago and has taken to scooting over to the neighbor's yard in search of playmates.
"Now that she's standing [with assistance], we believe that she can one day walk," says Gray. "I've given myself a deadline. By the time THRIVE phases out, I will see her walking."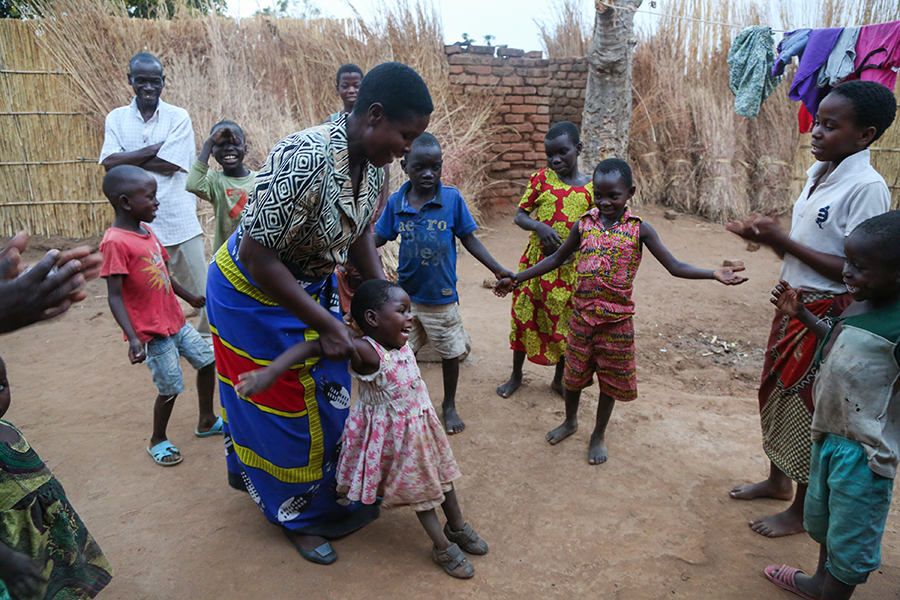 Shakirah stands with assistance from her mother, Ruth, as neighborhood children sing to her and encourage her to dance. Photo by Sara A. Fajardo for CRS
Show us your style, Shakirah
Each evening, Alex lights a torch and calls the neighbor children to their compound. They form a circle around Shakirah and take turns singing to her.
They hop across the courtyard like frogs, showing off their latest dance moves in front of her. She squeals and slams her feet against the ground to the beat.
"She hears singing and wants to dance," says Ruth. "One day I know she will sing to us too." It's a prediction that feels all the more possible since Shakirah recently pronounced her first word. 
"Hearing us sing she said, 'Mama,'" says Ruth smiling proudly as she remembers. "I couldn't believe it, but then she kept repeating it: 'Mama, Mama, Mama.'"
"Now I take her to anywhere there is music," says Alex. "We take her to the discos, to weddings, initiation ceremonies, anything that has music. When she hears the music, she starts jumping."
As the evening light wanes, the neighborhood children sing out, "Shakirah show us your style. Show us your style, Shakirah." To which she beams and pounds up dust with her tapping feet.