Peacebuilding and Emergency Aid in Mali
Photo by Annika Hammerschlag for CRS
Fatoumata Minta had just put her two children to sleep when the attackers came. She grabbed them from their beds and fled into the bush while her husband, Soumaila, stayed behind to help defend their village near Bankass, Mali. 
It was the last time she ever saw him.  
The March 2019 attack left four villagers dead. Two, including Soumaila, were kidnapped. An acquaintance from a neighboring village saw him being taken away on the back of a motorcycle, blindfolded and bound.  
Fatoumata and more than 100 others from her village have spent the last year living in a camp for displaced people some 100 miles away in the small town of Mopti.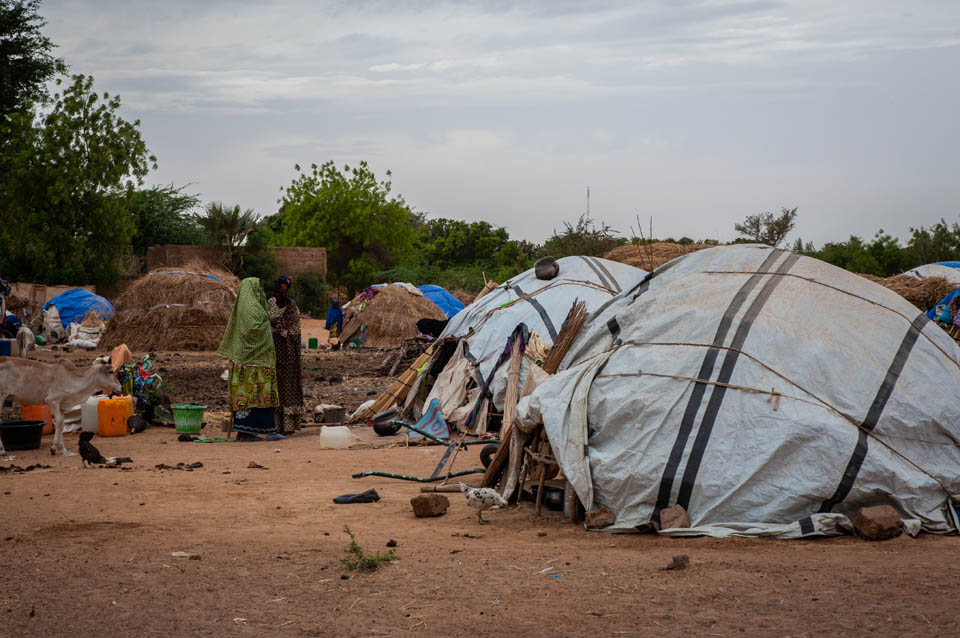 Some 3.5 million people throughout Africa's Sahel region, including Burkina Faso, Mali and Niger, have been displaced following violent attacks by armed militias and terrorist groups.  
Photo by Annika Hammerschlag for CRS
Violence from armed militias have forced 3.5 million people throughout Africa's Sahel from their homes, including more than 200,000 from Mali alone. In addition to deadly attacks, there are reports of food supplies being burned.
These conflicts stem largely from tensions between farmers and herders—chronic drought has diminished fertile land, leaving communities with no source of income. Meanwhile factions, including ISIS, continue to prey upon the population's economic desperation and historic grievances. As seasonal temperatures rise, the violence has escalated.  
In Mali, fatalities have increased each year since the crisis began in 2012. The country saw a record 456 documented killings in 2019 alone.  
In partnership with West Africa's Catholic Church, CRS' Sahel Peace Initiative is responding through a peacebuilding approach that addresses the root causes of the conflict and the humanitarian needs of the communities involved.  
Amadou Dicko, 6, left, Gorel Dicko, 6, and Youssouf Dicko 9. As with many conflicts, children are most affected. It is estimated that they account for more than 50% of displaced people in Africa's Sahel region.
Photo by Annika Hammerschlag for CRS
Over the last year CRS has provided food, water and shelter to more than 250,000 displaced people in Mali, Niger and Burkina Faso—a testament to the generosity of our donors.  
"The governments in the three countries have made tremendous efforts but they are overwhelmed and do not have the means to fully take care of these populations unless they receive external support," says Bangre Moussa Dominique, CRS country representative in Mali.
The coronavirus has made matters even worse for those who have fled violence and insecurity. Displaced communities are faced with increasing food prices, limited resources and already strained health infrastructure. CRS and our local partners have continued our life-saving programs helping the most vulnerable populations in Mali – distributing N95 masks, thermometers, hand sanitizer and educational materials and disseminating clear and simple hygiene promotion messages that can help prevent the transmission of coronavirus.
In Mali, support from the U.S. Agency for International Development's Office of Foreign Disaster Assistance has played a transformative role in improving quality of life. Fatoumata says a grant from CRS Mali allowed her to receive soap, food, buckets, cooking pots and to buy some medicine. 
Fatoumata says a grant from CRS Mali allowed her to receive soap, food, buckets, cooking pots and to buy some medicine. 
Were it not for CRS' assistance, she says she would have gone door to door to beg for help. The funds have even allowed her to seek healthcare. 
Fatoumata is currently undergoing medical testing and had just returned from the hospital when she spoke with CRS.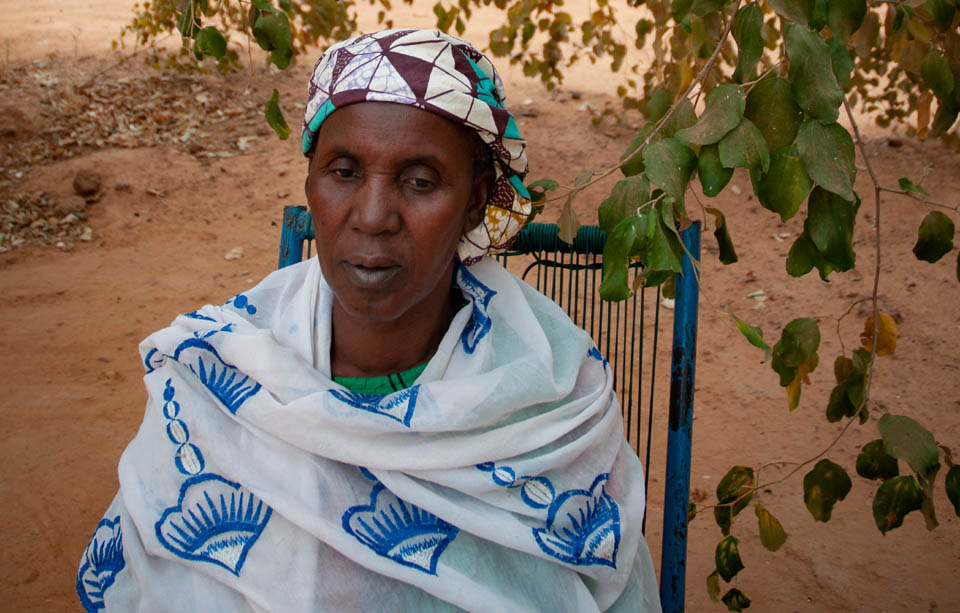 Fatoumata Minta and her two children fled from their home after armed men attacked their village and burned it to the ground. They have been living at a camp for displaced people in Mopti, Mali, ever since. CRS provided them with cooking supplies and cash, which Fatoumata used to purchase food, buckets and soap.
Photo by Annik Hammerschlag for CRS
"My heart, my back, my head—everything hurts," she says between tears. "I can't sleep at night or during the day. When I was with my husband in the village, I didn't have these problems."
Fatoumata's doctor believes her conditions are caused by the stress of not knowing where her husband is and whether he's alive.  
She can't stop replaying the scene in her head: The day after the attack, Fatoumata returned to her village to find it had been burned to the ground. All that was left of her home were her husband's shoes and prayer rug, which had been set outside—Soumaila was preparing to pray when the attackers came. 
"I miss my husband. This doesn't feel right," she says. "This is why I'm sick. This is why I cry all the time."
The only thing that gives her hope is knowing that she and her children are safe. 
CRS is implementing emergency response and development programming across the Sahel region, including Burkina Faso, where the number of displaced people has multiplied more than ten times over the last year to almost 800,000.
"Imagine how hard it is, having to leave your home and everything for only one purpose, to save your life and your family," says Bangre. "CRS' goal is not only to help people survive, but to get them on their feet."