Peace Springs from Ethiopian Water Access
Photo by Will Baxter/CRS
Until recently, Tesfanesh Shifera would normally spend more than two hours of her day fetching water from a pond outside Kercha—the town where she lives in rural Ethiopia.
"We used to have to walk a long time to fetch water," says Tesfanesh, a mother of six. The hours she spent collecting water left little time for earning income, farming or household chores.
Worse still, the pond was not clean.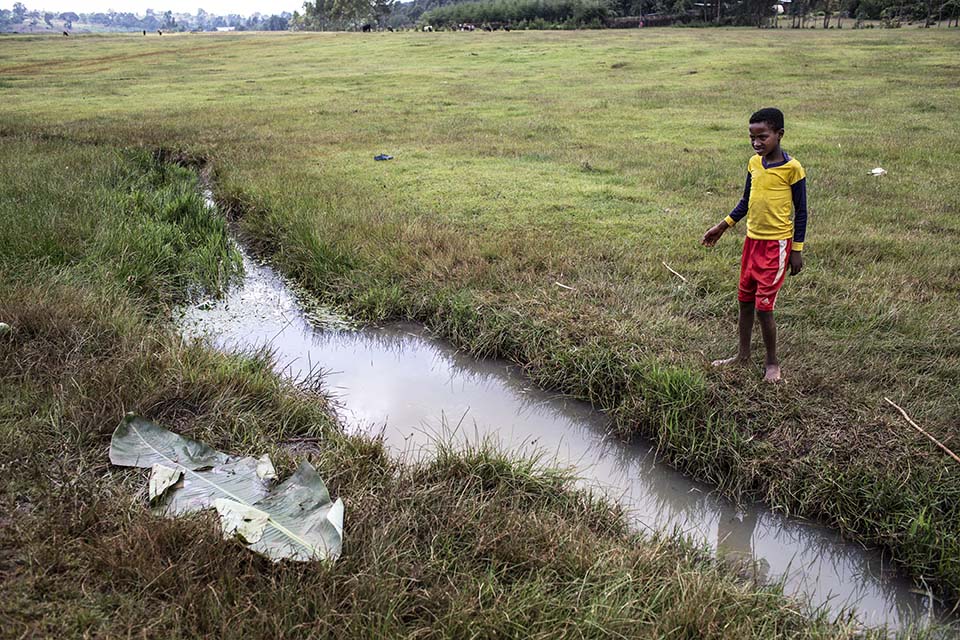 Before a new well was constructed, people in Edera Buyo village fetched water from seasonal streams also used by livestock.
Photo by Will Baxter/CRS
"The water was a red color. It was in an open area, not protected by a fence. The livestock drank from the same pond," Tesfanesh explains.
As a result, water-related illnesses such as giardia and diarrhea were common in the community.
"My children used to get sick a lot," she says.
Lack of clean water is an issue for most people in rural Ethiopia. Compounded by factors such as worsening drought, severe hunger and crop failures, access to water and other resources became an underlying cause of the ethnic conflict that erupted in 2018 and forced almost 3 million people to flee their homes.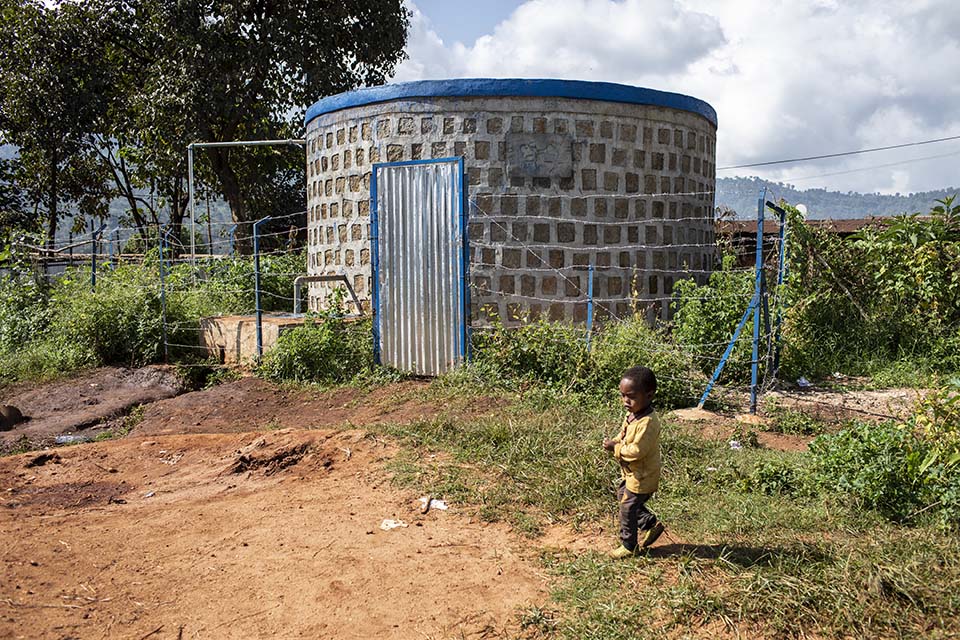 A child walks in front of a water reservoir station in Adame village, Ethiopia. In 2018, almost 3 million people were displaced from their homes in Ethiopia as ethnic and land-related conflicts erupted across the country. Joint management of new wells are bringing groups back together.
Photo by Will Baxter/CRS
During our more than 60 years in Ethiopia, Catholic Relief Services has learned that even though water is a source of conflict, it is also a catalyst for peace. With funding from the U.K Department for International Development and the Ethiopia Humanitarian Fund, managed by the United Nations Office for the Coordination of Humanitarian Affairs, CRS is addressing the root causes of disputes in these communities by drilling new wells and installing integrated water systems that provide clean, reliable water to some of the most remote corners of the country.
Since these activities began in January 2019, we've helped more than 75,000 people gain access to safe water. In Kercha, the West Guji district where much of the violence took place, we installed an integrated water system that pipes in water from a capped spring on a nearby mountain, which means the water is cleaner.
"Now there is a well just one minute away from my home, and the quality of the water is very good," says Tesfanesh.
Burtuken Birhanu collects water at a well that was constructed by CRS in Adame village, Ethiopia.
Photo by Will Baxter/CRS
Water for peace
For CRS and its local partners, this project is about far more than providing access to water. We are creating greater social cohesion by encouraging ethnically diverse communities to work together and co-manage new water resources via water committees with representatives from the different ethnic groups.
"The ultimate aim of our work is to foster lasting peace and address the causes of the conflict," says John Shumlansky, CRS' country representative in Ethiopia. "Our experience in Ethiopia has taught us that working for peace at the local level is imperative to creating lasting change. Before we can begin encouraging people to talk about peace, we know that we must first address their humanitarian needs including the need for clean water, shelter and food security."
Gemede Anole, who serves on the water management committee in Edera Buyo village, says relations between the Gedeo and Guji-Oromo ethnic groups have improved because of their cooperation on managing a well drilled by CRS in July of 2019.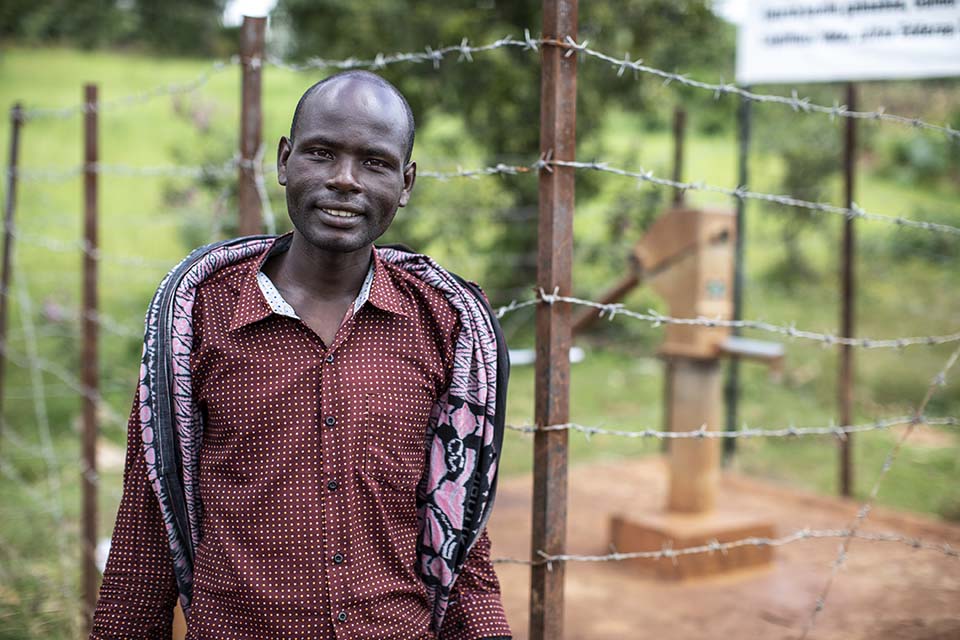 Gemede Anole, a member of the Guji Oromo ethnic group and a member of his community's water management committee, stands in front of a well that was dug and constructed by CRS in Edera Buyo village, Ethiopia.
Photo by Will Baxter/CRS
"Both ethnic groups are participating equally in the management of the well. Because of this, harmony in the community has increased," says Gemede, whose committee meets on a monthly basis. "It has created opportunities for us to discuss different issues with each other, such as how to collect the water fees and the other activities related to managing the well."
Gemede shares a recent example of when run-off water began pooling in a spot just outside the well, which created the potential for the spread of water-borne illnesses. In response, the committee met and decided to pay for a concrete gutter to channel the run-off away from the well.
Nineteen-year-old Sintayo Ashenafi knows that it's vital for women and youth to play a key role in managing important community resources like water collection points. She supervises three newly constructed wells in Kercha town.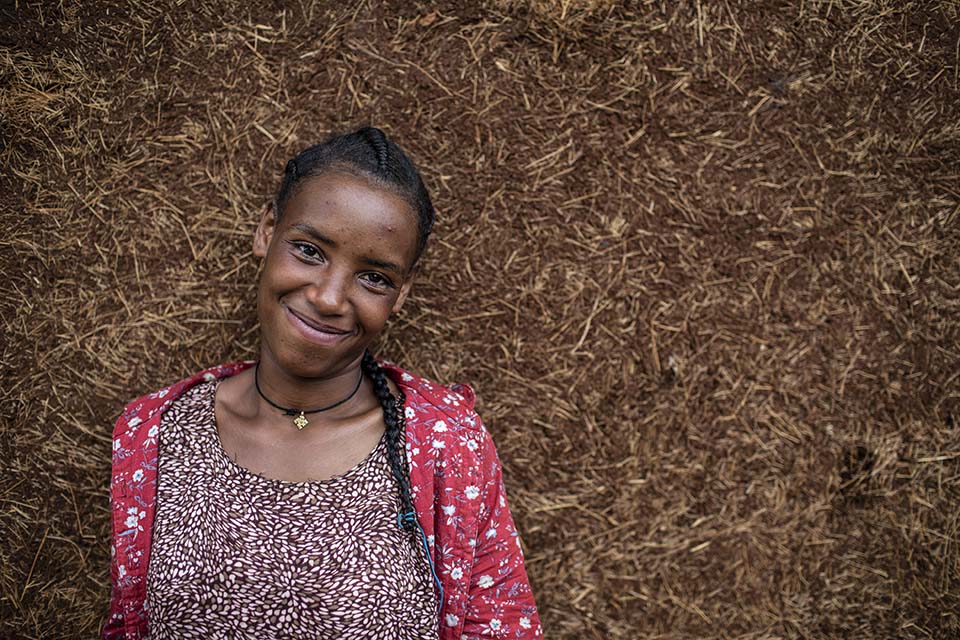 Sintayo Ashenafi, is the manager of three wells that were constructed by CRS in Adame village, Ethiopia. Communities that had been in conflict are mending ties, with members of both groups sitting on water management committees, where they make joint decisions about water resources.
Photo by Will Baxter/CRS
"Water related issues are more of a women's activity in our culture, so it is good that women are participating in the management of water points," she says, pointing out that improved access to water has had numerous knock-on benefits.
"Now we can focus more on livelihoods or taking care of our children," she says.
In December, CRS was still in the process of drilling a 230-foot deep well in Tesfaye Hareri's village, but during the planning phase he'd already seen how the project could improve relations between the ethnic groups.
"We manage the water project together, so through that we have to communicate and work together. We really believe it will strengthen our unity in the future because it means we are socializing more, talking more and having more gatherings," Tesfaye says.
"We are going back to the way things used to be. We gather during funerals. If there is a sick person, we will gather there in the house of the sick person, and we attend each other's weddings and different ceremonies," he says. "Things are getting back to normal."