Parenting Groups Improve Nutrition in Rural Tanzania
Photo by Will Baxter/CRS
Catherine Mlowe was three months pregnant when a community health worker stopped by her home to talk about the importance of prenatal care.
"On the visit, the community health worker explained to me that there is a group I can join, and in the group they learn different things concerning care while pregnant," says 25-year-old Catherine.
Catherine Mlowe and her 3-year-old daughter, Caroline, participate in a group counseling session in Tanzania.
Photo by Will Baxter/CRS
The group offers community-level, peer-to-peer counseling  arranged for pregnant women and caregivers of children under age two. During the sessions, health workers lead discussions in which participants share ideas, challenges, best practices and experiences related to pregnancy, child care, prenatal care, nutrition and more. Community health workers also hold cooking demonstrations and lead workshops on how to make toys out of locally available or recycled materials.
Part of the UNICEF-funded Accelerating Stunting Reduction Program, the sessions are held every two weeks and implemented in six districts of Tanzania's Mbeya region by Catholic Relief Services and the Center for Counseling, Nutrition and Health Care consortium. As of August 2019, there were a total of 5,300 groups with 128,129 participants.
"In the village, we do general announcements to tell people that once a woman notices she is pregnant she has to go to the prenatal clinic," says Anna Mwashamba. Anna has been a community health worker in Mbeya district's Muvwa village since 2003. "And when we notice someone is pregnant, we visit her to insist that she has to go to the clinic," she says.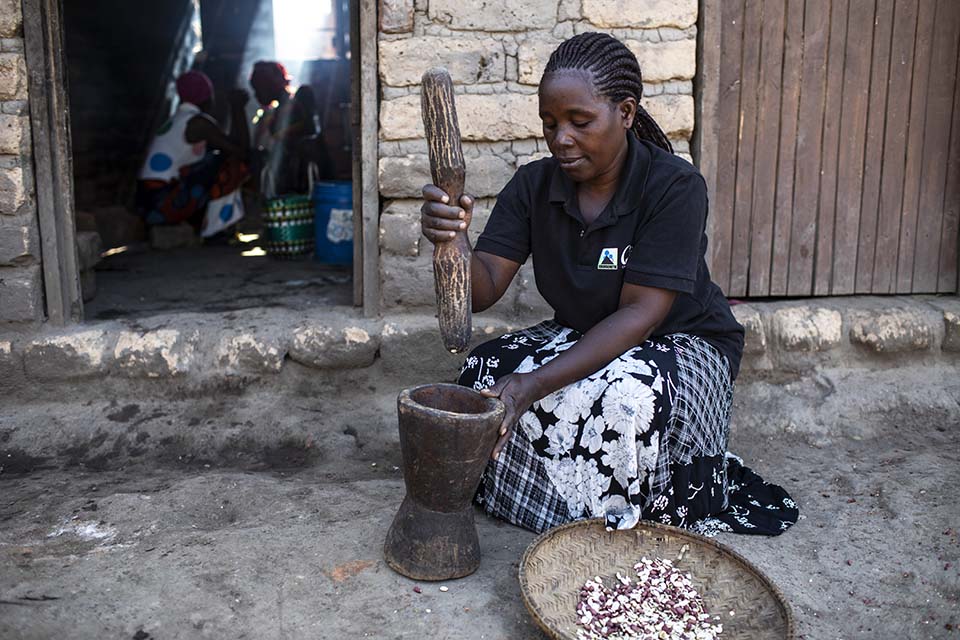 Community health worker Anna Mwashamba grinds up nuts during a cooking demonstration at a group counseling session.
Photo by Will Baxter/CRS
Catherine, whose daughter Caroline is now 3, says she learned a lot from her conversations with Anna.
"I learned that I have to have to rest as a pregnant mother. I learned the importance of attending the prenatal clinic. We have to register for prenatal care early because at the clinic there are many services for us," Catherine says, offering the example that she was given iron-folic supplements at the clinic.
"We learned that after delivery, a mother has to start breastfeeding as soon as possible," says Catherine. "You have to do exclusive breastfeeding for the first six months because breastmilk is what contributes to the development of the child, both physically and mentally. Then after six months they must be given complimentary foods. This aids the growth of the child."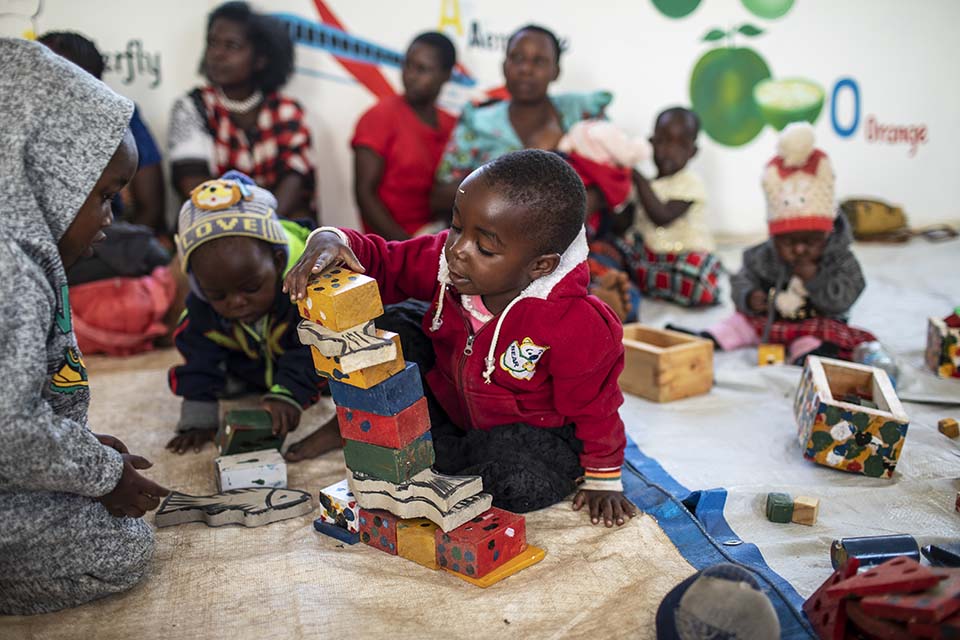 Two children play with toys made from recycled and readily available materials.
Photo by Will Baxter/CRS
In Tanzanian culture, some of the ideas shared by community health workers and clinic staff are relatively new, so men can be resistant to recommendations regarding child and maternal health.
"Most of the time, husbands are not supportive. It's like they don't believe that a pregnant woman needs time to rest," Catherine explains. Attending group sessions together with her husband helped to alter his views on such matters.
"Because we were both attending, it helped so much because then he was not perceiving that I was unwilling to go work on the farm. Instead he understood that I had to have rest," says Catherine.
Mary Mwakitalu says her husband Frank Nyansio learned a lot from group counseling as well.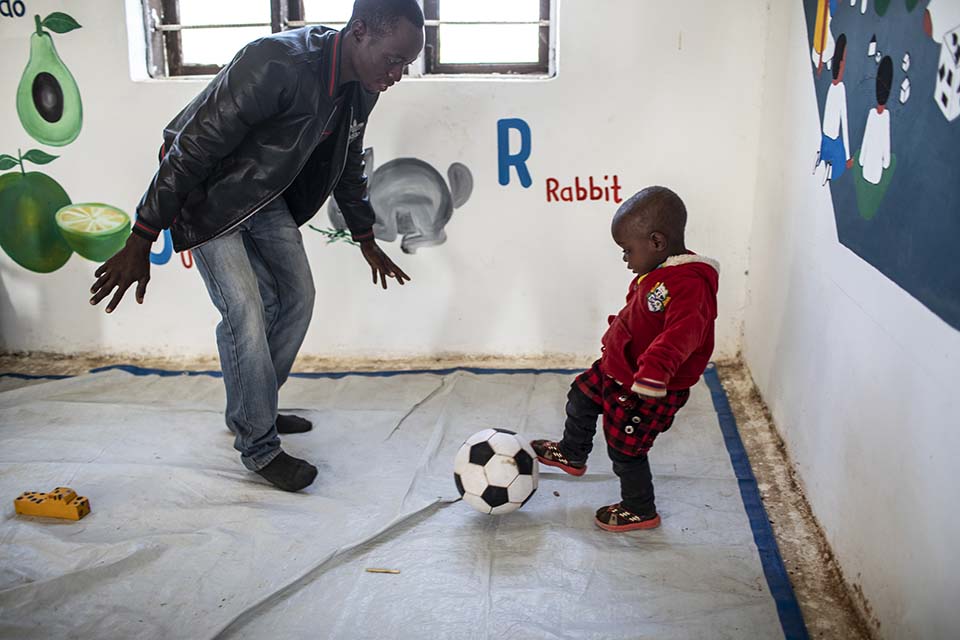 Frank January Nyansio and his son Divana play soccer together. They are enrolled in a CRS program that encourages parents to play with their children to stimulate growth and health.
Photo by Will Baxter/CRS
"It is important for him to attend," says Mary. "He has already learned different things to support me. At home, he normally encourages me to practice what we learned from the group and he tries his level best to fulfill what we have learned, especially where the wife and child are concerned."
"He learned about exclusive breastfeeding for the first six months. He learned about going to the prenatal clinic and doing early registration. He learned so many things," says Mary proudly.
That knowledge and understanding has spread throughout Muvwa village.
"The community, especially mothers, now understand and practice exclusive breastfeeding. Before the program, it was difficult for people to believe that you could do exclusive breastfeeding for six months. Now the majority practice exclusive breastfeeding," says Anna.
The importance of play and a balanced diet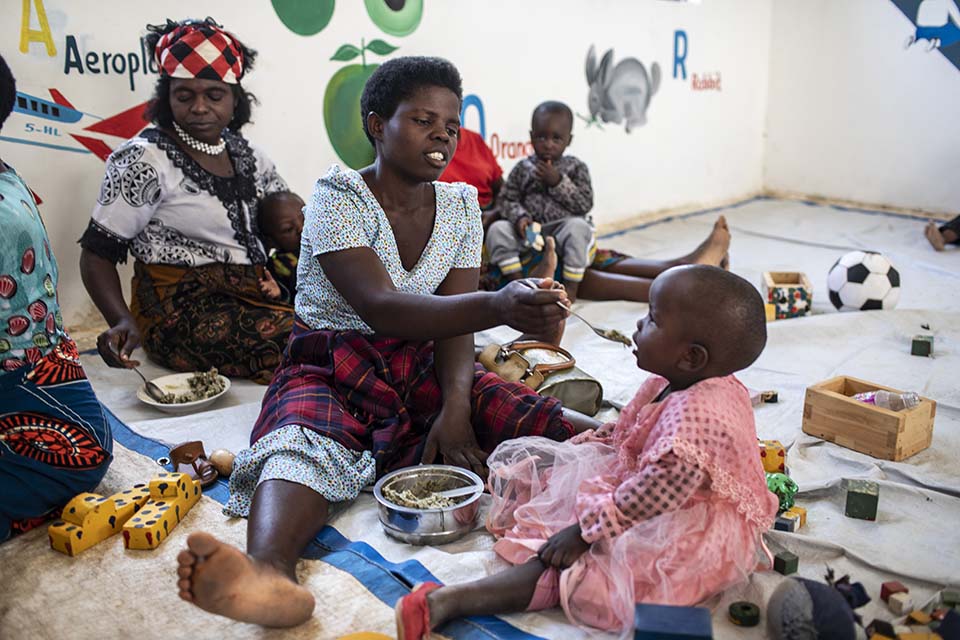 A child eats porridge following a cooking demonstration showing how parents can improve their children's diets and health.
Photo by Will Baxter/CRS
Like Catherine, Martha Asyokile was three months pregnant when she joined the counseling group. The 21-year-old single mother was delighted to learn that she could begin bonding with her son before he was even born.
"I learned about stimulating the child while he was still in the womb," says Martha. "For instance, when I would wake up in the morning I would touch or rub my stomach and speak to the child. For example, I would say, 'Thank God we have woken up safely.'"
She also learned how to make toys for her son, Aidan, who is now 15 months old. "For me, I feel like it is easy because I normally use materials that are readily available for making the toys," says Martha.
Cooking demonstrations during the group sessions have also helped mothers to gain and share knowledge about how to prepare nutritious foods.
"The part of group sessions I am enjoying the most is on how to prepare different foods for the child. I learned how to cook porridge in the group. I have started giving him porridge," says Martha, referring to Aidan. "It is a mix of maize flour, eggs, peanuts and sugar. Sometimes I might also add milk. I can also give him cassava paste with beans and eggs. Or avocado."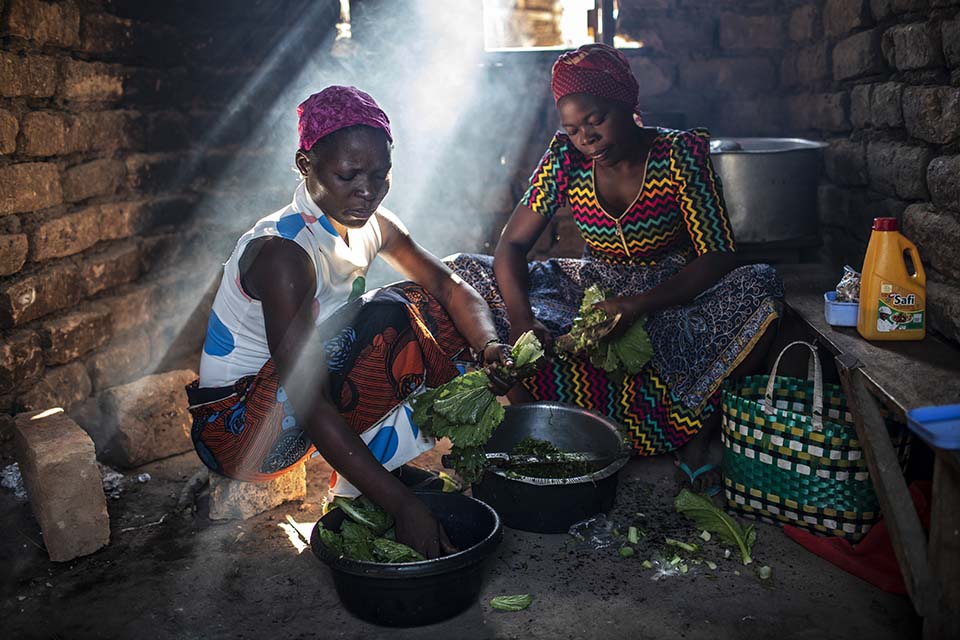 Mary Adam Mwakitalu and Catherine Mlowe chop greens to enrich a porridge they are making during a group counseling session.
Photo by Will Baxter/CRS
Catherine says she first heard about the idea of complementary food through the group.
"We didn't know how to prepare complementary food before. Specifically, we learned how to prepare food that is diversified by the five food groups.
"Today we are cooking one of the recipes. We are preparing sweet potatoes to which we will add sardines, cooking oil, peanuts, tomatoes, onions and greens," says Catherine.
She says the recipes are practical and easy to make because the ingredients are affordable, or easy to grow.
Catherine and Martha both explained that they grow a variety of vegetables and legumes, and raise chickens for meat and eggs. When needed, they purchase additional ingredients like sardines, meat, cooking oil, tomatoes and onions through profits from their small businesses.
"It is helpful because the information we are receiving lets us use available foods for the betterment of our children. The good thing is that we do not have to go far or incur a lot of costs to purchase the ingredients," says Catherine.