Nutrition Education Improves Child Health in Tanzania
Photo by Will Baxter/CRS
Jestina Mgalla's youngest son, Zakaria, was underweight as an infant, often sick and struggling to grow at a normal rate.
"He was always refusing to eat. He had no appetite. He easily contracted illnesses," Jestina recalls. When she attended a Catholic Relief Services Village Health and Nutrition Day, she learned that she had not been feeding the child properly.
"Before, I was not considerate. I would just give the children a broth made from water and boiled meat," says Jestina, pointing out that the meat would be reserved for her and her husband.
Jestina Mgalla holds her son Zakaria Yona Mwambene in Ngana village, Tanzania. She participates in the CRS Accelerating Stunting Reduction Program in a region where stunting rates among children age five and under are at 31.8%.
Photo by Will Baxter/CRS
On other occasions she might give the children a cup of porridge made from just maize flour.
"We were told this could be one cause of malnutrition," Jestina says.
Village Health and Nutrition Days offer people living in rural areas easier access to integrated health and nutrition services. There is an emphasis on monitoring growth and weight gain by screening the nutritional status of children under age 5 to identify those who are stunted or underweight. Children who are found to be severely malnourished are referred to health facilities for treatment. Children also access services like deworming, immunizations, and Vitamin A supplements.
These community-level events take place in six districts of Tanzania's Mbeya region under the UNICEF-funded Accelerating Stunting Reduction Program implemented by CRS and the Center for Counseling, Nutrition and Health Care consortium. Counseling sessions are held for parents, caregivers and pregnant women and focus on the importance of stimulating activities for children, such as play and communication. There are also cooking demonstrations to show parents how to make nutritious, balanced meals from local foods.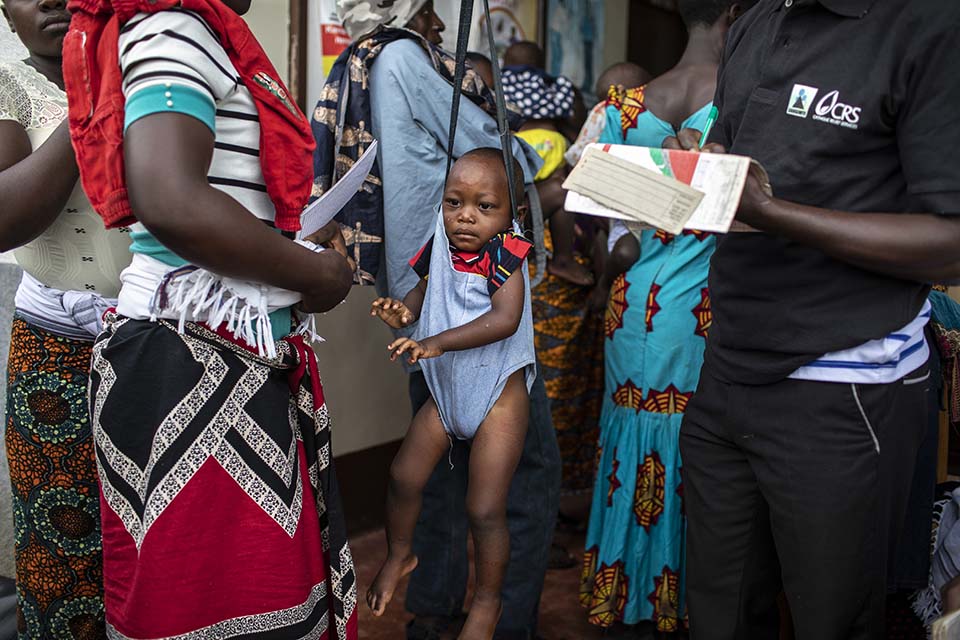 Shida Msomba weighs her son Yusuph Immanuel during a Village Health and Nutrition Day in her village in Tanzania.
Photo by Will Baxter/CRS
In Kyela district's Ngana village, where Jestina lives, she learned to prepare meals made from ingredients she grows or that are within her budget.
"I learned many things about nutrition, mainly about how to prepare food for the children," Jestina says. "I was told to prepare mixed foods. So I learned how to prepare rice with vegetables, mixed with meat. I had never done mixing that way before."
Jestina has learned some recipes as well. One, she says, is a porridge of corn, soy beans and peanuts—with sardines when she can afford them. Another is a meal of mashed plantains, mashed meat, and carrots fried in cooking oil.
"Generally, I see that this is helping Zakaria's growth a lot. He has gained weight. Before he was underweight. Now he is normal in terms of weight so I am very thankful for the program," Jestina says.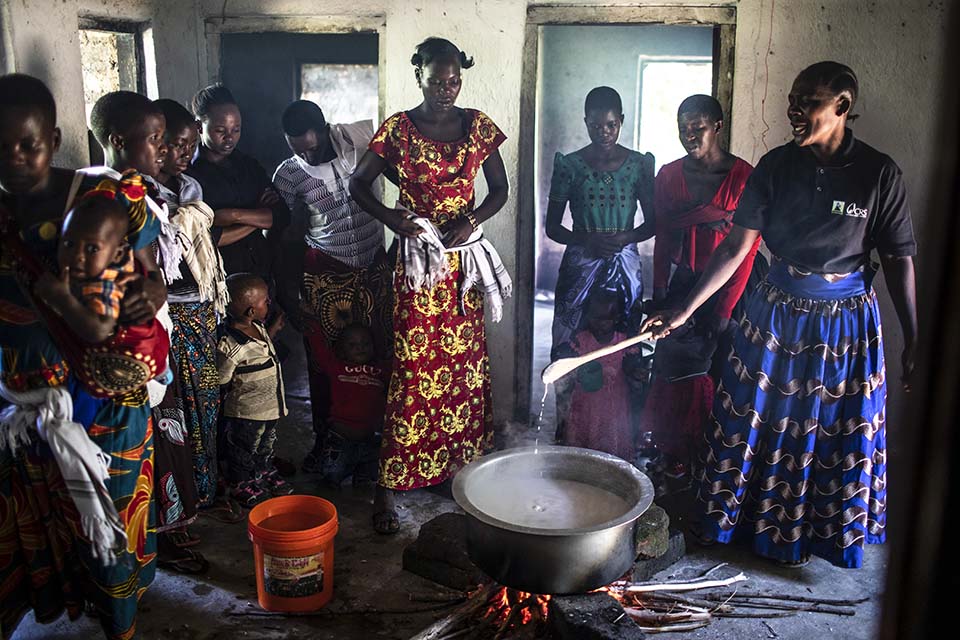 Women watch a cooking demonstration during a Village Health and Nutrition Day.
Photo by Will Baxter/CRS
Shida Msomba, a 32-year-old mother of four, says she is grateful for what she has learned at Village Health and Nutrition Days.
"The education we received has transformed us and given us knowledge on how to prevent stunting," she says. "We learned about the five food groups, and how to use all their benefits."
"I learned that I can mix corn flour with milk and sugar, and enrich the porridge with peanuts," she says, noting that she also tries to incorporate meat and vegetables into her children's diet more often.
"I see the difference in the growth and development of my child," she says, pointing out that her son Yusuph is growing at a better rate than her older children, who were raised primarily on meals of corn flour and millet, or porridge and beans. "Before I was not aware that I should mix ingredients like milk and peanuts into the porridge," Shida says.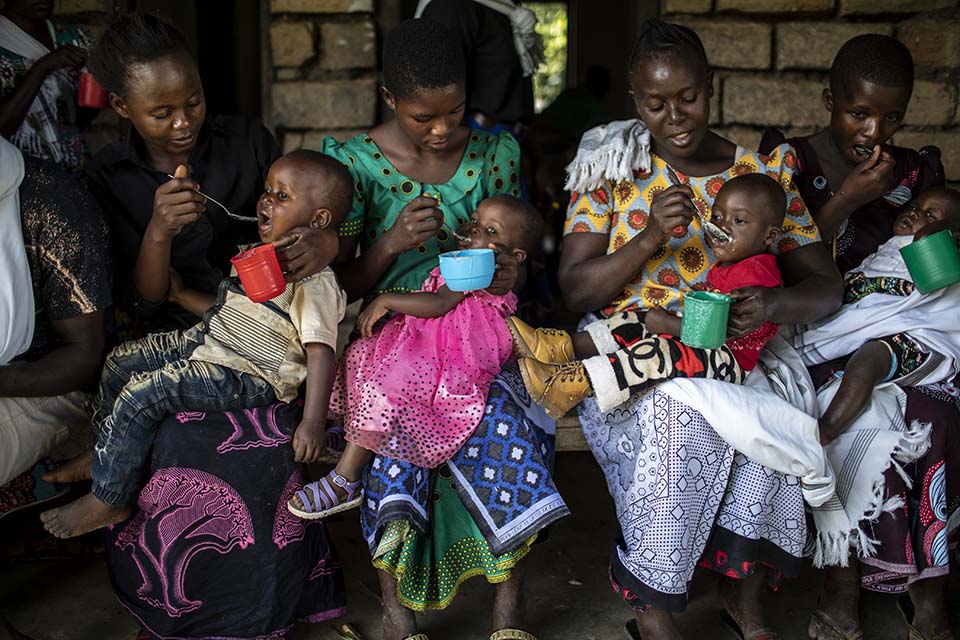 Parents feed porridge to their children following a CRS health and nutrition workshop that demonstrates healthy cooking techniques.
Photo by Will Baxter/CRS
Edestus Ndunguru, village executive officer in Ngana village, says the local government makes sure that as many people as possible from the six sub-villages attend Village Health and Nutrition Day.
"There is great improvement since the program started here. Community awareness about nutrition has increased. Through nutrition education provided by the clinic, mothers are delivering healthier babies," Edestus says. "Even the stunting problem has been reduced."
The importance of play
Jestina and Shida say they've also learned about the importance of spending quality time with their children.
"I learned about the importance of playing with my children," Jestina says. "For example, my child is a boy, so I sometimes play football with him. I kick the ball to him and he kicks it back to me," she adds.
As for Shida, she says, "I learned is that after giving children a bath, you can use a rattle to stimulate their sense of hearing." Shida says she also tries to encourage interaction between her youngest child and his siblings.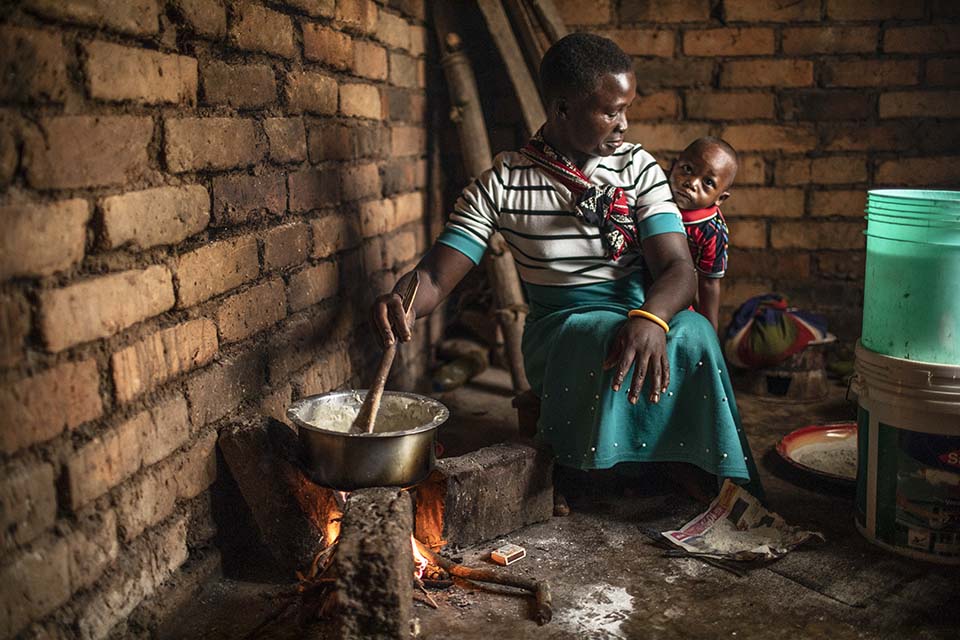 Shida Msomba, a 32-year-old mother of four, holds her son Yusuph Immanuel while she cooks porridge for breakfast at their home in Ngana village, Tanzania.
Photo by Will Baxter/CRS
"We made a toy car and the older siblings move around with him and the toy. I have also made toy balls for them to play with."
Jestina's husband, Yona Mwambene, has also been taking a more active role in parenting after participating in a Village Health and Nutrition Day. "I learned that we have to do follow-up on the child's growth status and ensure that we practice the knowledge we receive to prevent stunting," Yona says.
"Together with my wife, I make sure that the basic requirements for food are available in the house," Yona says, pointing out that they use the money they earn from selling chickens and crops to buy ingredients that help enrich the children's meals. Most importantly, he learned to be a better dad.
"I learned that childcare is not just a task for the mother alone. I also have to be part of it," Yona says.