Nigeria Farmers Displaced by Boko Haram
Photo by Samuel Phelps/CRS
"Boko Haram destroyed my whole house, everybody was running."
When 70-year-old Fatime Ahmahd wakes up each morning, one of her daily rituals is to step outside and survey her garden. "I'm growing vegetables including sweet potato, sorrel, moringa and tomatoes," she says, carefully stepping through her plot, tending to plants and sprinkling water from a can over some lettuce. "I had challenges before with the garden as animals were eating the vegetables but then we built a fence around the perimeter."
Her grandson Ahmed stands by the entrance to the family home, never straying far from his grandmother's side. 
What sounds like an ordinary domestic scene that is replicated the world over a million times a day is on this day happening in a shelter camp on the edge of Maiduguri, the capital of Borno State in the troubled North East zone of Nigeria. The residents are all internally displaced civilians, having fled horrific attacks on their villages. They are victims of a crisis in its ninth year that shows no sign of abating.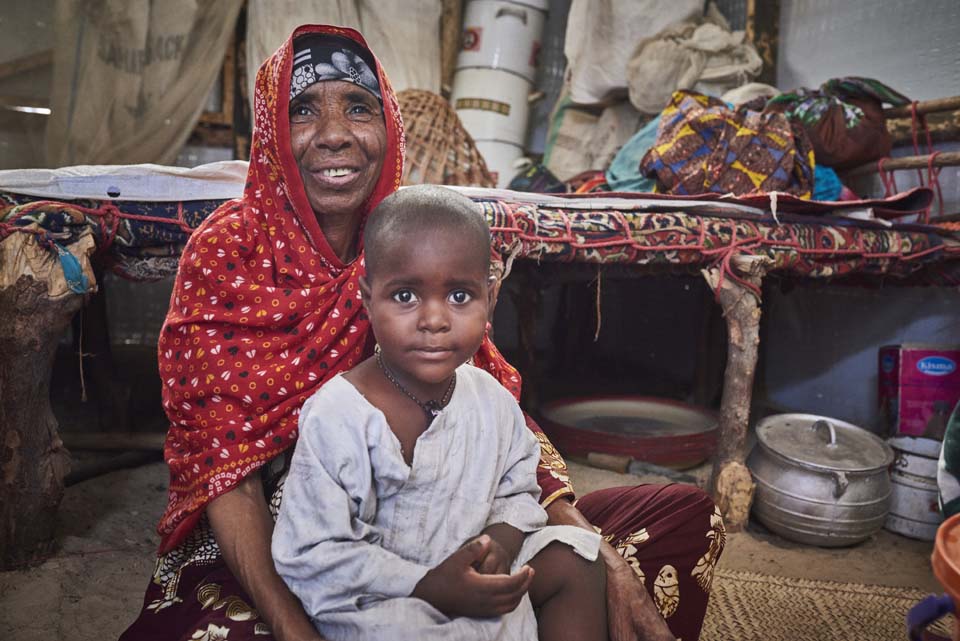 Fatime Ahmahd and her grandchild sit in her shelter in El Miskin Extension Camp in Borno State, Nigeria. She has been living in the camp for 3 years after fleeing violence when Boko Haram attacked her village, killing her husband and her son.
Photo by Sam Phelps/CRS
"Boko Haram destroyed my whole house, everybody was running," says Fatime. "My son was killed and my husband was beaten to death." 
Leaving all their belongings behind, Fatime and her grandchildren escaped. Terrorized and in shock, they walked for 14 hours to get to the camp. With the support of our partners, CRS is assisting thousands of conflict-affected families like Fatime's with emergency shelters, latrines, access to clean drinking water, farming tools and seeds.
"This is a Sahel region which means it is very dry. Access to water is limited and a big challenge," says Charles Chikwiramadara, a CRS agricultural livelihoods manager, speaking of the realities of life in Borno State, where each day is a struggle of survival, even without the extra strain of the current precarious security situation.
"We are dealing with people who have lost their seed bank when they have fled conflict. Access to land is also a big challenge for internally displaced people and host communities," says Charles.
Many of the displaced were simple farmers with small plots in their villages. CRS helps by identifying their needs, including securing agreements with land owners that will allow displaced farmers to  begin planting in their gardens without risk of eviction.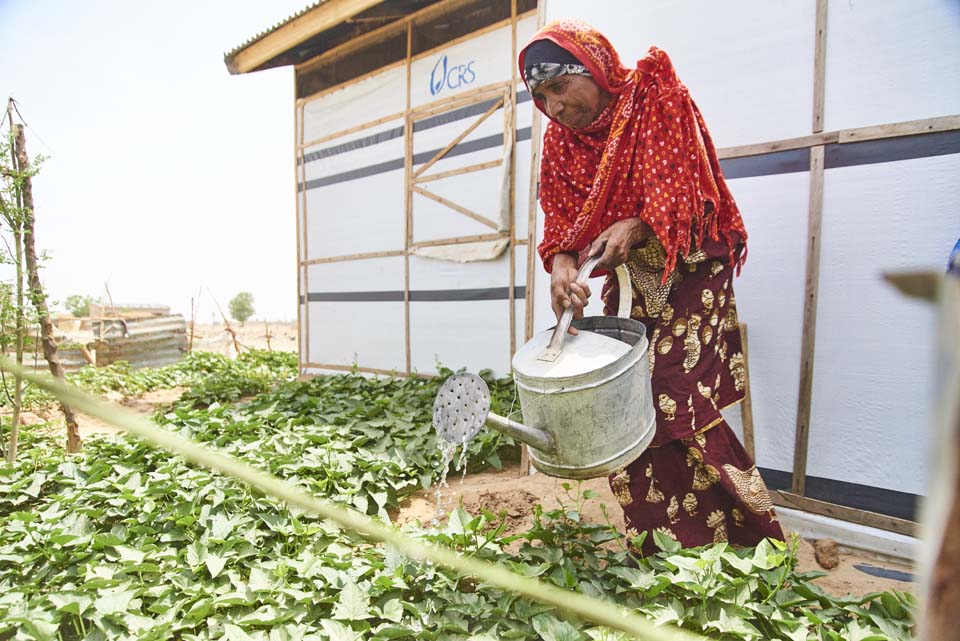 Fatime Ahmahd waters her garden outside her shelter. CRS supplies camp residents with tools and seeds so they can grow their own vegetables to feed their families.
Photo by Sam Phelps/CRS
"Agriculture requires stability. We introduce improved seed varieties that mature early, give more yield and are tolerant to drought, pests and disease," says Charles.  "We also supply beneficiaries with farming tools so they can tend to their gardens."
One benefit Fatime received was a RedRose card, an electronic voucher distributed by CRS that allows her to make purchases at local markets for farming tools, seeds, food staples to feed the family and other critical supplies.
Since 2016, CRS has reached 10,000 households through agricultural support programs and other assistance in the North East zone of Nigeria, helping families rebuild their lives and livelihoods.
"More than one year ago I started the garden. I also exchange vegetables I grow for beans and rice," says Fatime. "Seriously, it has helped feed my family."