Niger Youth Program Launches Work Opportunities
Photo by Hadjara Laouali Balla/CRS
Before joining the "Work Ready Now!" and "Be Your Own Boss," a youth-oriented entrepreneurship program, Haouaou Harou, was raising and selling chickens to support herself and her family. A 26-year-old mother, Haouaou could barely meet her daily financial needs. 
However, Haouaou has been nourishing a longtime passion for building a plant nursery—work she saw her father doing since she was young.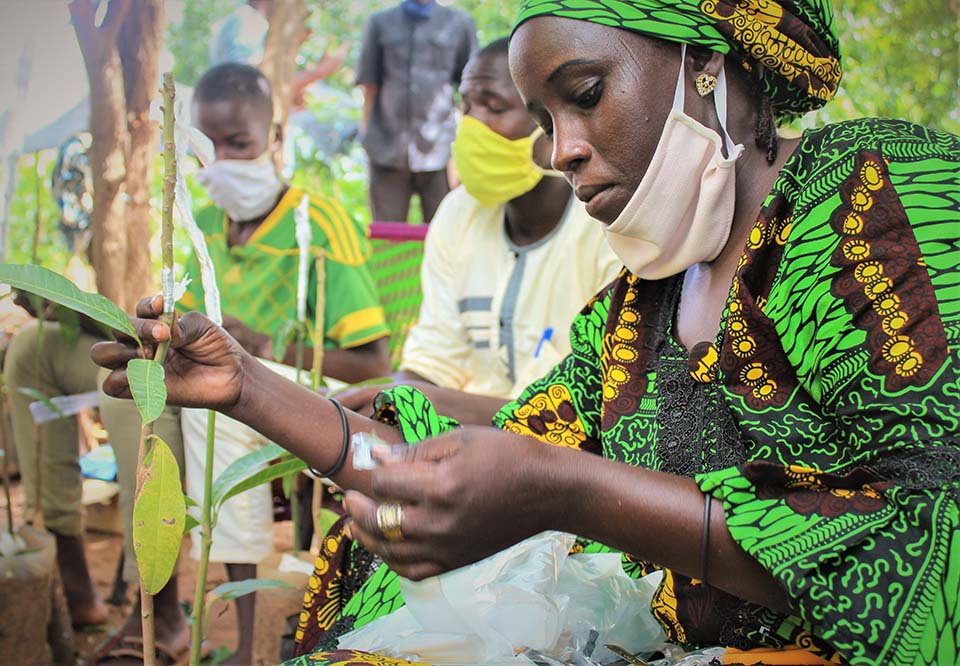 Haouaou Harou practices grafting plants during a Girma training session.
Photo by Hadjara Laouali Balla/CRS
"When my father was alive, he owned a nursery where he produced and grafted plants and I used to help him whenever I could" she said. So, when she was selected in July 2020 to be part of the Girma's entrepreneurship program which offers young people training in various agricultural areas, she knew exactly which training option she would choose.
Haouaou decided to seek training in plant nurseries and grafting. She was the only woman out of the nine participants in the field. During her training with the International Crops Research Institute for the Semi-Arid Tropic, a member of Girma's consortium, Haouaou learned grafting, assisted natural regeneration, compost and seedling production techniques.
The "Work Ready Now!" and "Be Your Own Boss" program is part of the Girma project, funded by the U.S. Agency for International Development's Bureau for Humanitarian Assistance The program was developed by Girma's partner, the Education Development Center. It trains young people in the development of life skills, literacy and community services. It encourages youth entrepreneurship by supporting in identifying business ideas, testing market viability and developing business plans.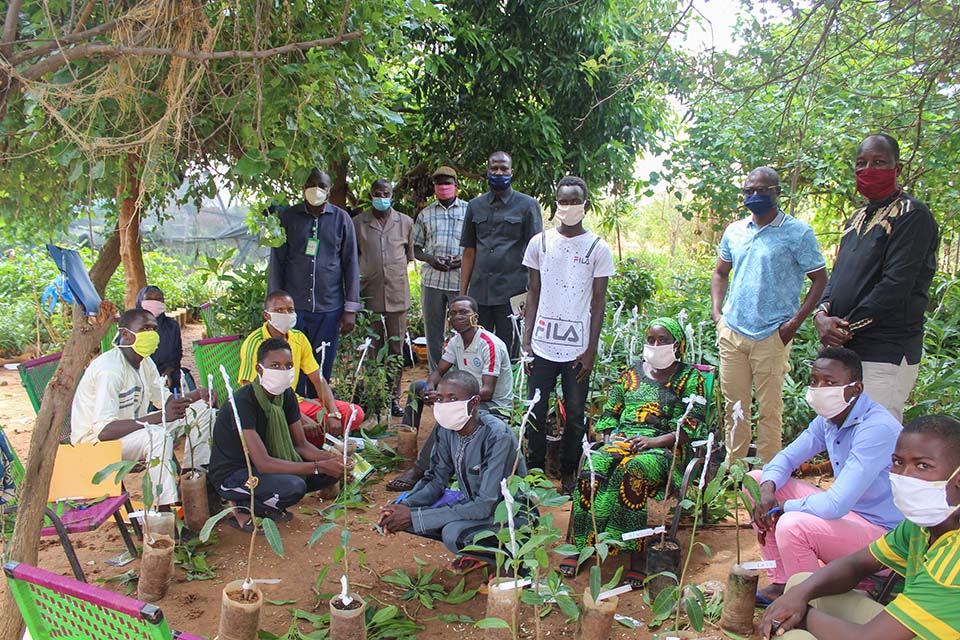 Haouaou gathers with program participants and their trainers at Icrisat, Sadoré.
Photo by Hadjara Laouali Balla/CRS
Haouaou participated in a four-week training, and was selected to attend an additional two-week training to receive the skills and materials needed to develop and manage a nursery and grafting business.
After the training, Haouaou went back home to Washa to establish her nursery. 
"I produced more than 5,317 moringa, papaya, lemon, guava, zizyphus, sahel apple and neem seedlings since then and sold almost $350 worth of products," she said. "I used the income from my sales to buy more pots and seeds, pay workers and the rest of the money went into savings, household and social event expenses such as weddings, funerals, food and clothing."
Haouaou admitted that the first few months of running her business were very difficult. In the beginning, only 10% of the seedlings she grew sold. The research institute advised her to consider a marketing approach, in which she would supply plants to gardeners and in return she will receive 10% of the plants' produce. The Girma Washa field staff and research institute technician based in Washa put Haouaou in touch with a group of women in her community who produce moringa—a tree that bears long seed pods and is prized for its nutritional value. This allowed her to sell more than 1,250 feet of moringa pods, making more than $200.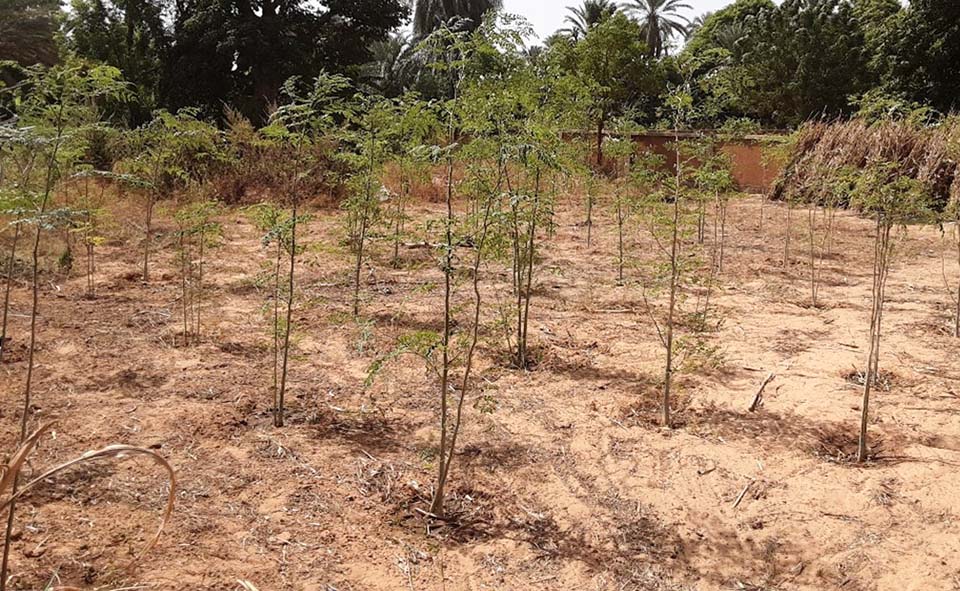 Haouaou's garden, where she grows more than 100 plants that she harvests every three weeks.
Photo by Hadjara Laouali Balla/CRS
Haouaou also received three contracts for grafting services of adult trees in the fields, earning another $9.  She also participated in the scaling up of assisted natural regeneration by Girma in the community of Wacha in 2021, during which she trained 50 households in natural regeneration and 32 households in grafting.
In August 2021, Haouaou also planted more than 100 moringa plants in her home for her own family consumption—she now harvests moringa leaves every three weeks.
When asked about her plans after the project, Haouaou said, "I am committed to continue this activity of seedling production that I inherited from my late father. The project had taught me everything and I plan to train other young people to make this activity sustainable."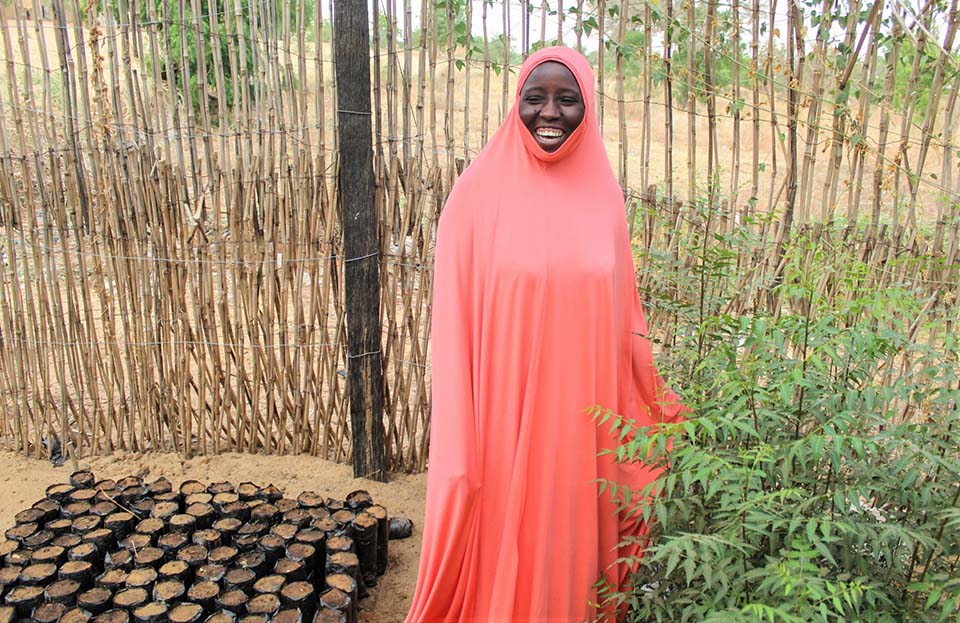 Haouaou built her nursery business after participating in the "Be Your Own Boss" program.
Photo by Hadjara Laouali Balla/CRS
Haouaou said that she encourages her sisters and brothers, especially young girls, to embrace this work.
"At first, I thought nursery work is men's profession, but I come to know that women can do it too. Thanks to this activity, I satisfy my needs, help my husband and my mother while taking care of my child.  With my savings, I was able to buy three goats worth $80 and join a savings group where I save 35 cents every week," she said
Through youth employment activities, Girma is helping to reduce unemployment and empowers young women like Haouaou by creating opportunities for them to support themselves, their families, and their communities. The project plans to reach 12,000 young people through its "Work Ready Now!" and "Be Your Own Boss" programs, which equip young people with the skills they need to take advantage of economic and employment opportunities in their villages and contribute to the economic success of their communities.