Nicaraguan Youth Becomes International Coffee Exporter
Photo by Katlyn Holland/CRS
He wasn't hungry for a life-changing career. He just wanted some snacks.
Israel Reyes leans back against the wooden frame of his grandparents' rustic home drinking an earthy cup of black coffee as he tells his story. It starts like the stories of many teenage boys from small towns.
During school, he wasn't quite sure what he was going to do with his future. There weren't a lot of opportunities for young men in his community of El Pegador, a sleepy, picturesque town set in a tropical microclimate in the mountains of northern Nicaragua. Many of his older friends left in search of jobs in bigger cities or abroad. Feeling uninspired, he started hanging around with a bad crowd and his grandparents worried that he was not headed in the right direction.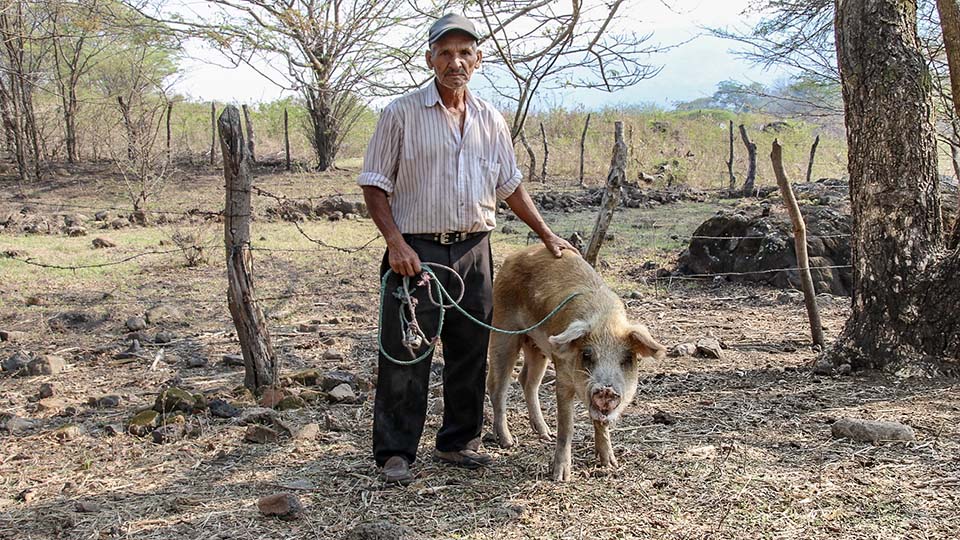 Israel Reyes' grandfather tends a pig outside his home in El Pegador, Nicaragua. He urged Israel to pursue an education and learn profitable skills.
Photo by Katlyn Holland/CRS
"We are surrounded by a lot of young people whose parents today lament that their sons are in jail," says Israel's grandfather. He and his wife wanted a better future for the grandson they had been raising since their son, Israel's father, passed away. They encouraged Israel to study and seek out opportunities which would enrich his life and help him build a better future.
One such opportunity came Israel's way when he was searching for something else that is commonly loved by teenage boys: snacks. Standing with some friends in town near a local coffee roasting business, Israel was approached by a man who worked for Catholic Relief Services' YouthBuild program. The man invited Israel and his friends to attend a workshop they were hosting inside. Israel smiles as he recollects his cheeky response to the man. "Well," Israel asked, "Is there going to be food?"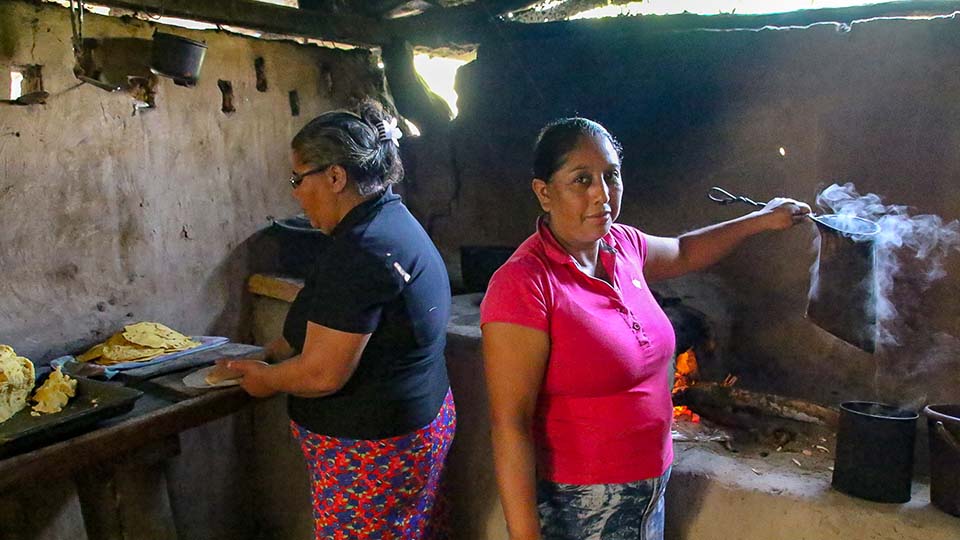 Israel Reyes' aunts make coffee and tortillas at their home in El Pegador, Nicaragua.
Photo by Katlyn Holland/CRS
Upon confirming that snacks would indeed be available, Israel decided to attend the meeting. He ended up walking away with far more than something to satisfy the munchies. Following the initial meeting at the coffee roaster, Israel decided to join the YouthBuild program in earnest.
"They started by saying they had their golden rules: no smoking, no drinking, no marijuana," says Israel about how the YouthBuild program helped to put him on the right path from the first day he attended.
Clean living is just one of the values taught by CRS' YouthBuild program, which takes a holistic approach to youth workforce development. In addition to teaching young people job-related skills like coffee roasting, beekeeping and tourism, the YouthBuild program includes lessons on valuable life skills like confidence and conflict resolution to help prepare youth for the challenges they will face when they enter the workforce or start their own business.
"With the project I learned what it is to have good self-esteem," Israel says, "I learned to respect others, their opinions, as they are. It doesn't matter if they are right or wrong. An opinion is an opinion."
With the help of the YouthBuild program, Israel started his very own coffee roasting business. After attending that initial meeting at the coffee roaster, Israel recalls, "I dreamed of exporting and selling coffee, and getting ahead with this business for my family and myself," he says.
Now, his dream is a reality as he is currently helping to support his grandparents and aunts with his business, exporting coffee as far away as Switzerland and Spain.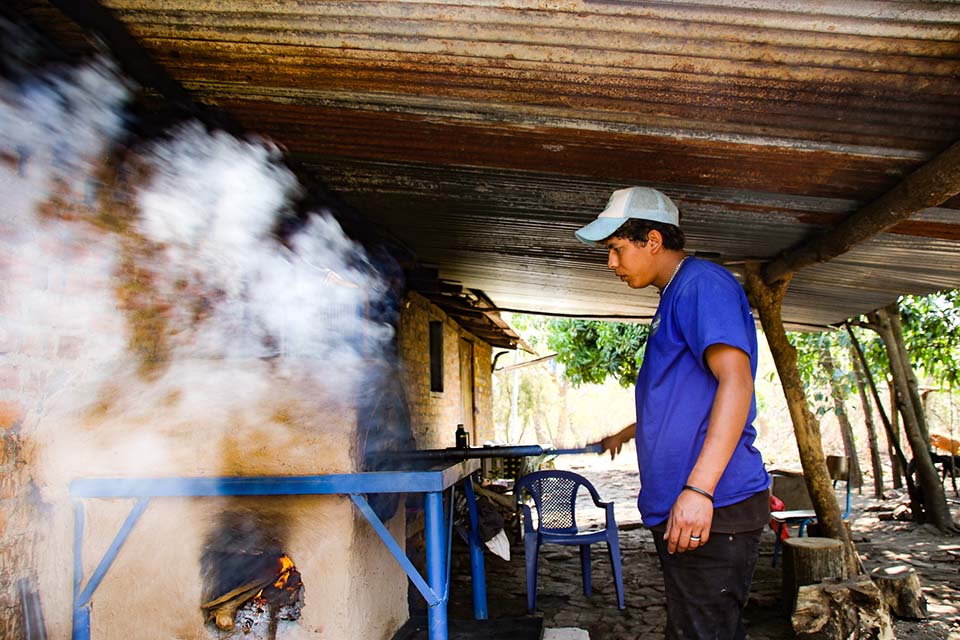 Israel Reyes roasts coffee at his grandparents' home in El Pegador, Nicaragua. He started a coffee roasting and exporting business after graduating from CRS' YouthBuild program.
Photo by Katlyn Holland/CRS
He demonstrates how he roasts the coffee, pouring the raw beans into a large, hand-cranked machine on his grandparents' front porch as they look on admiringly. Israel stokes a small fire in the belly of the machine and rich, deep coffee scented smoke perfumes the air.
Watching him work, it is easy to see that the person who was previously a teenage jokester in need of direction has grown into a young man with a business and a purpose.
Israel's grandparents can rest knowing Israel has a promising future. "We believe that he has had a change and that he will continue to change. He feels grateful to the program—he feels grateful to God," his grandfather says, "He is going to be a man of values."