New Home in Nepal Brings Peace of Mind
Photo by Nrpendra Khatri/CRS
Tara Devi Darzi lives with her husband Jiban Darji and her 13-year-old son Ram Kumar Darji in Ragani, a rural village in the Okhaldhunga district of eastern Nepal. Years after two earthquakes devastated this region of Nepal, Tara still struggles to meet her family's daily needs. But her new house, built as part of a Catholic Relief Services project, has greatly eased that burden.
Tara and her family were identified as among the most vulnerable survivors of the 2015 quakes. When the CRS team first met her, her living conditions were deteriorating. Her family's home was little more than a tent with limited bedding and utensils.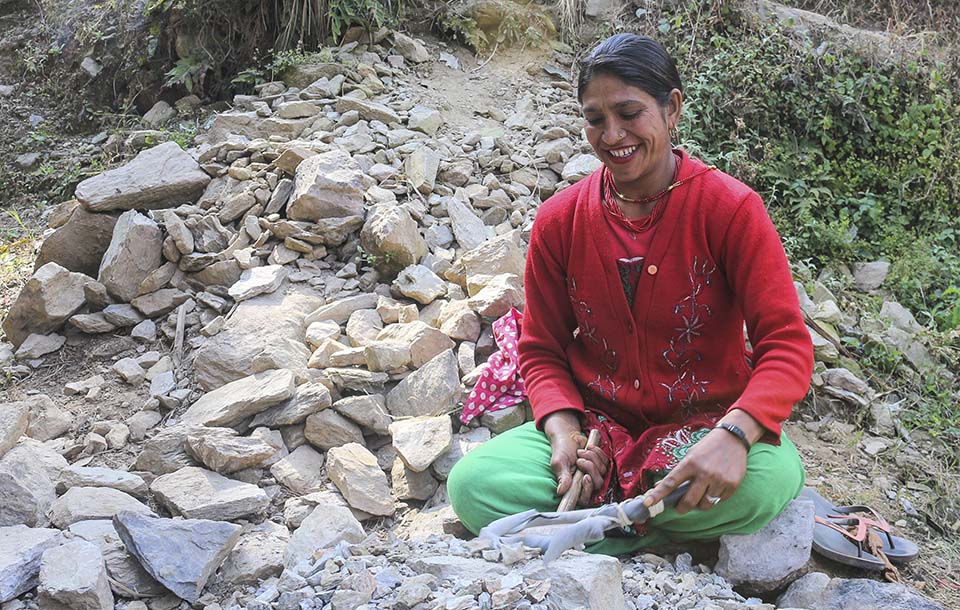 Tara says she is still recovering from the devastation of two earthquakes that struck in 2015. Her new house, built as part of a CRS recovery project, relieved a major worry about her family's well-being.
Photo by Nrpendra Khatri/CRS
"Every morning I send my son to school, I am out in the village looking for a job for the day," Tara says. "I bring home what I make for the day, so I can feed my family. Mostly I get food for the work done. Sometimes I receive money which I save to ensure my son continues with his schooling," says Tara.
Tara's life had been less stressful when her husband was working as a migrant worker in Malaysia. Since his return, he has struggled to find sufficient work.
Tara now has to ensure there is food on the table and her son is regularly going to school. With years of living in a makeshift shelter, being selected as a CRS participant in the housing project was a blessing for her. CRS provided raw materials, masons and other resources totaling $4,500 to ensure her house was earthquake resilient. The house took 50 days to build and Tara felt like it was a prolonged dream.
"I still wake up at times in the middle of the night, thinking this is still a dream. When I see my child lying next to me, I feel relieved."
During construction, Tara was always at the construction site to lend her support. She contributed labor on days she didn't find work outside. She ensured all the masons had drinking water available as they worked.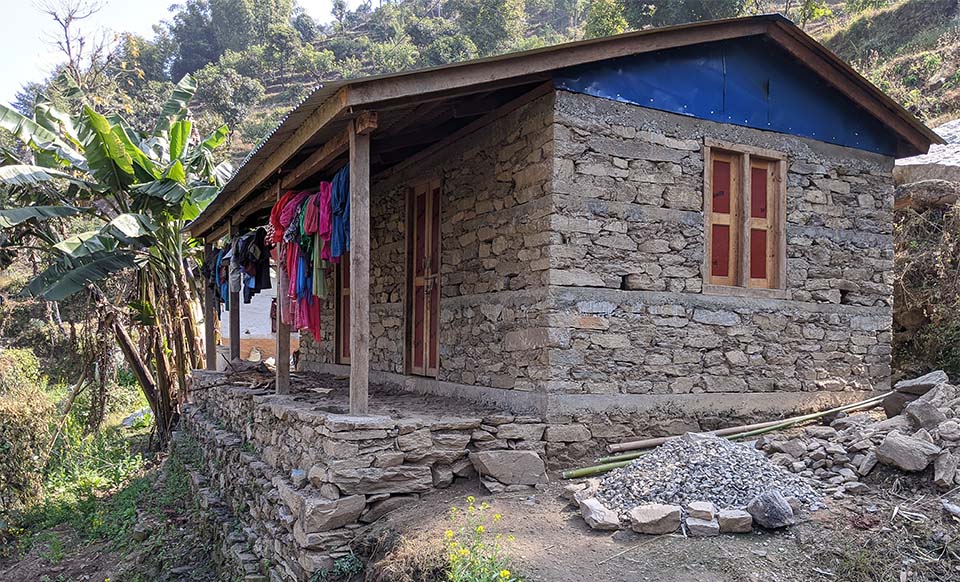 This house is part of a two-year recovery project that provided technical support for more than 5,000 households, including reconstruction of earthquake resilient houses, livelihoods recovery, and water and sanitation services.
Photo by Nrpendra Khatri/CRS
"I would keep staring at the house after the masons left for the day. I was still not able to believe that this is my house," she says. After completion, CRS presented the house to Tara in the presence of local government authorities.
Now, when she has some free time, you can see Tara cleaning and making plans to improve her home.
"This home is my life and I am very grateful to CRS for giving me this home. I now feel more secure with my family," she says.
Tara hopes to buy a sewing machine soon and start a tailoring business from her house.
"I know this house is my lucky charm. I will overcome all my family needs one day at a time. Now that I have a house, I don't have to worry much," she says.