Nepalese Women Take Lead in Home Building
Photo by Nripendra Khatri/CRS
In Nepal, an urgent demand for housing is giving women the opportunity to emerge as leaders. After an earthquake hit in April 2015, leaving hundreds of thousands homeless, a small group of Nepali women stepped up to learn masonry and help rebuild their community.
Bishan Sunwar is one such leader. She is the first female head mason to be appointed in her municipality under the Ministry of Urban Development of Nepal. Her primary responsibilities include monitoring reconstruction activities, providing technical support during house construction and coordinating directly with development officials to ensure beneficiaries build safe homes.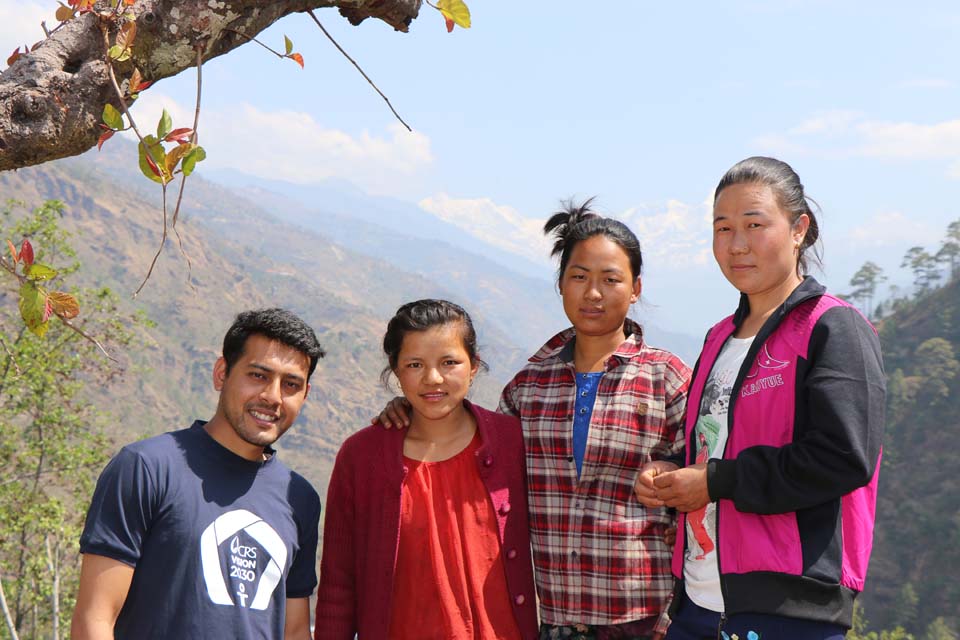 Bishan Sunwar, right, stands with two other female masons rebuilding homes after earthquakes left millions of Nepalese in urgent need of emergency shelter.
Photo by Nripendra Khatri/CRS
"I am happy to be selected as a head mason for my municipality, but I don't limit my role to being a supervisor," she says, smiling as she describes her role. "When I see a need for help, I jump in, even if it is carrying stones and cements to construction site."
It was after the earthquake that Bishan got an opportunity to train as a mason.
"There are many houses that have been destroyed by the earthquake and I want to help rebuild. Plus, I couldn't complete my higher education, so I think it's a best time to focus on my vocational skills for sustainability," she says.
There is a great deal of work to be done. The earthquake destroyed 605,254 houses and damaged another almost 300,000 more.
The foundation for one of 42 houses constructed in Okhaldunga district. Thirty-four have been completed and 8 are on hold due to COVID-19 restrictions.
Photo by  Nripendra Khatri/CRS
After completing the training, Bishan had a few opportunities to help build earthquake-resilient houses in her village. But she didn't stop there—she wanted to do more and perfect her masonry skills.
As part of the recovery and resilience program in Okhaldunga, Catholic Relief Services conducted a set of trainings for skilled and unskilled masons. With her past training and experience, Bishan Sunwar got an opportunity to share her knowledge as an instructor and train other new masons. She co-facilitated the 50-days training along with Training Center Nepal in her village through CRS on-the-job training. 
After completing her time as an instructor, Bishan decided to start a contractor business of her own. She brought along two women and four men that she trained and began looking for work. She won multiple opportunities to build individual houses within her village. A major turning point in her changing perceptions of women's roles in the trade came when a health management team—who'd observed her previous work and were impressed with her skills and determination—selected Bishan's group to build an outreach clinic in Khiji Chandeshwori.
Bishan and her team completed the clinic in 14 days, complying with all quake-resistant building practices.
Bishan now is a contractor with a much better income than she had before.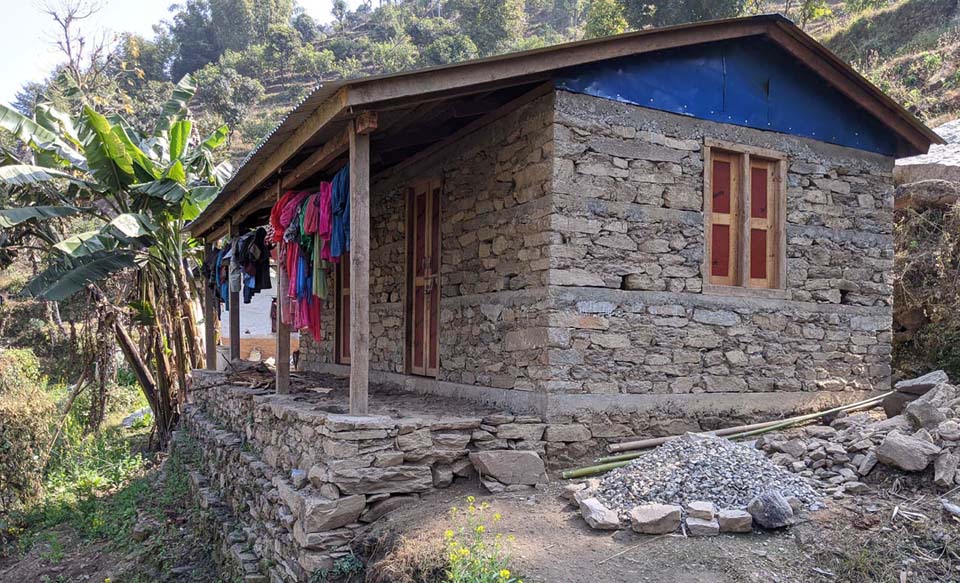 This home, now complete, is one of 42 being constructed in the Okhaldunga District following the 2015 Nepal earthquakes.
Photo by Nripendra Khatri/CRS
"Had CRS not given me an opportunity as an instructor, I would have never dreamed of forming a team and taking up a big contract. I would still be working as an unskilled mason and never expanded my masonry skills," Bishan says.
Bishan is grateful to CRS for the opportunity to build her skills as a mason so she can continue her new career well into the future.
Since the 2015 earthquake, CRS has supported training for 550 masons in Okhaldunga and more than 2,600 masons in Gorka.