Nepal Retrofits Homes After Earthquake
Photo by Nripendra Khatri/CRS
"I didn't know much about retrofitting, but I am happy that my old house can be restored as before and more strongly."
Baudha is a remote village in Okhaldhunga, Nepal—a place that received its first road access only one year ago. In the five years since an earthquake left hundreds of thousands homeless in Nepal, the government has attempted to reconstruct villages by retrofitting homes that can withstand future shocks like earthquakes. But this approach has brought major challenges. Families are skeptical about retrofit techniques. Many would prefer to build new homes instead.
Doma Sherpa was the first CRS project participant in the district to retrofit her house. At 65, Doma has had a difficult life—taking risks is nothing new for her. Now a single woman, Doma raised five children. Her younger daughters, 18 and 15, still live with her in Baudha.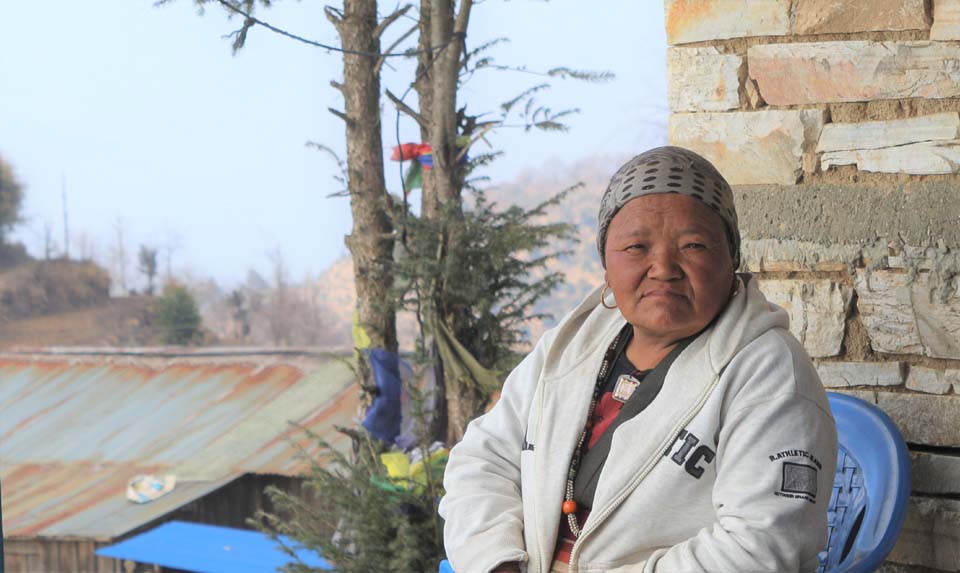 Doma Sherpa sits outside her retrofitted home, which is now more resilient to the effects of disasters like earthquakes.
Photo by Nripendra Khatri/CRS
Doma and her husband built their home 20 years ago, and she has sweet memories of time spent with her family here. After the earthquake in 2015, her house was not safe to live in, so she he moved to a temporary shelter with her two daughters.
"I got scared, especially at night … scared of rats and snakes, and sleeping with my two young daughters outside," says Doma as she points to her temporary shelter. Doma didn't have the resources nor the technical knowledge to retrofit her house, even though it qualified for retrofitting support. Initially, she planned to construct a new home, but finally decided that she couldn't bring herself to demolish the old one. She also didn't have enough money to build anything new. She received a government grant of $1,000, but even that was not enough to fully restore her home.
So, Doma waited patiently for more than four years, hoping for a solution while living in temporary shelter.  When she learned about the option to receive retrofitting support through CRS, she made a decision.
"Many people told me to build a new house, and they discouraged me to retrofit. They said retrofit won't make your house stronger, and retrofit was not meant for a stone masonry house," she says.
But Doma felt that she should consider retrofitting as an option.
"I didn't know much about retrofitting, but I am happy that my old house can be restored as before and more strongly. The good thing is I can always cherish my memories," she says.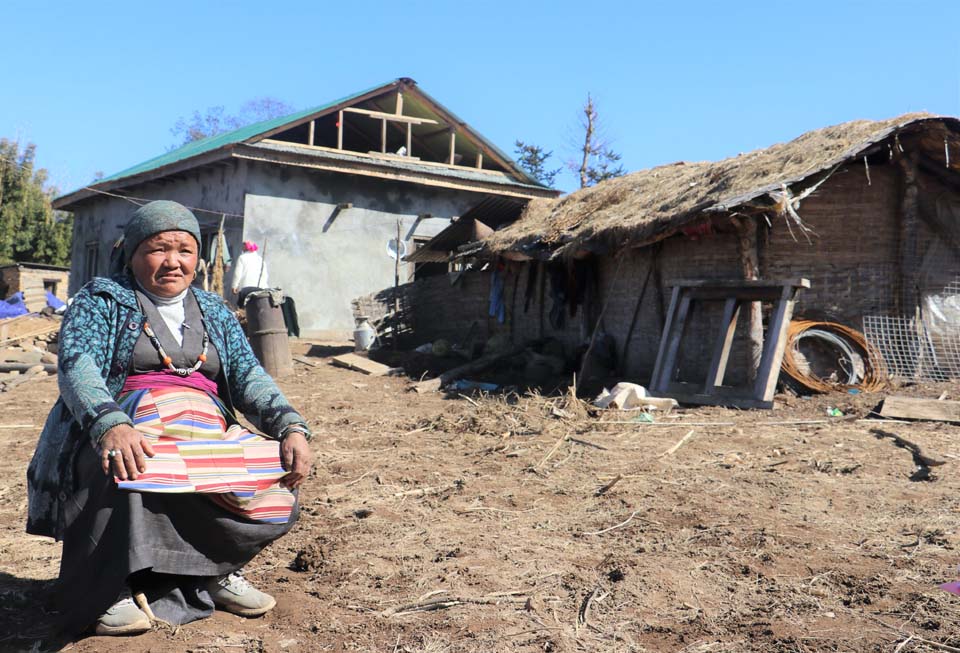 Doma Sherpa sits outside her newly retrofitted home, which was heavily damaged in a 2015 earthquake. Five other residents took her lead over 25 days and were also certified as skilled retrofit masons.
Photo by Nripendra Khatri/CRS
After multiple discussions with the CRS team, Doma began retrofitting. CRS provided her with $750, six masons and a technical team—all government certified. They completed the retrofitting in 25 days.
Doma has since moved into her original home, which is now stronger than it was before the earthquake. Many people visit her to see how the work has been done. Others in her community have discussed the benefits of retrofitting. Doma has set an example for the entire district of Okhaldunga as the first person to retrofit her house. Journalists, media and government authorities, using Doma's example, have encouraged others to consider doing the same.
Doma is indeed a brave woman, who, despite being single and 65, dared to do what her entire community was hesitant to try.  
At a handover ceremony, the ward chairperson credited Doma for her courage. "Hats off Doma," he said. "I hope others affected by the earthquake will retrofit their traditional homes and keep the Nepali heritage alive. If this is not done, even the villages of Nepal would be full of concrete."