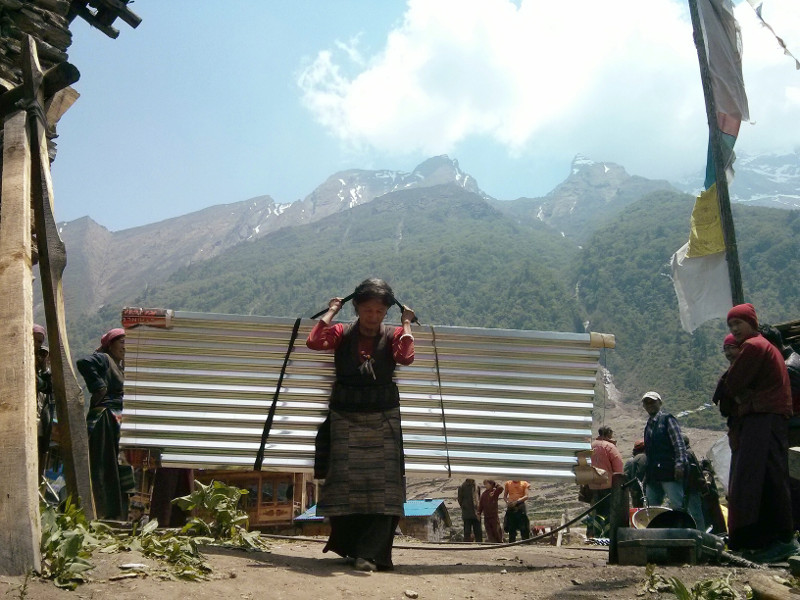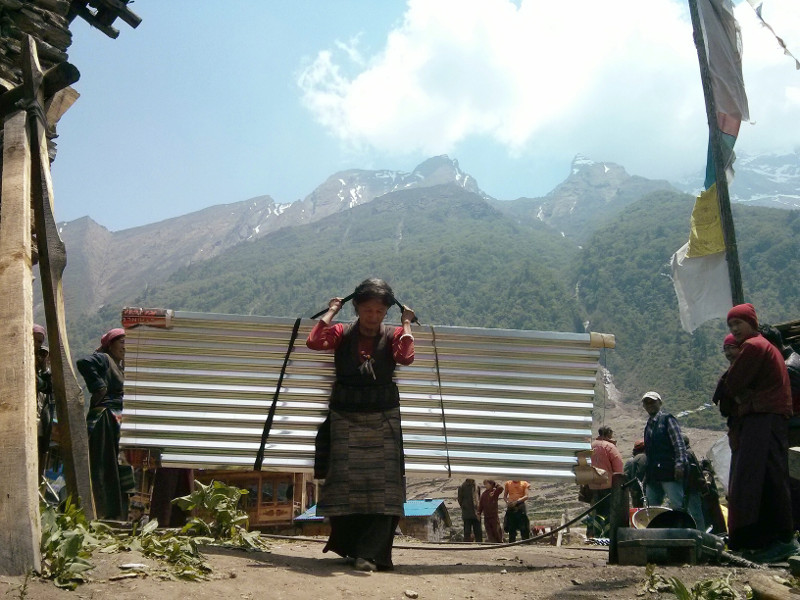 Nepal Quake Response Challenged By Topography, Weather
Despite facing incredible challenges, including treacherous topography and extreme weather, Catholic Relief Services has succeeded in providing emergency relief to hundreds of thousands of Nepalis devastated by the 7.8-magnitude earthquake on April 25.
Through sheer ingenuity and determination, CRS teams navigated their way around steep, winding roads to help those communities most in need.
From the very start of the crisis, it was no simple feat orchestrating the transportation and distribution of vital emergency supplies.
The earthquake, the country's worst in 80 years, claimed 8,898 lives and destroyed 602,257 homes, buildings and schools. What's more, with the onset of monsoon season in June, torrential rains have washed out roads and led to the cancellation of helicopter flights carrying critical cargo.
The monsoons blocked access to hard-to-reach areas, causing dangerous landslides. Families continue to live under basic tarps, tin sheeting or simple materials outside their destroyed homes, with minimal protection from the elements.
"When we think of the operational challenges this weather creates from a programming standpoint, we can only imagine the hardship these conditions present in people's day-to-day lives," says Jennifer Poidatz, CRS humanitarian director.
Trekkers find ways to reach most needy
With the monsoon season lasting through September, the next few months will be difficult. Many villages are located in isolated, high elevations. To set up operations in these areas, CRS and our Caritas partners hired Nepalese trekkers, who normally navigate adventures for tourists. The trekkers maneuvered daunting Himalayan terrain so CRS could set up camp and establish operations. They drove up steep mountainsides with no roads, and helped identify safe routes for the transportation and distribution of supplies. The trekkers also communicated GPS points with the U.N.'s World Food Program for the landing and takeoff of its cargo helicopters.
"The biggest challenge is how we bring materials here. In these areas now, there is nowhere to walk. It is only one way—and that is up," says Chandra Ale, an emergency consultant and Nepalese expert trekker supporting the CRS response in the Himalayan district of Prok. "It probably takes people 10 days to walk to the nearest city because of the landslides. With clouds or rains, it's often impossible for helicopters to fly here."
CRS, partnering with Caritas, was the first humanitarian agency to provide emergency support in the Prok and Lho regions. Because of weight restrictions on the choppers, transporting supplies requires multiple flights per day. It remains a race against time to provide supplies before rains and landslides wash out roads. Distributions are largely dependent on safe weather for road and air travel.
To date, CRS has distributed critical shelter materials, living supplies, blankets, food, water treatment and hygiene kits to 20,289 families—101,445 people—across Gorkha, Lamjung and Dhading districts. Teams continue to work around the clock, in difficult conditions, to reach people with key supplies.
As the skies clear in October, the hope is that the Nepalese people will be able to fully rebuild their lives. Only time will tell how long that takes. However, one thing is certain—CRS and our partners will be at their side.
"We are the same blood," says Ale. "We are brothers, and we are in this together."