Nepal Earthquake: From Recovery to Resilience
Photo by Jennifer Hardy
Three years ago, this story had a much different ending.
In 2016, Anisha Shrestha didn't see anything good on the horizon. It was 1 year after earthquakes devastated central Nepal.
She lived in a shelter built of plastic, tin and twine. Snakes were a problem. She slept fitfully, alone every night without a locked door. Anisha was anxious without the security of a home. She didn't know when grants for rebuilding would come through, and jobs were scarce.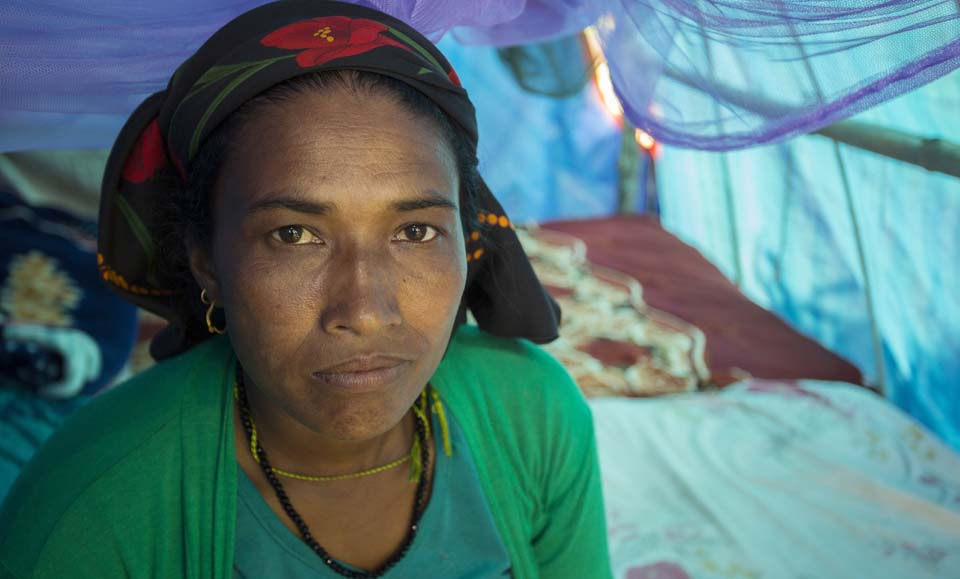 Anisha sits in an emergency shelter constructed as part of CRS' response to the 2015 Nepal earthquake.
Photo by Jennifer Hardy/CRS
That year capped two decades of struggling to provide for her son Pradip. Anisha's husband left the family when their son was only 2 months old. She returned to her vacant childhood home and raised her son alone, earning income from day labor. She worried about how she would pay for food, medicine and school supplies. Late at night, she wondered how she would teach her son to be a good man. It was just the two of them in their house at the end of a footpath.
The earthquake hit in Pradip's first year of university. In an instant, she watched her plans for his future crumble and her home heavily damaged.
I first met Anisha in April 2016. She faced up to the loss of her home and livelihood, resolute to rebuild. More help was coming, but it wasn't there yet—and Anisha fought back feelings of hopelessness every day.
Three years later I found myself walking up the narrow path to the place where Anisha lived. There I saw the ruin of her old house, still where it had fallen. But I also saw a new, sturdy house built next to the old one. And I saw Anisha smiling, sweeping her arms in welcome. She seemed a different person. She talked quickly and gestured around her property, pointing out the improvements.
Sensing a turning point
Anisha explained how her story had taken a turn since I met her 3 years earlier. She participated in CRS project that gave her the chance to recover from the earthquake and build a more secure life than ever before.
Through the project, CRS and our partners helped 20,000 families—some living in remote mountain villages several days' hike from the nearest dirt road. Together, we trained masons to build homes that would be stronger in earthquakes, helped families access government grants for reconstruction, and gave people new opportunities to earn a living through agriculture, livestock, construction, infrastructure repair and other interventions. Anisha participated in every opportunity she could.
She began to hope things would improve when she earned her first paycheck as part of a 30-day construction training through CRS.
"I feel that then, when I was working and making money, that was a turning point," she says. "But before that, my strong mindset to give my son a better life, a better education, was always there to push me forward."
More work and opportunities followed.
Anisha's new home came in on budget and met guidelines for stronger homes. CRS and our partners in Nepal supported her by checking its construction throughout the building process, streamlining her eligibility for each installment of government reconstruction grants.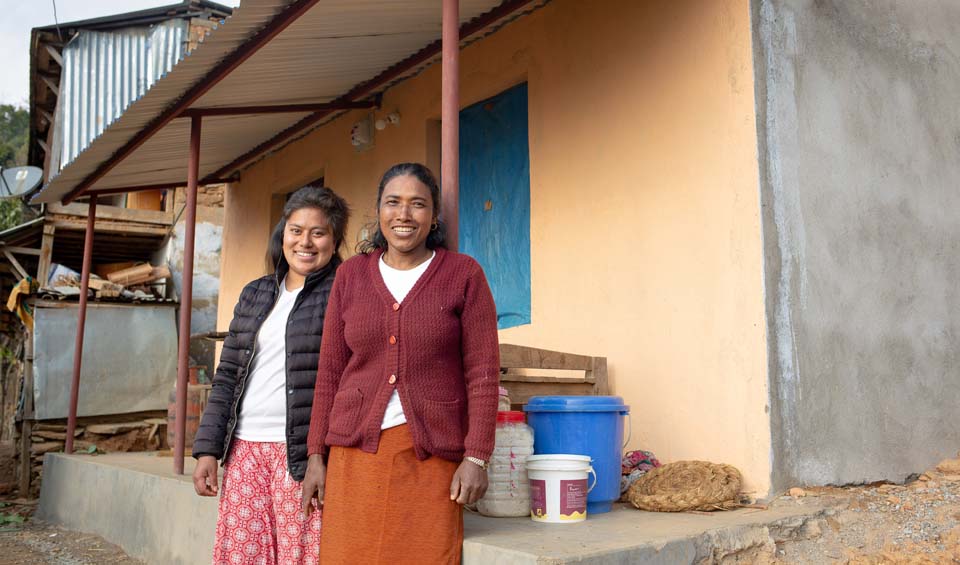 Anisha and her daughter-in-law stand outside her newly constructed home that is more earthquake resilient.
Photo by Jennifer Hardy/CRS.
Her new income kept her from spiraling into debt. She invested savings in livestock that brought good returns. Anisha cultivated a larger, healthier herd of goats, thanks to a grant from CRS to help build improved goat shelters. She used money from short-term jobs to put finishing touches on her house, build a second goat shelter and invest in additional goats.
Today, her participation in the project has helped her secure ongoing work as a cook and cleaner at a nearby government office, ensuring a steady income.
"One-time support in the early days after a disaster isn't enough to help families recover," says Adeel Javaid, CRS program manager. "That's especially true for vulnerable families. Many small opportunities over time make a difference. We didn't want to only help people rebuild their houses—we knew they needed to rebuild their lives, and for that, families need income.
"Ultimately, that's what sets this project apart from many other groups working in earthquake recovery: instead of focusing only on rebuilding houses, we knew communities would recover best with restored infrastructure and better opportunities to earn income, alongside support to rebuild their homes," he explains.
In disaster recovery, it's critical that families can make choices about the kind of support that best fits their situation. To ensure new homes met families' needs, the government of Nepal approved 17 different house models. Homes could be further personalized after they met core earthquake resiliency standards. With CRS' goat shelters, livestock experts required families to include two design improvements to be eligible for a small cash grant, but otherwise, they could choose the materials and design that made sense for their land and locally available building materials.
An opportunity to rest
Anisha welcomed the opportunity to choose what was most important in her new home.
"I chose the highest quality bricks to build the house," she says. "And for cement, I chose the best kind to make sure it's safe. I spent money on quality." The same applied to her decisions about making an improved shelter for her goats.
"If I'm making a goat shelter, I'm going to make it bigger and better and plan for having more goats, because now I have resources to think for the future," she reasons, explaining, "I planned it accordingly and added these things. My work, my time, my courage and my willingness to take risks."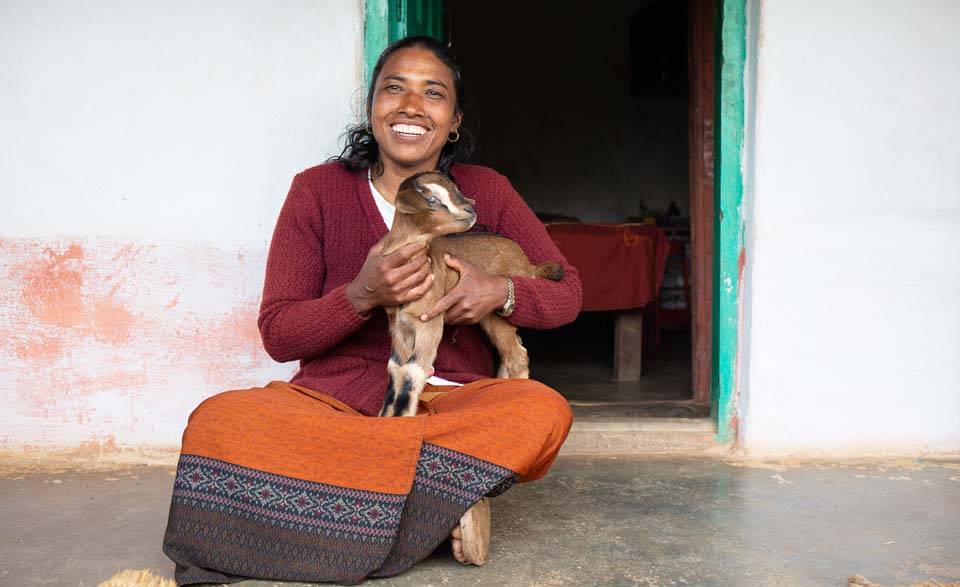 Anisha holds one of the goats that represent a continuing income stream and opportunity for financial growth and well-being.
Photo by Jennifer Hardy/CRS
This story could have ended 3 years ago as an example of long-term devastation and the challenges of working with vulnerable people. But one snapshot at a low moment isn't the sum of anyone's life. Anisha's story continued, as all our stories do. Through a mix of hard work and a series of opportunities from the government of Nepal, CRS and our partners, Anisha built a new home after the earthquake and now has steady income to save for the future.
"I didn't give up on my life even though I had so much hard work to do," says Anisha. "I struggled for everything. Now I have many good things. My son just graduated from college and has a government job in a different district. He recently married, and my new daughter-in-law stays here with me. I no longer live alone. I feel privileged that things are getting better. I'm happy with my life.
"My son, when he talks to anybody about his life, he credits me," Anisha says. "He says that I worked so hard to help him get to a high level. He tells me, 'you don't have to work so hard anymore. I'm here to support you so you can rest.' Now that my son has finished school and gotten a job, the major challenges are done. I'm taking it a little easy at the moment and have less worry. I haven't rested for a long time."