Myanmar: Resilience in Action
Photo by Jennifer Hardy/CRS
"Before the project, my family lived hand-to-mouth."
"Resilience" is one of those words used so often it sometimes seems to lose its meaning. But when you see U Aung Min and his family living under a tin roof with only one wall beneath it, you know exactly what it means.
U Aung Min is a family farmer in Central Myanmar's Bago Region. Not long ago, he was a classic subsistence farmer—whatever came out of the ground went to feed his family. Then a CRS/Caritas food security project came along.
With added support from a CRS partner, U Aung Min learned how to plant rice in rows, getting a bigger harvest using less seed. He also learned how to make his own inexpensive natural fertilizer, how to compost food and plant materials for a greater yield, and how to take care of minor injuries and illnesses in his farm animals that would otherwise not have access to veterinary care.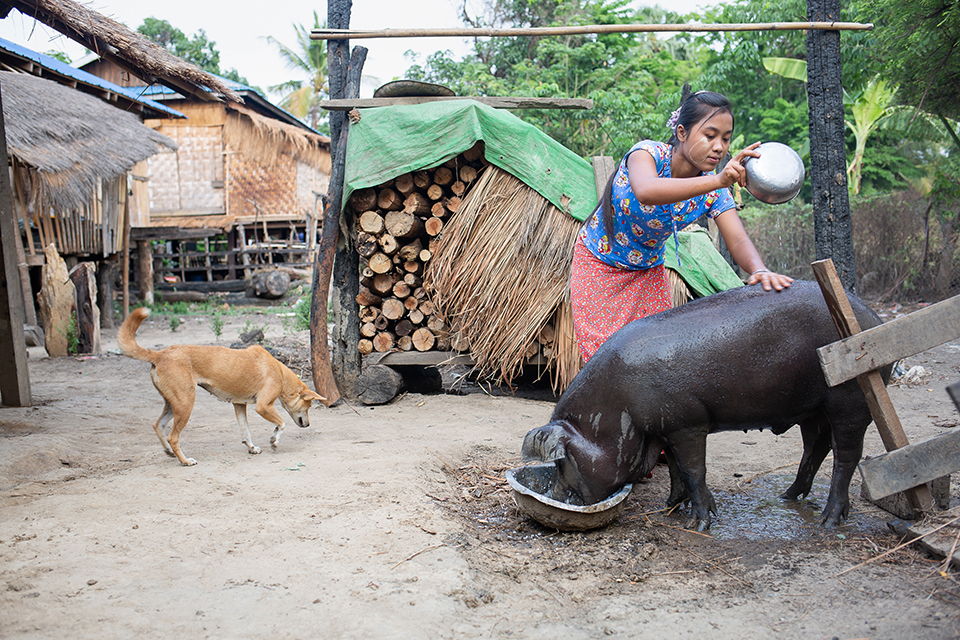 The Su Aung, U Aung Min's oldest daughter, rinses off the family's pig. Their pig is healthier than animals they raised in the past, thanks to education about vaccine schedules, and early diagnosis and treatment of common ailments.
Photo by Jennifer Hardy/CRS
The result: U Aung Min didn't just feed his family—his farm started turning a profit. And that was so important when disaster struck.
"Last year, the fire swept through the jungle there, very fast," U Aung Min says, sweeping his arm toward the open land behind his house. "Although we kept the fire back, the sparks touched the roof of my house. We could not save it. We only had time to take a few papers and photos before it burned, along with four other houses."
Not long ago, the fire would have left his family homeless, facing an uncertain future. But the farm profits he had saved helped U Aung Min—a trained carpenter— start rebuilding immediately. He and his wife, Cho The Mar, and their children now live in the partially reconstructed home. As money comes in, most of it from their farm, they are buying more materials to continue rebuilding.
"Before the project, my family lived hand-to-mouth," U Aung Min recalls. "We had to borrow money to plant our fields and any profit went to repay the debt. But when our house burned, we had already seen the benefit of the new ways of farming. We had a little money saved because we didn't have to spend as much on fertilizer or seed, and we also had a better harvest. I could buy the first materials to rebuild my house—I didn't have to wait or borrow at high interest."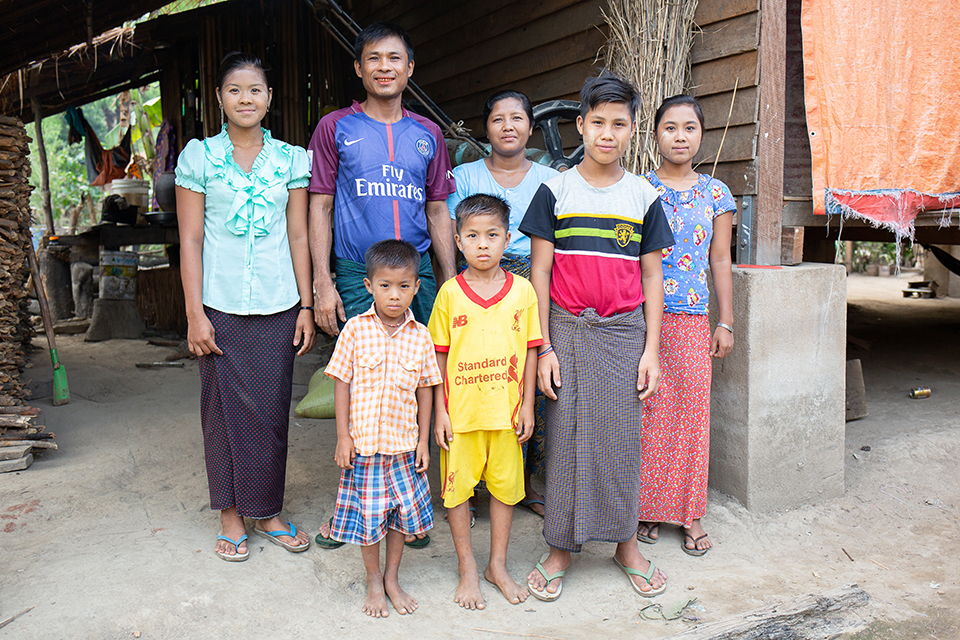 U Aung Min's family can use their improved farm income to slowly rebuild after a devastating fire.
Photo by Jennifer Hardy/CRS
Even with a half-finished house, Cho The Mar is already making it a home. The living space is inviting, with thatch mats and plentiful pots of green tea. Out back, the family's pig munches on kitchen scraps. Cho The Mar mentions that it's one of the healthier animals they've raised as they have better knowledge of vaccines and how to treat skin conditions, thanks to the project.
"Farmers were limited for so many years in this part of Myanmar due to the ongoing conflict and limited access to information and technologies," says Scott Braunschweig, CRS' country manager in Myanmar. "Fighting between an ethnic armed group and the government not only restricted farmers' ability to farm and sell harvests, it also isolated communities from advances in agriculture. This project comes at a crossroads when we can combine farmers' greater access to their fields and markets with new methods to improve harvests. That means families not only have more food, they can save for future expenses and emergencies."
This is, in a word, resilience.