Maronite Scouts Assist Beirut After Explosion
Photo by Stefanie Glinski for CRS
Perla Abboud is a curly-haired 21-year-old university student who's been waiting for classes to resume while staying mostly at home during the COVID-19 pandemic.
Since the Beirut blast on August 4, she's been able to use her free time differently. "Every morning, I get up early and I spend my entire day helping clean up our city," she says, adding that she was taking precautions prevent spreading the coronavirus.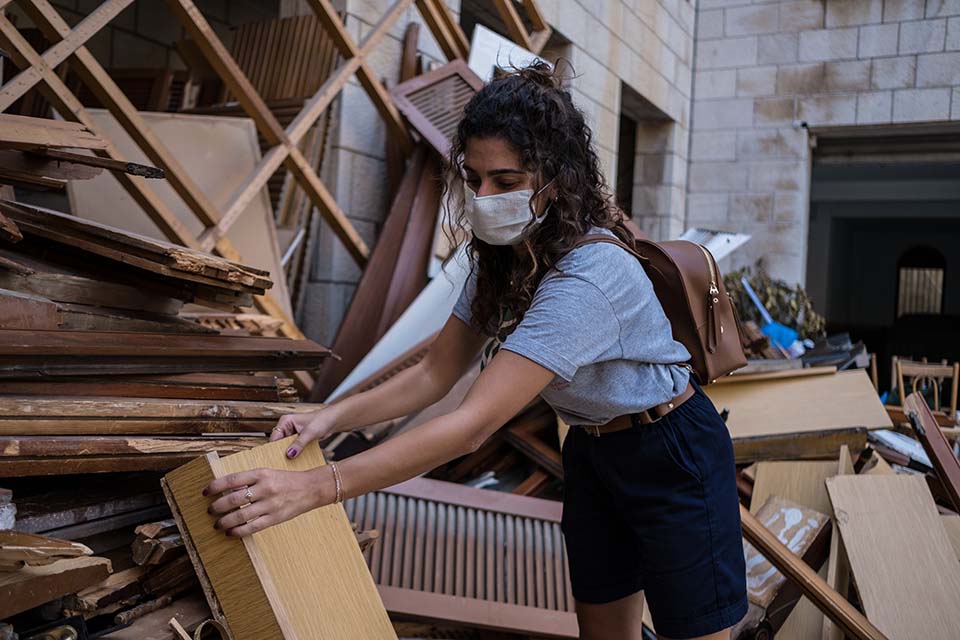 Perla Abboud, 21, removes broken furniture as part of the Maronite Scouts effort to help clean up Beirut city. Many have traveled in from all over Lebanon to help and volunteer.
Photo by Stefanie Glinski for CRS
Parts of the Lebanese capital are devastated beyond recognition. While the government is leading a citywide clean-up, they have help from an unexpected source: young volunteers.  
Young people have flooded to Beirut from all corners of Lebanon—most of them volunteering with local aid groups. They clean, recycle and sweep.
Perla is part of the Maronite Scouts, one of CRS' partners working in Beirut to respond to people's needs. Up to 150 young scouts have helped clean up the city and distribute food and water.
"We've been clearing up houses, removing rubble, recycling broken glass," she says. "It's a different experience. It's nothing I've witnessed before. I feel like we've become more united. We work toward a common goal."
Jad Khoury, a 23-year-old scout from the suburbs of Beirut says he had seen a huge spirit of giving, with people who haven't been affected by the explosions donating food, clothes, kitchen supplies and even furniture.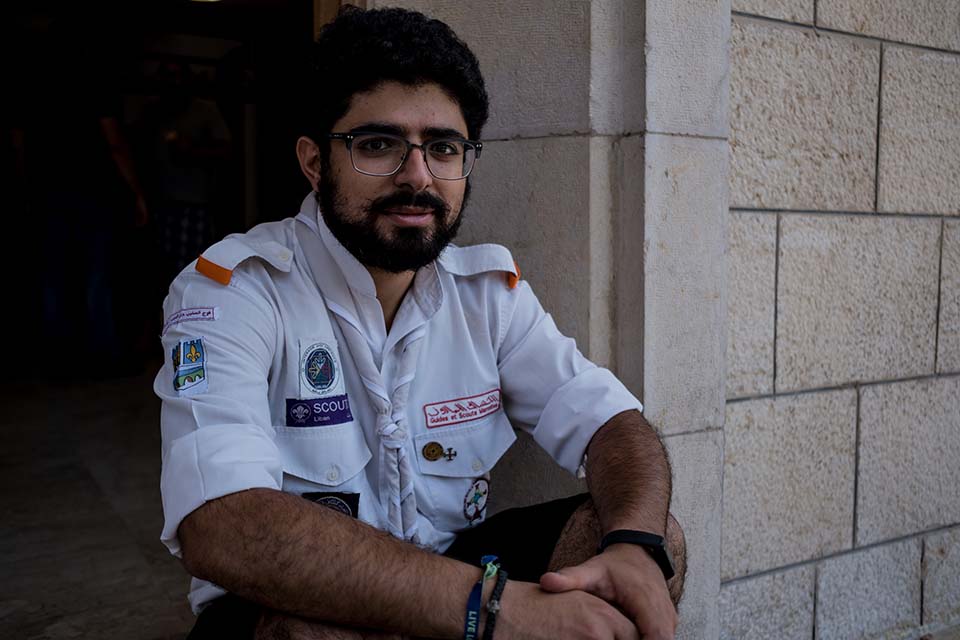 Jad Khoury is one of the Maronite Scouts who volunteered to help clean up Beirut after a devastating explosion rocked the city on August 4.
Photo by Stefanie Glinski for CRS
"Everyone is willing to help. In the past weeks, we've seen young people step up everywhere. It's powerful. We are the future of Lebanon, and if the country's youth hadn't stepped up quickly, our city would still be filled with rubble."
Beirut continues to be in a critical condition. Many hospitals are destroyed. Medical equipment has run out. The country's biggest commercial port lies in ruins. The currency has further lost its value, making it difficult for people to purchase imported goods like desperately needed new windows and doors.
"Many churches across Beirut have stepped up, even if they have been destroyed themselves," says Jad, who recently finished university and now works in the pharmaceutical industry. He's taken time off to volunteer.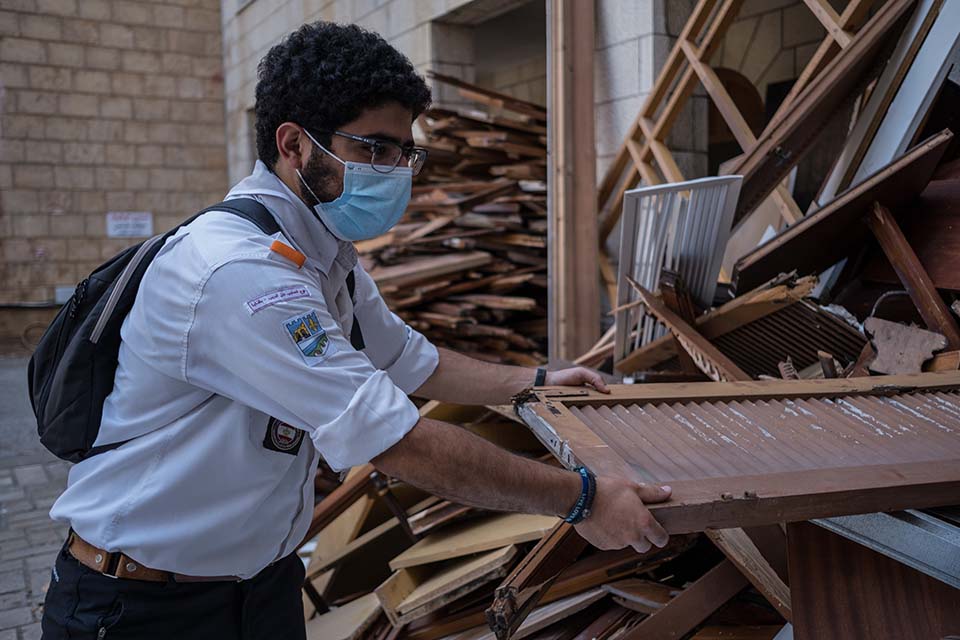 Jad Khoury, 21, helps clear rubble in Beirut following a massive explosion near Beirut's main port on  August 4 that killed at least 170 people, wounded 6,000, and displaced hundreds of thousands more.
Photo by Stefanie Glinski for CRS
"We've seen everyone come together. Churches and mosques work side by side, focusing on helping those hit hardest."
He believes that such inter-faith collaboration will be essential in the coming months.
"Many aid organizations have arrived to help the immediate aftermath of the explosion. That is good and important. But what happens when they are gone?" he asks. "It's the churches and mosques that will stay here. One month from now, one year from now, people will still need assistance. We are here to help."