"When we advocate for refugees, when we advocate for those who have the least, we are announcing the love of Christ."
María Isabel, better known as Mari, was raised in Peru, during the upheaval caused by its internal war, the Sendero Luminoso (Shining Path) and conditions of extreme poverty becoming more evident. At an early age, she became aware of the differences and the deprivations marked on people's faces. At the age of 16, she traveled to the United States to study, first in Michigan, later in Washington and finally at Johns Hopkins, enrolled in a sustainable development program. Her quest to help others led her to Guatemala as a Peace Corps Volunteer, where she met her husband. Naturally, those who seek, find. She became part of CRS 20 years ago, starting out in Africa as a Global Fellow, and her career through the organization has convinced her of her mission to serve. Working for CRS in different countries has given her unforgettable stories that strengthen her faith.
She tells the story of a girl participating in CRS programs who finally managed to go to school in a country where girls often stay at home to stay "safe", to work at home, and because their parents don't see the purpose of sending them to school if they are only going to get married. But this girl, once she managed to go to school, gave back to her parents by patiently teaching them to read and write. It is very touching to see how a human being only asks for an opportunity and the power to change one's own history by oneself. Like the Zambian man, who proudly poses in a photograph taken in front of his corn field. Having lost a leg due to the landmines in Angola and his wife in the war, he knows he is capable of feeding his 4 children, in the midst of grief, with impressive dignity. Or the women of Afghanistan, together in a small bullet-riddled room, learning to read together as part of CRS's accelerated literacy program. They are grateful, proud, empowered, forever changing their lives. One of them said, "Before it was like being blind and now, I can see. Now I can read the prices in the market, they cannot fool me. Now I can help my family and I am a respected member of the community."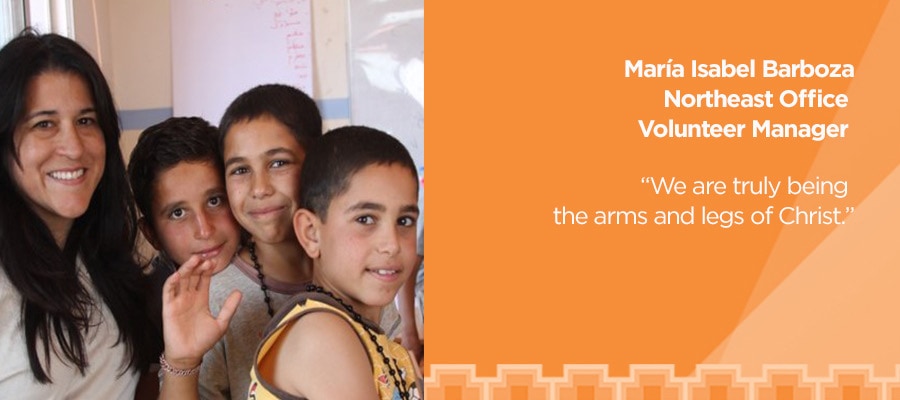 Mari has the gift of having witnessed the change that comes, not only to each person, but to entire communities and peoples, when someone believes in you and gives you an opportunity.
Her current work in the United States is with Hispanic migrants—supportive, generous, and aware of the shortcomings of their countries—willing to help. Work is sometimes in person and other times it provides support, as much as each person can, from wherever they are. Mari's faith is placed in youth, in the joy with which they serve and raise their voices. A voice that pays off, such as achieving the Global Child Act, in which USAID is committed to supporting early stimulation in all countries where it serves children. A contribution which, although not requiring a great investment, achieves a giant progress among girls and boys before starting first grade.
"This law is going to have an amazing impact, as well as what Catholics from the Hispanic community in the United States and our partners have been able to achieve. For me it's a source of great pride," she tells us.
For Mari, working at CRS transforms us into bearers of the Good News. To announce change, for a more just world for all, with dignified lives in every corner of the world.
This month we celebrate our Hispanic heritage. Celebrate with CRS!