María Guadalupe is a "tocaya" (namesake in Spanish) of Our Lady of Guadalupe and it's not a coincidence because she is her loyal devotee and her story is filled with her faith and roots. María arrived at the United States in her mother's womb, since she was five months pregnant. Searching for a better future, her parents crossed the border traveling from Guanajuato, México. She feels more Mexican than anyone. Although she was not born there, her culture and family teachings have been her anchor. Inside the United States, the Hispanic community is where she finds that link with her people.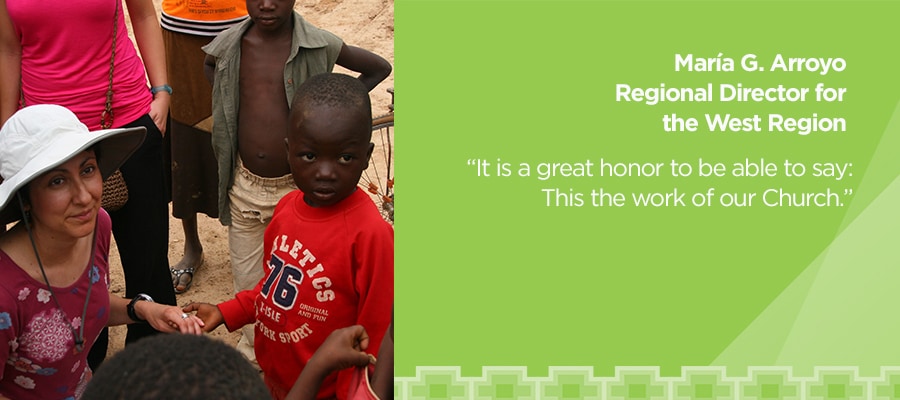 Growing up, she was a pioneer within her family, being the first to attend university leaving the family home very young. There weren't resources available to study, but with grants and scholarships she managed on her own. She studied Business Administration, Counseling and Theology at Loyola University and there, is where she had her great encounter with the teachings of the Church.
Upon graduating from Counseling, she looked for a job that would weave, that would unite her faith, values and beliefs with the opportunity of contributing to the world in a definite manner. Reading the CRS job description for the position of Training Coordinator with a focus on the Hispanic Community - and CRS being a Catholic agency with a vision of global impact María said:
"I belong here. This was written for me. I believe that when things unfold in that way it's because they are for you and that is where God wants you."
That is how CRS was transformed into a space that gave María the opportunity of practicing as a professional and also as a person of faith, without separating either one and that is why she continues there for the past eleven years.
Working herself with the Hispanic communities in disadvantage, taught María that information and connections are very valuable. Her work has been to provide people with the resources to search for support and above all, to push them to believe in the potential of the Latin American people. A community that has been labelled in many forms by the dominant culture, that is why María's struggle has also been to search for justice to vindicate the Hispanic community:
"Our people have a potential to organize, to raise its voice... to have prophetic voices, to create, to be entrepreneurs, to contribute to society. And it has been my wish to help apply people's talents and gifts and to help them believe in themselves."
And do all of this without forgetting their roots, without forgetting that connection.
Working for CRS, María traveled to Ethiopia, Burkina Faso, Ghana and even to her homeland, Mexico. To see CRS in action is inspiring because it's when one sees the scriptures in action and the commitment that, as brothers and sisters, we are called to. The level of commitment of the entire team, the level of dedication to help, has left her speechless. Her growth as a person and as a professional makes her feel proud of being and agent and a catalyzer of charity and justice at the global level.
There have been many satisfactions, such as the Hispanic community advocating for migrants sending 10 thousand letters to the United States Congress. And to see them united, packing more than fifty thousand bags of food for Burkina Faso or participating in the Rice Bowl initiative which has been welcomed and embraced by the community.
"The Rice Bowl is a bridge between your experience of faith and this experience of charity and justice. And it is beautiful to see how they embrace it, take it, encourage it and make it their own because they later pass it on to others. And that is how they speak, saying "This is a ministry with which one falls in love with."
María invites us to move hearts and the people respond. We are already making an impact. That impact that begins with ourselves, with the memory of who we are and where we come from, saying:
"I remember and yes, I know what it is to be in need, to wish for a change and a transformation, to have other opportunities. Never forget where we come from."
Currently, María G. Arroyo is the Regional Director for the CRS West Region. María represents CRS senior management and she will oversee and support the CRS West team in their efforts to build awareness on global issues, education and mobilize the Catholic community in the West Region for acts of global solidarity.
This month we celebrate our Hispanic heritage. Celebrate with CRS!