"I am helping people, especially children, and that is a wonderful feeling."

 
Tahani was studying medicine at a local institute when war broke out in Yemen in 2015. She and her family fled her city, Taiz, where the fighting was severe. They were displaced for six months.
When they returned home, the situation remained difficult. Tahani's father lost his job, and the family struggled to survive. Tahani made the difficult decision to move to a new city, Sana'a, to complete her education and find work to support her family.
"We faced many crises. Basic services were interrupted, such as water, electricity, and fuel, as well as education… I moved alone to Sana'a to complete my education and search for a source of income."
Job placement
Tahani completed her studies, graduating as a physician's assistant, yet she struggled to find work in a local hospital. Tahani lacked key skills and practice experience to qualify her for open positions.
In Yemen, CRS and their partner, Education for Employment, run a program to help youth, like Tahani, develop critical work skills and secure careers in health facilities. EFE provides youth with training, teaching skills in work readiness, English, and Information Technology, as well as arranging technical internships to build practical experience. After the training, EFE places youth in jobs at local health facilities. To date, EFE has placed 170 youth in jobs at 28 facilities across Yemen.
Critical role in family and profession
Tahani developed her skills and attained a job as a Physician's Assistant at a public hospital. At only twenty-five years old, Tahani is now the breadwinner for her family and filling a critical role at the hospital. She puts in long hours serving in the nursery unit, caring for newborns, but she loves her work and sees herself making a difference in the community.
"I am the only breadwinner for my family, after my father lost his salary. This job has helped me to provide for my family's basic needs. Also [in my job], I am helping people, especially children, and that is a wonderful feeling."
You Can Help Families in Yemen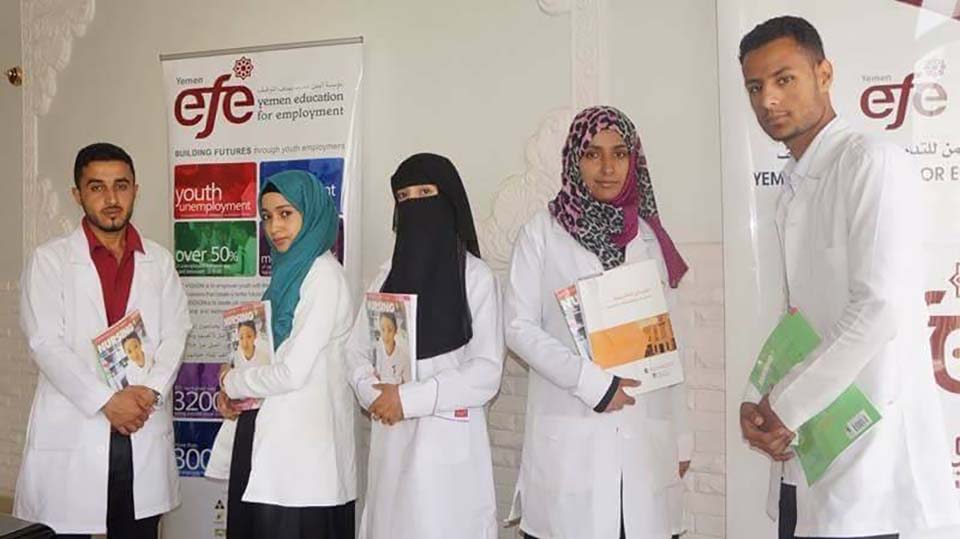 Participants in a the job-training network Education for Employment learn vital skills that will help strength Yemen's health-care sytem.
Photo by CRS Staff
Critical Emergency Response
Strengthen medical facility capacity
Impact to date: We have successfully placed 196 young adults in jobs at 46 healthcare facilities. We are also supporting five local vocational training centers to build their training capacity to better prepare students and connect them to healthcare job opportunities. We have also provided 2,200 families with hygiene supplies.
Strengthen health facilities
Impact to date: CRS has supported six health facilities serving 40,000 people.
Improve water, sanitation and hygiene
Impact to date: CRS has rehabilitated three water points and provided hygiene kits to 1,650 families.
---
CRS Emergency Response Capacity
Experience: 71 years of emergency programming
Staffing: More than 5,000 employees in 101 countries, including a rapid-deploy team of 25 emergency response experts
Investment: More than $442 million for disaster relief programs in fiscal year 2016
Impact/By the numbers: Provided support to more than 12.4 million beneficiaries through 201 projects in 52 countries
Learn more about CRS Emergency Response