Local Leaders Emerge in Benin Cashew Sector
Photo by Laura Elizabeth Pohl for CRS
Like many high-value crops, cashews offer subsistence farmers an opportunity to make more money. Increased yields of these high-quality nuts can significantly improve their incomes and their families' quality of life. All they need is information and skills.
But how do a limited number of agricultural experts reach hundreds of farmers living in remote areas of a country?
In Benin, the United States Department of Agriculture funded BeninCaju project enables farmers to become their own experts. As a sub-recipent to TechnoServe, CRS uses an innovative approach, training farmers to demonstrate the value of new approaches, then train fellow farmers.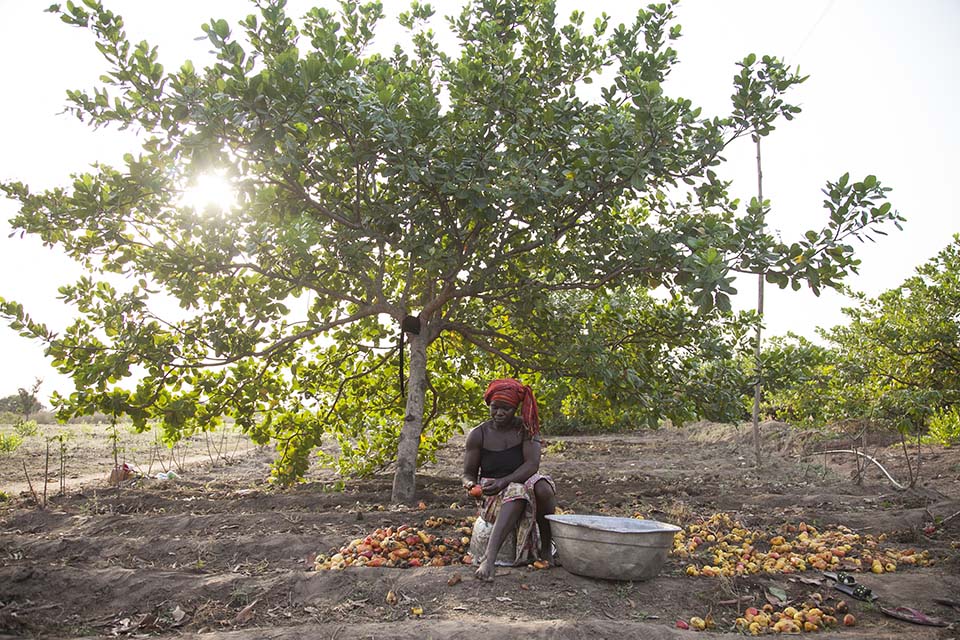 Sidonie Kpodjo separates cashew apples from nuts using a small piece of wood and string at Cite Verte cashew farm in Benin.
Photo by Laura Elizabeth Pohl for CRS
The program turns producers into leaders—or "ProLeaders"—and they are playing a decisive role in the improvement of cashew production in Benin.
BeninCaju is one of several market-oriented agricultural extension services that follows reforms of the agriculture sector in Africa, including Benin. The project's public and private partnerships include the Territorial Agricultural Development Agency, supervised by Benin's Ministry of Agriculture, and the National Federation of Cashew Producers, in collaboration with local partners.
ProLeader training involves a four-month certification process, with training sessions, coaching and skills assessment. Developing and promoting local expertise helps fill the gap in supervisory staff and has improved the quantity and quality of cashews in Benin.
The right formula
"I first had the feeling that the ProLeaders would be competitors in my work," says  Florentin Ouorou Adjamonsi, an advisor for the Ministry of Agriculture. "But the exchanges with my supervisors and my first coaching sessions with participants allowed me to understand that, on the contrary, their work reinforced my efforts in the field.
"Together, we can reach more producers and bring more positive change for the market," says Florentin. "I recognize the value of their work, which is complementary to mine and beneficial in the search for a better impact in my area."
In addition, the producers become quality experts that local, regional and national organizations of cashew producers can rely upon to support grassroots producers and the development of the cashew sector. The program has been well received by cashew producers like Felix Balogoun in Dassa, 124 miles northwest of Cotonou.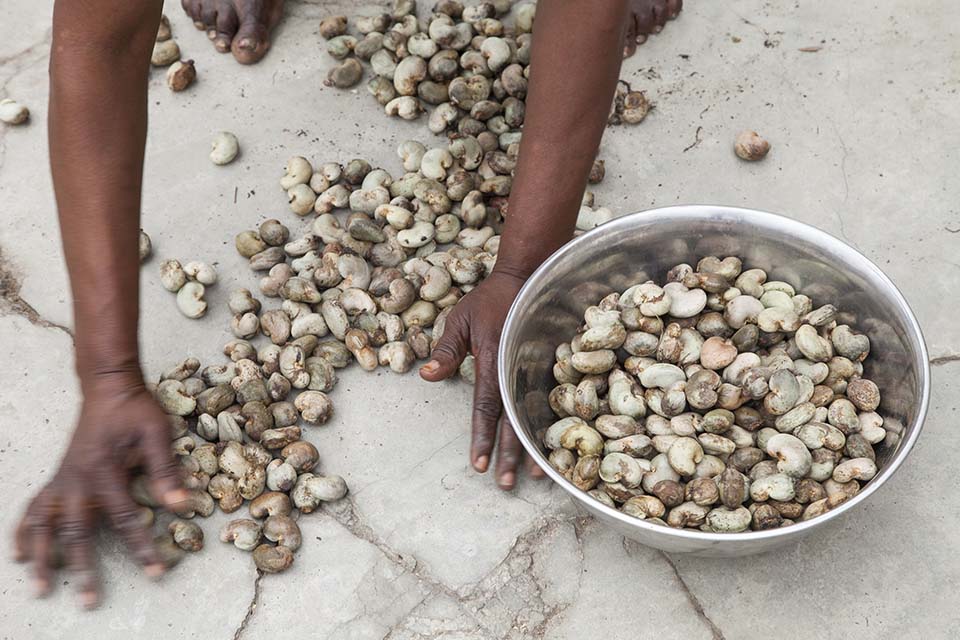 Cashew nut sorting is carried out at Cite Verte cashew farm in Lama village near Dassa, Benin.
Photo by Laura Elizabeth Pohl for CRS
"I am proud to be trained and supported by my Proleader. I have been able to implement the techniques I have been taught along with [farm] visits to see the application of good practices," says Felix. "Xo, my trainer, is from my village, speaks my language and understands the realities I face as a farmer. He is available day and night and is very patient during training."
Underlining this strong commitment, Felix says, "BeninCaju has found the right formula to lead producers to change behaviors." He believes that ProLeaders can influence farming practices and help transform the sector.
Pierre Zakari, a ProLeader in the municipality of Djougou, says he's proud of the work he's doing.
"Being a ProLeader made me take more responsibility in my community. I am listened to by my peers and benefit from the full attention of the various players in the sector."
For the future of their children
Pierre says the ProLeader program also highlights the expertise of women producers.
"We understand that the efforts to promote gender equality by BeninCaju have produced concrete changes," he says, especially noting the increased representation of women among producers and managers in the sector.
In her role as head of training and literacy, Biba Saka Koto, is one of the women who constitute 54% of the workforce.
Treasurer of the Village Cooperative of Cashew Nut Producers of Tamarou, a small farming community in the district of Ouénou, Biba has been participating in BeninCaju's activities since 2016. With her reputation as an expert leader, Biba will be among the first ProLeaders to be promoted from the program.
"After the training, I managed to train 60 producers, including 37 women, on improved production techniques," she says proudly, noting that she exceeded her target of training 50 producers, and 15 women. "The producers are all the more willing to listen to me as they realize that the net increase in my cashew nut harvest is due to the maintenance of my own orchard as I learned during training."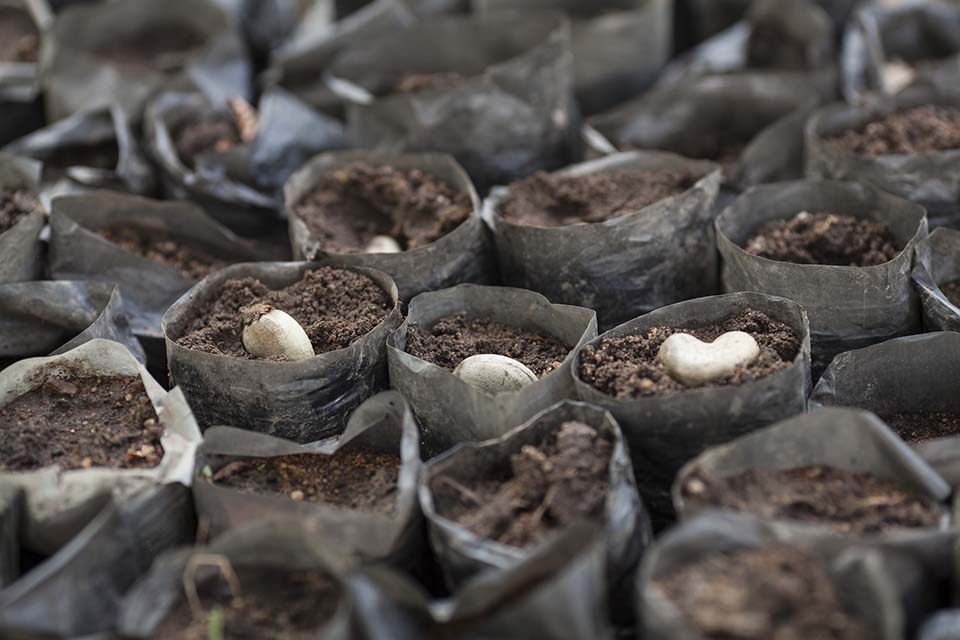 Cashew tree seeds rest on a bed of soil at the tree grafting nursery owned by Biaou Nazeire in Kokoro, Benin.
Photo by Laura Elizabeth Pohl for CRS
"I invite women in particular to acquire their own cashew farms because this guarantees their autonomy and the future of their children," she says.
Biba, a widow and mother of four boys, speaks from experience. She derives most of her income from her six acres of grafted cashew trees. The sale of nuts allows her to meet household expenses, including the cost of vocational training for her two eldest sons and school fees for the younger two. She has also invested in rice processing, enabling her association to deliver rice to school canteens as part of the Bessen Diannou project of CRS.
"The cashew allows me to live," says Biba, who is also an advisor to her village chief.
At the end of June 2019, BeninCaju's ProLeader program had already registered 150 participants, including 51 producers. The ProLeaders have in turn already trained and monitored 10,208 of their peer producers, of which 40% are women.