Literacy Leads to Self-Sufficiency in the Democratic Republic of the Congo
Photo by Samuel Phelps/CRS
To be poor in the Democratic Republic of the Congo means overcoming obstacles with every step toward resilience and prosperity. Without good health, food security or education, those obstacles appear insurmountable. In Kasai-Oriental province in central DRC, geographic and economic isolation compound these challenges even further.
That's why people in Kasai-Oriental are participating in village leadership committees where everybody has a voice in defining priorities to improve their village life. Working together they create an action plan to carry out the activities with the goal of improving economic and nutritional well-being for their families.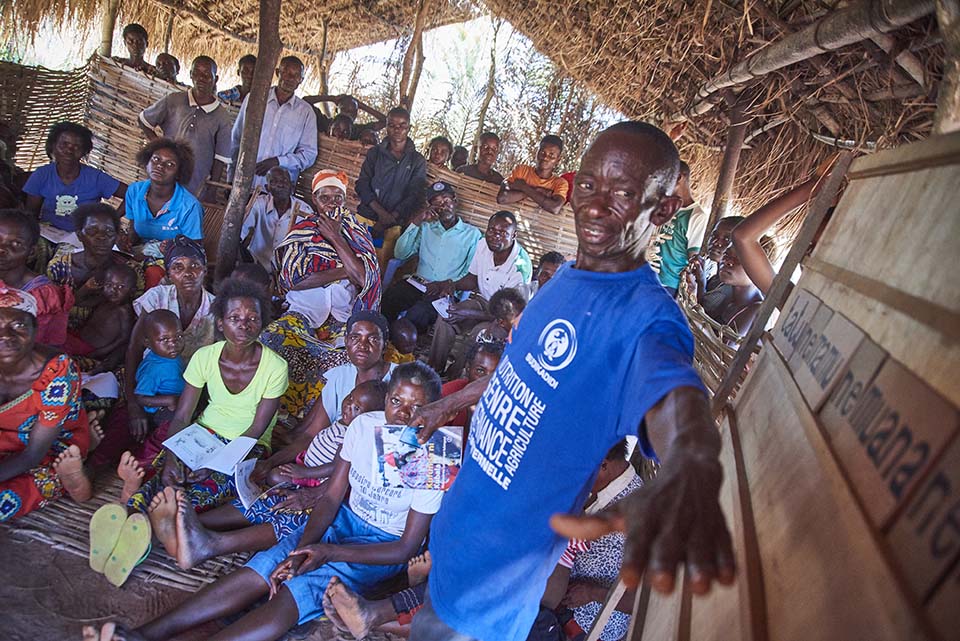 Jean Marie Ngandu leads a literacy class in his village of Nyandu Malolu in the Democratic Republic of the Congo.
Photo by Samuel Phelps/CRS
In partnership with the U.S. Agency for International Development, Catholic Relief Services is assisting communities across the DRC build economic resilience and achieve Budikadidi, which translates as "self-sufficiency" in the Tshiluba language and is the name of this 5-year project.
Some communities decide that access to clean water or hygiene is a priority to reduce sickness. Others focus on initiatives to increase agricultural production so they can put more food on the table. In the village of Nyandu Malou, the community decided education was a key area to invest in.
"There was not a school in the village so a high percentage of people had not been to school and were illiterate," says Jean Marie Ngandu, president of his community's committee. "When we saw the difficulties for our children who did not go to school, we decided the construction of a literacy center was a priority."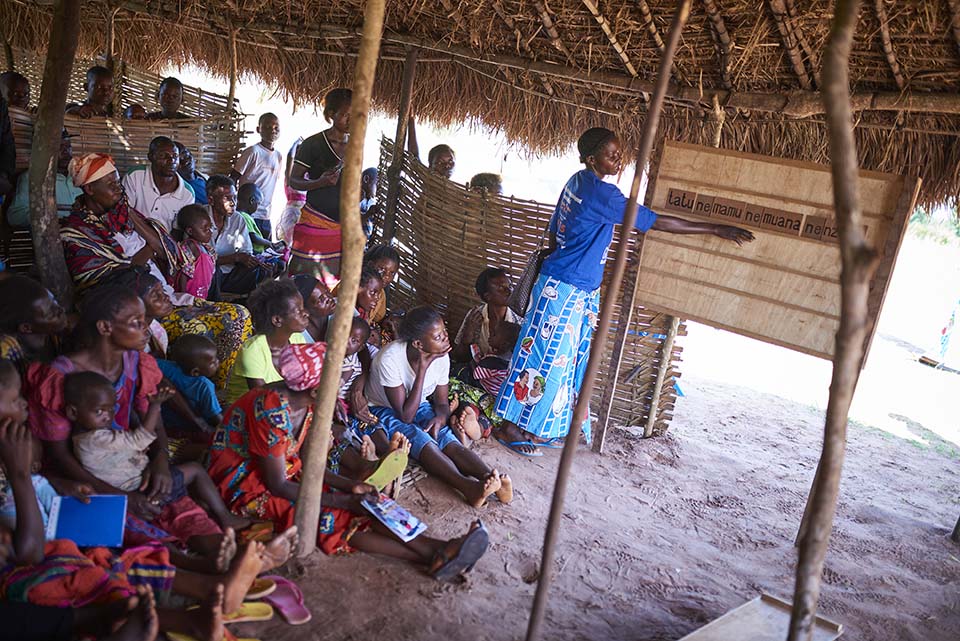 Annie Mputu leads a literacy class in her village. The villagers chose to focus on literacy to improve their independence and self-reliance.
Photo by Samuel Phelps/CRS
Twice each week, dozens of women and men meet and are taught by selected members of the village who already possess literacy skills.
During one of these classes, Monique Nyunga, a mother and grandmother who participates says, "I came here to learn to read and write. I want to become independent and write to my children."
"There were people before who could not read or write, now they can. We have mothers who can read and write now thanks to the literacy center," says Jean Marie. "I didn't think things could change before in our village. I was pessimistic."
A young mother, Monique Cita, sits holding an exercise book with her daughter on her lap. She watches the teacher attentively and mouths words formed on the board as part of a pronunciation exercise. "I'm here to learn how to read and write so I will be valued in the community," she says.
Monique Cita holds her sleeping daughter Astrid. She and other mothers bring their children with them to literacy class, part of the CRS Budikadidi project in her village.
Photo by Samuel Phelps/CRS
In Kasai-Oriental province, through Budikadidi interventions, CRS and USAID are supporting almost 100,000 vulnerable households—over 250,000 people—on the road to self-sufficiency. By teaching vital skills that will help in farming, household management and literacy, the goal is to improve the nutritional and economic well-being of families throughout the province so they can realize their full potential.