Linking Health, Nutrition and Business Skills in Uganda
Photo by Will Baxter/CRS
Until recently, Catherine*, who is HIV-positive, struggled to earn a living and care for the 11 children in her household. Most concerning, she was frequently unable to cover medical expenses or provide nutritious meals for her daughter Elizabeth*, who is also HIV-positive.
"I had a number of challenges, especially with school fees and materials since I have a number of children to take care of. I also had a hard time providing enough food and medical care," says Catherine, 37, who has seven children of her own and looks after four of her nieces.
Catherine learned that she and Elizabeth were both HIV-positive in 2014, when Elizabeth was just three years old.
Catherine and her 7-year-old daughter Elizabeth hold hands at their home in rural Uganda.
Photo by Will Baxter/CRS
"When I gave birth to Elizabeth, I didn't know my HIV status. She started falling sick frequently. I tried to treat her, but the child was not getting any better," Catherine says.
Eventually, she took Elizabeth to a nearby hospital, where they both tested positive for HIV and were placed on antiretroviral treatment. But with little counseling and no follow up, as is common in Uganda, Elizabeth's health did not improve. By April of 2018, Elizabeth was sick all the time and her viral load count had skyrocketed to more than 26,000 copies per milliliter. Ideally, the viral load should be below 1,000 copies per milliliter of blood. Meanwhile, Catherine's health was relatively fine. The issue was that Elizabeth was not eating properly or taking her medicine on a strict schedule.
"I just knew that an HIV-positive person is supposed to take medicine," Catherine says. "So, I just kept pushing her to take medicine, but not taking care of other issues that actually made the child's viral load go high.
The main issue was a poor diet. Often Elizabeth would just have a plate of plain rice for her meals.
"I didn't have knowledge on how to feed the child nutritiously," Catherine says.
In 2018, their household was identified for support through the Sustainable Outcomes for Children and Youth—SOCY—project, which is funded by the U.S. Agency for International Development and the President's Emergency Plan For AIDS Relief. The project is designed to improve the health, nutrition, education and well-being of orphans and vulnerable children impacted by HIV and AIDS, as well as reduce abuse, exploitation and neglect among this population. It does so by improving access to health services, educating caregivers about the importance of adherence to treatment and proper nutrition, and helping them learn to save money and run small businesses.
"When I was enrolled in SOCY, I was introduced to backyard gardening and taught how I can manage my household even with just a small amount of resources," she says.
Improving nutrition
Elizabeth used to be a fussy eater, and when she refused to eat Catherine would not force her.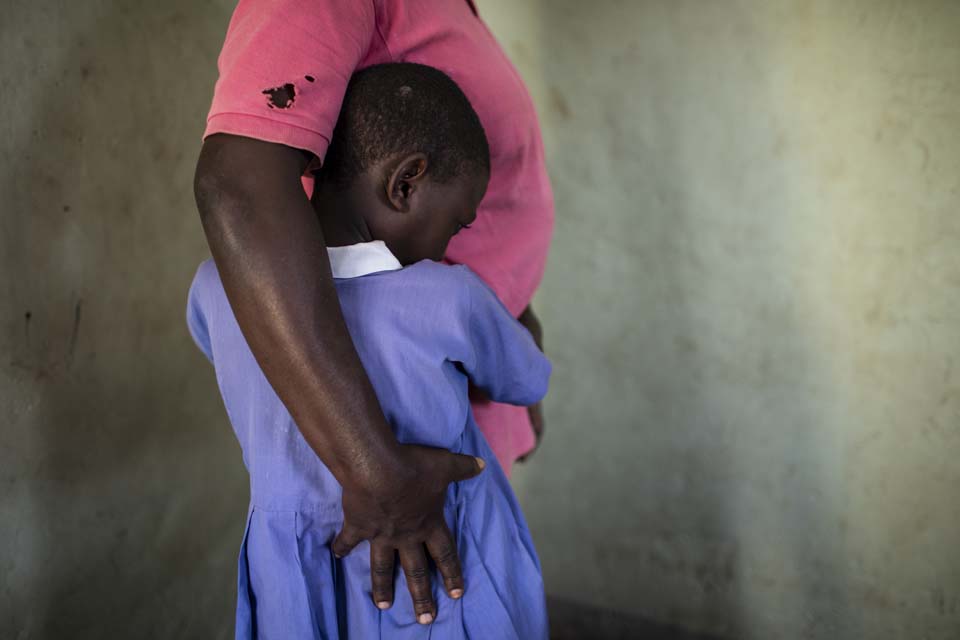 Catherine hugs her 7-year-old daughter Elizabeth at their home in rural Uganda. Both are HIV-positive and were selected for support through the Sustainable Outcomes for Children and Youth project.
Photo by Will Baxter/CRS
"If I had made porridge and she said she did not want to eat porridge, I would just say 'Fine, you go to school'," she says.
After Catherine took part in the project's series of trainings, she learned that a balanced diet is crucial, so she began to cook more nutritious meals—and make sure that Elizabeth ate a balanced diet.
"Little did I know that even a tomato can boost the nutrition of the child, even a cup of porridge can help," Catherine says. "After the trainings on nutrition, I now know to give the child different foods, and that has helped to boost her immunity and bring down the viral load."
Now she prepares porridges enriched with a variety of ingredients like soya, pumpkin and green vegetables.
"I had to put in a lot of energy to say, 'You have to eat your food, you must do all these things because it all contributes to your health'," Catherine says.
Today, Elizabeth is healthy and strong. Her last checkup showed that the virus is suppressed and that treatment is working.
Building business skills and saving habits
Being able to afford better, more nutritious ingredients can sometimes be a lot to ask of low-income households. That's why SOCY encourages participants to join Savings and Internal Lending Communities, also known as SILC. These member-led groups allow people with only moderate incomes to pool their earnings, save over time and take out loans as needed.  
Before joining a SILC group, Catherine and her husband had survived on subsistence farming.
"I didn't know anything about saving before," she says. "In SILC, I was taught that you can borrow and use that money to start up a business, which I did. I went to the SILC group, I borrowed money, and I started a business."
Initially, Catherine borrowed 50,000 shillings, about $13.55, which she paid back. She later graduated to borrowing 100,000 shillings ($27) and can now borrow up to 200,000 shillings ($54). She invested the funds to start a fresh vegetable stall, where she also sells milk and fried cassava to students who attend a nearby school.
"A lot has improved with my business because of this borrowing," she says. "Initially the person who brings me milk would bring the milk, then I would sell it. Only after I sold the milk was I able to pay the man. But now the situation is that I borrow the money, pay for the milk up front, and then I make the profits. So, it is a little easier for me now."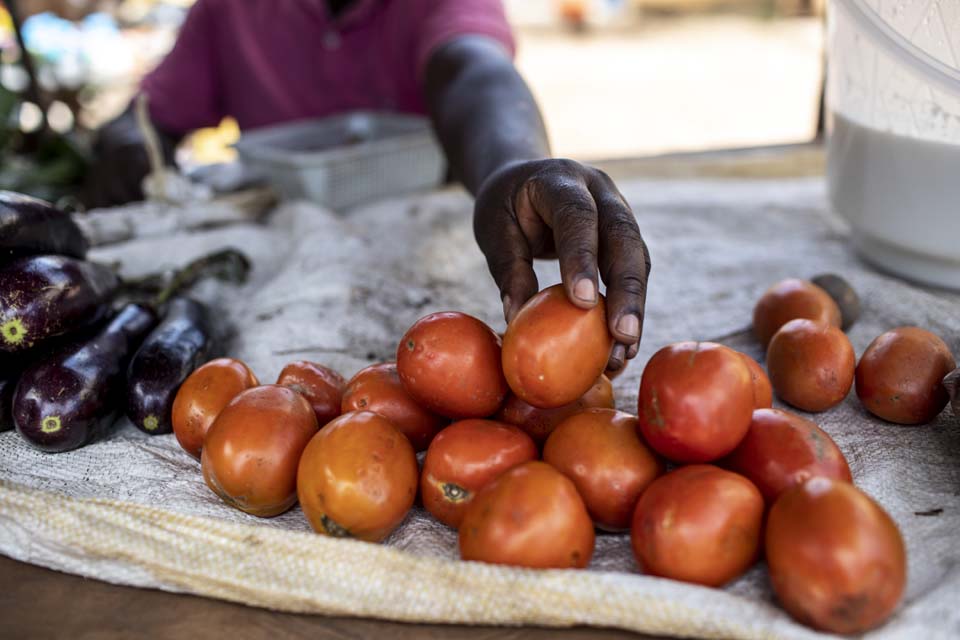 Catherine* arranges produce at her small vegetable stand outside her home in rural Uganda. She participates in the Sustainable Outcomes for Children and Youth project.
Photo by Will Baxter/CRS
Lillian Akurut, a social worker with CRS partner Reach Out-Mbuya, said it is imperative that the project address financial stability in addition to health, nutrition and awareness.
"We do all these things to ensure that this household remains strong even after the project has left, so they are able to support themselves without depending on anybody," Lillian says.
Catherine is well on her way, and in the future wants to expand her business.
"We are going to have share-outs from SILC at the end of the year. With the proceeds from the share out, I am going to invest in the expansion of my shop," she says.
She points out that she will be harvesting again around the same time and can boost the investment in her business expansion with the additional profits she earns selling her crops.
Caring for an HIV-positive child is never easy, but now that Catherine has a steady income and knows the importance of a balanced diet, she can focus on helping Elizabeth lead a full and healthy life.
"Before when there were hardships at home, Elizabeth might demand something but I couldn't give it to her. But now that I have started the business, now that I have milk, I can just get a half a cup and give it to her. When she wants something like a banana, I can easily get it for her now unlike in those days," Catherine says. 
"I am doing all I can to ensure that this child stays healthy and stays in school," she says.

*Names have been changed to protect identity.
Improve Health for Families Around the World