Lifesaving Food for Displaced South Sudanese
Photo by Will Baxter
Amuor Chuol was living in a small village in Duk, a rural county in the middle of South Sudan, when her nation plummeted into civil war in late 2013. When fighting engulfed her village she fled south to a settlement for displaced people in Mingkaman, in the Lakes state of South Sudan. Now 40 years old, she still lives in the settlement in relative safety with her 7 children. The youngest are year-and-a-half-old twin boys, Awerial and Abuyung.
But Amuor has struggled to provide food for her family. Like many displaced by years of conflict, she lives in a region where mothers and children suffer from malnutrition. Without enough food or nutrition, this can quickly lead to illness, disability—and even death. Amuor knows this too well.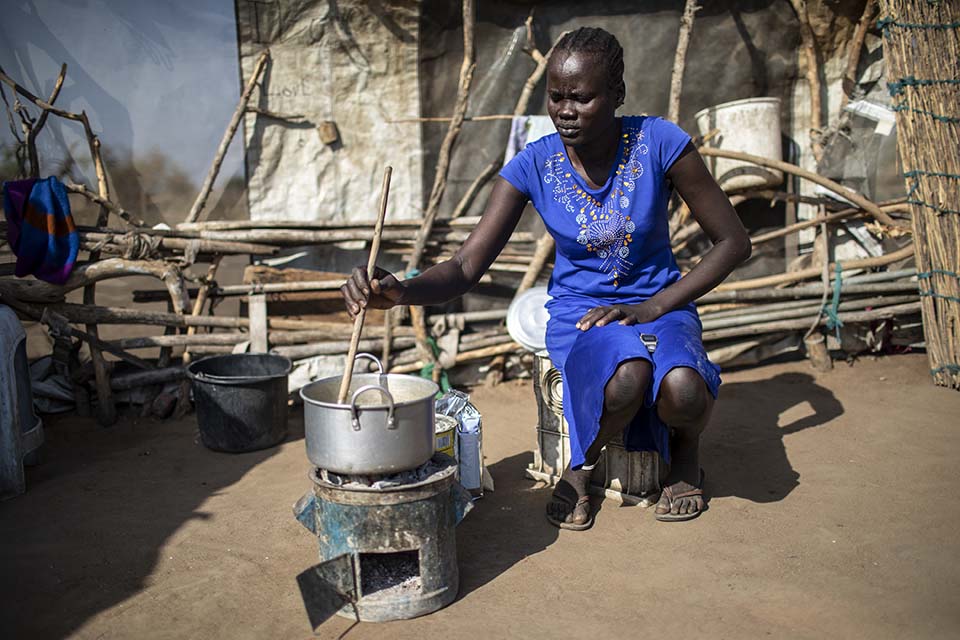 Amuor Chuol prepares porridge outside her home in a settlement for internally displaced persons in Minkaman, South Sudan.
Photo by Will Baxter/CRS
After giving birth to her twins, one of Amuor's breasts became infected and she struggled to produce enough milk to feed them. She tried to supplement her breastmilk with cow's milk, but this was not enough. She realized her infants were in real danger.
"The twins used to get diarrhea all the time. They would vomit. They were always weak," she says. "And I was always stressed and worried."
By the time Amuor took them to a nearby health clinic, Awerial and Abuyung were suffering from severe acute malnutrition. They were immediately put on an intensive feeding program, and given Plumpy'Nut, a peanut-based paste treatment for such cases.
Amuor's story is not uncommon. By July of this year, the United Nations estimates nearly 7 million people in South Sudan will not have enough to eat. But, with support from our partners, Catholic Relief Services is responding by providing lifesaving food to more than 97,000 people across the region. Some of the most vulnerable—like Amuor's twins—are receiving nutritional supplements through a CRS-led feeding program. The goal is to improve food security and nutrition, and help vulnerable households meet other essential needs.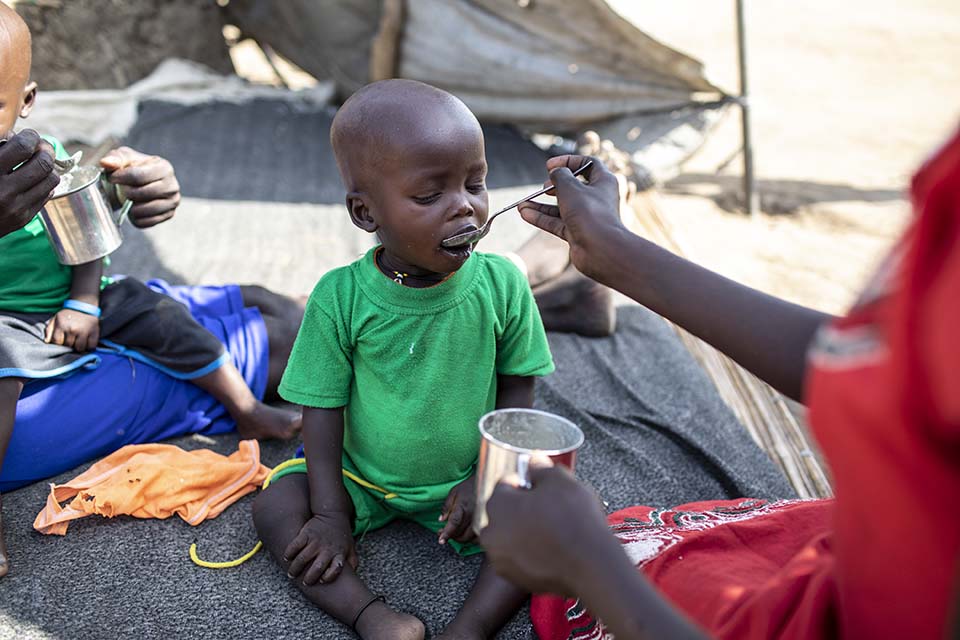 Amuor Chuol's daughter feeds her brother porridge. The United Nations estimates that as many as 7 million South Sudanese could face chronic hunger by mid-year.
Photo by Will Baxter/CRS
Amuor's children were fortunate. She closely followed the instructions the clinic gave her. By December 2018, the twins recovered enough to be transferred to a targeted feeding program where their health continues to improve. In that program, women and children receive monthly distributions of corn and soybean meal fortified with vitamins and minerals. CRS trains mothers on how to properly prepare the meal into porridge to ensure their children receive the nutrients they need.
Before each distribution, CRS program staff also conducts education sessions to encourage mothers to adopt better health, hygiene and sanitation practices. Amuor says she learned a lot from these discussions.
"I learned that the first thing I have to do is wash my hands before feeding my babies. Also the babies' hands and faces should be washed before I feed them. I also learned that when you are cooking porridge, you should first wash your hands. Then you make it and you give it to the baby when it is still warm. You should not give it to the baby when it goes cold. And you have to cover it always. You should not leave it open because the flies will come to sit there."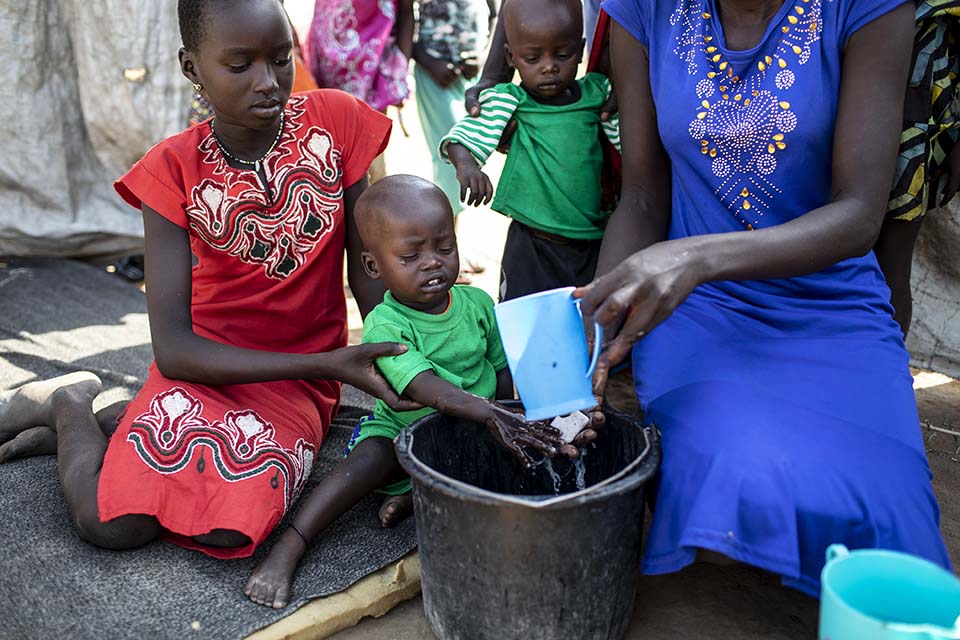 Amuor Chuol washes her children's faces and hands before feeding them porridge at her home in a settlement in Minkaman, South Sudan.
Photo by Will Baxter/CRS
Mary Athou, a member of the Lakes Emergency Program Project Management Committee, says it is extremely important for these mothers to practice proper hygiene, always bring their children to the monthly distributions, and follow the exact instructions when feeding their children.
"This is the main source of food for the children," says Mary. "If a child misses a feeding, even for a day or two days, automatically the child will become weak because there is no other food in the home."
With the support of CRS staff, Amuor can feed her children the nutritious food they need to recover. Awerial and Abuyung continue to improve. They were discharged from the targeted feeding program in March 2019 and are now enrolled in a broader CRS-led nutrition program. That program supports children in Amuor's community, from age 6 months to 5 years, with the aim of reducing malnutrition.
As Amuor prepares the twins' breakfast she says she is relieved her babies are on the road to recovery. "Now my children are ok," she says gratefully.