Lifesaving Food Aid for Madagascar
Photo by Jim Stipe/CRS
In rural Madagascar, many households depend on small, rain-fed farms for their food. But by the time the six-month "lean season" arrives, food supplies are depleted and will stay that way for months before the next harvest.
Currently, more than 1 million people there need food assistance for basic survival.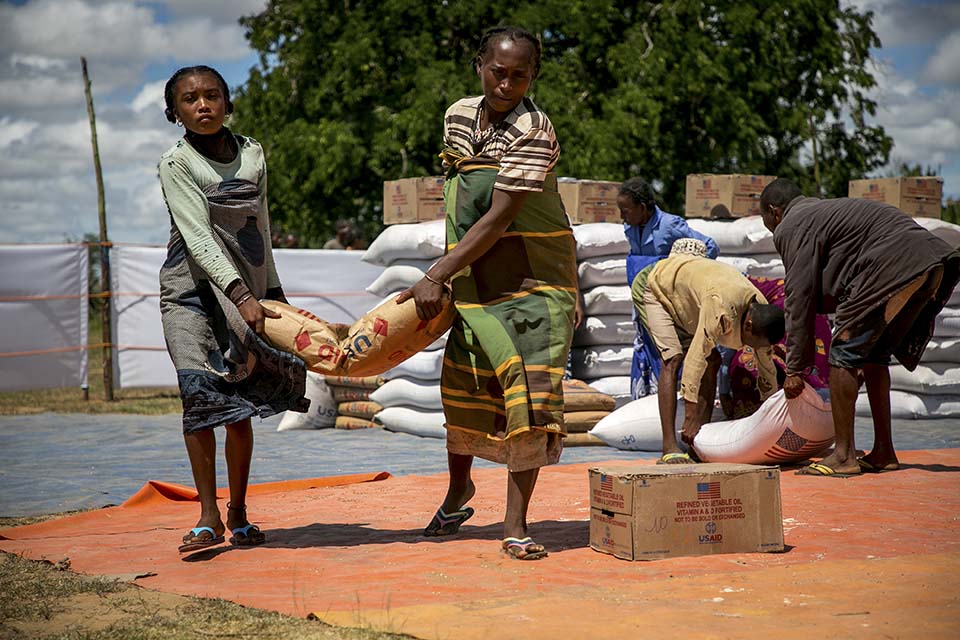 People receive food at a CRS food distribution in the Beloha District in southern Madagascar.
Photo by Jim Stipe/CRS
To address this dire need, over the past six months more than 6.9 million pounds of food has passed through Catholic Relief Services warehouses to poor families in southern Madagascar, where years of climate hazards have devastated crops. As part of a project funded by the U.S. Agency for International Development's Food for Peace program, CRS teams in Madagascar use a distribution system to assess community need, track food quantities, and anticipate when supplies are low.
For Amagnirae, who lives in the rural village of Marojela, CRS' distribution system is critical. Amagnirae is in her 60s and lives with her husband and two children. They are farmers, but for the last few years their land has yielded poor harvests despite all their efforts. She talks softly as she describes the situation in her community.
"We tried to grow some sweet potato this year, but then the bugs just ate all the produce. When the rains came, it flooded and took away what was left on the field, which means we couldn't even eat anything from what we were trying to grow."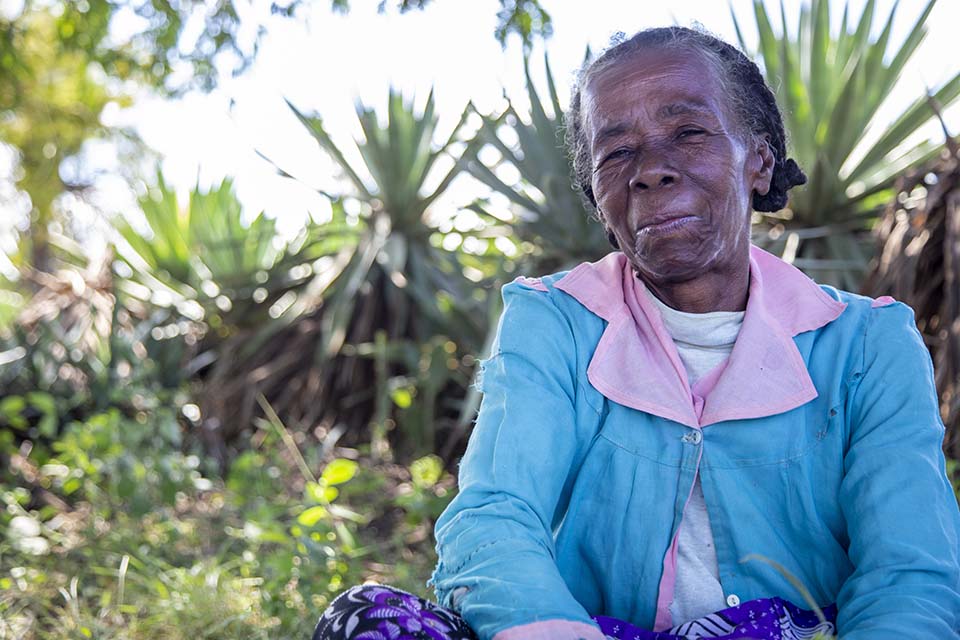 Amagnirae received soy blend, yellow split peas and sorghum at a food distribution in Beloha Province, Madagascar.
Photo by Dooshima Tsee/CRS
During the latest distribution, Amagnirae's family received oil, sorghum and yellow split peas. This was the second time they received food through the program.
The distributions are made every month and provide vital staple foods for families. On distribution days, sites are set up as close as possible to the community, so no one must walk more than 3 miles for food. CRS staff confirm registrations and conduct information session before distributing food.
Participants learn how much they will receive and how many days the food is expected to last. Staff explain that the food is not the be resold, along with other key information. CRS also encourages recipients to give feedback or report any instances of fraud. It is a crucial part of making sure we are listening to beneficiaries about their experiences—helping us adjust the way we implement our programs and provide services more effectively.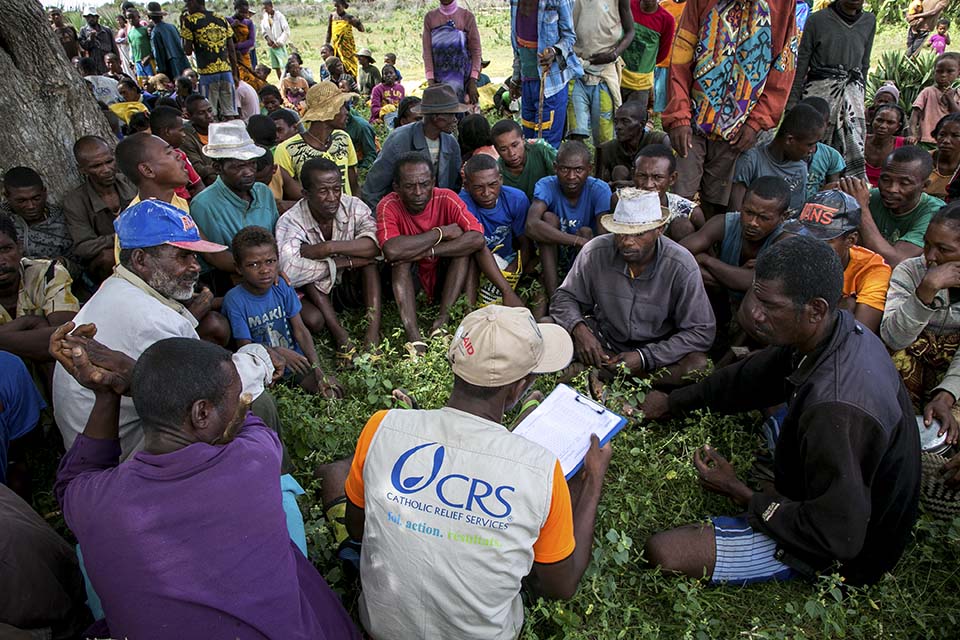 At a CRS food distribution in Beloha District in southern Madagascar, CRS staff register people to receive food aid.
Photo by Jim Stipe/CRS
Families in communities in southern Madagascar have had to eat cactus leaves, cactus fruit, and sweet potato leaves during almost five years of drought. Cactus fruits and leaves are nutritious when they are part of a diverse diet, but eating only cactus does not provide the nutrients and vitamins to survive. Children in particular need a varied diet for their growing bodies.
Amagnirae received her second supply of oil, sorghum, and split yellow peas at a recent monthly distribution that provide families with vital staple foods.
When we organize our food distributions, we make sure that we preserve the dignity of the people who receive the food. The preparations for the distributions start many weeks before the actual food is given out.
Members of the distribution team meet with community members to register the most vulnerable and let them know when the distributions will take place. The distribution site is usually located close to the community so no one has to walk more than three miles to get to the food. The process is organized efficiently to ensure that people do not have to wait for long. A water station is placed at every distribution point in case people get thirsty.