Knowledge for Moms, Good Nutrition for Babies in Malawi
Photo by Dooshima Tsee/CRS
Improving nutrition in Malawi
Women sing and dance in a circle in Chikwakwa district in southern Malawi. All the women are either pregnant, carrying a baby, or have a child toddling after them. The dance is the beginning of a care group meeting for mothers that meets once a month. The care groups not only build community among mothers—they are an important way to improve nutrition for children and families in Malawi.
The typical diet of most poor rural families in this part of Malawi is heavy in carbohydrates such as corn, rice, and cassava but has too little protein. Carbohydrates alone do not provide enough nutrition, especially for growing children. In this region, almost 50% of children under age 5 are malnourished—and this can have life threatening consequences. Malnourished children fall ill more often and they also learn and develop at a slower rate.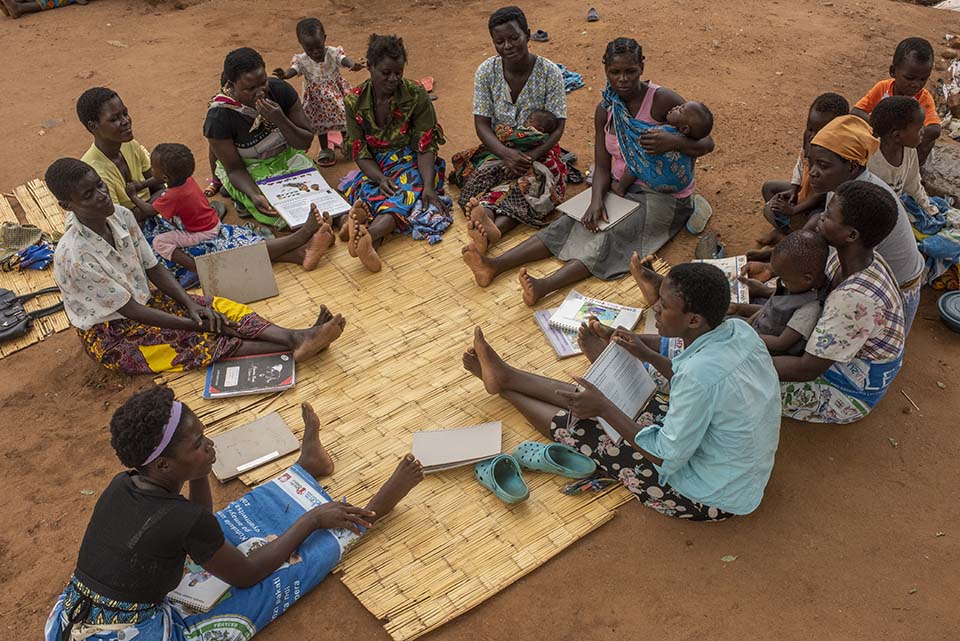 In Malawi, pregnant women and mothers with children under age 5 meet every month to learn about nutrition, hygiene, and sanitation.
Photo by Michael Stulman/CRS
Teaching the skills to fight malnutrition
After dancing on this bright Tuesday afternoon, Maness Landers, a volunteer care group promoter, teaches the women about nutrition and hygiene. She demonstrates how to prepare fritters made with soy enriched flour. Maness is pregnant herself. She teaches women in her community how to make healthier meals for their families and about hygiene and sanitation habits to prevent disease. These activities are part of the United in Building and Advancing Life Expectations, or UBALE, project implemented by Catholic Relief Services in southern Malawi.
The U.S. Agency for International Development funded the UBALE project through its Food for Peace office, with the goal of educating poor, rural women about how to incorporate nutritious and locally available ingredients into family meals. At each meeting, mothers learn new skills and share their experiences. Volunteer caregivers like Maness also make house calls to families in the community, during which they discuss any challenges and provide supplemental guidance around the skills they've learned.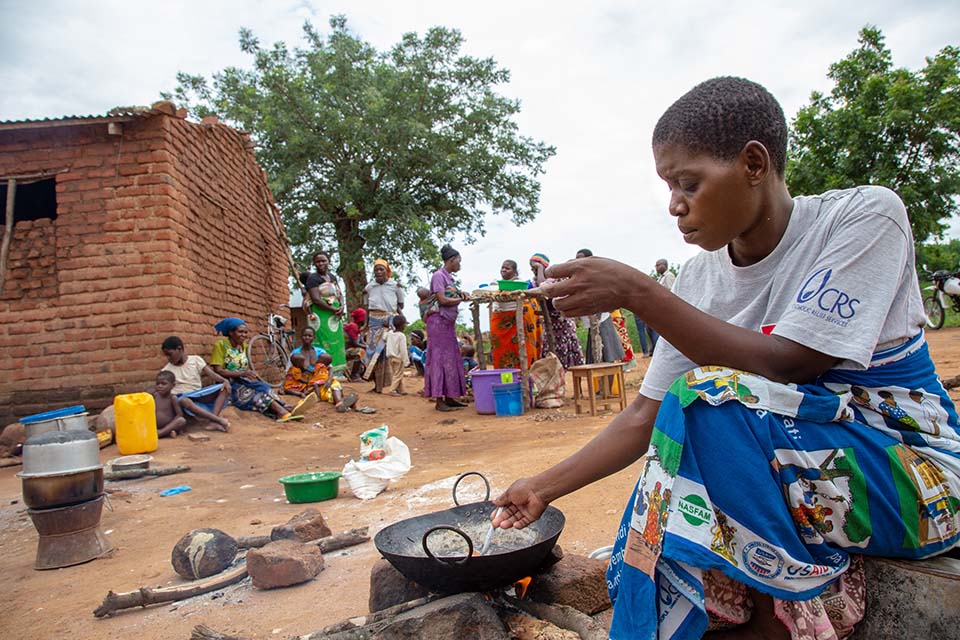 Maness Landers, a volunteer care group promoter, prepares pigeon pea enhanced fritters as part of food demonstration during care group meetings in Williams village, Chikwakwa, Malawi.
Photo by Dooshima Tsee/CRS
It only took six months for the project to make a difference. Maness already reports an improvement in the health of the children in her community. "The medical staff in our local hospital told me that since the project started, fewer children are brought to the hospital for medical services," she says. "It makes me happy that even the medical staff recognize the difference we are making with the work we do."
Nutritious food for a healthy start
Uratile is an active child. At 9 months old, she is already walking and her mother, Linda Nkusa, stays busy keeping her out of mischief like squeezing her little cat too hard. Linda started attending the care group meetings for mothers just after she became pregnant. It was there that she received the nutritious soy blend, oil and sorghum from food distributions by CRS. At the meetings, she learned about nutritious food and exclusive breastfeeding. After Linda had Uratile, she breastfed her exclusively for six months. When Linda was ready to introduce solid foods into her daughter's diet, she began with the soy blend she received from our food distributions.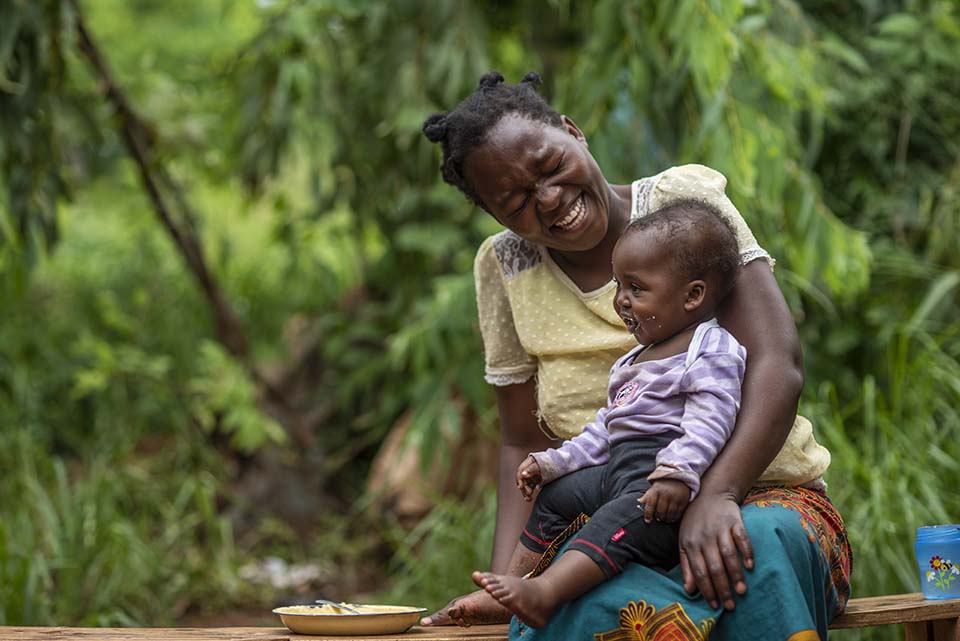 Linda Nkusa feeds her daughter, 9-month-old Uratile, with a nutritious soy blend porridge she received during distributions in her village.
Photo by Michael Stulman/CRS
"This soy blend is the most nutritious food I can give my daughter. It makes me happy that I am giving my daughter the best that she needs to grow and be happy." she says.
Through the UBALE project, CRS provided the skills young mothers need to fight malnutrition in Malawi. Nutritious meals, using the food from our distributions and locally available ingredients, give children like Uratile a good start to grow up healthy and happy.
From October 2018 to March 2019, more than 105,000 pregnant women and children received nutritious corn-soy blend and cooking oil from our food distributions.