Kenya Congregation Grows Its Farm
Photo by Will Baxter/CRS
Just four years ago, the congregation of the Little Sisters of St. Therese of the Child Jesus struggled to manage their dairy farm and could not produce enough income to cover all of the congregation's expenses. 
Situated in Kenya's Meru county, the  Little Sisters' goal was to make their congregation more economically sustainable in the long term, but they faced many setbacks and lacked the knowledge to thrive at raising livestock. In late 2015, their three dairy cows were only able to produce about 6.5 gallons daily.
Catholic Relief Services has supported the Little Sisters of Therese of the Child Jesus since 2014 through the Strengthening the Capacity of Women Religious in Early Childhood Development—or SCORE ECD—project. With funding from the Conrad N. Hilton Foundation, SCORE ECD works through national associations of sister congregations in Kenya, Malawi and Zambia to improve early childhood development services, increase sustainability in key areas where the congregations are active, and strengthen the practical knowledge, skills and capacity of religious organizations through trainings, mentorship and regular follow-ups.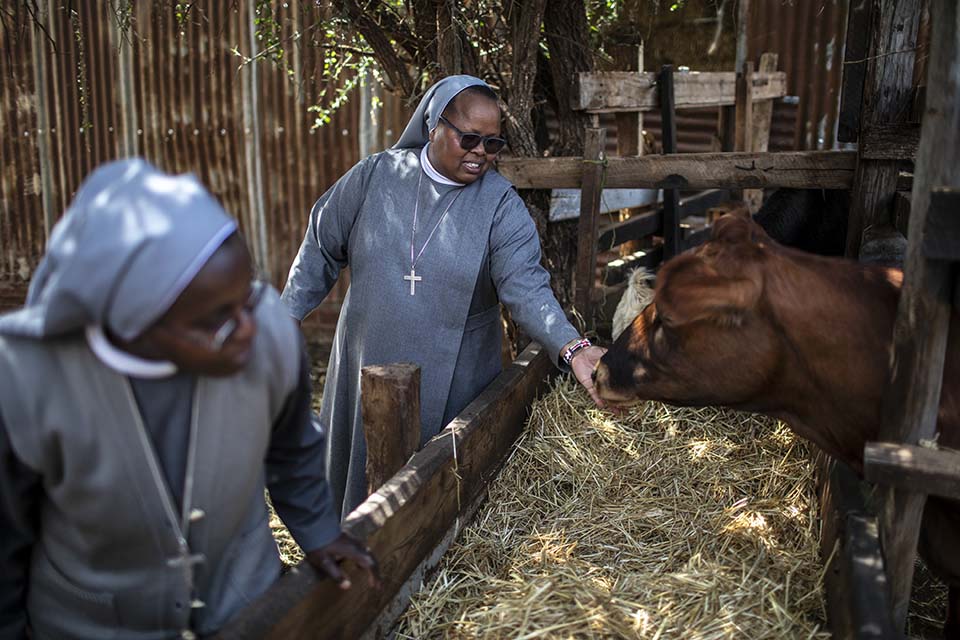 Sister Benedetta Mutheu and Sister Mary Agnes Nkatha check on cattle at their farm in Meru, Kenya.
Photo by Will Baxter/CRS
In collaboration with the Farmer-to-Farmer program, which is funded by the U.S. Agency for International Development, CRS contributed funding to link the congregation with agricultural experts from the United States. Starting in January 2016, these experts traveled to Kenya on four separate occasions to carry out assessments, train and mentor the sisters on dairy farming and other agricultural activities.
After the initial assessment, the sisters transferred 10 dairy cows from the St. Theresa Mission Hospital-Kiirua to join the three that were already on their farm. They were advised by Farmer-to-Farmer expert Gary Ruegsegger to cull four that were old and no longer producing a significant amount of milk. With the money they earned from the sale of the beef, they were able to buy three new cows. One of these is now their top producer, providing up to seven gallons of milk per day. They were also advised to construct a new barn with milking facilities, multiple pens, cement troughs, a hay loft and silage storage.
Noticeable difference
In the trainings, the sisters learned they weren't feeding the cattle properly. Gary trained them and their farmhands how to dry, cut or grind silage and measure it out in adequate portions.
"We learned to balance the feed for the animals," says Sister Regina Gakii, who oversaw the expansion of the dairy project. They also procured a machine for grinding silage. Now the cattle are given a nutritious mixture of silage, molasses, and leftover fodder from the garden.
They have also become more successful at raising calves. Before, two or three calves would die from lack of nutrition every year. Now the calves are each fed two quarts of milk in the morning and two in the evening.
"Since we started practicing all this, we can see there is a difference. The cows have really improved because they are receiving all the nutrients that are required," says Sister Regina. The sisters have not lost any calves since they changed their feeding practices.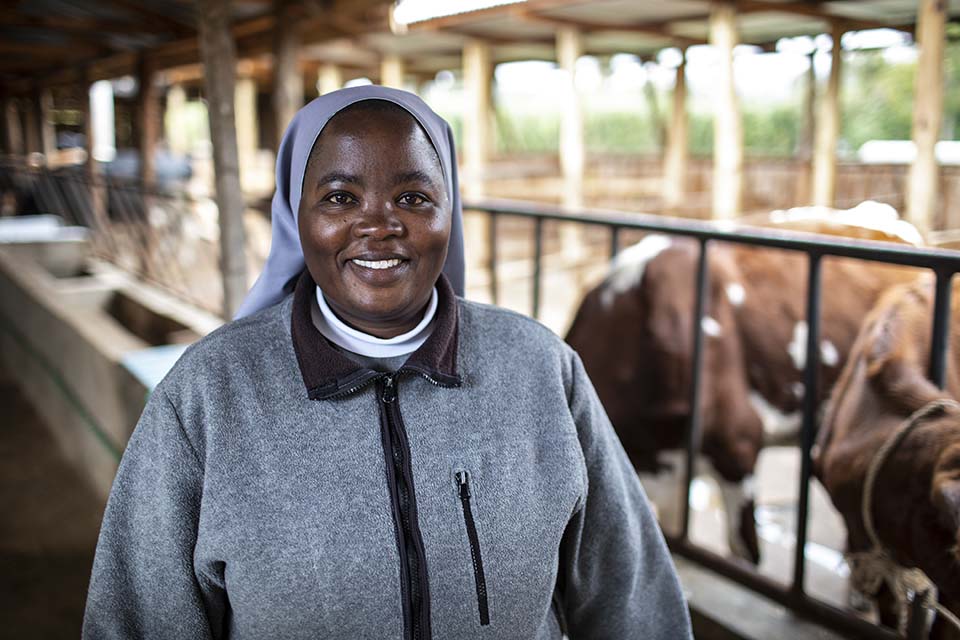 Sister Regina Gakii stands in the dairy barn at the Little Sisters of St. Therese of the Child Jesus congregation in Meru, Kenya.
Photo by Will Baxter/CRS
By July 2019, the congregation had increased its dairy herd from 3 to 23 cattle, including 10 milk cows, 8 heifers and 5 calves. The cows are now producing an average of 32 gallons of milk per day, meaning the congregation can sell around half to St. Theresa Mission Hospital-Kiirua. Selling at a discounted rate of 43 cents per liter, they are making a profit of around $775 per month from milk production.
Sister Esther Mutheu says they also learned to keep track of the cattle's history.
"Before we were just keeping the cows, and were not able to track their history. Now, through the trainings, we are able to tell how old a cow is and know when we should eliminate the cow," Sister Esther says.
Fifteen Sisters from six other congregations supported by SCORE ECD and 48 members of the local community also benefitted from the trainings. As a result of those trainings, a congregation in outskirts of Nairobi has increased its herd from 2 to 11 cows, while another in central Kenya started a dairy project from scratch and now has six cows.
Sister Esther and Sister Regina follow up regularly with the other congregations and farmers who took part in the training, and report back to CRS on their progress and challenges.
"The farmers in the locality always call and invite us to come see their farms. Then we mentor them," says Sister Esther.
Planning for the future
Gary also advised the sisters to diversify into raising beef cattle and goats. In May 2018, the congregation started a new project focused on meat production.
Sister Mary-Agnes Nkatha, the regional superior of the congregation, says beef is as an area for future expansion. "The cost of a rearing a beef cow is much less than dairy. And there is less risk because the dairy cows are prone to many problems, like mastitis."
As of July 2019, they had one beef cow for breeding purposes, 26 goats, and were raising seven bulls to sell. Typically, their business model is to buy a calf for between $180 and $250, raise it for about six months, and then sell it for around $480 to $575.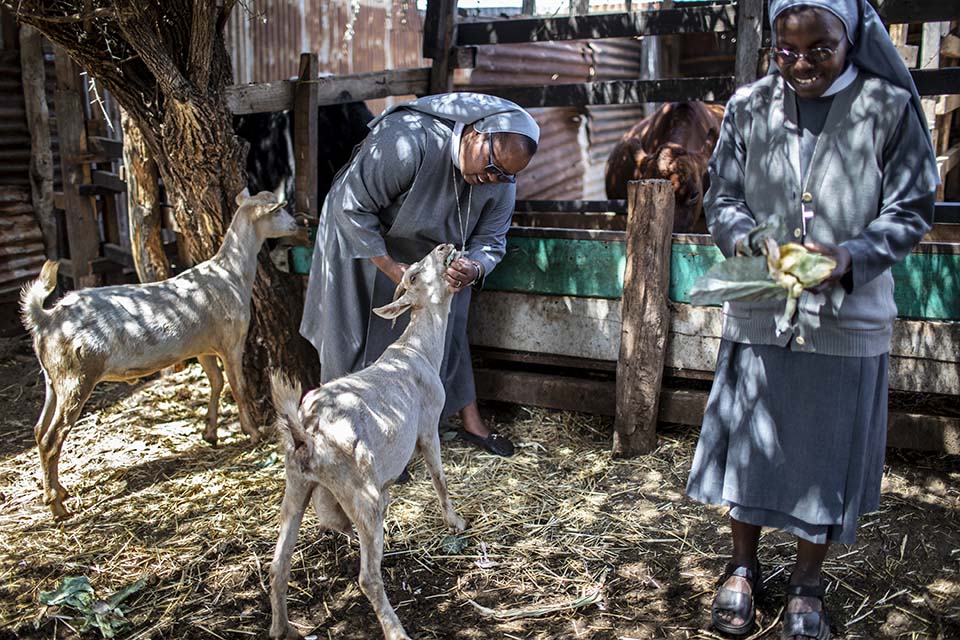 Sister Mary Agnes Nkatha and Sister Benedetta Mutheu feed cabbage to goats that help diversify the sisters' farm operation.
Photo by Will Baxter/CRS
As with their milk, they sell the meat to the hospital at a discounted rate and get $3.65 per two pounds of beef and $3.84 for the same weight of goat meat.
All of that livestock has brought additional benefits. In previous years, the congregation would spend as much as $2,700 a year on manure to use as fertilizer on their fruit and vegetable farm. But now they are able to cover those needs entirely.
Sister Mary-Agnes says that once their dairy and beef projects are producing enough, she wants to expand and link to new markets.
"Our initial plan is to have 20 good dairy cows. Those would be manageable in terms of resources and planning," says Sister Mary-Agnes, noting that eventually they want to reach the point where they can produce at least 50 gallons of milk per day.
Once they can produce a larger surplus, she would like to begin selling to local institutions such as schools and hospitals.
Sustainability and independence
"At the moment we are not open to them because we don't have enough surplus for everyone. But once we are producing enough quantities, then we can open up to other markets and be more sustainable with the farm."
The profits can be used to support the congregation's social outreach in the communities, she says.
"This project contributes to what we call the common fund. The common fund is where, as a congregation, we finance our other social activities that we do, especially those activities that have no income," says Sister Mary-Agnes.
These include the St. Therese House of Hope in Nakuru, which supports around 50 girls who are living with HIV and AIDS, as well as the Mother Maria Children's Home.
With their newfound success on the farm, Sister Mary-Agnes says, "We anticipate that we will be able to sustain these social activities that have long been donor dependent."