"I don't remember my father explaining to me why he did what he did, but I saw him do it. I saw it in his eyes, I saw it in his smile. I saw how he really enjoyed being of help to someone else... I could say that I owe my inspiration for this career to my father, who taught me by his example, that all of us can collaborate."
When Iván accompanied his father aboard a truck with equipment for the medical campaigns, little did he suspect that he was receiving his life's mission. Today, at 34, a husband and a father, he knows he came to serve. Working at CRS for 4 years has been the best tool God has given him for his work. As a communicator, a lover of photography and of human stories, his greatest gift has been to see that his work serves to take action and change lives.
At CRS Iván recognizes great value. He loves that it is an organization with clear and strategically designed processes that place people at the heart of it all. Not only the people the agency reaches, but also those who work there. "I also consider myself a child of God. And not just as a narrative, it's the vision and the driving force that propels everything. Faith is at the center," he tells us, recalling a phrase from the institutional video "We do all that work, not because they believe in God, but because we do."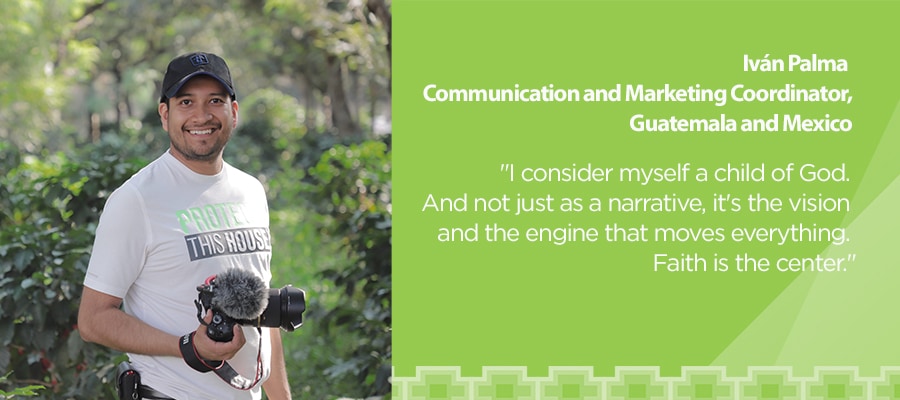 Iván is moved by young people and remembers how at the beginning of his career someone had faith in him and with two or three opportunities, even though he was still training, his path opened. This is also Fernando's story, a prominent young man from the Youth of Guatemala program, who found his way when, through CRS, he started working in a company as an intern. All he needed was a small push in the form of training that helped him overcome his shyness and recognize and express his abilities in front of others. Fernando is one more of the young people who is searching for his dream in Latin America. Fortunately, Fernando did find someone who had faith in him, and CRS played an important role in that meeting.
Iván tells us that a recent migration study conducted and launched by them shows that 70% of migrants would like to stay at home with their families and in their communities. However, because they lack opportunities, they are forced to migrate to the United States. The wonderful surprise is that the United States' House of Representatives published a report with recommendations that apparently are based on an excerpt from the afore mentioned CRS migration study and included it as a recommendation to the U.S. Government. And that's the real value of communication and advocacy: being able to influence legislation, governments, and decision-making. This is how, fortunately, the United States decides to support young people in Latin America to reach their dreams without having to leave their home. Iván proudly insists that the role of Hispanics, wherever we are, is to raise our voices to bring about change.
It's beautiful how, in the way that Iván saw his father, now, when he returns from the field, he shows photos to his young family and tells them stories of each person he met at the CRS projects....and in the meantime, of course, his son watches him. And hopefully, he can expect that his child will find the meaning of life by helping others.
This month we celebrate our Hispanic heritage. Celebrate with CRS!