Indonesia Tsunami Survivor Describes Loss
Photo by Putu Sayoga/Redux for CRS
"It was a loud roar and there were screams from other people who were running. Then everything was gone."
Fatwa Fadillah stoops among the make-shift tarp tents, urgently seeking information, but also needing to patiently listen and assess.
Almost a week has passed since an earthquake struck his homeland. It toppled buildings and crumbled roads. Hours later, a tsunami washed away people, property, roads and crops.
As each day passed and the death toll rose, searchers feared more people trapped in rubble would not be reached in time. Days after the quake and killer wave, another shock: a volcano erupted not far from the epicenter of the quake, further complicating the crisis.
Now, as many as 1.5 million people are desperately waiting for help. Fatwa, a Catholic Relief Services disaster risk reduction manager, was among the first to arrive in Palu. His role today is to help coordinate the CRS response with local Church partners and get the right aid to some of the most vulnerable affected.
"In Jonohoge village, I had to interview many people very fast to understand how much and what kind of aid is needed," Fatwa says. "Even though I was talking to many people quickly, I remember this woman. I couldn't get her name, but her face and her story are locked in my heart," he says.
"She cried as I talked to her. She was holding her 3-month-old baby. Her 4-year-old was playing nearby."
"When the earthquake happened, I fell to the ground," the woman told him. "We laid there and couldn't get up. When it stopped, we jumped and ran. We ran to higher land and when I looked back, my whole village was sinking. It was a loud roar and there were screams from other people who were running. Then everything was gone."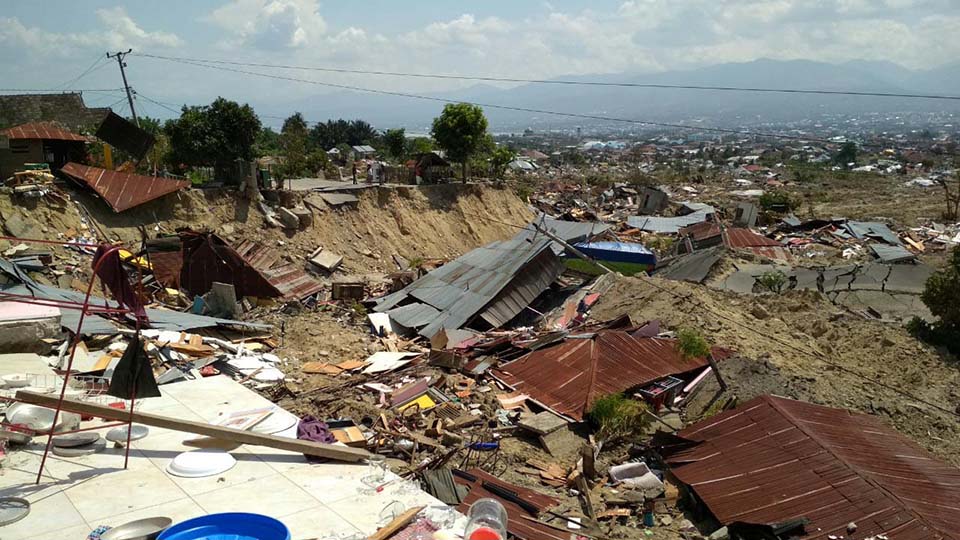 A 7.5 magnitude earthquake followed by a tsunami hit central Sulawesi on Friday, September 28.
Photo by Fatwa Fadillah/CRS
The quake registered 7.5 magnitude. Then came the tsunami. Observers reported the wave was as much as 20 feet high. Some villages could not be reached for days. The death toll continued to climb. But for this young mother, there was only the immediate reality of sudden loss.
"That night, we only had the clothes on our bodies," she tells Fatwa. "Everything we own was buried. There is nothing to go back to and nothing to salvage. We gathered with some of our neighbors on high open ground and waited for daylight."
Morning brought unwelcome news. No markets or banks open, cellular phone towers were down, food and water scarce, and roads impassable.
The woman continued, "The men who survived tried to find materials the next day. We made a cover from the sun, but we've received no assistance. And we are thirsty. We've only had a little drinking water and we must share it among many people. We are carrying water from a canal, but it is 5 kilometers away. We have no toilets or place to wash."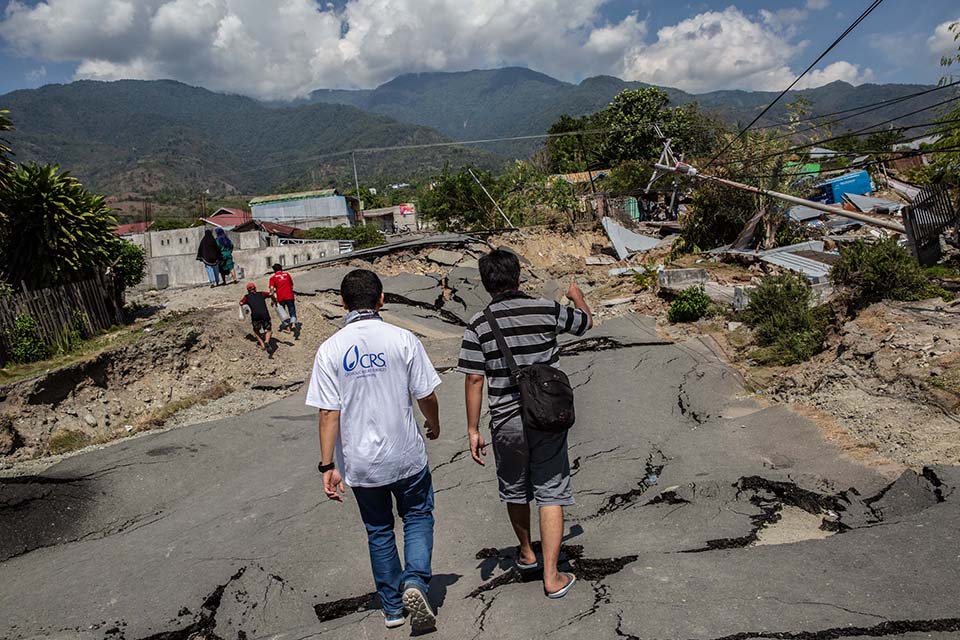 The tsunami caused major loss of life and damage, toppling buildings, shopping malls and mosques. Infrastructure, such as roads and bridges, was also badly damaged.
Photo by Fatwa Faddillah/CRS
CRS is supporting its local Caritas partners in preparing to provide food, clean water, medical treatment, emergency shelter, hygiene kits and other survival supplies. CRS hopes to quickly raise $800,000 to meet these urgent needs, and is committed to supporting the families and communities in the months—and likely years—ahead as they pick up the pieces and rebuild their lives.
For CRS staff like Fatwa, who is working in the city of Palu, the hardest hit area of the Indonesian island of Sulawesi, the response is personal as well as professional. This is his home.
"At night, the children have nightmares," the woman tells Fatwa. "We all have them, but we hear children crying in the night. Every time the earth moves [in an aftershock], everyone is afraid but especially the small kids. They look at the place where their house sank and their families were buried. They stare at it for a long time."