Increasing School Enrollment in Mali
Photo by Harandane Dicko for CRS
Djeneba Traoré started school late. She was 13 years old. And while attending class means a two-and-a-half mile trek, meals offered by her school canteen in Korokabougou, make give her the energy to learn all day and make the long walk back home.
At the age of 6, Djeneba accompanied her older sister to a gold panning site more than 124 miles from her home.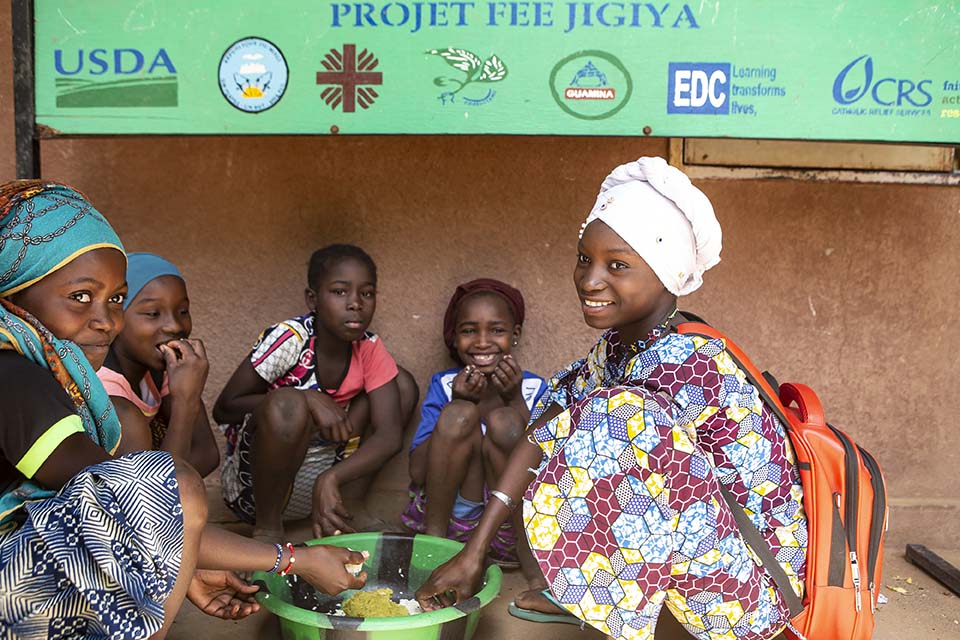 Sitan Traoré is eating a hot meal offered by her school provided through CRS support .
Photo by Harandane Dicko for CRS
"I was taking care of my sister's children who worked on the gold panning sites," Djeneba says. Far from her biological parents, the young girl did not have the same chance as her brothers and sisters to go to school at the age of five.
"I came with my older sister and her husband to visit my parents. They made the decision for me to stay," says Djeneba. "I am in the second grade with my first younger sister. My second sister is in first grade. And every morning we leave for school together. I am very happy to be able to go to school," she says.
"It was she who asked to go to school. When she expressed the wish to go, I was torn between joy and disgrace. Joy because she was replacing her older brothers who had all dropped out of school because of the strikes of the last few years. Disgrace, because I felt guilty for her late schooling. But everything is back in order, that's the most important thing," says Ladji Traoré, Djeneba's father.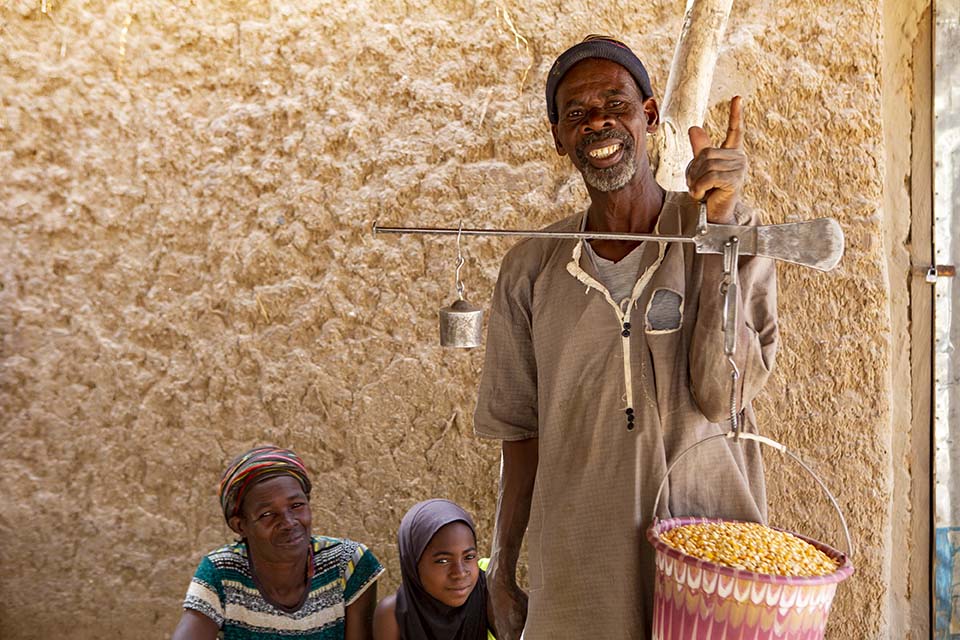 Ladji Traoré weighs his contribution in grains for the school canteen.
Photo by Harandane Dicko for CRS
Since her enrolment in October 2021, every morning Djeneba and several other children walk just over two miles from their village to the school in Korokabougou. Without the canteen, these children would make this round trip twice, or choose to spend the rest of the day without eating anything.
"Another leg of the journey to get lunch and then come back to school for the evening classes would mean a 10-mile walk per day for the children. This would be unbearable for them," says Souleymane Fomba, president of the school management committee of Korokabougou.
With the support of various partners of the Malian educational system and the commitment of parents, Djeneba and several hundred children can study in better conditions.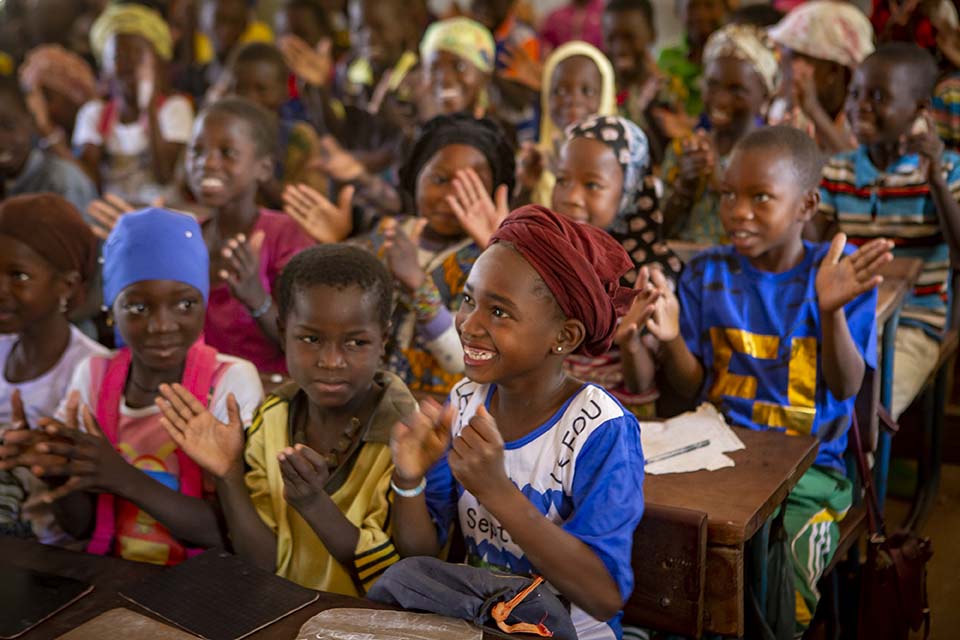 Third and fourth grade students  take part in a new curriculum that emphasizes learning through games.
Photo by Harandane Dicko for CRS
"We put the child at the heart of our assistance and the parents at the center of the process," says Oscar Dakouo, monitoring and evaluation officer of the McGovern Dole Food for Education and Child Nutrition project for Caritas Mali. The project reaches more than 200 schools.
"From 2012 to date, the results on the ground are impressive," he says.
The partners make a great contribution to the school. Yamadou Sissoko, the principal of one village school, says the enrollment in his school has increased from 160 in 2012 before the project's arrival to 376 in 2022—more than double in 10 years.
The same growth occurred in Gouakoulou where enrollment increased from 100 students in 2012 to 297 students in 2022. Oumar Diarra, assistant director and first grade teacher at the N'Galafouga school, says increased enrollment followed improvement of learning conditions for students.
Mohamed Sogodogo, teaches third and fourth grades at the N'Galafouga school.
Photo by Harandane Dicko for CRS
"My first-grade class, which I have been teaching for 17 years, has 56 students this year, including 27 boys and 29 girls. The children have everything they need and feel better at school," says Oumar, who, along with his colleague Mohamed Sogodogo, who teaches third and fourth grades, is in charge of experimenting with the balanced approach—a teaching technique introduced in Mali through United States Agency for International Development and the Education Development Center.
Classroom news, guided reading and writing are directed by the teacher through games that create connections among students and between students and teacher.
"I want the balanced approach to be fully integrated into our teaching system," says Oumar. In schools where the balanced approach is taught, children's learning and personal development improve. "Unlike traditional education, my students have developed a bond with me as their teacher. In the first year, they can already read and write."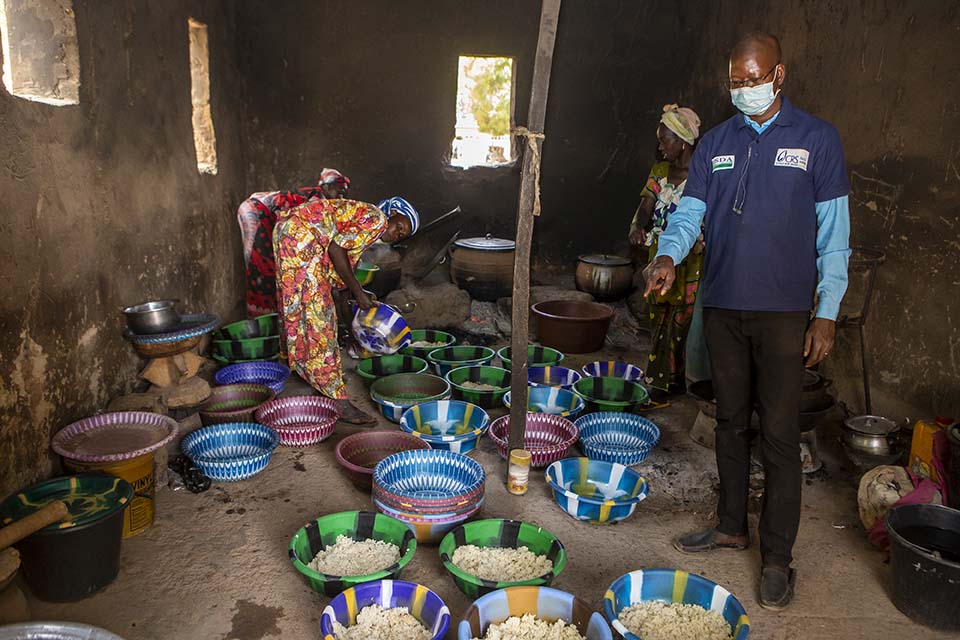 Oscar Dakouo, monitoring and evaluation officer, supervises the meal preparation before distribution to the children.
Photo by Harandane Dicko for CRS
Since 2012, projects and programs supported by Catholic Relief Services and its partners, through funding from the United States Department of Agriculture, have been working to support education in the Koulikoro and Mopti regions. In some localities, the ratio is one school for every 10 villages.
Since 1999, Catholic Relief Services has been implementing school lunch projects in Mali, in collaboration with local partners and the Ministry of Education. The McGovern Dole Food for Education and Child Nutrition project provides meals to more than 80,000 students in over 260 schools. The project is supported by the United States Department of Agriculture and implemented by Caritas Mali, AMPROD-Sahel, Guamina. In a decade, this program has increased school enrollment in more than 200 schools in the Mopti and Koulikoro regions. To preserve the gains, the partners have involved administrative and community authorities as well as students.