Improving Soil and Water Access in Ethiopia
Photo by Will Baxter/CRS
"Now that we use irrigation, we can earn a profit and send our children to school."
Land degradation and the destruction of watersheds are two of the most serious environmental threats facing Ethiopia today. More than a quarter of the country's land has been degraded, driven by factors such as rapid population growth, increased human use of land and unsustainable agricultural practices.
Specifically, the clearing of forests, highlands and shrub lands for agriculture has altered the natural environment, impacted water systems, resulted in the loss of vegetation cover and led to severe soil erosion. In the wake of this, overstressed croplands have become far less productive, leaving communities that depend on these resources unable to grow food, raise livestock or source adequate amounts of water.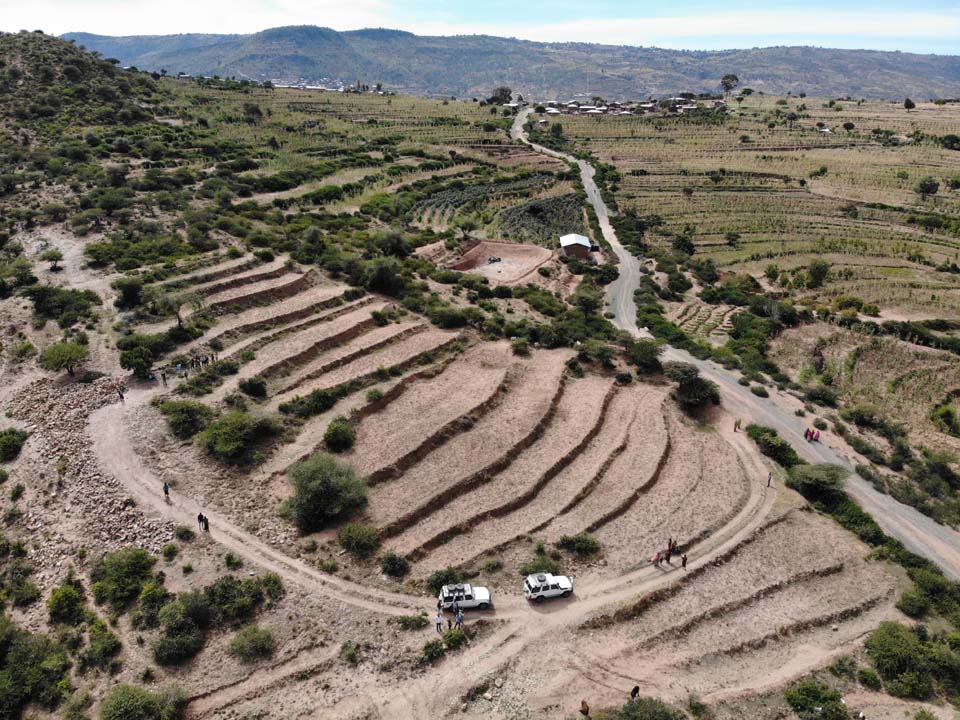 Terraced slopes help reduce runoff, retain water, and open more land to farmers, who, along with CRS, are rehabilitating soil and improving yields and incomes.
Photo by Will Garde/CRS
Since 2017, Catholic Relief Services and its local partners have helped communities restore and return more than 132,000 acres of degraded and marginal land to productivity through improved watershed and rangeland management. These measures have included:
Physical soil and water conservation measures—like the construction of soil and stone terracing, embankments and micro-basins.
Building check dams and erosion control, and rehabilitating gullies to manage flooding.
Strategic multi-purpose tree planting and agroforestry. 
Soil fertility improvement. 
The establishment of area enclosures and enrichment farms in degraded watershed areas to aid in the regeneration of the watershed and rangelands.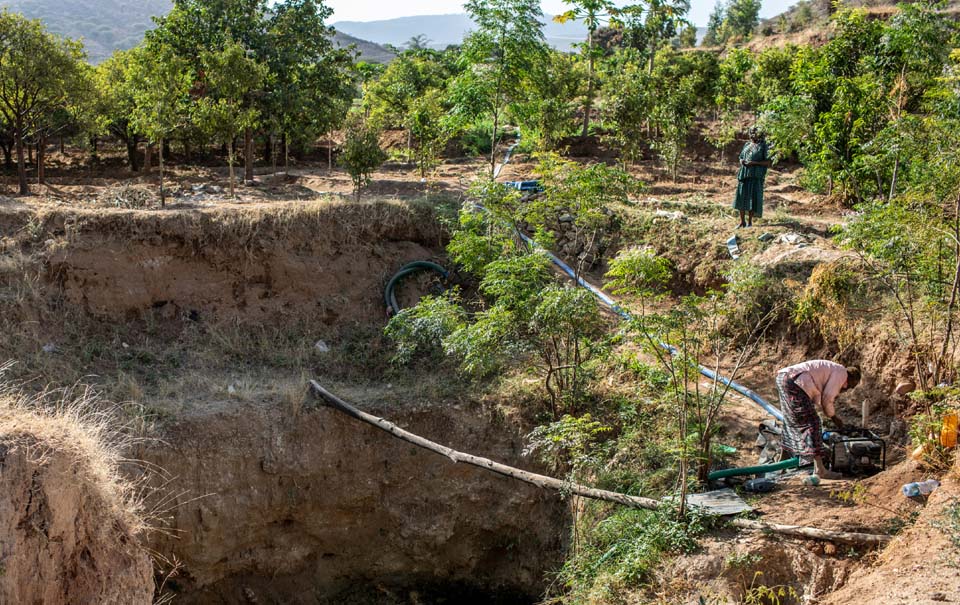 Farmers pump water from a borehole in Lege Bira kebele, Dire Dawa, Ethiopia. With guidance from CRS and our partners, this community farming collective dug the borehole to access groundwater and now uses a pump to irrigate crops during dry season.
Photo by Will Baxter/CRS
These initiatives are carried out through CRS' Development Food Security Activity funded by the U.S. Agency for International Development, the EC Regreening Africa Project and with CRS private funding. As a result of these projects, tens of thousands of people are benefitting from improved soil and better access to water. In the communities where this work has been carried out, we have observed that the volume of water reaching downstream catchments has increased and groundwater levels have also risen. 
With technical guidance from the development team and our local partners, Ahimed Muma Hassen and his community farming collective accessed groundwater near their farmlands and now use a pump to irrigate their crops in the dry season.
"Now that we use irrigation, we can earn a profit and send our children to school," says Ahimed.
To complement our natural resource management work, CRS has also collaborated with local research institutes through Feed the Future Ethiopia's Livelihoods for Resilience Oromia program to teach farmers techniques on how to conserve water and moisture during rain shortages. As a result, farmers have been able to increase their maize yields by more than 400% in some cases.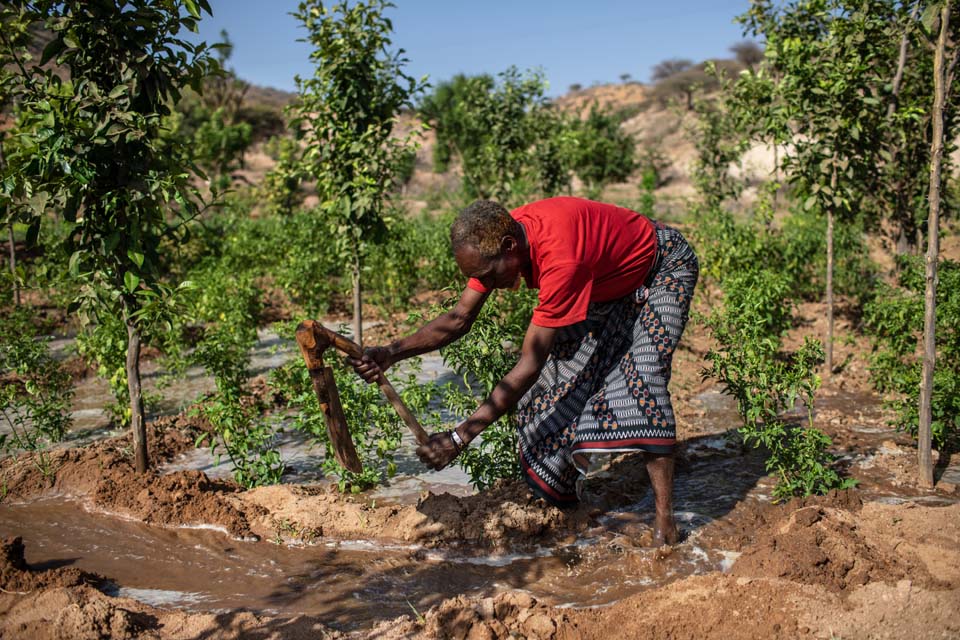 Abdella Aliya Sali, chairman of a livelihood group, uses a hoe to redirect water in his farming collective's fields in Dire Dawa.
Photo by Will Baxter/CRS
"This project is helping farmers by introducing moisture conservation technologies. When there is no rain, the maize can use moisture that has been conserved so crop failure will not happen," says researcher Zelalem Shelemew.
In 2018, Mircha Abe's crop failed due to drought and inadequate access to water, leaving her family in dire straits.
"I learned how to conserve moisture. Now when the rains recede, my maize can get water from the conserved moisture," says Mircha, a mother of five. In 2019, she produced 5,500 pounds of maize.
"When I look at my crops compared to other farms, mine will be green. So, I tell others everything I learned from the training," she adds.
Women herd their goats through a dry riverbed near Ejianeni in rural Dire Dawa, Ethiopia.
Photo by Will Baxter/CRS