Improved Planting Materials, Improved Yields and Incomes in Nigeria
Photo by Samuel Phelps/CRS
Cassava is a tropical, shrubby plant with an edible root that was introduced to the African continent in the 16th century by the Portuguese. Farmers in Nigeria have been growing it since.
Cultivatimg cassava is simply a matter of replanting cuttings from a mature plant. To save money, farmers traditionally cut from their current plants or from a neighbor's rather than purchase new seed. But this practice comes with a hidden cost.
Existing local varieties do not always possess the kinds of characteristics that promise higher yields, early maturing or resistance to drought. These improved varieties are produced with high quality standards and are certified by the National Agricultral Seed Council. But many farmers want proof that buying new seed varieties is worth their investment, especially when they can acquire cuttings for free.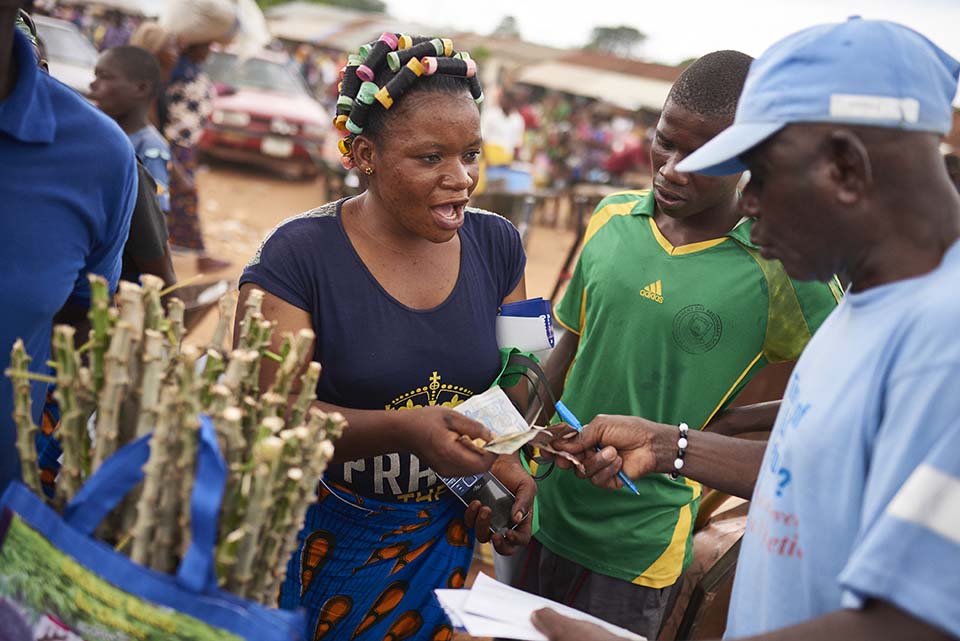 A village seed entrepreneur sells bundles of cassava stems as part of a market promotion by the BASICS program in Benue State, Nigeria.
Photo by Samuel Phelps/CRS
Nigeria is the world's largest producer of cassava. Through a project called Building an Economically Sustainable, Integrated Cassava Seed System—or BASICS—Catholic Relief Services and partners are working to demonstrate to farmers the value in using new, higher quality varieties of cassava seed.
"My Dad was a farmer and he planted cassava," says Segun Owoyemi, who is a program manager for the BASICS project. "It could take two years to grow, it was a long production cycle and farmers before were not buying this stem, they recycled from their fields or from a neighbor," he explains. "The key objective of BASICS is to establish a cassava seed system to consistently make improved varieties of cassava available to farmers."
Benue State is known as Nigeria's bread basket because it produces the most cassava in the country. The majority is consumed locally, but it's also trucked out to northern and southern regions. At first, BASICS tried to engage hundreds of thousands of farmers by inviting them to "farmer field day meetings" and introduce them to improved seeds. But the logistics of traveling to one place proved costly and inefficient, so BASICS tried another approach: promote the improved varieties at local markets, where hundreds and sometimes thousands of farmers visit daily.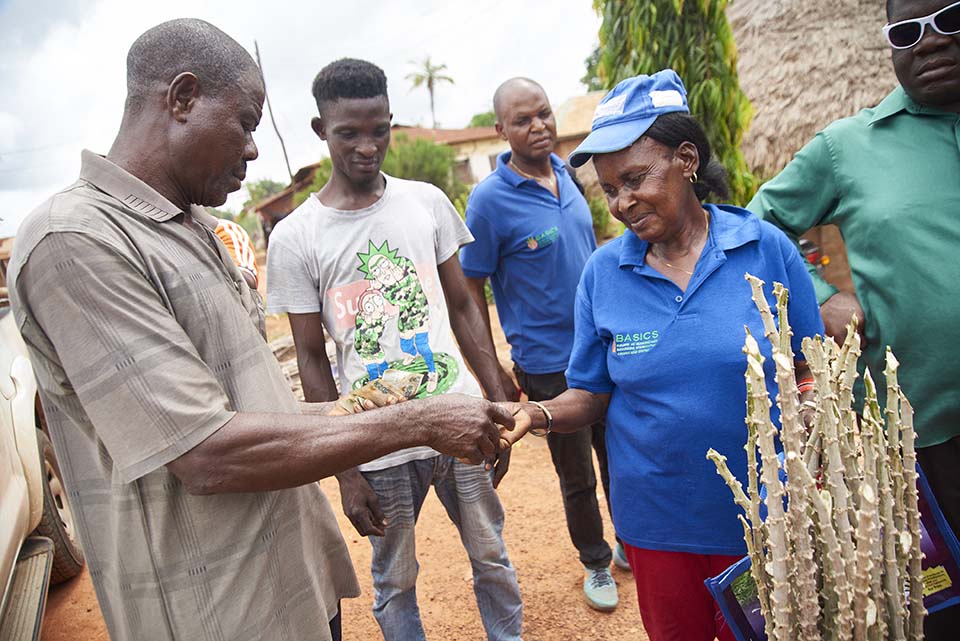 Village Seed Entrepreneur Bridget Angyo sells bundles of cassava stems during a market promotion by the BASICS program in Benue State, Nigeria.
Photo by Samuel Phelps/CRS
The latter approach was more successful. A team of seed entrepreneurs—government registered multipliers of new and improved cassava varieties—arrive at the market in a van blaring loud music. Once they park, dancers descend from the vehicle and their movement attracts a crowd of spectators. Inside of the van are root samples of cassava variety. These roots are unusually large—much larger than what farmers are used to—and their size peaks curiosity. In response, seed entrepreneurs distribute flyers and engage curious farmers in conversation. Almost inevitably, many farmers end up buying a bundle of stems for 1,000 naira—the equivalent of $2.75.
Cordilia Ortoho is one of the entrepreneurs moving through the crowd, energetically engaging with farmers and answering their questions.
"People like cassava so much, when you take it to the market there is a lot of demand," she says. "When people put it in their mouth, they ask 'What cassava is this?' People want to get it and grow it for their own use."
A man and woman purchased cassava stems from Village Seed Entrepreneurs during a market promotion by the BASICS program that offers an improved variety of cassava to help farmers increase yields and income.
Photo by Samuel Phelps/CRS
Cordilia started growing certified and approved varieties of cassava in 2016 and her investment has paid off.  
"I have been able to buy plots of land, feed my family, pay for school fees," she says. "I sold 615 bundles worth $1,700 last year."
President of a Benue State Seed Producers Cooperative, Francis Chia,  highlights the strong desire of farmers engaged in growing and selling improved varieties of seeds after the BASICS project ends.
"Our projection is that we will continue to sell and supply seeds to farmers once the project funding comes to an end," he says. "We are making a work plan for 2020 and we hope in the new year the project will open up in other states, so we aim to become the main supplier of stems for this emerging market."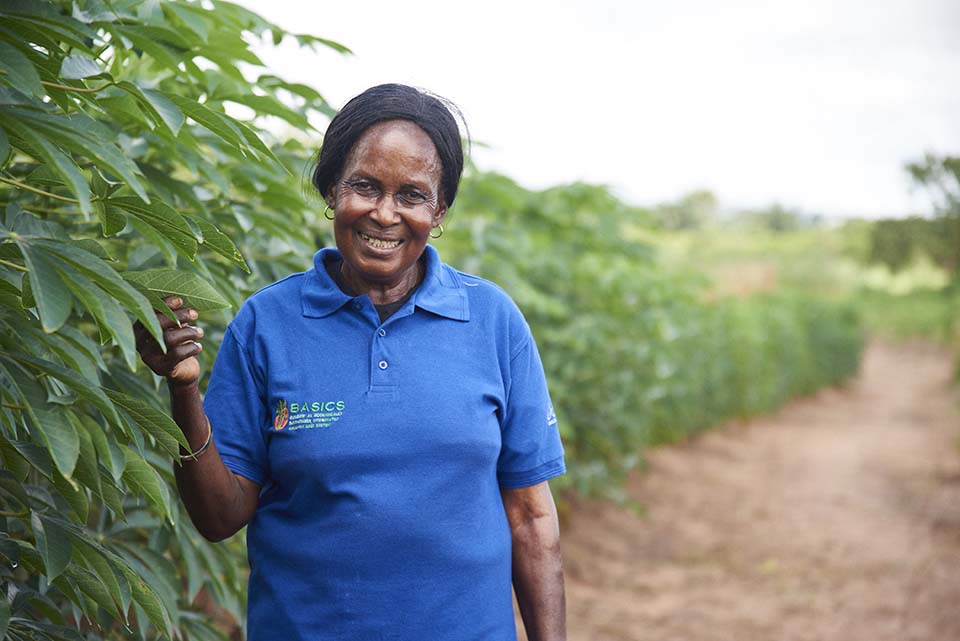 Village Seed Entrepreneur Bridget Angyo stands within her fields of improved cassava that offers farmers greater yields for personal use and increased income.
Photo by Samuel Phelps/CRS
Bridget Angyo, another successful seed entrepreneur who received training through the program, walks through her field of improved variety cassava, bending now and then to pull out weeds at the base of the stems.
"I learned that the most important thing is selecting the land. Land selection is very important. I  also learned about diseases and how to quickly identify them," she says. "Training gave me knowledge I cannot forget and that will impact my community. The improved varieties are important because they allow people to produce more food to feed their families."