HIV Testing, Counseling and Care
Photo by George Akor for CRS
Nwoba Ogbonna proudly shows the bunch of dry leaves and pieces of tree bark she is clutching, which she uses to make a potent concoction she says will help a woman in labor deliver her baby without much difficulty.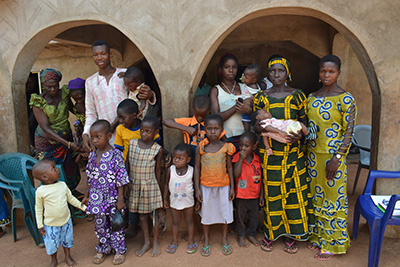 "When a woman is about to deliver but has a narrow birth canal, I give her medicine made from these leaves and it helps widen the canal," she says.
Many women in rural communities in Nigeria live in localities far from health facilities. They have no access to trained medical personnel to monitor pregnancies or to help in childbirth. Traditional birth attendants, or TBAs, like Nwoba, play an important role in assisting women living in these communities. It is a calling she relishes. "This is my destiny in life. I was born to help women deliver their babies. It is a skill I inherited from my mother."
But these birth attendants do not have proper training in child delivery, safe labor or hygienic practices. They also have very little understanding of mother-to-child HIV transmission or how to protect themselves from HIV-infected clients. Many women patronize TBAs in their communities for their pregnancy-related care instead of going to health facilities. In response to this challenge, Catholic Relief Services has engaged TBAs in five states of Nigeria—through the Global Fund project—to boost the country's Prevention-of-Mother-to-Child-Transmission, or PMTCT, program.
CRS has trained and supported more than 500 TBAs on basic HIV and AIDS information dissemination, transmission prevention, infant-feeding options and related health-promotion activities. TBAs partnering with CRS to make prevention services available to their clients are linked to health facilities in their communities.
Dr. Reward Nsirim, senior program manager of the CRS Global Fund project, agrees with the World Health Organization that TBAs cannot substitute for skilled providers. But he says that they can contribute to the survival of mothers and newborns by facilitating access to information, clinical services and support. Because many women patronize TBAs during pregnancy and childbirth, CRS views them as valuable partners in reaching more women.
"With proper training, TBAs, like other community health workers, can effectively convey vital information to women and communities in ways that will help them to seek skilled care." Dr. Nsirim says.
Through the project, CRS has trained and equipped TBAs like Nwoba to refer clients for skilled care at health facilities. Nwoba is proud of the fact that she has not experienced loss of a baby or mother during delivery. Nonetheless, she now knows that the skilled care available at CRS-supported facilities is a much safer option. She is also aware of HIV transmission and takes necessary precautions in the course of her work.
"I now use hand gloves and antiseptic [provided by CRS] to prevent infections," she says.
During Nwoba's local prenatal sessions, health workers from nearby CRS-supported medical facilities conduct HIV testing of pregnant women who wish to be tested. People who test HIV positive are referred to the local health facility for care and support. As a result, more women are aware of their status, and have access to treatment that prevents mother-to-child HIV transmission. Nwoba says she keeps test results of the clients confidential.
In 30 years as a TBA, Nwoba has helped many women to deliver babies in her community and beyond.
In the global effort to combat the spread of HIV, Dr. Nsirim considers training TBAs like Nwoba on HIV awareness—and referring clients for skilled professional care—a sustainable approach. According to Dr. Nsirim, scaling up interventions like these will continue to strengthen transmission-prevention programs.