Hispanic Heritage Month in the United States and CRS
Photo by Oscar Leiva/Silverlight for CRS
HOW WE CELEBRATE HISPANIC HERITAGE MONTH…
OUR FAITH KNOWS NO BOUNDS!
As Hispanics, we are united by our collective pride and a strong faith in every Hispanic moving toward a better future. This month we celebrate what makes us unique as Catholics and Hispanics. We share colors and flavors in common, and the same language in prayer. Around the world, we are invited to contribute with generosity— united in faith that knows no bounds.
Happy Hispanic Heritage Month!
Each year, from September 15 to October 15, we celebrate our Hispanic heritage—dates that coincide with national independence days in Costa Rica, El Salvador, Guatemala, Honduras, Nicaragua, Mexico and Chile. Here in the United States, more than half of Hispanics identify as Catholic—a great reason to give thanks to God and celebrate the achievements of our community. And, the best way to express that gratitude is to give back a little of what we have received.
In honor of Hispanic Heritage Month, Catholic Relief Services invites you to support our work in Latin America and all that we've done together to help people around the world. Learn more about our work in this video:
CRS has worked in Latin America since 1943, providing people with access to health care and education, helping tens of thousands of farmers improve their productivity and environmental resilience in the face of climate change, and assisting communities in preparing for and responding to natural disasters. Our first project was in Colonia Santa Rosa in Guanajuato, México, where we provided shelter, housing, medical assistance, clothing, education, vocational training, sport and recreational activities for 1,500 Polish refugees during WWII.

CRS believes in and supports Latin America!
Through our programs in Latin America, CRS supports the most vulnerable of our brothers and sisters to reach their true potential without having to leave their homes and families. We help farmers access the tools and resources that help them earn living incomes, cultivate flourishing landscapes and build resilient communities. It all begins with planting the seed.
How does CRS impact Latin America?
See more of what we are doing to help people thrive at home—how all of our work strengthens local communities to meet their own needs.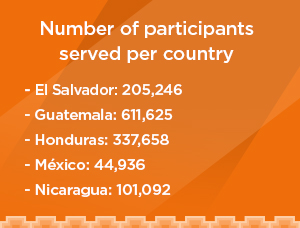 In 2019, CRS' work in Latin America included:
As Catholics, we are called to put our faith into action and to see the face of Christ in every person we reach—as supporters, we are working toward justice and the common good.
With the support of people who are inspired by our mission, we are building a global movement to end poverty by addressing the world's most pressing issues, like hunger and poverty. We ask that you please listen to the call to serve and join us!
A Chocolate Flavored Future
The opportunity to create a sustainable micro-business is the key for talented and hardworking people to empower and contribute their communities' development. Read Glendy's story, an entrepreneur at heart.
A Recipe for Dreams
Rodrigo, a young dreamer who is passionate about cooking will soon become a small-business owner. His desire to progress and the support he accepted, helped him get ahead without leaving his home country. Read his story and be inspired to help more young people like Rodrigo.
You can help change the lives of vulnerable families around the world. As Catholic Hispanics living in the United States, we put our faith into action to help our most vulnerable brothers and sisters in Latin America build promising futures. As Hispanics, we understand solidarity and we know how to help each other. We are all part of the colorful fabric that we call The Land of God.
Our faith knows no bounds...