Helping communities in the DRC overcome the hardships of COVID-19 
Photo by Justin Makangara for CRS
Like many people worldwide, Marie Josée Longo, a 62-year-old widow and mother of six, experienced the hardship of COVID-19 confinement at her home in Kinshasa, the capital of the Democratic Republic of the Congo.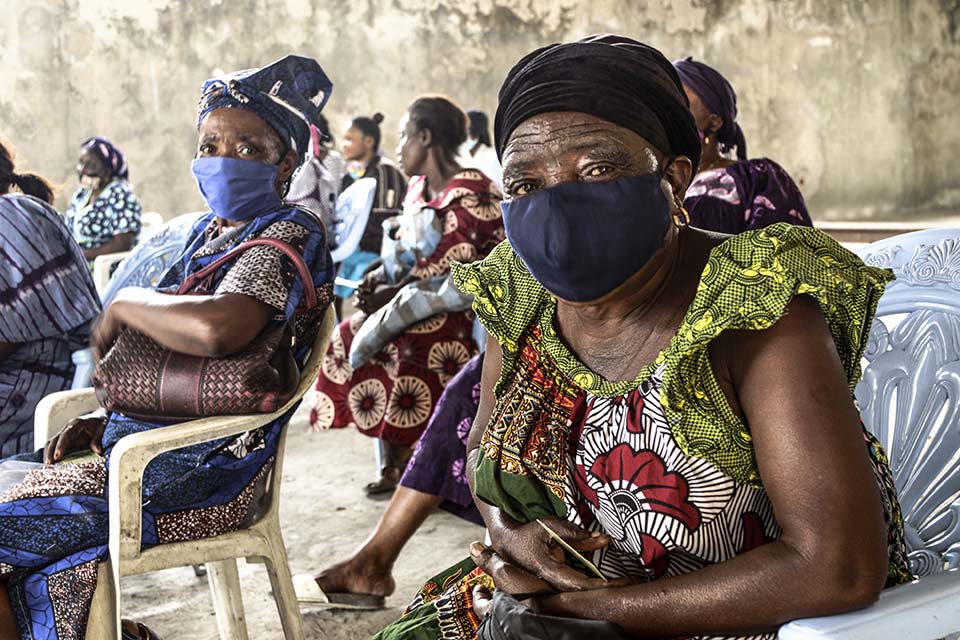 Mrs Marie Josée Longo waits for the distribution of foods and non-food items wearing a fabric mask and observing social distancing.
Photo by Justin Makangara for CRS
Kinshasa is one of Africa's most populous cities, where millions of residents work 'cash-in-hand' jobs to support their families from one day to the next. With COVID-19 confinement measures in the city, many residents were unable to earn their regular living and provide for their families.  
With support from the Center for Disaster Philanthropy and CRS private funds, CRS undertook multiple COVID-19 response activities in Kinshasa to meet the needs of families like Marie's. 
CRS provided 3,560 vulnerable households with direct food or cash assistance. Mobile money cash transfers targeted households with pronounced vulnerabilities to the virus, including those with immunocompromised members, or individuals living with pre-existing conditions.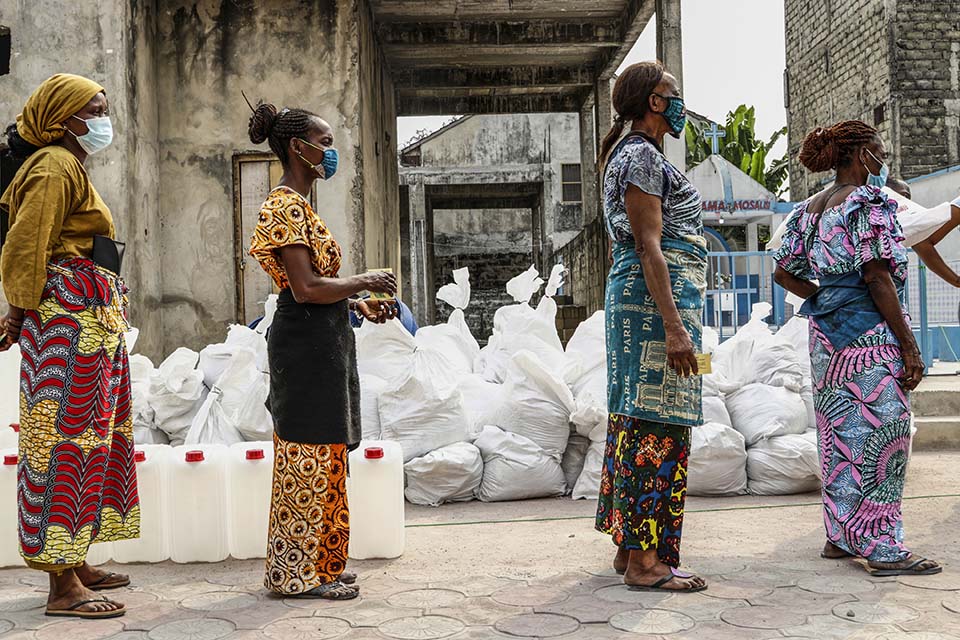 Participants line up 6 feet apart and wear masks while waiting for food and other assistance for those hard hit by Covid-19 and restrictions aimed at reducing transmission.
Photo by Justin Makangara for CRS
"I went through a difficult moment in the time of lock down and it was really difficult to manage," says Marie, wearing a fabric mask and respecting barrier gestures as she waited for food and other essential items during one of the distributions. "We say thank you to CRS and pray that you will not stop supporting us." 
The response also included distribution of hand-washing kits to 8,000 vulnerable households and the dissemination of public health messages by radio and through print materials to improve understanding of transmission risks, COVID-19 symptoms and prevention measures in four of the city's most-affected health zones.  
A woman washes her hands at a station installed as a way to limit the spread of COVID-19 at a CRS distribution site.
Photo by Justin Makangara for CRS
Under normal conditions, Kinshasa's population is affected by significant challenges, including limited access to health structures and high rates of poverty. The introduction of restrictions such as movement limitations, while potentially useful tools to reduce COVID transmission, can exacerbate these vulnerabilities and drive humanitarian needs.  While CRS and CDP's contributions provided critical assistance to several thousand families in five health zones at a critical moment of confinement, Kinshasa is vast and densely populated, covering 35 health zones. 
Nearly nine months after the first case of COVID-19 was registered in the DRC, the country now faces the prospect of a second wave of cases. As of November 24, the DRC has officially registered 12,365 cases and 331 deaths from COVID-19, largely centered in the urban centers of Kinshasa, Goma and Lubumbashi. 
"For many residents of Kinshasa, the easing of numerous government regulations and movement restrictions relating to COVID-19 earlier this year was perceived as a signal that the virus no longer presents a significant risk," says Dr Ghislain Mukuna, integrated health program manager for CRS DRC.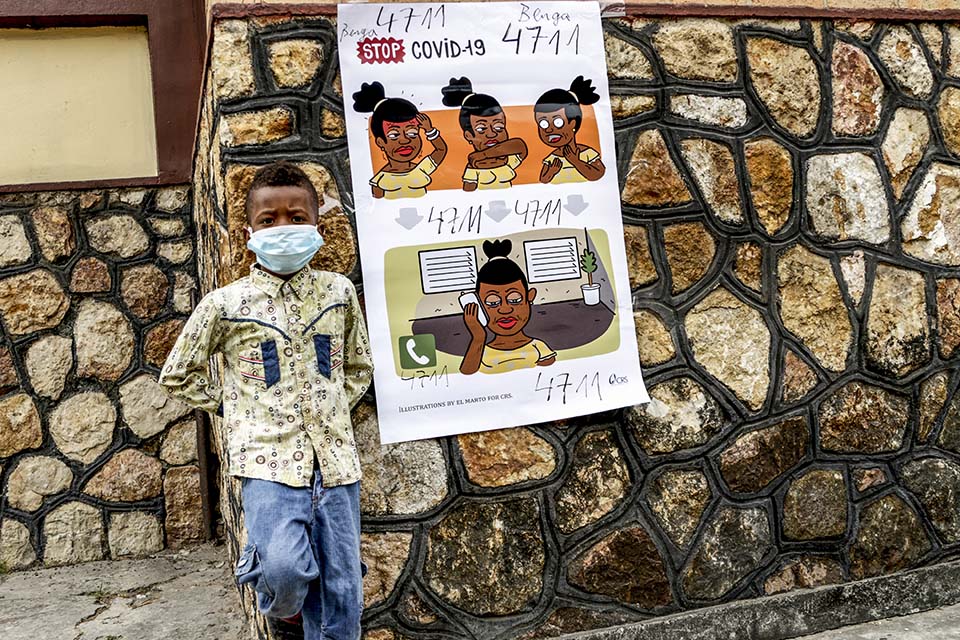 France Daniel stands in front of a poster while waiting for his mother as she receives food and non-food products for household help following the COVID-19.
Photo by Justin Makangara for CRS
Mukuna added that even as COVID-related restrictions have eased, CRS and its Church partners continue to monitor the pandemic's evolution in the country and underscore the need for continued popularization of practices such as social distancing and mask wearing. 
Continued observance of public health measures is critical to avoid a surge in cases, and along with it the potential for a second period of movement restrictions that could further destabilize already vulnerable households in Kinshasa, Mukuna says.