Helping Children with HIV in Cameroon
Photo by Jennifer Lazuta/CRS
When Aissatou, then age 10, lost her mother to a mysterious illness in early 2020, she and her brother were sent to live with an uncle in the city of Mokolo, in the Far North of Cameroon. A few months later, their uncle passed away, and they were sent to live with an aunt, in a nearby village. No one could locate their father.
Aissatou, who had been a sickly child from birth, became sicker and sicker, and her aunt sent her to live with her 61-year-old grandmother, Bouba.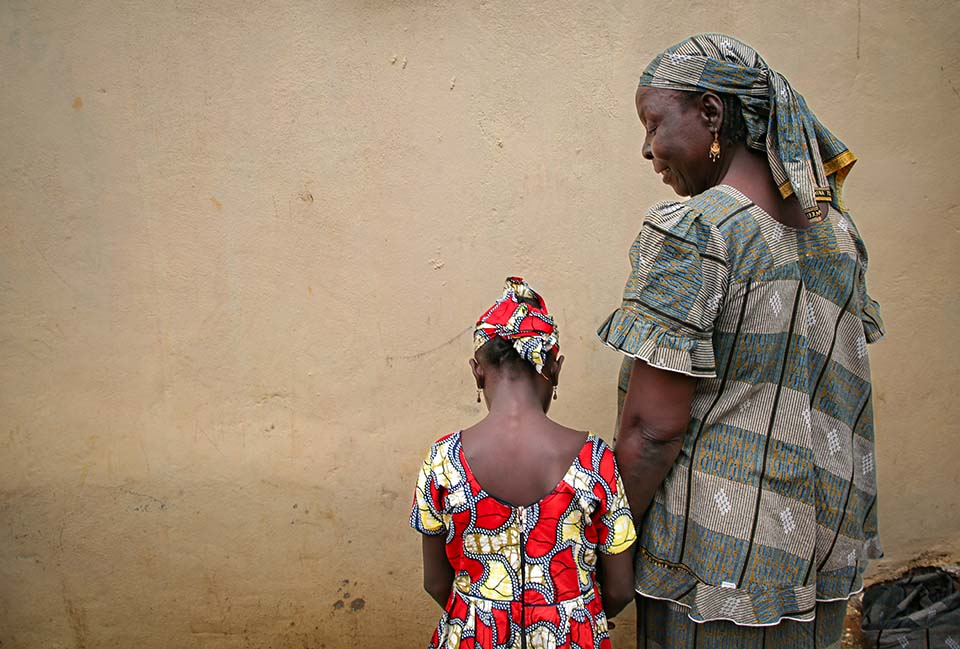 Aissatou stands with her grandmother Bouba outside their home in Maroua, in the Far North Region of Cameroon.
Photo by Jennifer Lazuta/CRS
At the time, Aissatou was taking medication for a lingering cough. Only her absent father knew that Aissatou was infected with HIV and that her mother had died of as a result of it. Because the family didn't know how important the medications were, sometimes they did not refill the prescription or give them to Aissatou. Her viral load, the amount of HIV detectable in her body, soared.
"When I first saw her, it was so sad," Bouba says. "Her state made me want to cry. She was very different from the child I remembered from a few years ago. I never saw a child like that before. She was extremely skinny…Her hair was falling out. She was coughing and even though so weak, could not sleep. I couldn't imagine how she arrived at this state. It was terrifying and broke my heart."
Bouba took Aissatou to a local health center, but it didn't help. Aissatou got sicker. She didn't know what to do.
Then, one day, a medical student who was going door-to-door to test for HIV, suspected that Aissatou was infected with the virus. She tested positive. Bouba was put in touch with a caseworker from CRS' KIDSS (Key Interventions to Develop Systems and Services for Orphans and Vulnerable Children) project and the family was enrolled in the program. The caseworker helped get Aissatou the medication and follow-up care needed to reduce her viral load.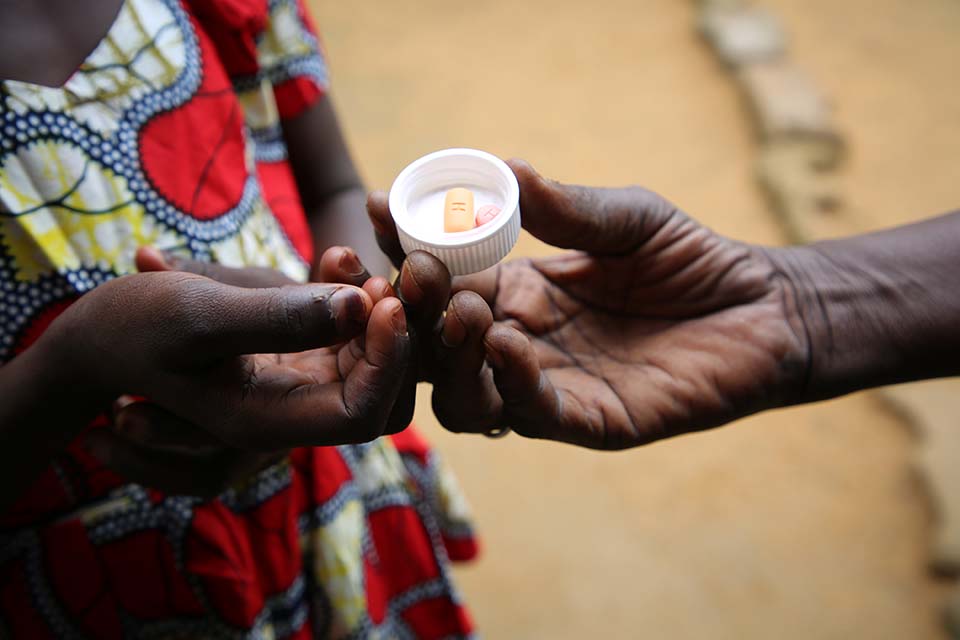 Aissatou's grandmother gives her the antiretroviral medications that she must take each day to keep her viral loads low.
Photo by Jennifer Lazuta/CRS
"When I learned she was suffering from HIV, I was sad, but I had no choice," her grandmother says. "I had to do whatever was possible to care for her and bring her back to health."
Once enrolled in KIDSS and thanks to regular visits from her caseworker, Aissatou started regularly taking her antiretroviral medications, eating better, and going for checkups. While Aissatou still doesn't understand her status, she willingly takes her pills each day for her "cough". Today, 12-year-old Aissatou is a normal weight, even if small for her age. She has been able to return to school, and is an active, playful, and happy child. Her smile lights up the room.
"It's such a joy to see Aissatou in good health again," Bouba says. "It makes my heart so happy. My wish is that Aissatou continues to have good health, that she can continue to go to school and one day that God will give her the chance to have a good job and a healthy family."
---
The KIDSS project (Key Interventions to Develop Systems and Services for Orphans and Vulnerable Children) was launched in 2014 by Catholic Relieve Services and is funded by the President's Emergency Plan for AIDS Relief and the United States Agency for International Development. KIDSS contributes towards HIV epidemic control and supports over 60,000 project participants to become resilient through provision of targeted interventions in over 60 health districts in all 10 regions of Cameroon.