Help for Orphans with HIV
Photo by Will Baxter/CRS
When her son died from an AIDS-related illness in 2010, Agatha* was left to care for her two young grandchildren. At the time, she was unaware that the children were HIV-positive as well.
"They were both falling ill often. It was difficult taking care of them because of the other responsibilities I had," Agatha says. She had two school-age children of her own to look after at the time.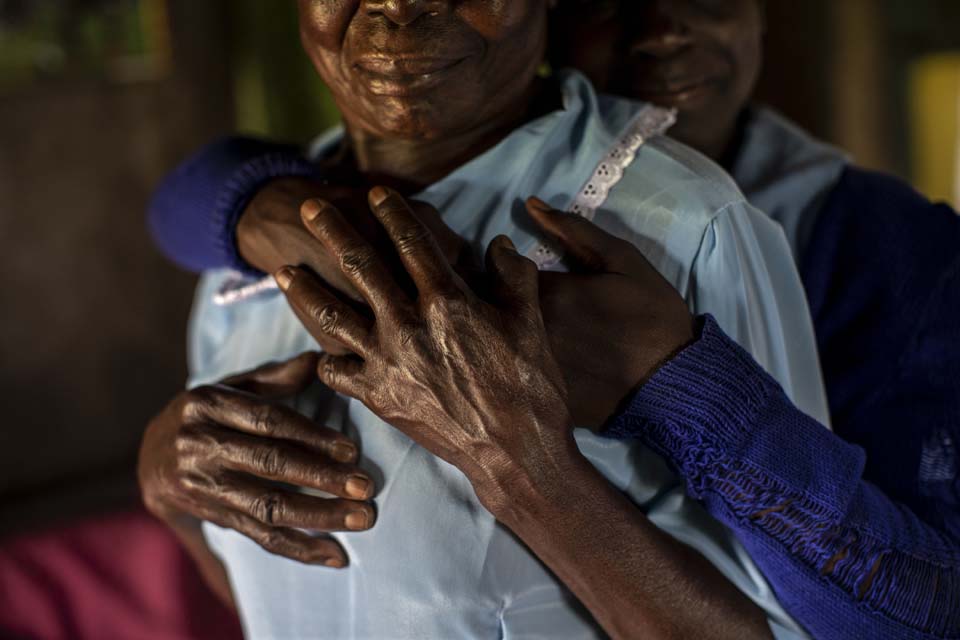 Agatha* and Mercy* pose for a portrait at their home.
Photo by Will Baxter/CRS
Agatha's grandchildren, Joseph* and Mercy*, were not tested for HIV until their mother died in 2016.
"Both were tested after their mother passed away. They were put on treatment straight away," Agatha says.
Agatha first learned about the MWENDO project through a community health worker. Her two grandchildren had been enrolled in another program called APHIAplus when, in 2018, they transitioned to MWENDO—a Catholic Relief Services-led project funded by the U.S. Agency for International Development and the President's Emergency Plan for AIDS Relief.
MWENDO helps caregivers support children who are living with or affected by HIV and AIDS, and emphasizes the importance of keeping these children in school. The project does so by improving access to health services, helping families set up and run small businesses, and strengthening the ability of local institutions to respond to child welfare and protection needs.
"The project has been supporting us in terms of education, psychosocial support, and nutrition. They also taught me how to feed the children at the appropriate times and make sure they eat right," says Agatha.
Agatha has a small shop in rural Homa Bay County where she sells tea and Swahili doughnuts called mandazi, as well as household goods like soap and cooking oil. In July 2018, she received 8,000 shillings—the equivalent to $78—to jumpstart her business through MWENDO's emergency fund, plus another $39 two months later, which she used to buy stock for her shop and school books for the children. The books cost around $16 in total.
Before she started the shop, Agatha had to work as a day laborer to support the children. 
"I would work tilling other people's fields to get money to buy food for the children," she says. "I'm old, so it was a real challenge for me." Even with the backbreaking work, she could not put enough food on the table.
"We could go a whole day without a meal. Only maybe the next morning could we get something," she explained.
Today, she is happy to see her grandchildren thriving.
"Because MWENDO has supported us, the children's health is good now," says Agatha.
"In previous days I was not feeling as good as I am now," Joseph says. "I play a lot of football and I am doing well in school."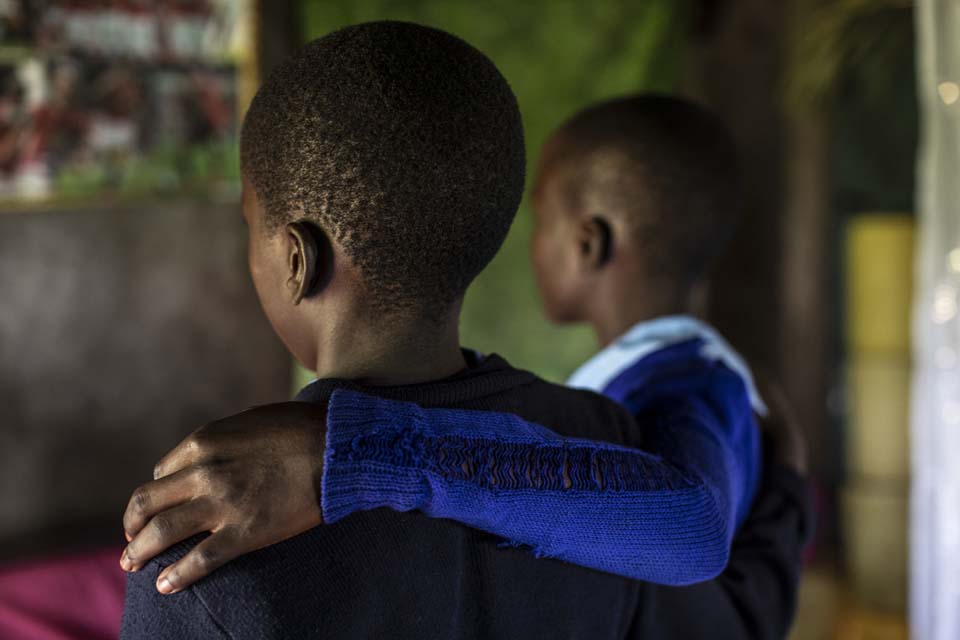 Joseph* and his sister Mercy* are supported by the MWENDO Project in western Kenya. By employing a holistic, child-focused and family-centered approach, the MWENDO project increases access to health and social services for orphans and vulnerable children and their families.
Photo by Will Baxter/CRS
Joseph recognizes that he and his sister stay healthy by eating a balanced diet, taking their medication on time and supporting each other through it all.
"We were taught we should have fruits like oranges, mangos, bananas, guava. And then foods like sweet potatoes, vegetables and peanuts," he says.
"We remind each other when to take our medication," says Mercy. "I take my medicine when it is 7 p.m. The evening news usually reminds me."
"We can support each other by remembering that being HIV-positive does not mean life is over. You can live a good life like other people," Joseph says.
The results of their last checkup showed a low viral load count, meaning the HIV virus is suppressed and the medication is working.
"Since the kids have been enrolled in MWENDO, the program has really supported us by giving me money through the emergency fund and also giving the children school uniforms," says Agatha.
MWENDO also covers the cost of exam fees and parent-teacher association fees. Agatha has also been linked to government medical insurance and MWENDO paid the monthly contribution for the first year.
"Before, when I didn't have an insurance card, I would not go to the hospital. I would wait to see if the problem got better on its own," says Agatha. 
When Mercy fell ill recently, Agatha was able to seek treatment immediately. 
"I used the insurance to treat my granddaughter. She had a swollen gland in her throat. I took her to the hospital and my card supported me," Agatha says. "It healed quickly."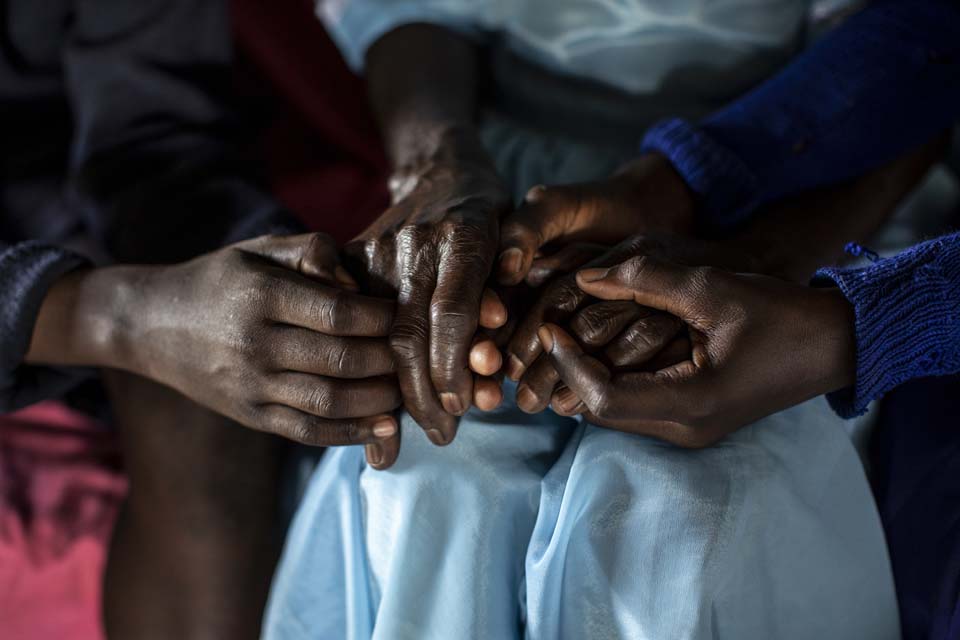 Joseph*, Agatha* and Mercy* hold hands at their home in Homa Bay County, Kenya. Agatha is the grandmother of the two children, who are both HIV-positive and whose parents died of complications related to AIDS. The family is supported through MWENDO.
Photo by Will Baxter/CRS
Agatha says she is thankful for the support she and her family have received.
"I would encourage others who have children living with HIV to take good care of them," says Agatha. "My hope in the future is for these children to have a better life," she says.
*Names changed to protect identity.